| | |
| --- | --- |
| Miami to Mérida | |
---
Friday, January 23

e never saw Miami dawn. Bob and Edward made a beeline for the Cinnabon bakery, which, along with Starbuck's, have become omnipresent fixtures of commercial airline terminals. The cinnamon rolls, and especially the pecan rolls, smelled heavenly - the odor pervading a hundred yard wide sphere, luring all to draw nigh and open their purses like some irresistable pheromone.

I felt no need to eat breakfast at 3 a.m. biological time - especially as, owing to a four hour time zone shift, the day would be foreshortened as much; we would be fed on the flight to Caracas anyways.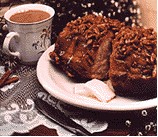 Pecan rolls are wonderful
served with hot coffee.
That flight consumed three hours, and was indeed highlighted by a delicious breakfast featuring a cream cheese and chive-stuffed omelette accompanied by ham and potato wedges. For once, the coffee was not burned - a veritable miracle for the airlines! I wanted to be on my linguistic toes upon arrival, my Spanish language skills being tested to several ends after touchdown. Hence two dixie cups of caffeine.
After clearing Venezuelan immigration and customs we were greeted by a stranger and his buddy. They offered to exchange our American currency for Venezuelan bolivares at what we later learned was a typical black market rate of 2,500 Bs to one dollar. In turn, the bolivares would be used to purchase a trio of one-way airline tickets to Mérida.
The man was insistent if nothing else. He followed us on foot to the adjacent terminal that services internal flights. I talked to the ticket agent about this annoying man, and an armed security guard escorted us to our gate after the ticket purchases - purchases made at the standard exchange rate of 1,600 Bs to one.
The flight to Mérida was on a turboprop aircraft and featured the amenities of a North American flight. I asked the stewardess to consult the pilot regarding our altitude - and she returned with a slip of paper saying "5.000 meters - 16,500 feet". The same elevation as Pico Bolivar! I was amused that all the space between us and the ground, a large void to my eye of great dimension, would soon be filled by a massive ridge system culminating in a noteworthy and sought-after summit.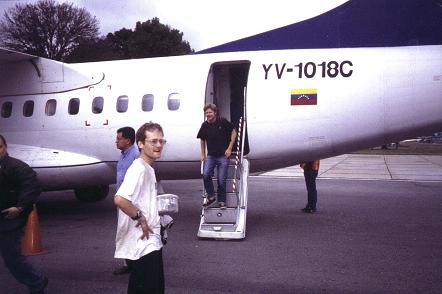 Arrival in Mérida by turboprop aircraft.
Adam stands in front as Edward steps down.
A representative of Guamanchi Expeditions greeted us after landing - my name, "Adam Helman" imprinted in bold, black letters on posterboard. After being whisked by van to the Guamanchi posada and place of business, we were pleasantly surprised to learn that our room, filled with bunk beds and immaculate, would set us back only ten dollars.
Edward read aloud the contract. The question arose as to whether a second party, should one suddenly appear, be allowed to join our six-day climb. We agreed in our unwillingness to allow such an event - such an act could jeopardize our chances of success because the skills of said party would be unknown and untestable until too late. In contrast, all three of us had been on previous climbs together. A rapport had been established - one that aids and fosters success owing to mutual trust and knowledge of individual strengths and weaknesses.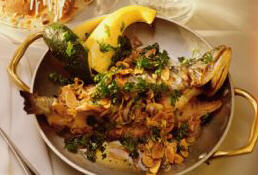 Trout well prepared and skillfully presented.
We all enjoyed dinners at a restaurant specializing in trout dishes - a specialty of the region. My trout filet was smothered in a four-cheese sauce and was accompanied by perfectly cooked broccoli and potato. A glass of red wine (thankfully served before the fish course!) tasted peculiarly weak. Suspecting that the waiter had diluted it with water, I facetiously commented, "Que fuerte es el vino!" - How strong be the wine! He quickly brought the original bottle tableside, and poured another glass directly from it. From both the taste and degree of opacity, Bob and I agreed that the second glass was real.
It was Friday evening and dozens of college students were socializing in the local square. Strolling past its fountains and light-adorned topiary, I felt strangely guilty being so full, as just another wily American tourist, when every person about was pencil-thin. What gives me the right to choose gluttony? I could take little consolation that by morning we would be using all available energies.
---