| | |
| --- | --- |
| Day 4 Climb - La Travesia | |
---
Tuesday, January 27

ooking about, I could only guess at the route. After one hour of uphill travel, the blue-green waters of Laguna Suero served as watering hole while we contemplated the next step. At nearly fourteen thousand feet, the overnight pack felt heavy as ever. I was smothered under its weight. When Enrique pointed to a ridiculously steep scree slope, my heart sank at the thought of traversing the distance.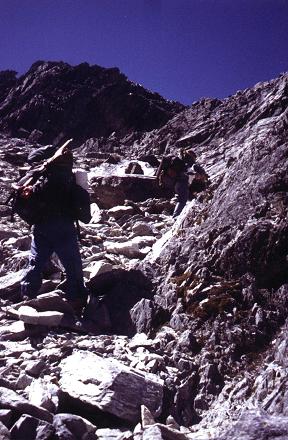 Laboring under heavy packs on the Xuxahoma.
Adam is in the foreground with white sunhat,
Edward in the middle distance slightly higher.
However several factors dampened my concerns. First, a slope viewed head-on always appears steeper than it really is, because there is inadequate perspective of the relevant directions. Second, the first one-half of its seven hundred vertical feet would be spent zigzagging up a brushy slope with opportunity for decent footholds. Third, the remaining scree could be largely avoided by climbing on the far right where rocks and boulders predominate for improved traction. Finally, I ate one of Bob's blueberry bagels for additional strength, adorned with grape jelly and chocolate hazelnut spread as was his way.
We were on La Travesia, a path leading from Laguna Verde to points west, including both the top of the aerial tramway, and, slightly closer by, our high camp for the attempt on Pico Bolivar. That rock and scree slope is notorious, known as the Chuchahoma, Chuchaxoma, or even Xuxahoma depending on the transcription.
Upon "topping out" at the pass we took a well-deserved break. I experienced my first of several brief headaches from the exertion at high altitude. The hours passed as we dropped perhaps four or five hundred feet on the traverse, eventually reascending to the pass elevation.
I was suffering from the weight of my pack, unable to maintain a reasonable pace uphill. Bob and I lagged behind while the others pushed ahead. Later on I was in front with Enrique, having redoubled my resolve to get this bad day overwith. Eventually we reached our objective - Lago Timoncito - small and pure, at 15,100 feet, immediately south of Pico Bolivar.
The main east-west trending ridge contained several peaks, any one of which to our gaze could have been the very highest and, therefore, tomorrow's goal.
We enjoyed a wonderful panorama of all points south. A nearby rock cairn, unusually tall, stood silouhetted against a distant, cloud-filled horizon that was most obviously below our plane.
Adam (left) and Edward at the pass on La Travesia.
Pico Bolivar is hidden behind the highest point on the horizon.

Looking back to snowy Pico Humboldt.
Pico Bonpland lies immediately to its right.

---