Madison County Highpoint Trip Report
Date: July 29, 2009
Author: Adam Helman

Participants include Dean Molen and the author. Dean Molen's photographs note 1: All coordinates employ the WGS84 datum.
note 2: Photographs by Dean. Click on any image for enlargement. This effort was part of a larger journey collecting Idaho, Montana, and Washington county highpoints in late July and August 2009. The highpoint, Red Butte, can be combined with adjacent Teton County, and as done here with Dean Molen over a 13 hour 37 minute dayhike with 4,900 feet of total elevation gain.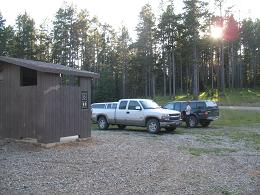 trailhead parking


One may also combine these efforts with Jefferson County by traveling west on FR218 exactly 10.0 miles from the junction cited below, until reaching a key junction at 6,230 feet adjacent to a large parking area under Kelly Mountain. See Jefferson County reports for more information. Key points for the approach drive not noted in earlier reports. Begin with the junction of FR218 and FR651 at (43.67623° N, 111.46750° W), elevation 7,082 feet. This point is accessed either by traveling east from Kelly Mountain, along FR218, or from the north using an even longer route after leaving pavement. Turn southeast onto FR651 and travel 1.9 miles. The road bends east, and eventually turns north to terminate at a trailhead parking area with bathroom and coordinates (43.66997° N, 111.44549° W), elevation 7,276 feet. Useful information for the hike / climb not previously noted. Ken Jones' trip report suffices for the trio of peaks needed to secure these two counties - Garns Mountain, Piney Peak, and Red Butte. I add the following comments.
There is a map of the ATV trails on the trailhead information kiosk. Unfortunately the trail numbers on that map (which we both hand-copied) do not correspond to the trail numbers in the field in several cases. Take maps from your home research and augment them with the indicated ATV trail grid with only the latter's general shape and junction locations as gospel - not the trail numbers.
The cross-country ascent of Piney Peak, if coming from Garns Mountain, will find you ascending to the left or right of an obvious talus field roughly halfway up Piney Peak from the valley floor with its ATV road grid. Above this talus field the going is really quite steep for perhaps the final 400 vertical feet before topping-out on a subpeak immediately east of the summit. You might even be holding onto shrubbery for support. Once at the subpeak the going is much easier.
The obvious and impressive rock formations visible from the main, east-west ATV trail (just north of Red Butte) are not the summit area. These formations are well east of Red Butte's highest ground. Dean and I approached Red Butte from the north using a steep jeep trail that seemingly went straight up the slope without any switchbacks. Access to this eroding jeep trail is not obvious from the main east-west ATV trail - you have to locate an obscure side path, take it for maybe a few hundred feet, until it "opens up" to identify itself as the desired jeep track leading to Red Butte. The jeep track reaches the summit ridge in-between the slightly lower eastern bump and the central bump. I recommend that you visit both bumps to be certain you've nabbed the county. A pint of fruit cocktail atop the central bump, waiting for Dean to join me, provided the final hydration on this long, long dayhike. Atop Red Butte the distant clouds parted just enough for me to see the top of Grand Teton across the state line. Having climbed it the previous summer I was most satisfied with this glorious vision - and from another Teton County! The clouds promptly returned. If all you want to do is climb Red Butte, an ATV track leads directly to it from the trailhead. We descended to our vehicles in good time using this track.
Summit of Garns Mountain
with Adam.
Piney Peak coming from
Garns Mountain.
Relative elevations For Garns Mountain I obtain GPS-based elevations of 9,055 and 9,056 feet over three readings.
For Piney Peak I obtain in similar fashion three readings of 9,058 feet. Dean Molen also obtained slightly higher elevations for Piney Peak. However in both cases the difference with Garns Mountain was well within the error range of our respective units. General comments As noted our hike consumed the entire day. Dean's GPS unit indicated a total distance of 19.5 miles. We were both tired as the sun sank low on reaching the traihead. Four quarts was insufficient - I had to refill enroute and estimate a 5 or 6 quart capacity would have been needed otherwise. On reaching our vehicles Dean and I parted ways, his wife waiting patiently at a campsite along the approach road for Kelly Mountain of Jefferson County. As it was nearly sunset I chose to simply stay put, and, after cooling down enjoyed a wonderful supper with rice with a very spicy tomato / vindaloo gravy. Peanut butter made an excellent addition, as did salted cashews. It was one of the most flavor-packed TV dinners I've eaten, backcountry or otherwise. As of this report's composition, in early September, Dean has just seven counties left in Idaho. With perseverance he can finish next summer.