Doña Ana County Highpoint Trip Report
Organ Needle (8,980+ feet)
Date: May 23, 2003
Authors: Adam Helman and Richard Carey Note 1: All NAD27 UTM coordinates are in zone 13S. Topographic charts are not too useful
&nbsp &nbsp &nbsp &nbsp &nbsp &nbsp &nbsp high up owing to the convoluted terrain and hence a seeming jumble of contour lines.
Note 2: Click on any photograph for enlargement. Full descriptions are given in the
&nbsp &nbsp &nbsp &nbsp &nbsp &nbsp &nbsp Doña Ana County photo page. Overview Organ Needle is the highest point of the Organ Range in southwest New Mexico ("O" in the photo). A haven for rock climbers, this range forms part of the western edge of the great Tularosa Valley - a valley made infamous on July 16, 1945 with the detonation of the world's first atomic device at Trinity Site. Both White Sands National Monument and White Sands Missile Range (WSMR) are located in the Tularosa Valley. Las Cruces, largest community of southern New Mexico, lies immediately west of the Organ Range. From Las Cruces the Organ mountains are an impressive and spectacular sight - particularly since from a distance the mountains appear sheer and unclimbable owing to the seeming lack of depth perception when viewed from afar.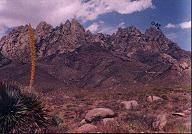 Organ Range from west

Organ Needle is the most technically challenging of New Mexico's thirty three county highpoints. That said, the easiest route, described below, is rated class 3. A so-called "crux" move exists near the summit that inexperienced climbers may find daunting and request a roped belay. In addition there are navigation issues that, if not overcome, will result in either much lost time and energy, or, worse still, failure to summit. Indeed, owing to both unfamiliarity with the terrain and a set of confusing trip reports, Richard Carey and I failed in our initial attempt the previous day. This report hopefully addresses the complicated nature of the climbing route to an extent that future highpointers should have little problem with navigational issues. Approach Las Cruces lies on both Interstates 10 and 25. I-10 stretches to the west and south, taking a turn towards El Paso some forty miles distant as it courses through the southern part of town. I-25 comes from the north and effectively merges with I-10 after passing through city center. The following road log begins at the University Avenue exit on I-25 with distances in statute miles. 0.0 Zero odometer at the University Avenue exit on I-25. Drive east towards the Organ mountains.
&nbsp &nbsp &nbsp The road gradually gains elevation as it contours along the north flank of "A" Mountain -
&nbsp &nbsp &nbsp a prominent hill festooned with electronic equipment. The road is renamed Dripping Springs Road.
4.9 Go straight at a junction with Soledad Canyon Road (waypoint ROAD JUNCTION).
6.1 Cross a cattle guard (waypoint CATTLE GUARD). 7.9 Decision point at a junction with Baylor Road on the left. Proceeding straight brings one
&nbsp &nbsp &nbsp to the gated entrance of a BLM-administered preserve. A sign at the gate says it opens at 8 a.m.
&nbsp &nbsp &nbsp every day and locks at 5:00 p.m. from October through March, and at 7:00 p.m. from April through September. &nbsp &nbsp &nbsp Organ Needle is an all-day affair. At least in the hotter months, waiting until eight o'clock
&nbsp &nbsp &nbsp is a poor idea since precious, early morning hours with cool temperatures are wasted. A picnic area
&nbsp &nbsp &nbsp is located inside the preserve, with all the facilities to make for a good campsite. Unfortunately a
&nbsp &nbsp &nbsp sign at the picnic area strictly prohibits overnight use. &nbsp &nbsp &nbsp A better plan involves turning left onto Baylor Road (graded dirt) and proceeding as follows,
&nbsp &nbsp &nbsp re-zeroing your odometer at the junction 7.9 miles from I-25. 1.4 Turn right (east) onto a narrow dirt road, gaining slight elevation.
1.7 Bear right at a junction.
2.0 The roads worsens considerably. Four-wheel drive may be indicated.
2.3 Reach a small, cleared campsite (waypoint CAMPSITE). We began our climb from here, having approached
&nbsp &nbsp &nbsp as close to the mountain as one would be able to had one started hiking on the trail leading from the BLM picnic area -
&nbsp &nbsp &nbsp yet without having to wait until the park opens at 8 a.m. &nbsp &nbsp &nbsp The suggested camp lies at 5,300 feet and makes for a net elevation gain of 3,700 feet.
&nbsp &nbsp &nbsp Some drivers may push on to a green gate (see below), but the road gets very rocky and slow.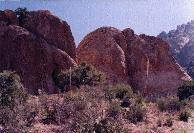 prominent, yellow rocks

Climb The first immediate goal is achieving the saddle just northeast of spot elevation 6301 - a hill in front of the main mountain mass and easily identified from camp. This entails walking an old road first up the desert floor, and later as it contours around the hill's north slope. There is an unlocked green gate soon after beginning along the road (waypoint GREEN GATE). Continue along the road and then follow a narrow, steep ATV shortcut (right) at waypoint ATV SHORTCUT on the north side of spot elevation 6301. Regain the road above the shortcut and continue to the saddle (waypoint MINE AREA). Fillmore Canyon is visible on the opposite side, with several gulleys leading from it to higher ground on its left - including, as the second main gully, the one taken for Organ Needle (see below). Continue southeast along the road as it dips perhaps fifty feet and then, in a steeper and slippery section, regains the lost elevation - ending at a saddle with cairn (waypoint END ROAD). Two trails begin here. The left trail heads up the wrong gully system: we took it the previous day, realizing our error only after having climbed to 7,900 feet along what appeared to be a perfectly good ducked route. The correct trail leads straight ahead (southeast). Take it and descend slightly into Fillmore Canyon. On your left and after perhaps a few hundred meters pass some prominent rocks that may have a yellow tint (photo). While still along the trail, continue just past these rocks by descending slightly into the gully (at your left) immediately afterwards, still trending southeast. As the trail climbs out of the gully, encounter a few large oak trees. Immediately afterwards, on the far slope of the gully, locate a faint trail heading upwards and to the left. Waypoint NEAR OAK TREES marks the intersection of the trail leading from waypoint END ROAD, with this faint trail heading up the gully. The elevation is about 6,500 feet. The next goal is a saddle immediately north of, and beneath point 7778 (waypoint SADDLE N P7778). The faint trail is difficult to follow in places, does not switchback, and would be a nightmare with full packs on a hot summer afternoon. In addition, the footing leaves much to be desired. After what seems an interminable time, gain the saddle, rest, eat and drink. Point 7778 is a very brief, class 1 hike from the saddle with less than one hundred feet of total gain. Do it (as we did) on the descent if you are feeling frisky.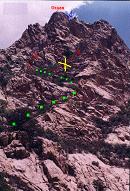 route from saddle

The saddle is an excellent place to contemplate the remaining climb - one which still has 1,300 feet of elevation gain. The key is entering Dark Canyon - one which is simply not visible until you are nearly upon it. It is not visible from the saddle. To get there, remain on the trail heading north, then east, through some brush, then over jumbo slabs, the latter lying between two prominent rock formations. Cairns aid navigation along the slabs - follow them religiously. Waypoint WATERFALL is along the route at these slabs, just below a dry waterfall. Climb steeply up the use trail above the slabs. The trail may be braided with multiple possible paths. Peering upslope at this point, one finds a brushy area on the right side that appears deceptively promising. Do NOT climb there - it is a major bushwack and does not lead to the summit. We mistakenly went that way, wasted an hour, only to descend and find the correct canyon. We should have headed generally left, so encountering the base of Dark Canyon. Just past waypoint ON SLOPE, along the brushy slopes, the trail crosses a ridge leading into a canyon heading east (Dark Canyon). Try to follow the ducks. This ridge crossing may not be easy to see, but it is near waypoint CROSS RIDGE. Commence climbing up Dark Canyon (east). The trail hugs the left (north) canyon wall and after some 500 vertical feet of climbing you will top out at Dark Saddle (waypoint DARK SADDLE) at about 8,940 feet. About two-thirds way up the canyon you will pass directly underneath Organ Needle - such that a GPS waypoint set to the summit coordinates will read 0.0 mile!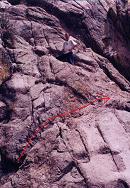 diagonal crack

Descend to the east side of Dark Saddle about eighty vertical feet, generally staying to the left. You ought to pass by a concrete sign, "Needle. Go 125 feet turn left then Up". Turn left, crossing an awkward rock fin (waypoint FIN BELOW CL3). Enter the small bowl to the left, and notice, on the right (north) face a fifteen foot ledge sloping up to the right with a cairn at its base. This is the "crux" move referred to in previous reports, previously estimated as twenty feet long. The handholds are good. Climb it and then scramble on class 2 slopes to the summit (waypoint ORGAN NEEDLE) after perhaps fifty additional feet of gain, generally staying to the left after surmounting the crux.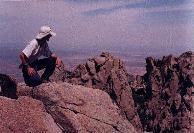 view NW from summit

There is an ammunition box register. Views were striking in all directions. Many small flying insects were present on our hot day. Richard took a time-delay photo so we could both be in the snapshot. I had brought five quarts of water and it was not quite enough. Fortunately we found and shared a quart of bottled water just lying on the trail immediately below the saddle near point 7778. A reasonably strong party should allow five to six hours for the ascent, and 3 1/2 hours for the return. In warm months begin before sunrise. Organ Needle would be a mistake in wet weather.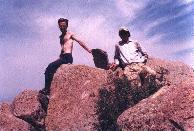 on the tippy-top!

The total elevation gain is perhaps 200-300 feet more than the net gain owing to ups-and-downs while in Fillmore Canyon, some 4,000 feet. Our total gain had been some 4,500 feet as we had mistakenly gone right at waypoint ON SLOPE rather than left - climbing about five hundred feet in error. We shared a motel room in Las Cruces that evening. The next morning, on the way to our next venue, I enjoyed my usual pint of ice cream for a 4,000+ foot day.
| | | |
| --- | --- | --- |
| ************ | **************** | ********* |
| ROAD JUNCTION | (343229 E, 3575035 N) | click here |
| CATTLE GUARD | (347048 E, 3577666 N) | click here |
| CAMPSITE | (349274 E, 3579631 N) | click here |
| GREEN GATE | (349594 E, 3579442 N) | click here |
| ATV SHORTCUT | (350912 E, 3579549 N) | click here |
| MINE AREA | (351220 E, 3579564 N) | click here |
| END ROAD | (351454 E, 3579393 N) | click here |
| NEAR OAK TREES | (351968 E, 3579144 N) | click here |
| SADDLE N P7778 | (352561 E, 3579450 N) | click here |
| WATERFALL | (352705 E, 3579503 N) | click here |
| ON SLOPE | (352832 E, 3579567 N) | click here |
| CROSS RIDGE | (352844 E, 3579582 N) | click here |
| DARK SADDLE | (353103 E, 3579506 N) | click here |
| FIN BELOW CL3 | (353144 E, 3579564 N) | click here |
| ORGAN NEEDLE | (353044 E, 3579593 N) | click here |