Expedition Dates and Acclimatization Schedule

---
Expedition Dates

concagua takes significant time to ascend because proper acclimatization is essential to maximize summit chances. Three weeks with the "capping" end weekends are reserved - a total of 23 days from and to the United States. Unless you are pre-acclimatized, it is illogical to earmark any time LESS than three weeks for an Aconcagua expedition, as the end result is most likely failure to summit, or worse, the development of severe high altitude medical problems.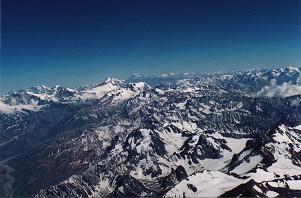 View north while flying to Mendoza over the Andes.
Aconcagua is an immense mass on the north horizon.

Tupungato is the closer summit immediately to
Aconcagua's left and thirty miles to its south-southeast.
A mid-season itinerary is selected to accomodate work and personal time constraints. The adventure begins with a four-way convergence of all team members at Los Angeles, California on Saturday January 14, 2006. We fly overnight to Santiago, Chile - and then to Mendoza, Argentina the same Sunday morning.
Our acclimatization schedule begins after two days of travel when we arrive by van at Puente del Inca mid-afternoon on Monday the 16th. In the next section, this timepoint is defined as "Day 0.0" of an "acclimatization clock" - one which ticks through summit day as Day 12.0 - Saturday, January 28.
Our return flights from Santiago to the United States are on the evenings of Saturday February 4 and Sunday the 5th. Edward and John wish to return stateside on Sunday, via the Saturday night flight, because the Sunday night flight would see them miss work on Monday morning.
This itinerary provides a full, five-day summit window as Days 12-16 (January 28 to February 1); followed by one day for descent to Base Camp (Day 17 = February 2); and a day for hiking to the Puente del Inca roadhead (Day 18 = February 3).
Planning with Precision - Recommended Acclimatization Schedule
concagua is notorious for summit failures because its extreme altitude is not properly accounted for in the climbing itinerary. Indeed, only some 30% of climbers attain the summit. The Ruta Normal ("normal route") contains no technical climbing issues, and is thus mistakenly considered a "walk-up" by many otherwise experienced alpinists. Hence the tendency is to forsake an adequate acclimatizing schedule in favor of racing up the mountain - with obvious (and sometimes fatal) consequences.
Given the considerable financial and temporal costs of a South American vacation, it makes no sense, logically, to invite failure for want of a few extra days of acclimatizing. Therefore it is a given, throughout the planning phases, that we shall not attempt a summit bid until at least eleven or twelve days after arriving at a sufficient altitude to begin acclimatizing.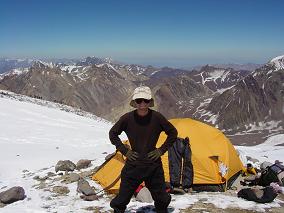 Adam poses at the Lower Condores camp,
with a view to the west and numerous
16,000 to 18,000 foot peaks.
The twelve day figure is based upon study of successful private expedition timetables; as well as the published itineraries of commercial expeditions via the Ruta Normal.
Puente del Inca lies at some 9,000 feet elevation (2,700 meters), an altitude sufficiently high that effective acclimatization is possible. We thus DEFINE our mid-afternoon arrival there as Day 0.0.
The following climbing itinerary then derives.
Day 1.0 - Hike to Confluencia Camp at 11,000 feet (3,300 meters).
Day 2.0 - Hike to Plaza de Mulas Base Camp at 14,300 feet (4,350 meters). Sleep night one at Base Camp.
Day 3.0 - Rest day. Sleep night two at Base Camp.
Day 4.0 - Hike to hotel and return. Sleep night three at Base Camp.
Day 5.0 - Carry an eight-day food cache to Camp Canada at 16,600 feet (5,050 meters), and return for the night. The cache also contains eight liters of white gasoline for cooking, and, at 70 pounds, considerably lightens our load for moving camp two days later. Sleep night four at Base Camp.
Day 6.0 - Rest day. Sleep night five at Base Camp. Four or five nights at Base Camp is recommended to provide for adequate acclimatization.

Edward (foreground) and Adam
enjoy the views after placing an
18,550 foot food cache on Day 10.

Day 7.0 - Climb to Lower Condores at 17,600 feet (5,350 meters) and establish camp. Lower Condores is immediately above the change in slope ("cambio de pendiente"), and is nearly coincident with Camp Alaska. Sleep night one at Lower Condores.
Day 8.0 - Perform a back-carry of food cache from Camp Canada. Sleep night two at Lower Condores.
Day 9.0 - Rest day. Sleep night three at Lower Condores.
Day 10.0 - Rest day. Sleep night four at Lower Condores.
Day 11.0 - If healthy, we climb to Camp Berlin at 19,450 feet (5,930 meters) and establish camp with just two days of food. The remaining food remains cached at Lower Condores. We will not sleep at Camp Berlin except to make a summit attempt the very next day - so explaining the food quantity. It is difficult to acclimatize at Camp Berlin, and we can stay healthier by sleeping at Lower Condores.
Days 12.0 through 16.0 - A FIVE DAY SUMMIT WINDOW is provided to allow for storm systems that generally last two or three days. We thereby "hedge our bet" in that SOME day, amongst the five, is summitable - so avoiding the scenario of returning to the United States emptyhanded. One cannot control the weather - but one can control the duration of how long one is willing to wait until fair weather prevails.
Day 17.0 - Descend to Base Camp.
Day 18.0 - Hike out to Puente del Inca.
Our return flights to the United States are timed to allow for the theoretically maximum duration expedition of eighteen days. The Aconcagua Provincial Park climbing permit allows for up to twenty days of activity within the park boundaries.
The ACTUAL itinerary, as realized on Aconcagua, differs from the above beginning with the tenth day.
Day 10.0 - We decide that moving camp back to Lower Condores involves too much overhead. Thereby multiple summit attempts would be made from Camp Berlin without descent to Lower Condores in-between attempts. We thus carry a four-day food cache halfway to Camp Berlin. We now will only have to descend 1,000 feet from Camp Berlin if we must remain longer for a summit window, and yet have run low on food supplies. The cache is deposited at 18,550 feet (5,650 meters). Night four at Lower Condores.

Our highest nights are at Camp Berlin
with an elevation of 19,450 feet.

Day 11.0 - Climb to Camp Berlin at 19,450 feet (5,930 meters) and establish camp.
Day 12.0 - SUMMIT DAY. We only use the first of a five day summit window.
Day 13.0 - Descend to Base Camp.
Day 14.0 - Rest day. Our gear is reorganized in preparation for mule transport to Puente del Inca.
Day 15.0 - Hike out to Puente del Inca.
We spend the extra time at Scott's Place - an excellent hostel in Santiago, Chile where one meets backpackers from around the globe in a friendly atmosphere conducive to conversation and story-telling. Scott's Place is described more fully in a later section.
Climbers differ greatly in how long they require to acclimatize. A twelve day itinerary may be adequate based on your physiology. However twelve days may be insufficient. Your previous high altitude experience is the best indicator of how long one should plan upon acclimatizing on Aconcagua prior to any summit attempt.
The cost of misjudging the acclimatization time requirement is high - acute mountain sickness (AMS) and/or a revisit to South America at great cost. Although unlikely, one might even contract a life-threatening altitude-induced illness such as HACE or HAPE (High Altitude Cerebral or Pulmonary Edema).
The best philosophy is to
CLIMB SLOWLY and METHODICALLY.
---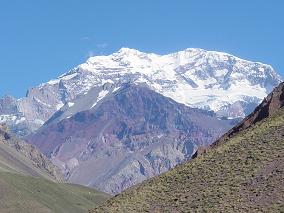 The south face of Aconcagua as seen on Day 1
during the approach hike. The slightly higher,
eastern summit is at the viewer's right.
---