Arizona February 2009 Trip Report
Dates: February 17 to 21, 2009

Note: Click on any photograph for enlargement. Overview Desirous of bagging some peaks and yet having already done nearly all the southern California P2000+ summits, I again set sights on Arizona for a string of ascents that would offset the gasoline expense. I select four summits on the Arizona 2,000+ foot prominence list; their identities chosen as to minimize the total driving by focusing on a single region of the Sonora desert. Hence for this trip all peaks are near Phoenix. In order we have Newman Peak, the White Tank Range highpoint, Woolsey Peak, and the Sierra Estrella Range highpoint. Rick Hartman of Prescott joins me for all of these venues. Tuesday, February 17 - drive to Newman Peak None of the mountains are of sufficiently short duration to climb one of them on the same day as driving Interstate 8 from San Diego. Then, having relegated today as simply a driving day, it makes sense to maximize its utility by reaching the trip's farthest point as Newman Peak. The West Coast is just ending a bout of bad, rainy weather - and remnants of the latest storm system wane as I approach Newman Peak along the short stretch of Interstate 10 between Casa Grande and Picacho Peak. Newman is the far more massive mountain on the freeway's east side. I bush camp 0.4 mile from Interstate 10 at a triangle-shaped patch of land formed by Park Link Road (logical exit 224) on the southeast, the CAP (Central Arizona Project) canal on the northeast, and a dirt side road on the northwest. Rail traffic is heavy all through the evening and into the night - the tracks paralleling the freeway about one-tenth mile to its east. The weather clears as predicted. Wednesday, February 18 - Newman Peak Newman Peak is an impressive feature - and also the Pinal County prominence point. As planned, I meet Rick at a Mobil station near Exit 219 at 6:30 a.m. well before sunrise. This early time allowed Rick to drive through Phoenix before morning rush hour traffic. We caravan 5.7 miles to our "trailhead" using a combination of posted trip reports; of which the one by John Hamann at summitpost.org is quite helpful.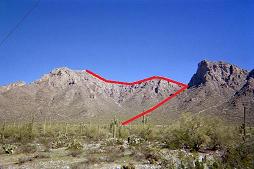 Newman Peak with our route indicated.

After a quick breakfast we start by crossing the canal at a pedestrian bridge, and hike 20 minutes to what I conclude is the end of a bulldozed road that we could not locate on starting out. A cairned route begins roughly here. Newman Peak is rocky! Although the cairns are helpful, they do not provide relief from the seemingly endless rockhopping to attain a 3,650 foot saddle just northeast of 4,209 foot "Newman Peak South". After a well-earned break we head northeast along the obvious ridge towards our summit. Within mere yards we find ourselves contouring to the right (east) of a large rock obstacle; and, on reaching its upper end, note that a far more advisable route is available by having stayed in the original gulley (leading to the saddle) and traversing left under the rock's western face. An up-and-down ridgewalk ensues, culminating in a final 300 foot climb to the antenna-bedecked summit. While there a helicopter lands and men commence work on one of the communications towers. There is no road - and so aerial transport is the only means of tower access for maintainance personnel. The descent is more rapid - especially as we avoid the east side of that rock buttress immediately next to the key saddle. On return to the cairned route's start Rick explores a nearby mine. We then take the old road leading to it back to the pedestrian bridge crossing. The old road begins left (north) of the crossing's eastern end, perhaps just fifty feet away. Search for it on starting out to avoid bushwhacking to the cairned route. Our round-trip time of 5 hours 5 minutes compares favorably with expectations.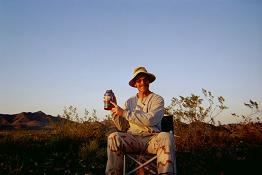 Rick Hartman the day before
climbing Woolsey Peak.

We drive northeast on Interstate 10, filling on (cheap) gasoline at Exit 208 and have refreshing snacks there. Phoenix afternoon rush hour is unavoidable; and yet, driving through downtown around 3:30 p.m. the delays are manageable rather than horrific. White Tank Regional Park is large at 29,500 acres - about 47 square miles. The camping is excellent - as is the trail quality. Situated at the western end of greater Phoenix, we have nice views of downtown skyscrapers with the setting sun. They look like glowing, orange toothpicks. Rick prepares a wonderful dinner featuring chicken-apple sausages that he grills with palo verde wood taken during our drive out from the trailhead. They are quite flavorful - and I use one to enhance a bowl of otherwise bland, brown rice. An array of condiments make for huge variety - and let us not forget the appetizer session with jalapeño chips and salsa roja. The eight sausages are served with four French rolls - our plan being to eat two each (one-half) and save the other four to have on the next day's hike. I enjoy a third three-ounce sausage as they are really tasty and as I know that I won't want two of them on-trail the next day.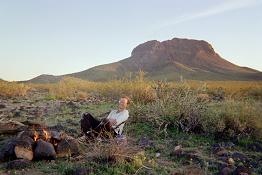 Adam at our pre-Woolsey Peak camp.


For dessert there is strawberry cream cake and (!) a trio of chocolate truffles stuffed with fresh strawberries. Two are white chocolate and one is milk chocolate - and they are all for me! This is strange ... why SO MUCH food? Rick wants me to gain weight for Denali ... a common theme that I've heard many times from different people ranging from Edward Earl to my mother. As Rick arose at 3 a.m. we cut short the evening talk early. After exploring the campground I too enter the camper shell just after 8 and sleep shorter after. Thursday, February 19 - White Tank Range highpoint Rick brews fresh coffee each morning for us. To go with it I provide a cinnamon "babka" - sinfully rich coffee cake with brown sugar and a texture perfect with beverage. I know it is a "hit" when Rick has two good-sized pieces. I have less since dinner is still "with me" and as I am not a "breakfast person" anyway. Nonetheless with chocolate chips and milk in the coffee it is yet another treat. Our extended breakfast talk has us walking no sooner than 8:02 a.m. along the Mesquite Trail for our objective. In that regard, Scott Surgent's summitpost.org summary will get you to the summit. I am wired from caffeine - simply "too much" to have at one sitting with two servings of coffee. The uphill pace cannot be too fast for myself - and the minutes fly by seemingly without measure. We leave the trail as recommended by Scott, and travel cross-country perhaps one-half mile to the summit service road. On-top we are dismayed to find a man working; and, without recourse to hiding, act kindly in the effort to diminish any hard feelings over our presence. Here, recall, the Park maps and information expressly state that hiking to the summit towers is prohibited. Rather than overstay our welcome we leaving immediately after touching the highest natural rock; and, indeed, continue straight back to the trail system, a thousand foot elevation loss, prior to taking our "summit break" and having lunch. The chicken sausage is still tasty, and I have it with green apple and pita bread. I even carry Rick's entire bottle of dijon mustard. Much of our talk focuses on Denali, Rick having been there twice while I go there next Spring. I consider Rick an expert on the subject - and so listen intent on garnering every tidbit of helpful advice possible. Our eleven mile hike ends just past one o'clock; and we caravan out of the larger Phoenix area to our next venue with plenty of time.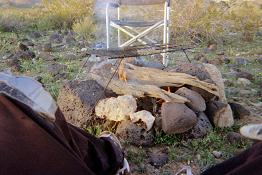 The grill for our meat
with dense desert ironwood.

For Woolsey Peak, the approach directions provided by John Hamann at summitpost.org are accurate. I do add, however, that one mile shy of the suggested parking location is a road fork at a well and windmill. Take the left fork (main road) when inbound to the trailhead. The right fork leads north rather than west as desired. Dinner tonight is simply splendid. Rick gathers ironwood - a very dense variety that is perfect for grilling. After the second chocolate truffle we begin with an appetizer session - pickled herring, more chips (yet with guacamole this time), and an assortment of condiments for now and later. The pork chops are slowly grilled to perfection - first by searing for five minutes on each main face which makes those appetizing cross-hatched grill marks. Then the cooking continues by turning each slice on-end to grill the side-surfaces. It is Rick's intention to cook the meat finely enough that I won't be compelled to add my usual condiments! Each of us gets a pair of baked potatoes, served one-at-a-time (my request) so that the second remains hot on-the-grill. When I do get my entrée the utensils are abandoned as I devour the grilled outer crust - and, indeed, no condiments are needed! However the inside requires some "assistance" as I enjoy it with barbecue sauce and cheddar cheese melted into a baked potato. A bottle of Cajun spices also goes well with the meat. However perhaps the best way is with a jar of applesauce - certainly brought by Rick just because I mentioned the option of "pork with apples" in an earler E-mail message while planning the trip. Later by the fire we talk to nearly ten o'clock - perhaps for three hours total. There is strawberry cream cake topped with applesauce - saving tapioca pudding for the next night. I am most pleased that Rick acts on my obvious desire for tasty and varied food. More pleased still that we are getting along well enough to ensure many more future joint peakbagging trips. All-the-while our goal for the next day broods in the distance as we watch and hear both commercial and military air traffic. Friday, February 20 - Woolsey Peak We arise earlier for this one because the weather is gradually warming and it is a lower elevation. Indeed, we sit at only 1,180 feet. The morning coffee will get me addicted - as I know that having this treat every day, rather than every other day, produces a physiological dependence to be avoided. However it will "go" with my chocolate-coffee granola bar - and, as Rick is happy to produce it, I abandon my stricture and enjoy coffee with him by the fire. We hike south around 7:20 a.m. after sunrise a dozen minutes earlier. The "bajada" mentioned by John Hamann is identified; and we plan a climbing route up its slope to the base of some seriously steep and rocky terrain. Our general route is indicated on the photograph.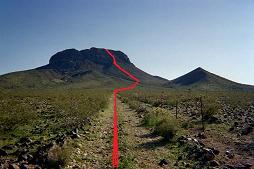 Woolsey Peak with our route indicated.

We negotiate the steep terrain above the bajada. Rick places a cairn at a key location where we traverse left (east) from one gulley into the adjacent one as I take a waypoint with my GPS unit. We continue along a scant path, and locate a cairn to our right (west) along a side-ridge. We head there, I take another waypoint, and we scramble up the ridge for perhaps 150 vertical feet to top-out on the summit plateau. It is then a level walk to the true summit about 250 feet southwest. The summit area features many "teddy bear" cholla cacti as noted by Scott Surgent. A pair of concentric rock rings lie within 100 feet of the summit to the northeast. There is a path leading from where we topped-out to the true summit. I recommend that you touch the highest rock at our topping-out point (see below for coordinates) since it was not obvious that it is indeed lower than the summit rocks 250 feet to its southwest. Rick and I take our break as I enjoy my sharp cheddar cheese and salami sandwich with rye bread - "lunch" at roughly 9:30 a.m. On the descent we create a cairned route, emplacing rocks perhaps every 20 vertical feet for the topmost 600 vertical feet of the climb. The bottom-most cairn lies at the bajada's top - and coordinates for it are provided in the following table using the WGS84 datum.
Description
Coordinates
Elevation (feet)
Topo chart (waypoint at cursor)
park
(33.19329° N, 112.88510° W)
1183
click here
base of cairned route
(33.16974° N, 112.88571° W)
2579
click here
traverse left into
adjacent gulley
(33.16915° N, 112.88522° W)
2800
click here
attain ridge leading
to summit pleateau
(33.16826° N, 112.88537° W)
2881 (too low)
click here
top-out on
summit plateau
(33.16793° N, 112.88477° W)
3178
click here
I return to the vehicles at 11:35 a.m., round-trip time 4 hours 15 minutes. Rick arrives five minutes later after searching for spent cartridges on the road. We caravan through Buckeye after snacks and begin the approach drive for Sierra Estrella with plenty of time. Once at our parking spot, a session in learning how to shoot a pistol is planned with Rick as instructor. We are stopped by a set of confusing instructions, in trip reports, that do not match our ground observations. Precious little matches - be it the absence of an airfield, Ocotillo Road (unsigned) becoming a sandy mess beyond a locked gate, and no obvious recourse apart from following electric power tranmission lines assuming that a service road lies underneath them.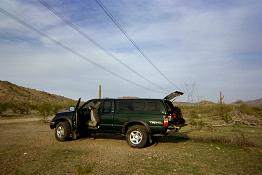 Camped under the power lines.

After over two hours of thrashing about in our vehicles we give up around 4:30 p.m., Rick heading home to Prescott. I drive north to a nearby camping spot located 1/4-mile east along the power line service road's junction with Rainbow Valley Road - a junction discovered only after Rick had departed. Without enough gasoline for exploring the road I relegate that task to Scott Surgent who lives nearby in Phoenix. The following road directions lead one from Interstate 10 to this electric power line road junction for a future effort. Interstate-10 Exit 121 - head SOUTH onto Jackrabbit Road. Take this road as it curves to the west and intersects north-south Tuttle Road. Take Tuttle south to Elliot Road. Turn left (east) onto Elliot and travel 1 mile to Rainbow Valley Road. All of these roads are signed. You MUST follow the above directions because roads suddenly end with barricades and/or become dirt, in-turn because the Gila River prevents north-south passage. It was only after several misadventures that Rick and I discovered the above approach to Rainbow Valley Road. Zero your odometer at the Elliot / Rainbow Valley Road junction. At 2.0 miles note Ray Road. At 2.9 or 3.0 miles is the power line service road, with the junction at WGS84 (33.30820° N, 112.46391° W). Before supper I hike southeast 500 feet and surmount an interesting rock outcropping with about 15 feet of prominence. On the far side was a lot of garbage from previous campers; and, after my trivial "traverse", I return to my vehicle for supper with camembert cheese, salami, gourmet olives, pita bread, romaine lettuce, a big orange, and the final, third (white) chocolate truffle. I am in my sleeping bag for 12 1/2 hours. Saturday, February 21 - drive home The drive home of some 350 road miles is uneventful apart from a slice of "breakfast pizza" just before driving Route 85 south to Gila Bend. I find myself sleepy, despite the enormous amount of rest, because, as predicted, I have become dependent on caffeine. Rather than drink it I must nap in order to wean myself off the drug - and this I do, twice - once in Yuma and then again at a gas station near Jacumba. The journey logs 1001.6 miles on my truck odometer. I am three P2000 peaks "richer", rather than four, owing to the approach road mix-up for Sierra Estrella. It is likely that I will make a re-attempt next winter as part of a lengthier Arizona prominence peakbagging journey.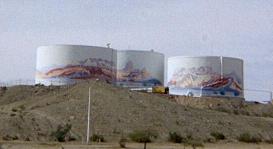 Exit 2 in Yuma features these painted tanks.