Baja California February 2007 Trip Report
- by Adam Helman
Background
A gleam in Bob Packard's eye, this climbing-based road trip to Baja California had been contemplated for quite some time. The emphasis would be on nabbing the peninsula's most prominent summits that he had not climbed previously in 2004 and at other times. I was invited for my Spanish skills, and because Bob had to pass through my home town, San Diego, enroute to Baja anyways. A set of four peaks were targeted (see the table below). That said, far and away the most important to Bob was the Sierra La Giganta Range highpoint in Baja Sur. As the fifth most prominent peak in all of Baja, Bob was determined to climb it - especially after being foiled in 2006 through lack of information ensured by a language barrier. Bob already had the top four mountains - while I had the top three - all rankings by prominence rather than summit elevation. Bob Packard described our trip in a post to the prominence discussion group. That material is reproduced below.
| | | |
| --- | --- | --- |
| Summit | Prominence (feet) | Elevation (feet) |
| ****** | *************** | ************* |
| Sierra La Giganta highpoint | 4,528+ | 5,512+ |
| Cerro Las Palmas | 4,003+ | 5,709 |
| Sierra La Asamblea highpoint | 3,510+ | 5,446+ |
| Cerro Santa Isabela | 2,100+ | 6,234 |
Note 1: Click on any photograph for a larger version.
Note 2: All GPS-derived coordinates for Cerro Giganta use the WGS84 datum in zone 12R.
Trip Details
Sunday February 4
Bob Packard drove south and west from his Flagstaff home, camping at the Walmart parking lot
in El Centro, California a mere two hours from my home in San Diego.
Monday February 5
Bob greets me in Del Mar Highlands, the community in North San Diego County where I live.
His new camper's refridgerator was acting stranglely, and, to hedge our bet, we purchased an ice chest at Target.
We drive to Chula Vista and buy Mexican automobile insurance good for nine days. We get lost in central Tijuana trying to locate the entrance to Highway 1D, having initially failed to take the relevant connecting ramp. After an eternity we eventually drive south, through Ensenada, and then east on Highway 3 for our first venue - Cerro Santa Isabela.
We camp inside a local cattle ranch (a $20 gratuity being paid); and look forward to an easy, 4 or 5 hour hike the following morning.
When in Mexico navigating the backcountry dirt roads is a challenge in itself.
I had purchased two bottles of tequila so as to make the locals friendlier to our presence and hiking desires - some of which surely would be on private land. One bottle is 100% pure blue agave tequila; the other a cheaper blend. The tequila would prove valuable on several occasions. That said, I generally saved the finer bottle for myself.
The amount of tequila I enjoy this evening is both entirely unreasonable and quite delicious -
especially with strawberry-infused white chocolate. In contrast, Bob eats a normal meal.
Tuesday February 6 - Cerro Santa Isabela
This is a very nasty hike, with thick brush (mainly dead manzanita that must be broken by hand), and everything from refrigerator to room-sized boulders. We give up just 1 kilometer from the summit, sensing an inadqueate water supply.
On the descent through a gulley the boulders are so large that each poses a climbing "problem". In two cases we crawled under a room-sized boulder in order to make progress. At about this point I locate a small pool of water hiding under a boulder, and accessed via a narrow passage. The two new quarts allowed me to complete our unsuccessful climb without becoming severely dehydrated.
Bob explores another approach route from due south by car, and might very well be determined enough for a return attempt some year.
We camp near Highway 3, having taken about 1 1/2 hours to drive out the roughly twenty miles of dirt road from near our objective.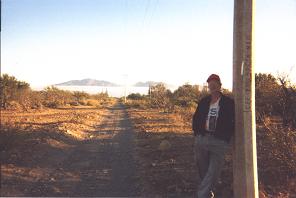 Morning fog in the distance,
with Bob at our carcamp
on day one of the Giganta climb.
Wednesday February 7
This is a driving day, as we wend our way, first west back to Ensenada on Highway 3;
and then south on Highway 1 to within some 20 miles of the junction leading to Bahia de Los Angeles.
My limbs are quite sore from yesterday, having not done any hiking or climbing for two months;
and then being subjected to a severe physical test lasting eight hours.
A dirt approach road leads 7.2 miles to a camp abeam the base of the Sierra La Asamblea Range highpoint.
We camp atop a minor rise and anticipate a twelve hour climb the following morning.
Thursday February 8 - Sierra La Asamblea
I set the alarm as to depart before sunrise - each of us with a full gallon of water.
We reach the range's western base after ninety minutes; breaking at the point of maximum curvature where the alluvial plain meets the mountain per-se.
Upon resuming our effort my right lower limb has a shooting pain down the right side whenever I place weight on it. The pain disappears, only to be replaced by a feeling that some muscle in my right thigh compartment refuses to support my weight. Too risky to continue with a sprain or torn ligament, I return to the camper some 2 1/2 miles away as Bob proceeds to the summit.
Returning after nearly two hours (longer than the ascent and due to my bad leg),
I change clothes and shoes to get comfortable; and enjoy the bulk of today both reading and eating food in the camper.
It was a fun day yet certainly not why I had come to Baja.
Bob returns one hour after sundown, having taken 13 hours 20 minutes for the round-trip.
Clearly tired and short of breath, he confirms that only the three southwesternmost bumps need be visited;
the fourth and farthest bump being obviously lower. A ridge route is preferred,
Bob having encountered climbing obstacles upon descending the wash.
We return the seven road miles and camp near the main highway.
Friday February 9
We drive into Baja Sur and, by mid-afternoon, arrive at kilometer 30 along Highway 1 north of Loreto. There, at San Juan Bautista, Señor Romera and his wife provide route information for how one drives to the base of La Giganta; as well as the name of a man in Loreto who might we willing to guide us on the mountain. La Giganta is a complicated mountain, with vertical cliffs surrounding nearly every approach angle. Together with the prospect of heavy brush and bushwhacking, it seems like a very good idea to find a man who knows his way around this beast.
The driving instructions proving inadequately detailed, we proceed to the Loreto police station where the attending officers contact the recommended man by telephone. Evidently this is one means of finding somebody in Mexico - summon him through the police department.
The guide appears within twenty minutes, only to say that he is not available to assist us for the weekend. However his brother José might be willing to assist us; and is presently working at a water pump station located 4.6 miles along the dirt road approach for La Giganta, one that leaves Highway 1 near kilometer marker 27. We caravan back north to greet José.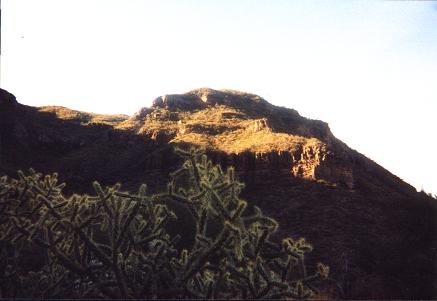 View northwest from our
backcountry camp on Giganta.
Cholla cactus in foreground.
After some dubious impressions that lead Bob and I to suspect that José is simply trying to make a quick profit (he obviously could not read our topographic map); we decide to take our chances and entrust this man with our success on La Giganta.
After bargaining we agree to a price of $135 and a two-day climb of La Giganta spanning Saturday and Sunday. José could not meet us until after he gets off work at 8 a.m. Saturday; and we agree to an 8:30 a.m. meeting at the pump station where we camp for the night.
Saturday February 10 - Sierra La Giganta Day One
José knows of a permanent water source, and this fixes the location of our overnight, backcountry camp. The hike lasts some 3 hours 50 minutes, and shaves 1,400 feet of gain off the following day. We arrive with plenty of time before sundown, and enjoy many hours of relaxation prior to supper and finally turning-in for the night.
Sunday February 11 - Sierra La Giganta Day Two
José must work by 8 a.m. Monday morning, creating two scenarios both of which entail hiking at night in order to meet that schedule. Either we climb to the summit, descend, break camp, and return to Bob's camper late evening; or we camp a second night on the mountain and hike out starting at 4 a.m. on Monday. Regardless, it is to be a long day.
We start by headlamp at 6 a.m., and negotiate the first of two class 3+ sections while yet dark. Remarkably, José wanted us to camp beyond these steep sections at a point where no water exists (!!!). I refused to consider that concept as it would have us hauling already heavy packs with enough water for two days to a dry camp - and along a route that was very steep at times - and all to reduce the effort of summit day by a rather minor fraction. Our actual campsite was far preferable. Had we too only a daypack, as José, then it would have been reasonable to camp farther up the route.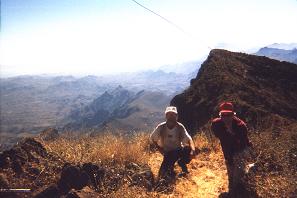 View southeast with
Adam and Bob atop
Cerro de la Giganta.
The route is complicated, and José earned every bit of his commission by locating a narrow path that goes clear to the summit. The path is at times quite rocky; and is annoying inconsiderate in a combination of nearly level sections mixed with very steep ones; but it is a path nonetheless. Bob and I would never have found this path on our own; and, having then to bushwhack, would have taken twice the time and effort to scale the mountain.
I rush ahead the final section to the summit, topping-out at 10:08 a.m. Bob and José follow within ten minutes, and we enjoy the remarkable views - especially east and northeast to the Gulf of California. The tall summit antenna is visible from way below (I saw it at our camp); and is used as a relay for the Loreto police to communicate with other municipal police departments. There is also a shorter antenna used by the military.
We return to camp at 2:45 p.m. and depart forty-five minutes later, having a nice snack to partly revive myself for the remaining descent. The backpack is not really heavy, perhaps only forty pounds. Nonetheless the only thing I want is to stop and sit down - it was 8 3/4 hours from camp to summit and back again. Our toils conclude at 6:48 p.m. just as darkness is nearly complete. A celebratory sample of tequila for José and myself is followed by Bob driving us back to the water pump station where José will sleep with fellow workers prior to assuming his chores the next day.
It is a linguistic and tactical tour de force that we manage to have climbed La Giganta. The net elevation gain is 4,800 feet; the total gain perhaps 400 feet more still.
Some coordinates for the approach drive and climb follow.
| | | |
| --- | --- | --- |
| (Easting, Northing) | elevation (meters) | description |
| **************** | *************** | ********* |
| (450220 E, 2896110 N) | 69 | car camp at water pumping station |
| (443951 E, 2891951 N) | 226 | trailhead |
| (442813 E, 2890277 N) | 353 | 1 to 1 1/2 hours along trail |
| (442105 E, 2890669 N) | 597 | topping-out on ridge |
| (440545 E, 2889430 N) | 662 | backcountry camp |
| (439949 E, 2889312 N) | 967 | water cache at ridge |
| (440090 E, 2888423 N) | 1257 | under cliffs along route |
| (441622 E, 2887389 N) | 1693 | summit Cerro Giganta |
Monday February 12
From Mulegé, Bob and I investigate the long and bumpy approach road for Cerro Las Palmas. After some ten miles of rather nasty going, we decide it is not worth the pain on this trip seeing as we had only driven about one-fourth of the needed distance. Bob may return for this mountain on his own, now that some of the exploratory ground research has been performed.
We return to Baja Norte, and camp about 30 miles north of the border just off the main highway. My dinner of home fries with three eggs and kosher pastrami is likely the tastiest meal I enjoyed in Bob's camper. It mirrors Bob's favorite evening meal (in his camper), which generally is a combination of hash browns, sausage links, and a fried egg; all served with a canned vegetable such as green beans or peas with butter. A small dessert completes the repast - chocolate chip cookie or fruit cup.
Tuesday February 13
Today's highlight is doubtless the midday restaurant meal in Ensenada. This seaside city brings tourists by the thousands; and, with an ample supply of fresh fish and seafood, it has always been my desire to take "time out" and smell the roses.
I choose El Cid, a moderately fancy establishment that serves traditional fare rather than the Americanized stuff we all see at places like Taco Bell.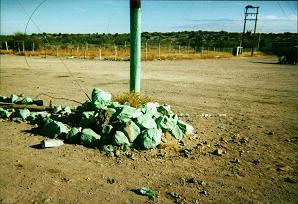 Green rocks at the pump station
where we camped before and after Giganta.
The requisite tortillas with salsa are first to make their appearance. The appetizer is "on the house" (yeah, right!) as tuna paté with toast wedges. A green salad with lettuce, tomatoes, and cucumbers is refreshingly tasty after over a week of canned food - served with blue cheese dressing. I enjoy a "margarita grande" - served in a large, hemispherical goblet with the standard salted edge. Suddenly I am tipsy and quite happy indeed!
A guitarist walks by, and plays a song about mountains and the countryside as per my request. Heck, for three dollars I can claim for all-time that Bob and I were "serenaded" at tableside.
The entreé is whitefish - breaded for Bob, and topped in a Monterey Jack cheese sauce for myself. A rice timbale and assorted cooked vegetables complete the dish. Again, there is a variety of menu items, ranging from standard burrito/enchilada/rice/bean combination plates to steak. However it just made sense to order fish while in Ensenada. The Chile en Nogada was tempting, however - a classic Mexican dish.
For dessert I enjoy apple tart with caramel sauce, accompanied by a scoop of vanilla ice cream. With tip the entire bill comes to $48 USD.
Bob and I return north on the toll highway 1D, and then wait at the border crossing one hour before entering California. Once home I pack my gear, and then Bob departs for El Centro.
Wednesday February 14
Bob returns home today and begins planning the next south-of-the-border adventure.
Summary
The major objective of the trip was acheived as the Sierra La Giganta Range highpoint. It is likely that no other person (and certainly no other foreigner) has climbed Baja's five largest prominence peaks besides Bob Packard.
Although I climbed no mountain besides La Giganta, I still find the entire journey satisfying.
---
Bob Packard's Description
Adam Helman and I recently returned from a trip to Baja. We had 4 objectives in mind. Here's how it went. Cerro Santa Isabel (E 6268 ft, P ~2160 ft) 36 miles southeast of Ensenada we took the Laguna Hanson Road, then other roads to a ranchero less than 3 miles as the crow flies southwest from the summit. We got permission to camp inside their gate and hike from there the next day, giving $10 each to 2 men. One of the ranchero dogs ran off with my baseball cap next morning, so I hiked without cap. We underestimated this hike and took only 2 quarts water each. Isabel is essentially a 1,000 foot tall pile of huge granite boulders, some living room size, interspersed with significant brush, rising out of a pine forest. We had to go up and over several ridges of this stuff and we turned back before reaching the summit as we were running low on water already. Hike took 8.5 hours. I figure we hiked about 6 miles and "enjoyed" about 1,200 feet of elevation gain. We think going to the summit would have added another 3 hours. After getting back we drive a road from the ranchero to the east to a spot which is even closer to the summit and has a more direct shot. I now know the roads in to that spot and may try again sometime in the future. HP Sierra la Asamblea as Cerro Dos Picachos (E 5480 ft, P ~3560 ft) On Mexico Route 1 13.2 miles north of the turnoff to Bahia de los Angeles there is a backroad leading north from the highway. At a dwelling off this road but near the highway we made inquiry and drove this road 7.1 miles. High clearance and 4WD for the sandy parts. It was from there we hiked next morning. We hiked about 2.5 miles northeast across the desert to the mouth of the obvious large drainage southwest of the summit. We decided not to use the drainage, but go up the southwest ridge of the mountain to its north. At this point Adam experienced considerable and unexplained pain in one of his legs and turned back to the camper. I continued on with several ups and downs along the ridge (over Cerro la Equis if you have access to chart H11D39); and finally to the summit area. There are, indeed four "bumps" up there, the north one significantly lower than the other three. I visited those other three, those three getting slightly higher as you head northeast. Class 2 only and pretty good going, but with some brush near the top. Great views all round, especially of the Gulf of California and of a surprisingly flat mesa off to the northeast on which I did not see landing strip as implied by the map. No sign of anyone being up there, but I'm betting there have been people up there. Not wanting to redo the ups and downs on return I used the drainage leading southwest to the aforementioned obvious large drainage. It did have a couple of 3rd class drop offs, but it went OK. Last hour was after dark with head lamp and guided by the lights of the camper. 13.25 hours, 12 miles, 4300 feet elevation gain. HP Sierra la Giganta (E 5545 ft, P ~4595 ft) This was our main objective and we were both successful. We stopped at San Juan Bautista, a roadside hut with a Tecate sign about 20 miles north of Loreto on Mexico Route 1. I knew we should do this because of my experiences in my attempt at Giganta last year. We (really Adam who is fluent in Spanish) talked to Bernavet Osuna Morena who suggested (1) that we use a road 2.0 miles southeast on Mexico Route 1 (kilometer 27) at Cerro el Tejon on chart G12A88; (2) go into Loreto to the police station and have them look up Miguel Romero Bastida, a potential guide. We started in on aforementioned road, but in 0.2 mile reached a fork and already we didn't know what to do, so into Loreto we went. Somehow (without telephone) the police found Miguel who showed up at police station. He couldn't guide us (having to work next day) but perhaps his brother, José Taylor Bastida (age 55) could and might want to, he being off work next two days, a Saturday and a Sunday. Where was José? He was working at a water pump station up the very road mentioned in (1) above. In my camper Adam and I followed Miguel in his car (we gave him $10) back the 20 miles north of Loreto on Mexico Route 1 and 4.6 miles west on that road to the pump station; learning the correct turns on the way. Yes, José would guide us and bargaining resulted in a fee of $135. We camped at pump station and next day José, Adam, and I in my camper drove another 5.7 miles to a place called San Francisco de Asis (see chart G12A88), learning the turns on the way. Some of these roads show on the map, some do not. From there we hiked on path about 3.5 miles to a place we camped, Adam and I carrying backpacks and José a day pack. This place is right on the "T" in the word "G I G A N T A", and is near a large spring fed water pocket. We lazied away the rest of the day and next day José led us on a usually followable path to the summit. Early on there are two short (12 to 15 feet) 3rd class cliffs. Other than that all 1st or 2nd. Route basically follows northwest ridge. Significant brush if you get off trail. There are two antennae on the summit, the larger one for the police in Loreto, the smaller one for the military. José told us that the materials (batteries, solar panels, trusses, etc...), were brought up by porters. He said that there have been a few others, including Americans who have been up there. Back at camp after a break we hiked out to camper. First day I record as 3.75 hours, 3.5 miles, 1500 ft; second day 12 hours, 8.5 miles, 3700 ft. I guess now that I know the way I might be able to do the hike in a long day, but without José the drive in and discovering and following the trail would have been problematical at minimum. If you've ever seen it you know that Giganta is a great looking mountain. HP Sierra la Palmita (E 5740, P ~4060) With Giganta taking two days instead of one I now had a choice of getting home a day early or a day late. I chose the former. This meant we wouldn't do this peak, but we did explore the way in. In Mulege there is a road leading west to San Miguel. We drove the first 11 or 12 miles of this road by following the prominent signs for the Ranchero la Trinidad rock art sites (see page 180 of "The Baja Adventure Book" by Walt Peterson). We were told the road goes OK to San Miguel, then on to La Ex-Mision de Guadalupe. From there chart G12A55 shows a road leading to a trail leading only about 3 miles to the summit(s) of Palmita. I figure that even if I can't drive that last road it would be only a day hike of about 18 miles round trip to do Palmita. I now have done 8 P2000 peaks on Baja and 7 of the top 8 (not counting islands) on Andy's list, Palmita (#6) being the missing one. A late lunch - early dinner at the El Cid Restaurant in Ensenada rounded out our Mexico experience.