Bear and Slate Mountain Trip Report
Bear Mountain (6,913+ ft) and Slate Mountain (9,302+ ft)
Dates: October 26-28, 2007 Note: Click on either image for enlargement.

Bear and Slate are on the California 2,000+ foot prominence list. Bear Mountain has considerable access issues, while Slate Mountain is on public lands with a trail leading to within one-third mile and 300 vertical feet of the summit.

Edward Earl established relations with a realtor in Bear Valley Springs for access to the front gate of this large housing development. Gail Hanna, Richard Carey, and I join him for the short hike to a threesome of summit boulder outcrops.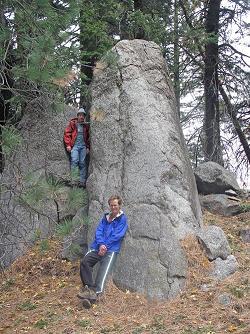 The middle boulder outcrop is
best climbed on the line marked by
Edward standing partway along it.
I drove with Edward Friday night the 26th, camping just north of Mojave in the high desert. The next morning, after breakfast with Gail and Richard, we piled into Edward's pickup truck and entered the gated community. We parked at an area designated for camping and picnicking (about 6,200 feet); and then proceeded cross-country and on dirt road to the summit area.
One cannot sight between the highpoint candidates - climb all three of them for credit. The middle candidate is Class 4 with some ten feet of exposure; the western one is Class 3; and the eastern one, with benchmark close-by, is trivial and has a large antenna mast atop.
Back in Tehachapi we said goodbye to Gail and Richard, Edward and I continuing via Bakersfield and Porterville to Slate Mountain. California Route 190 has a lot of twists and bends as it ascends the 6,500 feet to our intended venue. It is not an enjoyable ride.
Slate Mountain is a wonderful hike on-trail with some 2,200 feet of total elevation gain. The final 300 feet are off-trail, ascending the northwest ridge of Slate on boulders with some brush near the summit.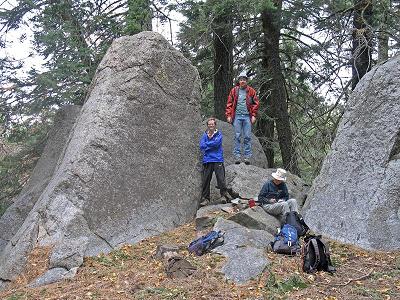 The middle boulder outcrop from a different angle.
Gail inspects a summit register.
There are two rock outcrops competing for the highest point. One is north, and has the benchmark with a sizeable register. The other is maybe 300 feet south and has a smaller register. We signed-into both registers - a "first" for myself.
I enjoyed a pint of Snickers ice cream on the drive home with assorted mix-ins.
Note 1: Benchmarks for these peaks are lower than their respective highest ground. For Bear Mountain the highest of three boulder outcrops is perhaps ten or fifteen feet above the benchmark. For Slate Mountain the highest ground is anywhere from two to feet above the benchmark. Hence the "+" signs in the title.
Note 2: The previous weekend I drove to the high desert with my own pass from a different realtor. The weather was bad - wind and drizzle even in Tehachapi. I bailed, and drove in the direction of Owens Peak northwest of Ridgecrest. High winds ended that effort, with a sandstorm and even road closures in the area. I returned home with nothing but 450 miles on the trip odometer and $70 spent in gasoline.
The same Santa Ana winds which turned me back resulted in the worst wildfires San Diego County has experienced. I evacuated my home, living at Edward's apartment for two days until the threat was diminished enough for authorities to sanction re-population of Del Mar Highlands and adjacent communities.