California Desert Prominences April 2014 Trip Report
© April 2014 Adam Helman
Note 1: All coordinates use the WGS84 datum.
Note 2: "KW" indicates a Kurt Wedberg photograph.
Note 3: Mouse-click images for detail.
Dynamic Route Map with all Peaks

Background
I still want to stand on Denali's summit. Kurt Wedberg of Sierra Mountaineering International lives and works out of Bishop, California - and I wish to meet him for numerous reasons related to that theoretical adventure. To make the road trip's expenses more sensible a peakbagging trip is planned around his availability in early April during the desert climbing season's practical end.
I will do four 2,000+ foot prominences alone followed by a fifth P2K, Manly Peak, with Kurt. It has a rope-worthy summit block, such that a partner is recommended - although not necessarily a guide. The trip logistics are my responsibility, including meeting time and location plus road and route navigation. Kurt will then lead the summit pitch.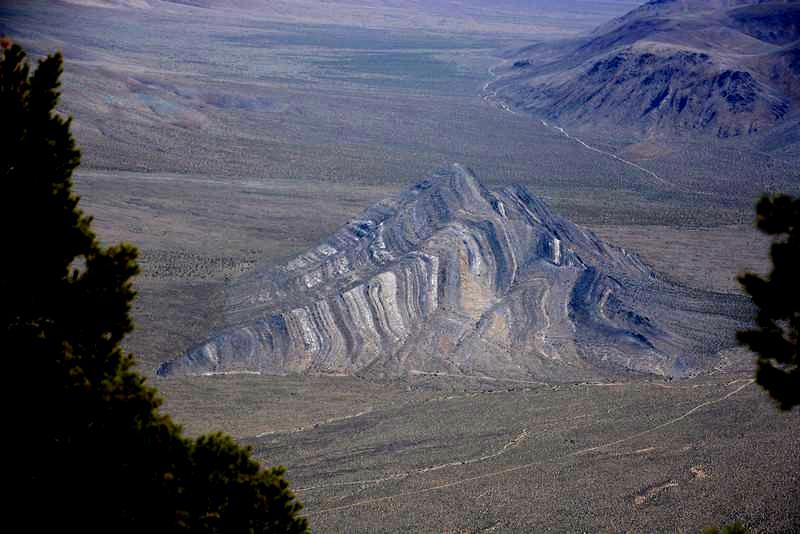 Enormous forces have upended horizontal rock strata in
Striped Butte near the Manly Peak trailhead (KW).
Friday, April 4 - Early Start
I delayed the journey two days so the ground would dry after a brief rain event. Unfortunately I forgot to recognize that Friday is a terrible day for driving Interstate-15 over Cajon Summit because of all the Las Vegas-bound gamblers coming from greater Los Angeles.
So I start quite early at 1 p.m. rather than drive in the evening. Tuning to KNX newsradio (1070 kHz in Los Angeles) I learn of roadwork that is blocking two lanes at the pass - and creating a nightmare for travelers. WHY THE HECK is Caltrans performing work at the week's busiest time?
I avoid Cajon Summit by taking a "sneaky" way to my first peak, using I-215, Route 60, I-10, Route 62 through Twentynine Palms, Amboy Road, crossing I-40 and finally Kelbaker Road. I park at the Wildnerness boundary sign where others have for Granite Mountain.
Saturday, April 5 - Granite Mountain
This morning is colder than all others, temperature in the 30s, enough for a jacket and gloves before the sun hits me after half an hour.
I follow the gulley used by others, staying either to its left or right depending on where the least amount of brush and boulders are found.
On the summit with DPS register I see a subpeak competitive in height to my west - and a rock pinnacle along the main ridge to my south (or southwest) that I swear seems just as high. WHY is there no mention of this issue in any trip report?. Has somebody hand-leveled to determine that pinnacle is indeed a few feet lower? Sheesh...
Descent is more rapid, and mainly on the gulley's north side until about 500 feet above the valley floor.
Through Baker, California I take Route 127 to tiny Shoshone and then Route 178 to park near its highest point prior to descending into Nevada a few miles east. Rather than camp on the highway's shoulder which seems a bit risky I heed a Highway Patrol officer's advice to camp 0.9 mile southwest in a broad grid of dirt roads just southeast of the highway. This way a passing drunkard won't smash into my car while I'm sleeping inside!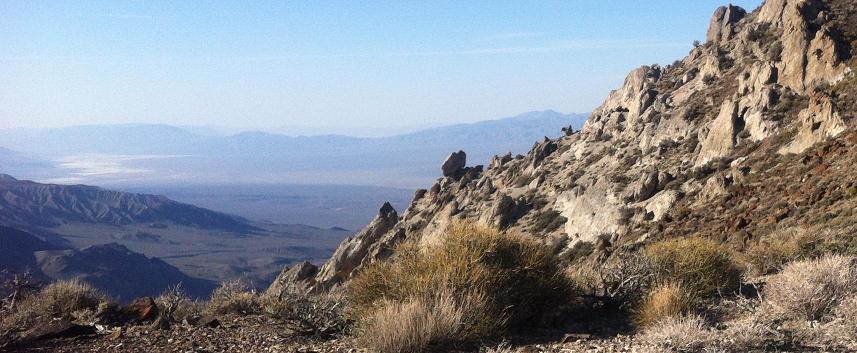 A favorite vista from the Townes Benchmark effort -
here looking southwest into a sun-scorched neverland.
Sunday, April 6 - Resting Spring Range Highpoint
Some intense navigation for this one. I've read reports of people getting stymied, wasting time
figuring out how to get from gulley to summit via a doable route. Here are some pointers ...
Enter the gulley system at a prominent black rock mass (36.15835° N, 116.18958° W)
that is visible for several hundred yards along the gently-graded approach slope.
After skirting around this monolith's left flank continue up the narrowing gulley to a
series of cairns at (36.16089° N, 116.19089° W). You absolutely positively MUST
return here on the descent, rather than missing the use-trail leading uphill to it.
Turn left (west), descending an obvious use-trail about 30-50 feet into an east-west trending gulley.
Continue west within the gulley for perhaps 100-200 yards until finding a cairn above and left.
Leave the gulley here, and continue on an obvious path, paralleling the gulley on its south (left) side.
A dry, essentially unclimbable waterfall is encountered at (36.16101° N, 116.19289° W).
Turn left again, ascending about 10-15 feet at a cairn to bypass this obstacle. Continue west.
After just 300 or 400 feet encounter a broad bowl at the base of several gulleys that
all funnel into the gulley you have traveled. There are cairns in many locations, which is confusing.
The route you want is southwest (the leftmost gulley when viewing upslope), and begins with a
black Class 3 rock band, about 15-20 feet tall, at (36.16127° N, 116.19433° W).
Ascend this rock band and continue on gentle terrain in your new gulley to its end at
(36.16229° N, 116.19811° W) with elevation 1,150 meters.
Use-paths ascend steeply the ridge to your west, and continue clear to the summit 450 meters (1,500 feet) above.
At 1,150 meters the ridge's apparent top is actually a rock outcrop at (36.16349° N, 116.20100° W).
Do not stray too far right (north) while getting around and over this obstacle. Instead go right through it,
following paths and cairns when feasible. The paths and surrounding (untrammeled) terrain are loose and steep enough that trekking poles must be seriously considered.
The final several hundred vertical feet of path(s) ascend immediately left (south) of the ridge proper.
After this 6 hour affair I head into Death Valley National Park on Route 190, parking at Towne Pass (4,956 feet) in anticipation of the next morning's effort. I am at the brake check area, there being long downhill portions in both directions from the pass. It is unusual and nice to have no dirt road driving for reaching a "trailhead".

Monday, April 7 - Pinto Peak

The main issue here is passing through a cliff band right at the mountain's base. As with yesterday's effort I provide some GPS-derived waypoints of assistance.
Reach the mountain's base at precisely (36.39370° N, 117.26784° W), elevation 5,400 feet.
A cairn marks the route here.
Hike left (northeast), ascending about 30-50 feet and then traversing (no elevation change)
along an obvious path to (36.39450° N, 117.26740° W).
Looking uphill to your right, climb Class 2/3 terrain to (36.39431° N, 117.26704° W)
which is only about 130 feet away in horizontal coordinates.
A possibly useful intermediate point is (36.39437° N, 117.26714° W).
You are now above the tricky terrain. Head for (36.39449° N, 117.26660° W) and use that
waypoint for knowing where to access the cliff band on descent.
It is windy today, even annoyingly so on passing over saddles enroute to the summit.
On top I enjoy yet another turkey pastrami sandwich, prepared the previous evening for each of my five efforts. Tapioca pudding cup with pieces of chocolate go well with a blueberry fruit bar. No cell service - I truly must be 100% self-reliant here!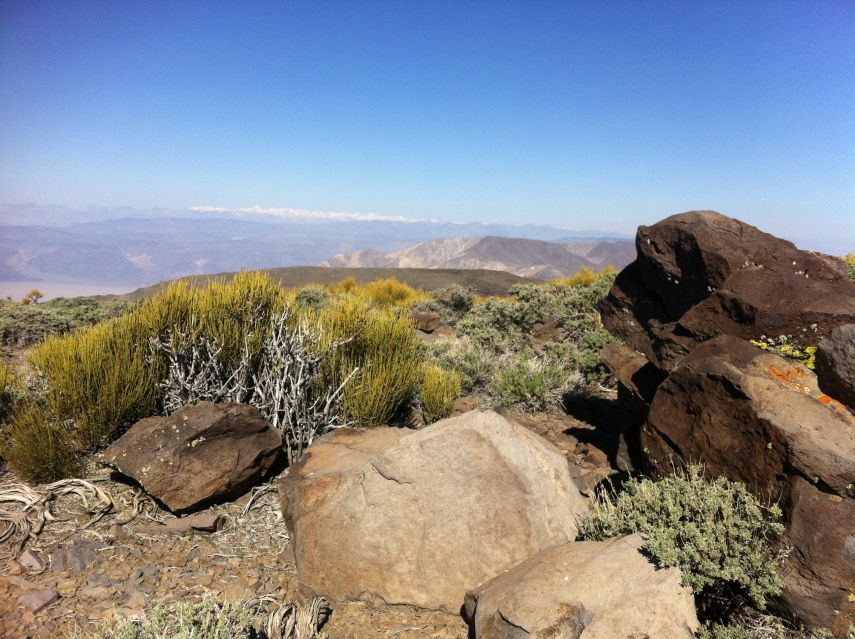 Northwest vista from Pinto Peak's summit with Sierra Nevada in the far distance.
There is no cell signal at Towne Pass, and with an entire afternoon ahead of me I drive 14 miles west to Panamint Springs to let mother know I am fine.
There's no service there either. I drive 8 miles farther west to a road pass overlook and make contact, letting her know that she will NOT be hearing from me tomorrow - only upon driving home the next day.
Back at the Panamint Springs gas station ($5.70 a gallon!!) I eat a sizable amount even though the prices are ridiculously inflated, including two slices of pizza (one with turkey pastrami atop), a large amount of diet soda pop and a delicious Snickers ice cream bar.
I return to Towne Pass around 4 p.m. and read until a light supper followed by more reading until dark.
At 9:15 p.m. a National Park Service ranger bangs on my camper shell and says I am illegally camped. I was unaware of being inside the park boundaries. He does a background check on my drivers license and then insists that I go to an actual campground, even waiting until he sees me drive in the direction of Stovepipe Wells, 17 miles away and all of 5 feet above sea level.
This is very inconvenient since it means arising a half hour earlier still at 5 a.m.
for returning to Towne Pass and my next mountain. The day's heat is responsible for my pre-sunrise starts.
After purchasing a park entrance permit at the self-serve kiosk my ignition key won't turn to start the engine. I walk 200 yards to the gift store which is just closing and get advice to jiggle the steering wheel. This ploy works, to my considerable relief, and I needlessly drive to the campground and pay $12 only to sleep in my own vehicle without using any services.
I resent being treated like a "criminal" with a background check,
followed by a senseless waste of gasoline, time and money.
Tuesday, April 8 - Towne Benchmark
I thoroughly enjoy this one, my only peak without some issue that threatens success such as heavy brush, intense navigation or cliff bands. That written, I do encounter a snake (likely harmless?) at (36.40778° N, 117.29160° W) with a 5,991 foot elevation.
Be advised to give this snake a wide berth when ascending the obvious ridge.
At the summit I find a completely new sign with "Mt. Knight EL. 7,271 ft.". This is odd since I've never heard of the mountain being called anything other than "Towne Benchmark". In addition the benchmark itself has "7,271 feet" seemingly scratched atop, and an obvious defacement of government property. Note that this Towne Benchmark should have "7,287 feet" by all previous accounts.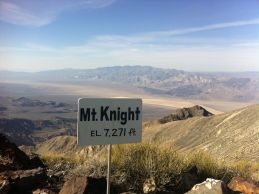 New sign atop Towne Benchmark
with desert floor 5,700 feet below.
On returning to my vehicle a camper parks on the opposite shoulder with smoke coming from its engine compartment. The driver, an old lady, pours water on the conflagration and cries "Help!". I lock my stuff in the cab and walk over.
She is alone, traveling from her Oregon home to visit a sister in Surprise, Arizona - and wanted to go via Death Valley as she's never seen it. Her engine is air-cooled (!) and the substantial gradient getting here meant insufficient air flow from driving slowly up the 9% gradient on a very hot day.
We agree she should extinguish the smoke before driving as my passenger to Stovepipe Wells for professional assistance. Her vehicle clearly should not be taken. After a while I've rearranged all my gear, changed clothes and we are ready - yet I suggest she bring a sun hat since it'll be 100 degrees in the valley.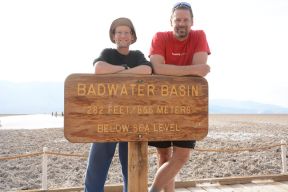 North America's lowest point (KW)
At the park office in town the helpful ranger contacts a towing service in Lone Pine and arranges for returning to her vehicle with a second park ranger (where her numerous medicines were left behind). After providing her a sweetened iced tea and boysenberry cookies we leave as friends.
It's 2 p.m., fully two hours before meeting Kurt here in Stovepipe Wells. Soft-serve chocolate ice cream is purchased in an edible bowl (four dollars), and enjoyed with assorted mix-ins including exquisitely sweet brown sugar cinnamon babka coffee cake, cashews and peanut butter. I love ice cream!! 8-)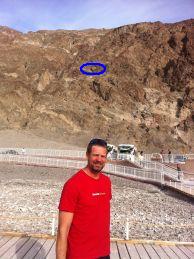 Kurt at Badwater Basin.
Blue ellipse encircles
"SEA LEVEL" sign on the
background slope.
I sit in the store's shaded front area on a rocking chair and read about high altitude illnesses in a well-known book by Charles Houston, M.D. The irony is striking: here at the continent's lowest and hottest region one should be consumed with issues relevant to the Andes and Himalaya!
A bunch of Mexican motorcycle riders from Cabo San Lucas (at the tip of Baja California) receive my wisdom about where to get gasoline and sleep for the night on their way south to Ridgecrest and points beyond. My Spanish is sufficiently impressive that it starts a second converation with a man and wife - who soon enough are learning about topographic prominence!
Kurt appears around 4:15 p.m. from Bishop. After snack purchases we get going immediately with little time to spare since a long dirt road should be driven before it gets completely dark.
However we do pass through and stop in Badwater Basin which supports the continent's very lowest point. Recent analysis concludes that it's Earth's hottest place, the previous record of 136°F in Libya having been discredited as inaccurate.
The above photograph at left will be presented alongside a Denali summit picture 14 months later - a unique pairing from North America's lowest and highest points.
The dirt road driving is very unwelcome because I am at-times heading directly into the setting sun with a dirty windshield. It's difficult to see properly, and yet I must lead this small caravan at a reasonable pace to avoid being stuck on the approach drive with insufficient light to complete the effort.
By a quarter of eight (one-half hour after sunset) we reach our trailhead. It's been just over 26 miles (a marathon) of driving from Badwater Road, and has consumed nearly two hours.
We agree to hiking at 6 a.m. as a compromise between getting enough sleep and avoiding the day's heat. I cook chipotle-spiced rice, later enchanced with Velveeta cheese and more spices. Sleep comes around 9:30.
| | |
| --- | --- |
| | |
| Adam in early morning on Manly Peak (KW) | Kurt and general vista (KW) |
We have some apprehension from dark, cloud-filled skies, as our drive "out" depends on dry ground. There is also the possibility of flash flooding in the desert. However by the time we reach the summit area there is more blue to our west where the weather is coming from.
Kurt inspects the boulder problem and then free-climbs it after donning pants and rock shoes. I follow, able to climb confidently with his top-rope belay, one angled so that the force of my fall would not pendulum me to the right and smack into the adjacent boulder.
| | |
| --- | --- |
| | |
| summit boulders (KW) | Adam at the crux section (KW) |
We take turns at the summit, after which I downclimb using the same mid-line crack (rather than the broad chimney at right) that I employed during ascent. Kurt follows with a self-belay.
After an enjoyable "lunch" break at the DPS register (it's only 9 a.m.) we descend uneventfully to our vehicles. The ascent takes roughly 2 hours, the descent 1 hour 20 minutes and the entire round-trip including summit pitch and all breaks consumes 4 hours 50 minutes.
We drive at all of 11 a.m., returning to pavement at 1 p.m. where I autograph a color, hardbound copy of my prominence book The Finest Peaks and present it to Kurt before going our separate ways.
I continue south on Badwater Road, soon becoming Route 178 over Jubilee Pass before joining Route 127 a mile north of Shoshone. Gasoline in Baker (and a Haagen Dasz coffee almond crunch ice cream bar) suffices to get me home by 8 p.m.
Kurt ascends the summit boulder.
Note the transition from 70°
to 45° slope angle. (KW)
Kurt on the tippy-top as seen by Adam
at the belay point ten feet below. (KW)
Summary
ALL goals of my trip are realized - five P2000 summits - including Manly Peak as an assessment of Kurt's skills and demeanor. I hereby recommend his services to others, and have gained confidence that we can get along under the more trying circumstances of a certain gigantic mountain.
My pickup truck's odometer read "171,459" on trip commencement; and "172,470" on conclusion - a total of 1,011 "Adam truck miles" which are roughly one-hundredth larger than normal, statute miles.
| | |
| --- | --- |
| | |
| yellow flower (KW) | pink blooms (KW) |
Addendum
Andy Martin provides these interesting tidbits related to the Manly Peak area.
A very interesting true story about some German tourists that perished in the area.
The Barker Ranch used by the Charles Manson family, is about 4 miles south-southeast of Manly Peak.