Chile Lake District Volcanoes and Colombia's Ritacuba Blanco
© February 2014 Adam Helman
1-3
1
Mouse-click on any photograph for enlargement.
The photographs MUST be seen at larger scale
to appreciate their detail and quality.
2
Photographs are courtesy of Rob Woodall except where
indicated by "AH" (Adam Helman) or "DG" (Duane Gilliland).
3
Refer to Rob Woodall's trip reports for detailed
&nbsp approach and climbing route information. Links are
&nbsp available below within each peak's subsection.
Background and Orientation
ob Woodall conceived of this journey to several ultra prominent volcanoes in Chile's Lake District. His travels are motivated by topographic prominence - a mountain metric rewarding vertical relief as distinct from sheer elevation. Rob solicited the attendance of other UK nationals and myself. Initially I was reluctant since until now my Andean travels have only been for Earth Fifty Finest summits - and none of his venues meet that criterion. I decide to join him after adding Colombia's Ritacuba Blanco which is ranked 46th by prominence on Earth. For myself this will be the trip's most important goal, especially as we are traveling to Colombia just for that one mountain. The resulting itinerary lasts over three weeks. Attendees include Adrian Rayner of the UK and Duane Gilliland from Washington state. Adrian will fly home after the Lake District portion while Duane plans to remain with Rob and myself for the Colombia component. Claire also comes - yet neither climbs nor eats any meals. Her attention to detail, however, is impeccable as she declares, "In 750 meters turn left - then turn left". Often she is unaware of minor side roads near the desired turnoff. Yet the correct road is generally obvious by visual inspection.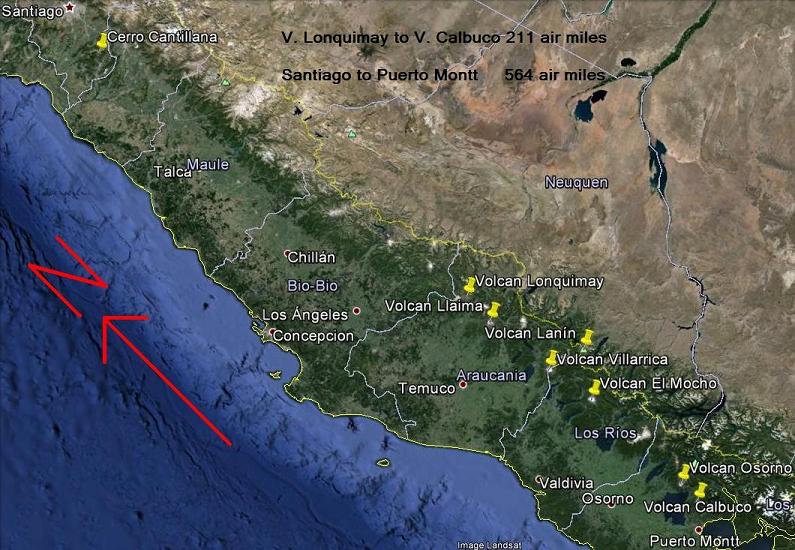 The Chile trip component including all major cities and peaks.
The Journey
Outbound Flights and Cerro Cantillana
drian and Rob arrive two days early to climb Cerro Cantillana, a relatively low elevation ultra prominence just south of Santiago. Duane could not come owing to Christmas with his family, and I refused to pay $200 extra as the airfare difference between the two possible flight dates. Rob's Cantillana report is available below. It was a longish day, with considerable distance, elevation gain - and access issues.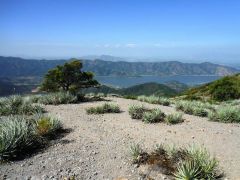 Lake Aculeo from
the Cantillana route.

He and Adrian return to Santiago and await the international arrival of Duane and myself on separate flights. Presently Americans are charged $160 for entry as part of a reciprocal agreement that benefits only the two governments. I never receive a rational explanation. After all four of us are together we take a roughly one hour internal flight south to Temuco. There we rent our high clearance vehicle and head for a large supermarket. It's all quite modern and organized, with a large variety of products competing for our attention. Then we locate cooking fuel, as benzeno blanco ("white gas") at a hardware store (ferretería).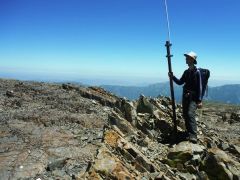 Cantillana summit with Adrian.

Now with adequate supplies we head for the countryside, camping at a grassy area for cheap enough and perhaps one-half hour from our mountain. Through some misunderstanding Rob is certain that I planned to share dinner food with him. My understanding is that I would share the stove for preparing his food and mine separately. So I now share what was meant just for my consumption - and must supplement it with Rob's consumables. It all works out in the end - in fact, I enjoy the resulting variety. As with every camp supper on the journey Rob and Adrian will eat well, and then enjoy hot tea - sometimes with cake or cookies. The boiling hot tea seems essential to their psyche ... and although I understand this is part of their heritage I simply don't have a similar yearning! With excellent weather everyone but myself just uses a bivy bag. I place my sleeping bag on the car floor where rear passengers sit. It's a bit cramped yet in my view preferable to erecting a tent on these non-hotel nights. My legs can barely move - yet just enough to shift positions at night when I feel like it. Rob Woodall's Cerro Cantillana trip report and photo album
Volcán Lonquimay
ith sunrise about 6:30 we awaken around 6 and get going to our first peak's trailhead. The originally planned start point is unavailable with a gated road. Instead we drive to a high saddle where we park, have breakfast (it's windy!) and start out. I am pleased folks agree with me that eating breakfast prior to driving is a waste of calories - better to eat just before uphill foot travel.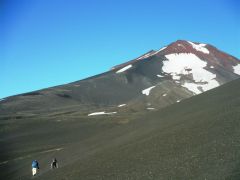 Start of the Lonquimay climb.
We ascend the left skyline.

The day is gorgeous and the route obvious as we initially head cross country to a ski area service road which is then taken to its upper terminus. Then we select the obvious ridge and head for the crater rim. By excellent fortune we top-out on the rim's highest ground! This is most fortuitous as the ridgewalk seems gnarly and full of obstacles.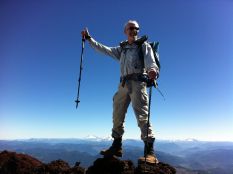 "I am the King of the World."
- Duane Gilliland (AH).

We have an excellent lunch break, sharing much food, taking pictures and the day more generally. Our next target is quite apparent, yet with much much more snow - a recurring theme for the trip's balance. Sadly we must end this impromptu party and descend... ...returning to the patient vehicle in only about two hours. This has been our easiest effort of the journey, with neither snow nor high angle terrain to negotiate. It's an appropriate start. We drive towards the next target, parking at a ski resort closed for the season. Adrian and Rob also enjoy beer. I quote Rob in stating that one has earned a beer after each climb - and has also earned one in anticipation of the next climb. Doing the math, if you climb a peak every second day then you get to enjoy beer before supper every single night! Oh well. His idiosyncrasies pale compared with mine when it comes to food and drink.

Rob Woodall's Volcán Lonquimay trip report and photo album
| | |
| --- | --- |
| | |
| Lonquimay's southeast ridge | low-lying plants |
Volcán Llaima
y morning Duane informs us he will not be coming due to foot blisters that he wants to heal before they ruin his entire trip. Adrian, Rob and I hike the first 1,400 vertical feet, on a steep dirt road in well under one hour. The cloud ceiling is getting lower - we cannot see the summit. Still we strike out cross country, on nearly level yet rolling terrain, to our goal's left skyline.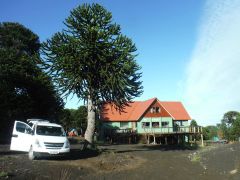 trailhead and our vehicle

We are blind, using only coordinates in Rob's GPS device for large-scale navigation.
On the smaller scale we can see only about 500 feet. A dog keeps us company, having followed us from the ski area and amusing to watch as he plays with rocks almost too big for his mouth to carry. The dog no longer wags his tail at one point - and we wonder if he knows that we are going off-route.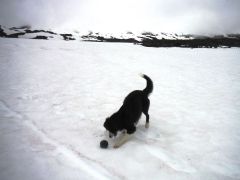 The dog which follows us.

Soon enough we head obviously uphill, having reached the volcano itself. There is little visibility, gathering wind and even drizzle. Conditions worsen as we don crampons to descend a short, steeper section of snow. We then continue uphill for maybe 500 vertical feet and collectively decide this is not our day - and descend. It would have been miserable indeed. As-is I was chilled to the bone. Back at camp Duane had watched the weather turn for the worse. Tomorrow will be a rest day as we await improved conditions. Our free day is enjoyed in town, with a good room for the night and restaurant meals. We return to our trailhead and secure permission to sleep under an alcove lest it rain overnight. I of course just stay in the car.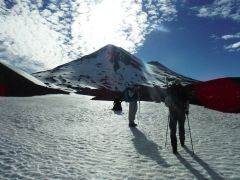 lower slopes

Duane joins us this time. The weather is nearly perfect as we start up the volcano's lower snow slope. After a dicey section of harder snow we stop at a rock island to affix crampons. Soon enough and with harder snow still we zigzag uphill under ever-windier conditions to a rest point at the snow's upper end - at the base of an 1,100 foot dirt, rock and scree slope leading to the summit.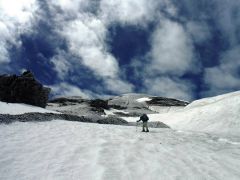 steeper, upper slopes

That scree slope is a terribly demanding effort, especially with the wind chill well below freezing. The rocks slide uncontrollably, and there is no way to get a solid foothold. What's more half the rocks are covered in rime ice! Rob and I top-out first, remove crampons and drop our packs at a fuming volcanic vent with toxic gases. From here it's less than 50 vertical feet to the highest ground. After pictures we return quickly, sit and eat amidst rocks warmed by the internal heat. Adrian and Duane arrive as we depart with crampon-less boots. Our walk down gentle snow to the base is glorious compared with that horrid scree. We sleep at the ski area this evening, having returning no sooner than about 5 p.m. or so - time for supper and bed after some 5,500 feet of total gained elevation over 11 hours.

Rob Woodall's Volcán Llaima trip report and photo album
Steep, loose, icy, windy
rubble slope high on Llaima.
Llaima summit with Adam.
Volcán Villarrica
e enjoy hot oatmeal for breakfast, using the kitchen facilities of a nearby ski building with the owner's approval. Our day will be slow, there being no need for climbing on back-to-back days. The community of Pucon serves as staging area for our ascent of Volcán Villarrica which we plan for the following day with improved weather prospects.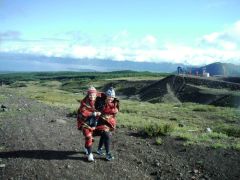 Standard attire for locals
while climbing the peak.

We score another good place to stay, and enjoy much nice food in town. Especially pleasing is a cheap cafeteria embedded in the nearby supermarket where a meal, such as roasted chicken and rice, can be had for a fraction of the price in any restaurant. However I find the best combination of all is hot chocolate with this chocolate-raspberry-caramel snack cake available in packages of six from the market. It's by far the tastiest confection I enjoy during our efforts.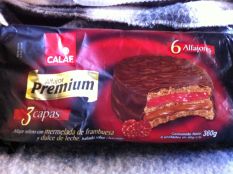 Chocolate-raspberry-caramel
snack cake is delicious. (AH)

The next morning we arrive at the mountain and find it simply too windy - indeed, CONAF staff (the national agency charged with managing parks and other natural environments) prohibits ascents today. So we just hike uphill about 400 feet under the ski towers and call it good. Villarrica ascents are controlled by CONAF. It's a snow peak of moderate steepness, and there are local guides aplenty who take novices on what may be the only true climb of their lives. We don't like that idea - and have come prepared with a demonstration of self proficiency so that we can climb without assistance. Thus I display my AAC (American Alpine Club) card at a ranger station along the approach road and discuss our preparations - to the staff's satisfaction.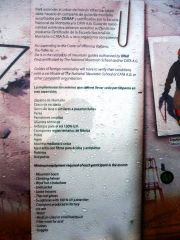 The official requirements
for climbing Villarrica.

Rob and I also have climbing resumés for review. Mine, in Spanish, was printed in multiple copies for presentation as needed to realize our summits with complete legality. We climb the next morning, assisted by the ski lift to shave-off 1,500 feet of gain. Starting at its top end, I prove to another CONAF person that we can climb unguided after digging deep inside my pack for that AAC card.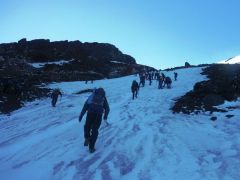 Several groups at route's base.

We quickly pass the several guided groups. I assume the lead, and, after topping-out on a snow bench, find a wind-protected rest area for a needed group break. It's still about 1,800 vertical feet... I head right of a prominent rock rib, everyone in the team following suit. It's a mistake, and we encounter hardening snow and then ice on the 30 degree slope. The wind is also a threat. With little room for error we reach the slope's upper end and rest on easier terrain, only about 300 feet below the summit crater. Soon enough Rob and I top-out, and find shelter from the wind in an artificial snow pit. Here we leave our packs and head in ridiculous wind clockwise to the highest ground on the rim's opposite side. (Going counterclockwise, the shorter alternative, bring one perilously close to toxic gases). The crater diameter is perhaps 200 or 250 meters (650 to 800 feet). After I return to my pack Duane and Adrian arrive and have their turns reaching the tippy-top.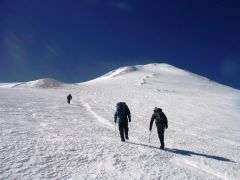 mid-slope ascent

During lunch in the snow pit my lower lip stings from ultraviolet damage. It is partly destroyed - likely on Volcán Llaima and due to lip balm that is simply inadequate. Over the next several days this becomes a serious impediment to eating normally. I monitor the mucosa slowly grow back in anticipation of having spices once again - as is my way. Rob's lip also hurts although not the same extent as he lacks the virus, which I unfortunately have, which breaks-out whenever I am on snow for extended periods.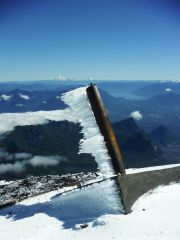 rime ice

Upon descent a few hundred feet we pass the first guided groups - and I see that we should have gone left of the rock band on much softer and safer snow. This is how we descend. Sadly, there is no ski lift for returning to the trailhead - yet it takes only 30 minutes to descend that elevation. We find the weather vastly more tolerable at our vehicle. The day's balance is somewhat rushed, unfortunately, as we seek to climb another mountain the very next day to leverage a good weather period. However we do enjoy a full meal at that supermarket cafeteria.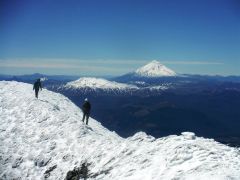 Summit rim with Adrian and Duane.

Soon we explore the eastern approach to Volcán El Mocho owned by a private concession. A security guard claims that climbs from that direction are currently prohibited owing to a lack of snow. That's ridiculous, of course, as it is quite apparent plenty of snow adorns our mountain. Furthermore we cannot enter the area until 9 a.m. - far too late for our goals. So we turn about and explore a western approach with far more distance and elevation gain. This route requires our driver Duane to expertly navigate an increasingly muddy road as we strive to reach a certain bridge with nearby camping area. Somehow Duane succeeds in driving all 13 miles. Within minutes of arrival we are met by a CONAF staff member - really just a kid of 18 or 20 who is surprised and pleased to see people come from so far to enjoy the area. After paying a minimal fee we set about feeding and packing for tomorrow.

Rob Woodall's Volcán Villarrica trip report and photo album
| | |
| --- | --- |
| | |
| Villarrica: Adam on ice... | ...and at the tippy-top. |
Volcán El Mocho
ith a long day ahead we arise before first light, eat and set out. Duane joins us only for an hour, still concerned that his feet need recovery from blisters. Then Adrian, Rob and I soon reach road's end - which was successfully driven by a team of two this morning intent on both our summit and nearby Choshuenco which is officially 7 meters lower.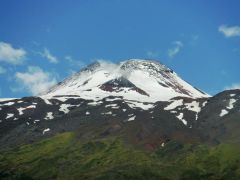 El Mocho

At the road's end we briefly hike on grass before continuing on a faint trail, with some cairns, up a glacial moraine. Soon the weather closes-in, the visibility precluding any view of the route - let alone our summit goal. However there is virtually no wind.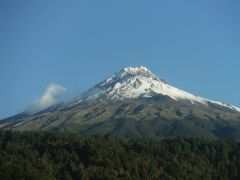 Choshuenco

Eventually the rock gives way to only snow. We all don crampons and rope together seeing as this is now a glacier with known crevasse issues. Although we know their general location, and seek to avoid them, it's tricky because of the limited visibility. I lead. We traverse about one mile, trying to maintain our elevation - yet it's difficult since the horizon cannot be seen in this whiteout. Gaining elevation means possible crevasses. Losing elevation is stupid. The other team follows us, even stopping when we do out of courtesy. A clearing makes it obvious I should turn uphill towards the peak. I want to go faster yet will not because Adrian is getting tired. We stop at a change in slope, leaving our rope behind as it's clear the steeper terrain ahead lacks crevasses. I tell the other team they may proceed.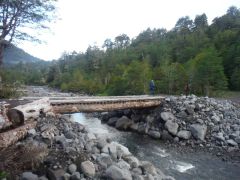 trailhead bridge

We soon follow, the slope moderately steep for 300 to 400 vertical feet. Now we encounter mixed terrain, and the going is very tedious for about 250 vertical feet until topping-out on the summit plateau.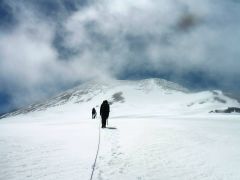 Roped on the glacier.

We can barely see two summits - one north, the other south - yet cannot guess which is the higher. Rob investigates the northern area, returning to conclude the southern one is higher. Soon enough we are on the highest ground, having trudged through suddenly deep powder. The other team is spotted on that northern summit, and so never really climbed the mountain by our definition. This was yet another hard-earned ultra top - so we shake hands, hunker down on the leeward side and get in needed calories. The descent is uneventful, and we return to Duane by late afternoon. It's been 4,800 feet of gained elevation over roughly 10 hours. Sadly we must drive as we could still be trapped here from a rain event which could muddy the road. I eat a sizable portion of Adrian's Easter cake flavored with raisins, candied orange peel and spices.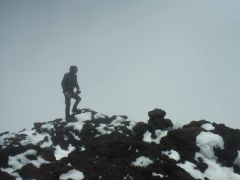 Adrian at the summit.

Eventually we camp at a gravel pit, arriving just before sundown around 8 p.m. We have driven well over one hour, superfluously saving time for the morning as we plan on no peak tomorrow. It's a shame that Duane did not join us - he could have by wearing trekking shoes until the glacier and then switching to boots since only they pose a blister issue - and only while on solid ground (rather than snow). El Mocho has burned my lower lip, now even more so than at Llaima. The lip balm has "45 SPF" on its label, yet I find it hard to believe that such a figure is correct given my current state - and I applied the stuff religiously every few hours. My lip will now hurt while eating (and drinking all but milk and water) for the remainder of Chile. It is very disconcerting when one is afraid to eat because you know it will elicit pain.

Rob Woodall's Volcán El Mocho trip report and photo album
| | | |
| --- | --- | --- |
| | | |
| Lake Panguipulli | El Mocho flowers - unidentified. | Steeper snow above the glacier |
Volcán Osorno Miss
rom our camp it's five hours to Volcán Osorno, a famous peak that, as with Villarrica, is often climbed by locals and even foreigners. Given the long drive we will climb it tomorrow. By around 11 a.m. we drive the paved approach road, ascending over 3,000 feet to park at yet another ski area - this time with an overpriced restaurant. We go to the nearby CONAF office for convincing the staff we qualify to climb unguided - and despite a 40 degree ice slope for the topmost section. We have ice screws - tornillos in Spanish.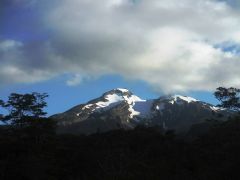 Our first view of
Volcán Calbuco.

After huge overstuffed sandwiches for lunch (with plenty of avocado) we spend much of the day in our beautiful room at a homestay. Gear is dried on the lawn, and we go to bed early in preparation. We arise at 5 a.m. to light drizzle which was not in any forecast. All our gear is packed so we drive uphill - only to find even worse conditions at the trailhead. The CONAF office is closed, yet I knock hard and learn they are not permitting any ascents today.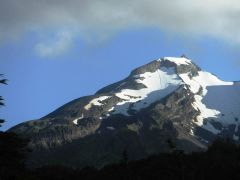 Calbuco route is just under
the left skyline. The peak
at topmost right is our goal.

It's January 6 and our flights are late on the 8th. Our plan was to climb Osorno today, rest on the 7th, and then start Volcán Calbuco very early the next day so as to not miss our evening flight. Another option was to climb Osorno and Calbuco on back-to-back days so that we'd have no problem making the flight. Now neither option is feasible. Still somewhat early, we drive to the Volcán Calbuco trailhead, arriving around 10 a.m. with the possibility of climbing it today. However by the time gear is rearranged for this rock climb it would be 11 - and the plan is cancelled.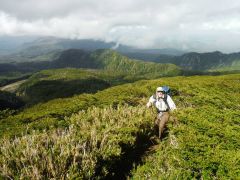 Duane eagerly hikes above
the overnight hut.

The parking lot is next to a new and secure fish hatchery. Both vehicles and personnel must be thoroughly washed prior to entry, gowns then worn by the staff. A barbed wire fence encircles the complex. One highlight is a captivating waterfall roughly ten minutes walk from our location, accessed by going left at a "T" junction (turning right takes one to the local CONAF office and eventually our peak). With marginal weather no one wants to just sit here at the gravel parking lot all day. So we drive the 45 minutes to Puerto Montt and eat a seafood lunch at the most tourist-centric part of town. I am accosted by restaurant staff wishing our money - and the attention we are given becomes outrageous. It's quite annoying - yet eventually we sit down and enjoy four meals. Ice cream treats come soon after, making me quite full for the moment. We return to the trailhead by late afternoon, eat supper around 7, and turn-in anticipating a full day on the mountain.

Rob Woodall's Volcán Osorno trip report
Volcán Calbuco
s we pack to leave three young men of the Chile army arrive. At first this startles Duane who is sleeping in the anteroom where fish hatchery staff change clothes. They approach him and he thinks what it might be like in a Chilean jail! However it's soon apparent they too are interested in climbing the mountain - one remaining behind to monitor progress by radio. We exchange email addresses.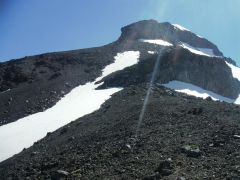 Nearing the cliff band.

The first 2 1/2 hours are in a mid-latitude jungle. At its upper reaches we reach a cabin where most spend the night prior to tackling the remaining slopes. Four hours from our vehicle we are nearing the cliff band that must be surmounted. It's a very very loose rock and scree slope, the kind where one is advised to stay close together lest a falling stone gain momentum.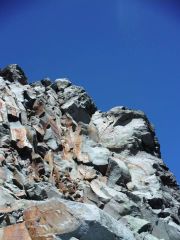 Rock pitch with rope.

So I follow immediately behind Duane - who steps on this basketball-size rock thinking it's safe.

My thumb!

I cry out, the damage obvious even under my gloves. Removing them I find the left thumb is bleeding heavily in two places. We effect temporary repairs with antiseptic and bandages. Unfortunately we are just minutes from the rock band - how can I climb it with a damaged thumb? Long story short, Rob and Duane have moved ahead to locate a suitable line. With my half-length rope of 30 meters (98.4 feet) the route is just the right length. It looks like about 70 degrees, with sizable boulders and enough handholds.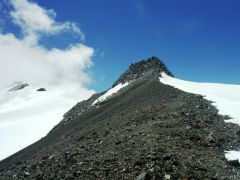 Upper slopes above the
cliff band with rocky
summit straight ahead.

Rob leads. After topping-out he belays the rest of us. Adrian gets some instruction (he has not done this in a while) and I go last. Rob's pack is dragging me down (we leave all others behind), so it's hauled up first before I go. Unfortunately every handhold seems 3 to 6 inches too far - and I have a terrifically bad time at one point trying to progress. Part of the problem is that the rope is not directly above me. Instead it hangs at a bad angle to my left over a boulder. Eventually I give up and pendulum left to an alternative route abandoned by Rob as too dicey - yet with the rope properly positioned for my new slot. Somehow I make it! The problem is also my shortness - no one else had such difficulty at the crux move for want of handholds.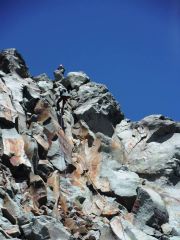 Adam on-rappel.

The two army guys stopped at the cliff's base even though they were offered use of our rope. So too a third group stopped there, apparently satisfied to have reached as high as one can walk. Twenty minutes later and 600 feet higher still I am on the summit along with Duane and Adrian. Rob comes soon enough. It's a glorious day, and the nearby peak, once thought a competitor, is clearly lower. A second half-length rope is tied to mine for the rappel. After Duane gets down we pull - and the ropes are stuck near the top at a rock crevice. Rob reclimbs to set it free. We don't return until around 8 p.m. - roughly 13 hours - and largely due to the time consumed on that rock band. Starting yesterday morning would have been a mistake!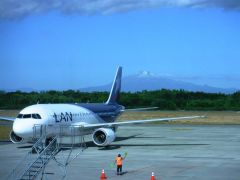 Calbuco and jetliner

Rob supports the idea of climbing Osorno tomorrow while still making our evening flights. I am dead against the concept, and will just sit and wait for him and Adrian. A group pow-wow is needed... Duane impartially suggests we back-calculate when they'd have to be off the mountain for our flights. Back-calculating further, Rob and Adrian would have to arise at 3 a.m. from a hotel room in the nearby town - and I would as well to meet CONAF staff at the route's base. It's already 10 p.m. when we get around to dinner at a nice restaurant. Adrian finally orders the national dish - pastel de choclo, a corn-based casserole with plenty of beef and chicken under a baked crust and slightly sweet. It's surely tastier than my appetizer of beer with vanilla ice cream (!). Sometime during this repast Rob decides that climbing Osorno on three hours sleep just ain't gonna work. It's a serious proposition under the best of circumstances, and I am pleased that "reason" prevails. Still, Volcán Osorno would have been an excellent peak on our resumés.

Rob Woodall's Volcán Calbuco trip report and photo album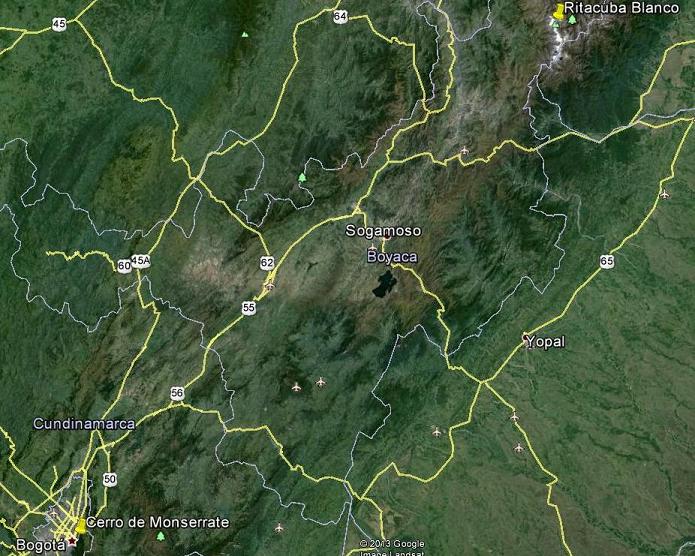 The Colombia trip component.
Bogotá and Ritacuba Blanco are 179 air miles apart.
Flights and Travel to Güicán, Colombia
e have a lazy morning, arising late (around 7) and eating sizable breakfasts in the hotel that came with our room charge. I get my wish of cheesy scrambled eggs, along with the usual hot chocolate, coffee, juice (given to Rob on account of my poor lips), toast with jam and butter.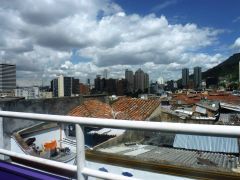 Downtown Bogotá from
our hotel balcony.

I am driven to Clinica de los Andes for urgent care of my thumb. The physician examines it and decides that stitches are not needed. Instead I receive a carefully wrapped chlorine-enhanced gauze and an antibiotic prescription to prevent infection. Leveraging the opportunity, I explain that soon enough I'll be in Colombia at high altitude, and require Zovirax - an antiviral agent halting the progress of Herpes labialis responsible for my rather blistered lower lip.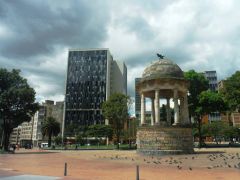 downtown Bogotá

After a late lunch we head for the airport, arriving around 5 p.m. for our Santiago-bound flight. Duane has decided to cancel Colombia with Rob and myself, with a changed itinerary that now sees him spending a day in the capital before flying home. The blisters on his feet are still raw, and three weeks is a long time for an old man to be gone. There was also some concern on the home front about security in Columbia which contributed to the early departure decision. One annoyance is that Rob and I are unable to check our luggage clear through even though our Santiago to Bogotá flight is on the same airlines (LAN Chile) as our first flight. We must retrieve our bags in Santiago only to re-check them for the international flight.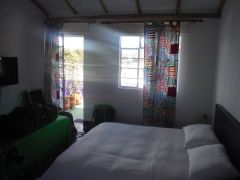 Our well-lit Bogotá hotel room.

Arriving in Bogotá around 5 a.m. we are at our hotel, the Casa Guadalupe by around 7. Our room is on the top level and quite full of light with excellent city views. One aspect of the capital that comes as a surprise is the beautiful graffiti all-about. Artists are commissioned to paint - and the result can be stunningly nice with multicolor pastels picturing many different themes. We purchase food at a market and then a bunch of cheese for myself at a speciality shop as I remain uncertain of the variety of solid food my lips can bear. There are two kinds including a Manchego with a green herb crust that is divine. Together with nearly a pound of some local variety (akin perhaps to Gouda) they serve admirably on many a summit lunch as we acclimatize for Ritacuba Blanco.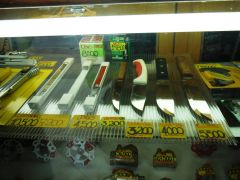 Knives on display at a
Bogotá ferreteria.

It's difficult locating stove fuel. Eventually I take a gamble and purchase a degreasing agent used to clean sidewalks! The colorless liquid is repackaged from its original bottle of liquor (!) to a plastic container more suitable for travel. We arise at 3 a.m., have a snack in the hotel and taxi to the main bus terminal. Tickets are readily purchased, and we board around 5 for the all-day ride. It's not bad - the seats are a pretty blue-green and broad enough that I am never squished by some passenger. One annoyance is that ventilation is nonexistent - when it gets hot there is no way to open a window (some national law?). Eventually the passenger door is left ajar after multiple complaints.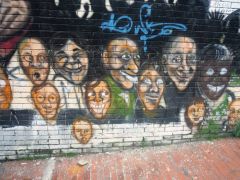 Bogotá street art

We stop for breakfast in Tunja at a most busy and noisy intercity bus terminal ("hubbub in the bus hub"?). We have lunch around 1 p.m., and my lips cannot tolerate the hot sauce I stupidly lavish on the greasy meat, rice and potatoes. That same damn combination is beginning to wear on me ... At El Cocuy I secure the park entrance permit for Rob and myself while the bus waits (49,000 Pesos / person). Now as the sole passengers we continue to Güicán, the nearest community under our mountain at 9,700 feet. Here we score a cheap room (50,000 Pesos, about $26 US dollars) and have supper in the hotel. At least Rob does. I have just dessert with milk because my lip won't tolerate savory food with its acidity - let alone added spices.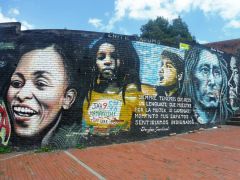 more Bogotá street art

Güicán has recently acquired a national park office where one secures entrance permits. Mid-day we hire a man with his four wheel drive jeep for transport to the park (80,000 Pesos). It's a roughly 45 minute ride to the park entrance. Here we decide between the Cabanas Kawara (40,000 Pesos / day) to our left (west) and a Posada (35,000 Pesos) to the east. Although the Cabanas are slightly higher (all of 100 feet?), the Posada is one kilometer closer to Ritacuba. We select it as our lodging to acclimatize - elevation 12,900 feet. Our unheated room has two beds with dense, heavy covers against the chill - and a minimally functional private bathroom. The staff is friendly, living close-by in a rudimentary home alongside grazing sheep and chickens. It's a very pastoral scene, ideal for the tourist. Hot, prepared meals are available at certain hours, including dinner for no less than 15,000 Pesos - yet substantial.

Rob Woodall's Bogotá photo album
| | | | |
| --- | --- | --- | --- |
| | | | |
| Bogotá Red ... | Yellow ... | ! GREEN ! ... | ... and Violet |
Acclimatization Hikes
e will push acclimatization by sleeping three nights and then attempt the 17,700 foot summit. To assist we dayhike to higher elevation, even the afternoon we arrive.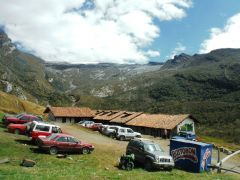 Our lodging on four nights.
The glacier's lower edge is
visible 3,000 feet above.

Our first effort is largely along a dirt road ascending past the Cabanas Kawara and then trending north. Passing under an attractive hill (see photograph) we agree to climb it and spend time eating lunch on top to maximize the altitude benefit. My herbed Manchego and some arbitrarily selected sausage is paired with Rob's rolls of wheat bread. I don't particularly care for his coconut juice, yet his cheese-flavored potato chips are fine provided I don't let them touch my poor lower lip.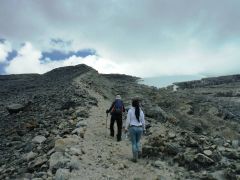 The second acclimatization day's
glacial moraine. The girl borrowed
gloves and ate some leftover food.

It's a wonderful summit break with grand views in three directions (all but east), the vistas making our effort worthwhile even without the food and elevation. My GPS unit reads 14,210 feet. We pay for dinner that evening at the posada, beginning with large bowls of potato soup with pasta noodles. Adding hot sauce proves a mistake - yet I want to enjoy my food despite a burning lip. A sweet salad is next with fruit in a creamy dressing - I save it for dessert in the room. Our main dishes feature the protein du jour (here as beef), rice and boiled potatoes. A rather sweet cinnamon tea is served - sweet enough even for myself. The next morning we have breakfast in the room (cold cereal), followed by orders of cinnamon tea in the dining hall with Adrian's Easter tea cake. Then we head uphill, my original plan to follow the Ritacuba route until at least 15,000 feet. Thusly Rob secures a GPS track for our use before sunrise on summit day.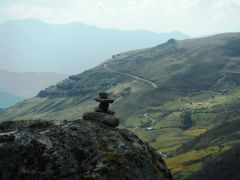 A humanoid cairn en route
to the higher mountain.

After a long, nearly horizonal section gaining little elevation, the route winds its way up a rocky slope to top-out around 4,400 meters (14,400 feet). There are multiple routes, some as shortcuts for a more efficient descent.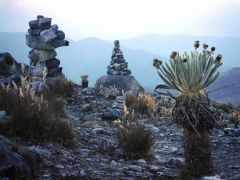 Sizable cairns with plants
adapted to 14,000 feet.

At 4,600 meters (15,100 feet) we pass a camping area used by climbers who split the effort over two days. The glacier's snout is not that far off... and accessed by climbing a moraine behind the campsites. After climbing half the moraine's height our trail diverts right, leaving the moraine at 4,700 meters (15,400 feet). Shortly thereafter is a sign at an obvious rest stop indicating said elevation. This is today's highest point. Rob initially wanted to reach the glacier. However I can tell he's not feeling well. We eat some and then descend without the long rest (at high altitude) which would have been ideal. He vomits at our next stop, a footbridge before descending the rock slope. Clearly we've overstretched our acclimatization rate!! Back at the posada I test the degreasing agent in my stove - and it fails to ignite despite repeated attempts. So we use the kitchen to cook our own suppers: largely Ramen noodles flavored with a tomato soup package.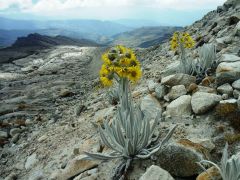 Plants in bloom at 15,400 feet.

The following morning we enjoy our third and final acclimatization hike - this time to a saddle north and east of the Cabanas Kawara. We both feel considerably stronger than our hike to a similar elevation the other day. Here at some 14,300 feet there are still cacti and shrubs - even a few tiny flowers.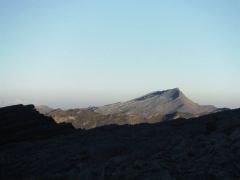 Possibly "Rico el Judio"
("The Rich Jew") north of Ritacuba.

With tomorrow a big day I wish to save energy by just remaining here while Rob climbs another 900 feet to the peak directly east. I have proven my acclimatization, Rob has not. Mind you I have been taking Diamox ever since arriving in the capital - one 250 mg dose daily. I don't call this "cheating" any more than drinking coffee (another drug) or eating high calorie food. I lie down and sleep in a large bush's shade. All-told I am at 14,300 feet for over three hours which is excellent for our purpose. I manage a decent signal and learn with Rob of an excellent forecast for tomorrow and the next day. We have our choice - and decide on tomorrow for our summit bid as it allows a reattempt two days later if needed. This evening, and despite the cost, we order and enjoy dinner prepared by the posada staff as I want plenty of energy for tomorrow. Trucha ("trout") is a nice change, yet the portions are small. We could each have used much larger portions - yet what I am served is enhanced with my Cajun spice and melted butter. I arrange a thermos of hot water for our very early breakfast.
Ritacuba Blanco Ascent
hree o'clock the alarm sounds. We dress and have breakfast, departing around four. It's of course dark as we head off, soon enough negotiating the rocky slope with some minor navigation problems despite the GPS track.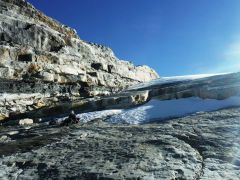 Emplacing crampons at glacier's base.

Above that rock slope the temperature drops to below freezing since ice has formed on small ponds - and the vegetation has frost. Fortunately there is no wind. Soon enough first light turns to daybreak, and we enjoy views of surrounding summits in the colors of dawn. We take nearly four hours to reach the glacier's edge, taking a route leading us a bit higher than where most go and as followed by Petter Bjørstad two years ago. My GPS unit reads 15,950 feet. I hide trekking poles between rocks and emplace crampons. The snow conditions are perfect, crunchy without ice. As Rob takes pictures I maintain a good pace, gaining 1,000 feet an hour before a rest around 17,000 feet. Concavo is south, a peak that we've largely written-off for after Ritacuba Blanco as it would require a mad rush off the mountain - and it lacks even 2,000 feet of prominence. Without viable cooking fuel a backcountry camp, as required for the ascent, would have been difficult.
The route in January 2012
lacks a sizable bergschrund
(Petter Bjørstad photo).
Closing-in on the summit -
the bergschrund has grown
markedly in just two years.
The final push nears as we spy the standard route passing through a broad bergschrund along this short (20 foot tall) 40 degree snow ramp. This was not here two years ago (see photograph by Petter Bjørstad).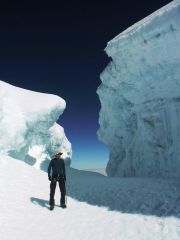 Adam provides scale for the
new gap preventing a direct line.

Soon enough we are at the summit cone's base - yet it looks completely different than what we were expecting! We leave our packs and traverse right for an inspection. The summit cone is split into two parts with an untraversable gap in-between (see photograph). However we see boot tracks heading right before going up (left) to the summit. There is significant exposure of at least several hundred feet underneath the route - and nearly vertical.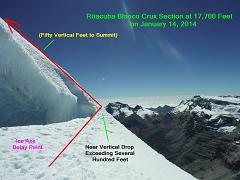 Crux section - CLICK for
reading annotations.

The route must be protected. Conditions have changed due to global warming -
and climbing the mountain will likely get harder still.

Rob returns with our gear, including my snow picket, a pair of ice screws, his harness and of course my half-length rope (which he carried to here). We check harnesses, whence Rob learns his was put on inside-out. This is silly, yet perhaps understandable when dressing at 16,000 feet. Sadly I did not bring my belay device, and this even though it was explicitly mentioned while packing last night. So Rob climbs with an ice axe belay as shown in the photograph. At one point, due to the force vector the axe begins to pop out - and I jump on it! I shout to learn he's off-belay and rigging a top-rope just 5 yards from the summit on safe ground. Soon enough we are enjoying the summit, a picture of Rob being arguably the best from Colombia. It is around 11 a.m. with hardly a cloud in the sky.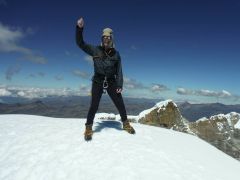 Rob's 20th Earth Fifty Finest

I carefully downclimb and then belay Rob. We both need food and water so hurriedly descend to our waiting packs for a sizable break - including that wonderful chocolate-raspberry cake from Chile!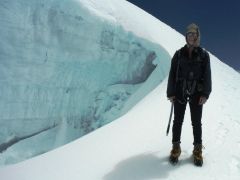 tropical ice!

Our descent down-glacier is glorious, the entire journey now vindicated - and with scenery to match our delight. We have another break, including sandwich material at the glacier's base. There are a dozen people playing with the snow nearby, having hiked to 4,800 meters (15,750 feet) for the opportunity. In the tropics that's the only way to do it. Our 11 hour day concludes around 3 p.m. We are pleasantly tired - not exhausted - and I celebrate with some fascinating herb liqueur from Chile hiding under my bed the last three nights. I forget what we ate this final evening which is most unusual for myself. Must be the alcohol which is known to demolish short term memory. However I do remember a fine staff-prepared breakfast the next day for 15,000 Pesos apiece - the same price as dinner. Ritacuba Blanco is my 14th Earth Fifty Finest summit - and on 1-14-2014 (January 14).
I am far better at numerology and mathematics more generally than climbing mountains.

Rob Woodall's Ritacuba Blanco trip report and photo album
Nearby Concavo soon after sunrise.
Adam makes progress on this
brilliantly sunny morning.
Nearby Ritacuba Negro is
still higher at this point.
Bogotá, Colombia and Cerro de Monserrate
e are in no rush this morning. Still, Rob hikes efficiently along a new route that links our first and third hiking days - ostensibly for obtaining coordinates for certain summits. Meanwhile I pack and arrange for jeep transportation to Güicán.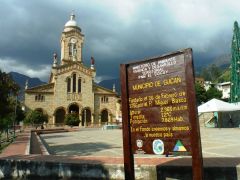 Güicán central square


By noon we are on grass outside the posada, with locals - including two men who arrived on horseback and dressed for the part with knives and pistols (presumably just ceremonial). Most significantly, there is a large beer cache in the large blue "Postobon" shed! Rob is quickly informed of this miracle, and enjoys one for just a dollar. Soon enough a local man plays Mexican Ranchera music from his SUV, offers cookies, and joins everyone along with his wife and baby children. A photograph captures the moment - one that will never come again.
ornate Güicán church interior

Jeep driver Lauro returns us to Güicán, where we check into the same hotel. We explore the town, and find the impressive church most ornate and well-maintained. As we leave I find inscribed in the marble entrance floor "July 16, 1945" - presumably when the church was either founded or completed. That is the day when scientists detonated the first nuclear device in New Mexico. It's likely a coincidence - I see no reason why a place of worship would commemorate such an event. My lip no longer hurts at dinner in the hotel restaurant. This episode is over - and I dearly wish to avoid a recurrence on future trips.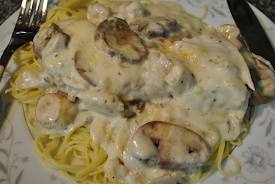 Fish and mushroom cream sauce -
CLICK to gain an appetite!

The next day we arise at 4 a.m. to take the return bus at 5 from the town central square. It's really a most unenjoyable affair as we take 12 hours for returning to Bogotá - during rush hour. One highlight is when the driver stops for "breakfast". As he and others eat I find quartered chickens roasting in the kitchen oven - and purchase a pair for our enjoyment as we drive. It's a bargain at just 4,000 Pesos each - about two dollars. We have no hotel reservation for tonight. Calling Casa Guadalupe I learn they are full - yet they recommend another nearby place. Our taxi driver waits while we receive directions. The Hotel Colonial is oddly empty - yet slightly cheaper than Casa Guadalupe. Our room on the sixth level is adequate, and given the convenience of staying here a second night decide to cancel our existing Casa Guadalupe reservation for then.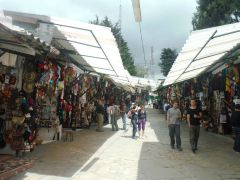 Outdoor shopping atop
Cerro de Monserrate.

We are the sole patrons at dinner in the hotel restaurant. These are fancy and sizable meals indeed! Rob has filet mignon while I get an entire trout, split in half and covering the entire plate. It's adorned with a mushroom cream sauce and has parmesan cheese broiled atop. Strangely the majority of menu items are unavailable - including all wines and spirits (yet beer is available for Rob) plus nearly all the listed desserts.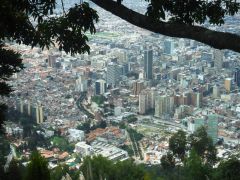 Downtown Bogotá from
Cerro de Monserrate.

The next morning we explore Cerro de Monserrate which has a cable car and funicular to its mountaintop church. From our hotel it's perhaps one kilometer and 200 feet of gained elevation to the base of a broad concrete and stone path used by hundreds. It's our preferred option since the waiting line for mechanical assistance is long and unappealing. The path gains 500 meters (1,650 feet), topping out at the famous church. We then walk through the open-air stalls selling junk and much food to tourists, gaining slight elevation en route to the highest ground. A communications complex crowns the top with razor wire fencing. It's a setback to see this, especially with a policeman standing watch nearby. Removing my sunhat and using my best Spanish I ask if it's possible to defy the fence and briefly reach the highest ground. The young man confers with his boss and returns in the affirmative - yet with proviso that he is not responsible if we get in trouble with the private owners.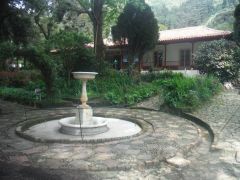 Simon Bolivar's residence

We hurriedly hop over a wood fence and climb a few dozen feet to the highest ground. A worker sees us and starts shouting - yet we have already started down. I thank the officer and we melt into the crowd.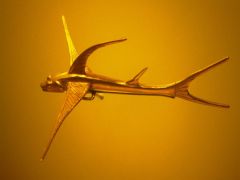 fantastic gold bird-fish

Fried bananas with melted cheese and sweet fruit jelly catch my attention. We enjoy a pair of them with some leftover wheat rolls. We explore the flower gardens plus scenic views of downtown and greater Bogotá from nearly 2,000 feet above. Descent is by funicular, the cable car system by now closed even though it's only 1 p.m. This afternoon we explore a museum where Simon Bolivar lived - the famous revolutionary and South American liberator. Then we visit the Museo de Oro in downtown. It's a popular tourist destination, and we get in for free as foreigners! Dinner is again at the Hotel Colonial, and is again enormous. After drinks we split a meal-sized chicken salad with all manner of sweetened fruit - followed by a pair of entrées that leave us stuffed.

Rob Woodall's Cerro de Monserrate trip report and photo album
Museo de Oro gold figure
International Emerald Exchange
in downtown Bogot&aacute (AH).
street art production
Homebound Flights
ob and I have afternoon flights - suggesting a leisurely morning and airport check-in. Rob still has 40,000 Chilean Pesos which I buy for $80 US dollars as I will return to Chile in roughly one year. We await our flights, using leftover Colombian Pesos on coffee and chocolate treats. Rob's flight imminent, we shake hands and part ways. He's labeled peaks in John Biggar's book on climbing in the Andes according to whether they are ultra prominences that are not especially difficult. Some of the peaks cited would make for a great joint trip - including Bolivia's Nevado Sajama. The post-midnight cheeseburger ("snack") between Panama City and Los Angeles is already getting cold. However I do enjoy the free adult beverages whenever feasible. Rob has a terrifically annoying time due to U.S. Customs when landing in Miami. They take so long he misses the next flight, and must reroute through Charleston, South Carolina for returning home. Mother retrieves me from the Van Nuys bus terminal well after midnight. The next morning I drive home to San Diego in DENALY, the roughly five hours sleep proving essential for a safe transit.
Summary
successful journey by all reasonable measures. However it's a shame forecasts cannot predict the useful climbing days in Chile's Lake District. This might be related to its location next to the ocean, as cloud cover and precipitation are far more difficult to predict than temperature and wind speed. Were forecasts accurate a perfect record would likely have been realized. Not only is fair weather uncommon (every second day?) - they cannot be planned upon when the forecast, even a single day beforehand, ends up being wrong. This cost us two summits - Volcán Lanin on the original itinerary and Volcán Osorno. For myself Ritacuba Blanco was the trip's highlight. The entire Columbia portion was nearly flawless, all people were friendly and cooperative, and the weather was not an issue since we started quite early. The entire journey cost nearly three thousand dollars upon inclusion of all flights and ground fees. International flights consume the bulk, followed by the internal Chile flights and my portion of the Chile auto rental. Hotels, food, and Colombia transportation were minor by comparison. I thank Adrian, Duane and Rob for their company.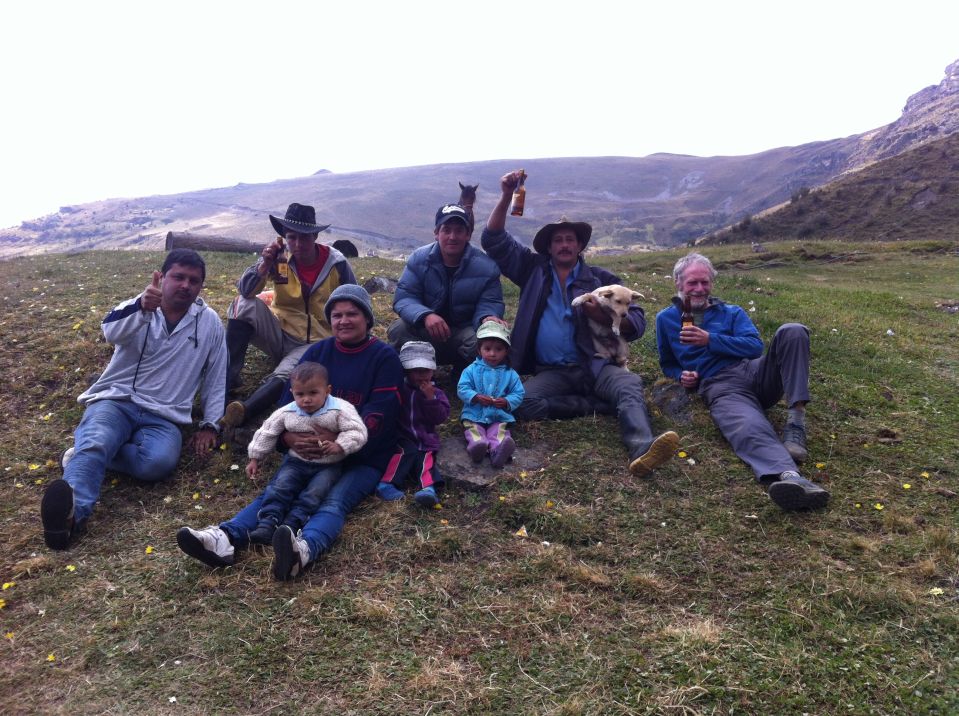 Final moments before leaving the high altitude lodge after climbing Ritacuba Blanco (AH).
Rob is at far right, visibly sunburned (or embarrassed at the attention we receive).