Guatemala Ultra Prominences Trip Report
Vengeance Journey
© February 2011 Adam Helman
Note 1: Photographs are courtesy of the author ("AH") or
Petter Bjørstad ("PB"). Mouse-click them for enlargement. Note 2: All coordinates employ the WGS84 datum.
Petter Bjørstad's trip report

Background and Orientation
ust six weeks ago I failed to climb the main goal of a self-organized expedition to the Andes of southwest Bolivia and north Chile. I was quite upset by the likeliest cause - a stranger on some outbound flight who decided to share his illness with me.
I could not accept this outcome, one provided neither through self-unpreparedness nor lack of ability - and clearly without my consent!
I then learn that Petter Bjørstad of Norway is planning to visit Guatemala as a "quickie" extension of his trip to San Diego for a supercomputer symposium. His goal is climbing Volcán Tajumulco on the Earth Fifty Finest list of most topographically prominent mountains.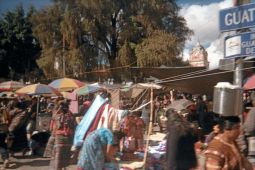 Market in Sololá, Guatemala
near Lago Atitlán. Cachikel, a Mayan
dialect, is mainly spoken. (AH)
As a simplication, think of prominence as a mountain's vertical relief: a measure of its "presence" on the land. We seek mountains that have at least 1,500 meters (4,921 feet) of prominence - the "ultra" summits - and Guatemala has six of them as tabulated here. In the United States a cutoff value is 5,000 feet is used (1,524 meters).
I request joining Petter only two weeks before his journey - and he accepts provided that I not alter his set itinerary. To this I agree.
Having more time than Petter, I then add to my plans a triple of ultra prominence summits, the first of which he will have time to do with me before his return flights. So it comes that four peaks are planned - more than adequate to compensate, in a sense, for the failure at three ultras in Bolivia and Chile.
In chronological order we have
Volcán Tajumulco - highest in Central America at 13,845 feet.

Volcán Acatenango - our guide is outpaced; a nearby summit erupts.

Volcán Atitlán - climbed from the eponymous lake with two Mayan boys.

Volcán de Agua - hiked with a police patrol due to a serious crime threat.
&nbsp External Hyperlinks
&nbsp * * * * * * * * * * * *
Adrenalina Tours: E-mail; telephone (502) 7761-4509
Luis Roland Mich de Leon (Tourist Police): E-mail; cell phone (502) 5978-3586
Sobremesa (restaurant, art gallery) Alexander Ferrar (Sobremesa owner and chef)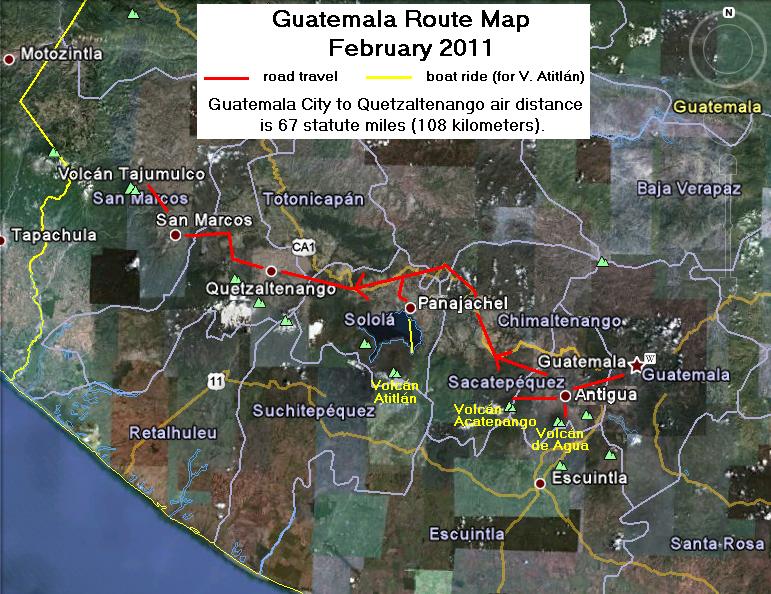 The overall plan superimposed on a satellite image.
Journey Details
Friday, February 11 - Flights to Guatemala
s standard practice I drive to Los Angeles because the round-trip fare to/from San Diego raises the cost over $200. I park in Van Nuys, taking the Flyaway Bus south to LAX as the fee is $4 a day compared with at least $12 daily at the airport itself.1
The Houston-bound flight is uneventful, featuring no meals except for purchase with credit card only. What's wrong with real cash? The "Asian noodle salad" for $5 is bland, lacking depth of flavor. I add chili flakes.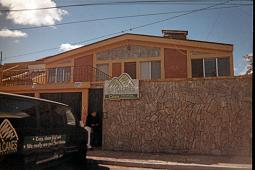 It's cheap and convenient. (AH)
Houston to Guatemala City features a light supper since it's an international flight. I take a room quite near the airport at Hostal los Volcanes for $25. By request my room is the "Tajumulco" as deemed most appropriate for our goals.
1 While on the bus I note two cars in the next lane with nearly identical California license plates - 6NAM208 and 6NAM228.
&nbsp It is either an extreme coincidence or the two drivers know each other and managed to get plates in close time proximity.
Saturday, February 12 - Transfer to Quetzaltenango, Guatemala
etter approaches the hotel on foot, and I wave hello from my upstairs room. After the "free" breakfast of scrambled eggs and orange juice I drive into the city with the hotel manager to exchange over one thousand dollars into Guatamalan Quetzales. The airport exchange rate, about Q6.7 per dollar, would have lost me some $150 compared to the bank's rate of Q7.76 per dollar. Do not exchange money at the airport!
At 11 a.m. we take a private shuttle van to nearby Antigua where we are left at the local office of Adrenalina Tours. We want lunch. My big red duffel bag is very cumbersome to carry by-hand, limiting our walking distance. Fortunately there is a restaurant next-door - Sobremesa.
What a find!
The menu is posted, including girafa ("giraffe") with a jalapeño cream sauce; and even biste de unicornio ("unicorn steak") with a red wine / dijon reduction.
The owner and operator, Alexander Ferrar, obviously has a sense of humor. I begin with a deliciously refreshing glass of sangria, Petter with cerveza (beer). Unfortunately the giraffe dish, in-truth chicken breast, is not available today. So I enjoy beef tenderloin stuffed with spinach and bathed in a mozzarella cheese sauce. It is outstanding, as is the unicorn steak (actually, filet mignon) ordered by Petter.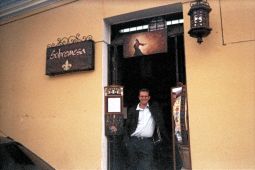 Sobremesa and Alex F. (AH)
Alex is an artist, having published a book on his works which are featured on all the walls of his small establishment. He knows proper English and has a lively conversation with us, his only customers at the time, as we enjoy our meals.
An eclectic set of ice creams are sampled and then ordered - including coffee/macadamia/rum, "mango lassie" with cardamom and saffron; and even carrot. More flavors are around, and Alex is opening an ice cream shop around the corner.
I will visit Sobremesa after we return from climbing Tajumulco. It's located on Calle Poniente 3 between Avenidas 4 y 5.
The shuttle van ride to Quetzaltenango ("Xela") lasts about three hours. We take a room in the Hotel Modelo as pre-arranged with Edwin of Adrenalina Tours.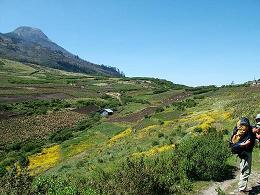 Volcán Tajumulco
We want to eat supper yet are stymied by Edwin's desire to meet us. It's a time-bind since we must arise at 5:30 a.m. to take a shuttle van. We cave-in and eat at the hotel restaurant where I find food to enjoy despite my initial concern that only one item is available for purchase. He meets us just as my food arrives. I hate that - suddenly unable to enjoy my food because a detailed conversation ensues. I would rather be left alone at such times...
Petter and Edwin have planned a two-day climb of Volcán Tajumulco with an overnight camp high on the mountain - in fact, only 600 feet below the summit itself. I view that as a senseless waste of energy, carrying camping gear to nearly the top when the peak can be day-hiked without problem. Still, I agreed to no alterations in the plan as a prerequisite to my attendance.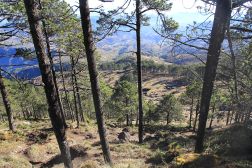 Tajumulco forested slopes (PB)
Nevertheless my objections become all too apparent. Edwin then suggests that we camp on the summit! I am most pleased with that concept since such a novelty, rarely practiced, is just about the only excuse for hauling camping gear on what would otherwise be a one-day affair. We express our enthusiasm for this plan.
It's almost unheard of to camp atop an Earth Fifty Finest summit - indeed, ranked 24th by prominence on Earth. Volcán Tajumulco is one of the only peaks on that list where it is even feasible.
In our room Edwin is paid the relevant monies - which is more for myself as I've contracted for transportation and climbing of mountains after Petter flies home.
We are quite pleased with how "things" are proceeding. Edwin seems like a reasonable man attentive to our needs and desires. Having not enjoyed my supper because I had to concentrate on other affairs I feel like having something else to eat even though I am quite full. So I order another hot chocolate prepared with milk for Q15, about two dollars, and it's delivered to the room along with another dark beer for Petter as my treat. We sleep by 9:30.
Sunday, February 13 - Volcán Tajumulco Ascent and Camp
e meet our guide at the hotel entrance about 15 minutes late. This will be a continuing theme for my travels - the shuttle van almost never appears on-time. Rather, some nebulous roughly 20 minute "window" exists wherein it's fashionable to appear. It is pointless to insist on punctuality since the concept seems foreign to Guatemalans - and, more generally, to all of Latin America.
A public bus is taken to San Marcos. Almost immediately we transfer to a second public bus for the slightly shorter drive to our trailhead - in truth, a bus stop near some food stalls at a right bend in the road. It is 9:40 a.m.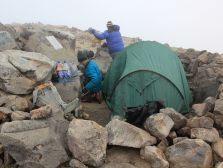 Tajumulco summit camp (PB)
I have an overnight pack to carry, on-loan from the company. Some argument exists over the amount of water I need. Eventually I carry 2 liters even though I am absolutely certain that 4 liters are required based on experience. I assume that the difference will be made good through noodles at supper, milk at breakfast, and assorted fresh fruits and vegetables at lunch a few hours later.
We begin at 9:55 a.m. I feel strong, and keep pace with Petter who is known to be quite fast. Soon enough we reach road's end, having gained about 1,150 feet in about 45 minutes - not bad for a 35 pound pack at two miles elevation.
Now we head uphill by trail, eventually topping-out on a steeper section at about 11,800 feet ... and then have a brief water break. We reach the standard campsite at 13,200 feet after a total of 2 hours 31 minutes. The "guide" (in name only) is impressed.
He was initially unenthuastic about camping on the summit. He's never had a client with such a request - after over 100 ascents. However by now it's clear that "we mean business" with a summit camp highly feasible.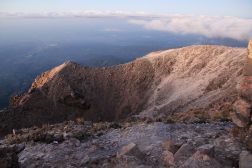 Tajumulco crater (PB)
We enjoy lunch with fresh bread, some ham, swiss-like processed cheese, hard-boiled eggs, tomatoes, cucumbers, and pineapple juice.
Energized once more we reach the summit after 35 minutes along a Class 2 route, all on trail. It's a somewhat trivial effort for getting to the Central American highpoint. Our travel time is exactly 3.1 hours for the 3,900 feet of gained elevation.
The 3 hour figure brings amazement to the guide who is used to taking 5 hours just for getting to the standard camp ... often with mule support. "Wow" exclaimed Edwin on hearing by cell phone of our efforts.
The afternoon is a lazy one. Unfortunately there are almost no views as we are continually bombarded by clouds. Our tent is inside a large windbreak about ten feet below the highest rock. A family of mice could erect camp at the very top - there is not enough room for three people to sleep there.
Supper features macaroni and cheese. I wish there were more!
Petter has published a detailed report for Volcán Tajumulco with approach instructions, a route description, and our specific efforts there - plus many full-size photographs.
Monday, February 14 - Tajumulco Descent and Antigua, Guatemala
efore sunrise we arise for the chance of clear skies. We have almost none - a disappointment since tourists like to reach the top at dawn with that goal in mind. I do briefly see the Pacific coast 40 miles southwest - and then it's hidden as usual.
There is a frost on-top; and our night at 13,840 feet elevation provides a small measure of acclimatization for the remaining efforts.
As I am the "little boy" Petter donates his portion of hot milk to my use with granola cereal. He is happy with lots of bread - possibly with jam.
We leave at 7:30 a.m., Petter maintaining a fast pace that I cannot follow. This differs from our ascent where aerobic fitness is the essentiality. Now, it is simply the length of one's stride which is limiting ... and all my shortness is in the lower limbs - not my torso.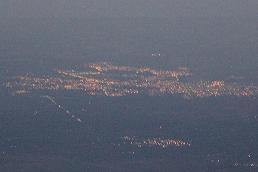 Distant city lights
shine before sunrise. (PB)
It's not possible to acquire longer legs except by very expensive surgery that is only used for unusually short children. In contrast, one can get in superlative aerobic shape for uphill travel - and as I am currently succeeding at for a climb of Denali next June.
The front of my legs become very tired trying to keep up with Petter. I give up, and yet, still, manage the entire descent in just 1 hour 55 minutes - which is quite OK for a full pack over 3,900 vertical feet.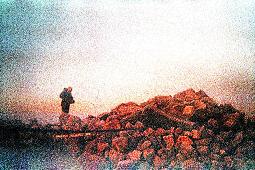 sunrise - Petter and summit rocks (AH)
A bus comes by within a minute or two of my arrival. It's only about 10 a.m.
Back in Xela Petter and I attend a restaurant specializing in authentic food of the region. Although we have different dishes, each features chicken in a mildly sweet pumpkin seed sauce. The fried plaintains and vegetables go well with the sauce - as does some spicy condiment I request.
At 3 p.m. we transfer by van back to Antigua. Here we have reservations at Quinta de las Flores, a somewhat nice place to stay with beautiful, manicured gardens in a quieter part of the city. Room 9 costs $85 a night - which normally I would not be happy paying, even as one-half. However it's part of the original plan as arranged months earlier.
We eat supper at the embedded restaurant, and sleep soon afterwards, our alarms set for 3:30 a.m.2
2 I enjoy queso fundido as appetizer - basically, pure melted cheese served with breadsticks. Petter has a trio of corn tortillas each with a different topping including red salsa, guacamole, and black bean. His dark beer goes well with it all. As main dish I have fettuccini alfredo with chicken. Having two very cheesy dishes seems like overkill even though I like cheese far more than meat.
To Climb Volcán Tajumulco
Location: 15.04302° N, 91.90365° W
Get to Quetzaltenango (known also as "Xela") from Guatemala City by either flight, private shuttle, or public bus.
Public busses run frequently west to San Marcos, taking about 90 minutes. It is a cultural experience - but keep track of your belongings! In San Marcos transfer to another public bus leading, ultimately, to the Mexican border. I am uncertain how to specify which bus is appropriate - perhaps it is sufficient to mention "Tajumulco" for somebody to point you to the right one. Get off at the trailhead coordinates cited below, perhaps after 45 or 60 minutes.
At the highway note both a dirt path and a cobblestone road heading uphill. Take the latter, which after 200 vertical feet turns to dirt and descends gradually about 50 feet as it heads straight to the mountain.
A braided set of dirt roads is taken uphill, until just one path remains for reaching the road's end with coordinates below. The net gain is now 1,150 feet.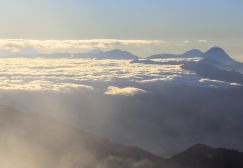 Sunrise view atop Tajumulco. (PB)
Continue on a dirt footpath from the road's bend into the forest. A steeper section is encountered around 11,750 feet, after which the travel is nearly level for a few hundred yards.
The path continues around the left side of a small hill at about 12,500 feet before climbing unrelentingly to almost the skyline saddle in-between the summit and a subpeak with about 40 meters of prominence on the left.
The path veers a bit to the right, and then descends a few feet into a small basin occupied by a destroyed building with only the foundation remaining. This is the standard campsite.
The path continues to the right (when viewing the summit straight ahead) by ascending a 10 or 15 foot dirt ridge; and then climbs far more steeply about 400 feet to a nearly level "saddle" between the main summit on one's left and a subsidiary summit on one's right.
Climb left, remaining on the path to the main summit. Once on the top, turn left again and reach the highest rocks in about 50 yards with the coordinates indicated. Smaller rocks near a fire ring at the point where the terrain leveled-out may be just as high.
Return the ascent route.
One may easily climb Tajumulco in one day using the public bus schedule by departing Xela early as possible (such as 7 a.m.) and arriving at the trailhead around 9:45 a.m. A very fast hiker can ascend and descend in 5 hours total with 8 hours being a most modest estimate. Return to Xela using the same set of busses. As of 2011 a bus runs by the trailhead every 30 minutes - at least during the day.
Key GPS-derived waypoints follow.
| | | |
| --- | --- | --- |
| waypoint identity | elevation (feet) | (latitude, longitude) |
| trailhead | &nbsp 9,985 | (15.07393° N, 91.87008° W) |
| end of road | &nbsp 11,123 | (15.05715° N, 91.87854° W) |
| just above steeper section | &nbsp 11,822 | (15.05365° N, 91.88313° W) |
| standard camp | &nbsp 13,199 | (15.04425° N, 91.89994° W) |
| summit | &nbsp 13,850 | (15.04302° N, 91.90365° W) |
Tuesday, February 15 - Volcán Acatenango
etter generally has an "extra" day at his itinerary's end to accomodate unforeseen events; and, if not used as such, has time for a "bonus peak". Thereby I suggested we day-hike Volcán Acatenango before his homebound flights to Norway.
The private van is late as usual. Then the guide fails to show on-time. We leave Antigua almost one-hour late, and drive for nearly one hour to a parking spot along the paved road. It is a bit cold and breezy at nearly 8,000 feet - and still well before sunrise.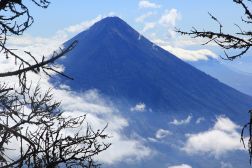 Volcán de Agua from Acatenango. (PB)
We hike back up the road for maybe five minutes, finding there the actual trailhead. Up we go on a sandy surface between farming plots.
Not wishing to perturb Petter's style I endeavor to continue maintaining his pace - one which is VERY FAST compared to most readers. He considers 600 vertical meters / hour as merely adequate (1,970 feet). Denali next June was also on (our) mind - and every bit of exercise is to my benefit.
Our "guide", 22 year Adriana, finds our pace too demanding. We suggest that she take the lead (so as to not suddenly fall-behind without our knowledge); yet somehow she wriggles out of this concept and falls back, eventually joining some boy (is that her friend?).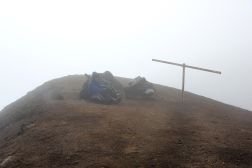 Foul weather atop Acatenango
with 3 summit boulders, Adam. (PB)
Now the weather deteriorates as we hike into the cloud layer with a wind. Normally this is not much of an issue - but I have emptied my pack of everything but the bare essentials to keep up with Petter who had done similarly. So I only have "liner" gloves rather than true gloves, and my fingers succumb to numbness as we walk the final summit ridge. Indeed, on-top I shiver as Petter walks to a nearby hill for verifying that it is indeed a bit lower.
We summit because I have memorized its horizontal coordinates, allowing us to turn left at a high saddle where going right seemed like just as good a choice while in the cloud. GPS was therefore essential....
The final 100 vertical meters has very bad footing - steep, loose volcanic scree that is nightmarish at almost 13,000 feet. It reminds me of Gunung Semeru, Java's highpoint half a world away.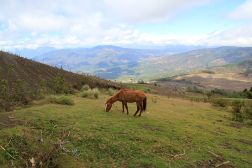 Munching on grass
low on Acatenango. (PB)
On top nearby Volcán Fuego speaks to us in a somewhat limited vocabulary: A rapid "BOOM" like the report of an overwhelmingly large artillery piece. And again - "BOOM". Yes, it is erupting - and as described in the front pages of many a local newspaper.
The ascent has taken 3 hours, which given the loose footing is not too shabby. We descend 5,100 vertical feet to the road in a quick 2 hours 8 minutes, the "guide" nowhere to be found anywhere along our track.
Petter has published a detailed report for Volcán Acatenango with approach instructions, a route description, and our specific efforts there - plus many full-size photographs.
At the base and not wishing to wait two full hours for our ride, Petter cell-phones his wife in Bergen, Norway who then finds Edwin's mobile number at the tour agency's website (5308-3761). She "texts" Petter literally within seconds - and soon enough Edwin arranges for our early retrieval.
I give Petter the ultimate complement -
"YOU STRONG LIKE BULL !"
He replies,
"And remember I'm sixty".
True enough.
While preparing to eat an onion roll with Dutch cheese I am rear-ended by a van backing-up. At maybe 1 1/2 m.p.h. no damage is done - but the cheese does require washing from having fallen on the pebbles and dirt.
Back in Antigua the front of my upper legs are by now extremely sore - and again from having gone downhill so quickly. Petter wants to walk into the town's center for lunch. I'd rather have taken a taxi at this point.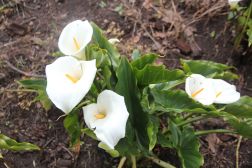 alongside a farmer's field
low on Acatenango (PB)
After over one kilometer we do enjoy a fine lunch - but unfortunately not at Sobremesa as it's closed on Tuesdays. This time we share a bottle of red wine in celebration of our successful outcomes.
The afternoon is spent outdoors seated in the hotel restaurant since it has Wi-Fi for Petter to use his laptop with Internet. I transfer GPS-derived coordinates from that device to paper and then enjoy a beautifully prepared dish of chocolate and vanilla ice creams. Several steps down to the garden are negotiated sideways because my upper front legs hurt so much. It's kind of humorous - this "paying the price" for a descent too rapid in my experience.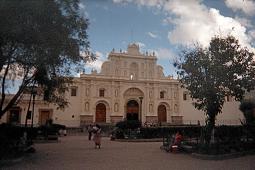 Antigua church at the central park. (AH)
After a simple supper we retire to the room. Petter tests my math and recall skills by providing the rank orders (by prominence) for specific peaks on his list of 161 climbed ultra summits, i.e. "71". I then must identify the mountain corresponding to that rank order - and limited to the United States so I would have heard (and climbed) it. This requires an assumed power-law dependence of prominence count as a function of prominence, such as A / prominence2 ("A" is a constant); plus both the names and prominences of all United States ultras in the contiguous 48 states. I do well!
Then Petter with web pages as reference dictates to me his entire list of peaks climbed in the USA, state-by-state; as I lay in bed counting from memory which of them are county highpoints. The final answer, 84, surprises both of us as being larger than originally estimated. With his remaining 9 "lower 48" ultras he will get 11 more counties (two of them are "two-fers"), so giving a 95 county total. Five more Colorado peaks of interest will make Petter a Century Club member.
To Climb Volcán Acatenango
Location: 14.50160° N, 90.87549° W
Get to Antigua from Guatemala City by either private shuttle or public bus. I do not know the exact street directions for the trailhead as it was dark and I was not the driver. Furthermore the return route (during normal hours) can vary depending on traffic conditions.
I recommend a local agency be hired for transportation - one with experience in guiding on Acatenango so the driving route is well-known. That written, a guide is NOT needed to hike the peak - and it will save you money to avoid that service.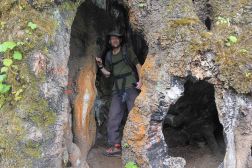 large hollow tree with Adam (PB)
From the paved road (see waypoint "trailhead" below) hike up the obvious broad path. Turn left amidst vegetable patches at waypoint "left turn" below. The trail soon turns right, heading once again uphill.
Soon a large, hollowed tree and a "casita" ("shack") are passed on the right as you leave farmland and enter the forest. Pass by a rest stop with bench ("Area de Descanso 1"), and continue, often steeply for a trail, to the bottom junction with a road at waypoint "start on road" below. Walk the road until its upper terminus at waypoint "top of road" below.
Leave the road by turning right, following the obvious trail. Soon the footing turns from soil, leaves and dirt to black volcanic ash. Reach an obvious saddle at waypoint "saddle" below.
Now turn left (south) and either follow a faint four wheel drive track or go directly upslope. The final 500 vertical feet has very loose footing - better try the rocks whenever possible. Reach the flat summit ridge and stroll to the highest point which is either the flat ground itself or atop a trio of boulders 50 feet farther and next to a set of metal pipes.
Return the ascent route.
Key GPS-derived waypoints follow.
| | | |
| --- | --- | --- |
| waypoint identity | elevation (feet) | (latitude, longitude) |
| car park | &nbsp 7,890 | (14.53595° N, 90.88647° W) |
| trailhead | &nbsp 7,976 | (14.53683° N, 90.88337° W) |
| left turn | &nbsp 8,642 | (14.53046° N, 90.88038° W) |
| start on road | &nbsp 10,681 | (14.51780° N, 90.87084° W) |
| top of road | &nbsp 11,396 | (14.51134° N, 90.86923° W) |
| saddle | &nbsp 12,373 | (14.50607° N, 90.87516° W) |
| summit (3 boulders) | &nbsp 13,068 | (14.50160° N, 90.87549° W) |
Wednesday, February 16 - Panajachel, Guatemala
etter flies home this morning, having too many obligations to even consider staying.
I transfer by shuttle van to Panajachel, a resort town on the shores of Lago Atitlán. My room is #4 at Hotel Chinimaya, a most good deal indeed as I pay $25 for each of two nights - yet the inside door indicates $50 a night for one person. Am I being subsidized by Edwin? Likely not - or, if so, perhaps a tradeoff as I do not require the usual translator for the next day's climb.
Life is suddenly "tan facil" ("too easy") as I check-in around 11:30 a.m. and walk a few blocks to enjoy yet one more of several fine meals. My front legs are still complaining but clearly improved over yesterday.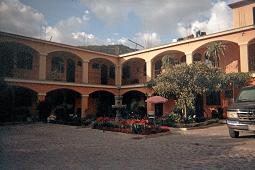 Hotel Chinimaya (AH)
I choose the most expensive restaurant in town - La Terraza on the second floor; and largely because they accept credit cards so my Quetzales can be conserved. My seat has a fine view overlooking the entire main street, and I watch the world go by wondering if anybody else down there ever had it quite so easy.3
The meal sets me back about $30. I figure that's OK since I spent nothing on breakfast and will eat cold food in my room this evening - just some bread and cheese.
I plan to watch some television yet the opportunity of checking my E-mail takes precedence. My alarm is set to 3:25 a.m. - allowing for one-half hour to prepare before my 4 a.m. ride; and five minutes in case getting "nuked" out of bed requires that time to snooze.
3 I begin with Sopa de Vegetales con Coco y Mania ("Coconut and Peanut Soup") that's spiced by curry and has a clear Indian subcontinent influence. Then it's a tapas (Spanish appetizer) of Trocitos de Lomito al Atillo ("tenderloin medallions marinated in garlic"), which I enjoy with a serving of pan hecho en casa con ajo ("homemade garlic bread"). It would be even better with shaved parmesan cheese on top. The entrée is Mahi-Mahi a la Jardinera, a Mahi-Mahi filet in cucumber dill cream sauce (delectable!); served with potato croquettes and fresh vegetables. The meal concludes with a "Licuado de Fresa y Leche" - a strawberry smoothie.
Thursday, February 17 - Volcán Atitlán
y climb of Volcán Atitlán begins with a boat ride across Lago Atitlán at 4 a.m. in relative darkness. The mountain guide (as boat pilot) starts across without any lights! Does he consider the full moon adequate?
I protest, citing the danger of motoring at night with many fishing vessels ... and no artificial illumination. It's like driving on a country road without headlights - totally nuts.
My insistence works.
Somehow two boys, clearly Mayan descent, get a free opportunity to hike the peak ... having miraculously ditched school on a Thursday. Ages 13 and 14. When not talking to me, Manuel and Edgar speak in the local Mayan dialect while hiking (and with the guide). Of course I cannot understand anything until opening my mouth - whence Spanish immediately becomes the common tongue.
Somehow my ride from Lake Atitlán´s south shore to the standard trailhead never appears. So we start hiking from the shoreline, through San Lucas, and then a much smaller community, before reaching road's end while still in darkness. This takes maybe one-half hour and 4 or 500 feet of gained elevation.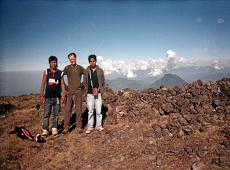 Adam atop Volcán Atitlán
with Edgar and Manuel. (AH)
We continue on boulder slabs and then suddenly head steeply right (west) upslope. After maybe 200-300 feet of uphill effort the guide changes his mind and asks me if I prefer this steeper route or a more gentle one. I ask what he recommends. Suddenly we are losing all the cited elevation to reach a junction. I am furious, realizing that we have over 6,000 feet vertical feet remaining: he should have asked at the trail junction.
It's still dark. At first light we pass through coffee fields with sunrise to our backs. Everybody is maintaining a good pace, which does not surprise me. In full daylight we pass through a logging area with piles of nice-smelling, freshly cut wood.
Now I lead the group at the guide's request - and we reach the saddle between Volcanes Atitlán and Toliman around 7:30 a.m. My GPS unit shows us at 8,200 feet, meaning, that we still have 3,400 vertical feet remaining. I cache some water.
The path now steepens considerably as we head seemingly "straight up" the volcano. Still leading, we manage to gain 2,000 feet in just 50 minutes - a very fast pace indeed corresponding to 2,400 feet (720 meters) per hour.
A fallen tree has obliterated the path just above our roughly 10,200 foot resting point - yet an alternate has already been hacked-out that travels over some side-branches. The guide and boys now get ahead of me as I've decided to intentionally slow down a bit. I am carrying much more water than they are - plus a whole bunch of extra clothing in light of my experience atop Volcán Acatenango the other day. Still, I am impressed by their rate of ascent. It's much faster than the tourists who once-in-a-while decide to test their mettle.
We "break out" of the forest at 11,000 feet, entering a no-man's land of volcanic rock and scree posing difficult footing. I find it better to stay on rock ribs whenever possible. Two foreigners are ahead of us - yet we surpass them soon enough.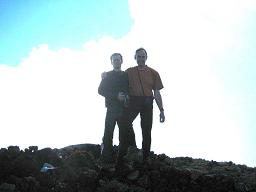 Richard M. and Adam
at the very highest point.
(Denise M. photo)
We summit in under 4 hours from the road's end at 9:17 a.m. It's a nice morning, with views in several directions unimpeded by building clouds.
Soon enough the husband/wife pair arrive. I ask them, somewhat tongue-in-cheek, if they have climbed Atitlán due to its ultra status. Expecting their puzzlement, instead they confirm my hypothesis ... and explain they are climbing ALL SIX Guatemalan ultras!
Richard and Denise McLellan are from the United Kingdom. I ask if they know a certain ¨Rob Woodall¨. INDEED. Richard has some 80 ultras, Denise about 50.
Quite a coincidence.
My group spends an hour on top. I enjoy a four-inch boule of bread with sardines in tomato sauce. The guide and two boys visit the crater five minutes away.
On the descent our guide has considerable difficulty locating the trail's uppermost terminus as it enters the forest - and we zig-zag back-and-forth on the unstable volcanic scree in attempting to locate it. I now have coordinates for that terminus so that any GPS-toting peakbagger should never again have this issue.
We descend in 3 hours to the road's end - again, a respectable rate of about 2,000 feet / hour, arriving at 1:17 p.m.
I treat everybody to ice cream in San Lucas just before the return boat ride - and also treat two little children who eye most longingly the store's ice cream box. All for 36 Quetzales - about $4.50 - most cheap for making six people happy even if briefly.
The two schoolboys did great from a physical aspect - if your coronary arteries are clogged when a teenager you have little hope for adulthood. However they have little hiking experience as I gave them numerous tips such as removing a layer when it becomes too hot.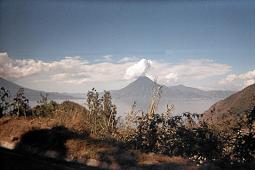 Lago Atitlán (AH)
I found both the guide and especially the boys extremely attentive to my words; almost like I were some stock broker with sage advice on how their estate is to be handled.
Volcán Atitlán was a big effort for ONE day as we began at the lake's level - a 6,500 foot (1980 meter) net elevation gain. As we did it, roughly 6,800 to 7,000 feet of total elevation gain as the guide turned us around early-on, as noted above, in favor of another route.
This afternoon and evening I just watch Spanish language television and eat food brought from the states inside my room - a self-heating meal of turkey with mashed potatoes. Hot Indian vindaloo paste and some sharp cheese make it really tasty. I want Internet access yet for some reason it is "down".
To Climb Volcán Atitlán
Location: 14.58336° N, 91.18643° W
Get to Panajachel from Guatemala City by either private shuttle or public bus. Conscript a local agency for the trans-lake boat ride. It takes about 20 minutes, in contrast with a 1 1/2 hour drive around the lake's edge. That written, a guide is NOT needed to hike the peak - and it will save you money to avoid that service.
From the boat dock (see waypoint "boat dock" below) it should be possible to get a ride to the trailhead, traveling through San Lucas and a much smaller community. This tactic, however, will only save you about 400 or 500 feet of net elevation gain. As we hiked it, I estimate 75 feet of downhill travel for this section. Hence the total gain "saved" is closer to 600 vertical feet. Finding a vehicle at 4:30 a.m. will be difficult unless it's part of a larger, pre-arranged contractual agreement.
From the road's end (waypoint "end of road") hike on boulder slabs until the trail forks (waypoint "trail fork"). Take the left fork which in-truth means simply staying straight. Climb the obvious path for half a vertical mile to the saddle between Volcán Atitlán on your left and Toliman on your right.
Waypoint "saddle" is already at the base of Atitlán at the southernmost edge of the large, open saddle area - and just before one begins to ascend steeply up-slope.
Ascend the path, initially with a few braided options, steeply for another 2,800 vertical feet to where it leaves the forest near 11,000 feet at waypoint "trail end". At about 10,200 feet is the fallen tree described above.
Aim uphill, trending towards some obvious black boulders. Once at this false summit the gradient is nearly level - and followed for perhaps another 60 vertical feet to the true summit with several rock walls.
Net elevation gain from Lago Atitlán is 6,500 feet. The total elevation gain is 150 feet more from an estimated 75 feet lost between the shore and the road's end from which one must walk.
Return the ascent route.
Key GPS-derived waypoints follow.
| | | |
| --- | --- | --- |
| waypoint identity | elevation (feet) | (latitude, longitude) |
| boat dock | &nbsp 5,099 | (14.63892° N, 91.14089° W) |
| end of road | &nbsp 5,573 | (14.61591° N, 91.15828° W) |
| trail fork | &nbsp 5,560 | (14.61429° N, 91.15919° W) |
| saddle | &nbsp 8,225 | (14.60021° N, 91.18455° W) |
| below tree | &nbsp 10,206 | (14.59063° N, 91.18690° W) |
| trail end | &nbsp 11,020 | (14.58655° N, 91.18676° W) |
| summit | &nbsp 11,603 | (14.58336° N, 91.18643° W) |
Friday, February 18 - Return to Antigua
fter about two hours I'm back in Antigua, staying for three nights at Posada Doña Luisa along Avenida Septima Norte.
For lunch I return to Sobremesa, enjoying Sangria followed by the "giraffe" dish I missed several days earlier.4
The next goal is Volcán de Agua overlooking the tourist community of Antigua. It is featured in numerous artworks and handicraft - in effect, a natural landmark for the inhabitants both ancient and modern.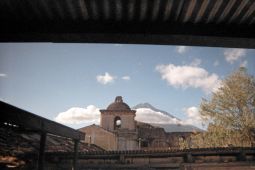 Volcán de Agua from Antigua with a
dilapidated colonial-era edifice. (AH)
There is a broad trail leading 5,500 vertical feet to the top of an antenna-infested summit complex. Bob Packard hiked it with a tour group in 2003.
Since then crime at the base, often violent, has become so rampant that weeks earlier Edwin refused to offer his company's services for my convenience. Most crime is just theft; yet rape and even one murder have been reported. No wonder Edwin was unwilling.... Petter recommended that I reconsider, as there must be good reason for Edwin's reluctance.
I searched the Internet for an answer - and two other agencies were unwilling to assist in providing transportation to the base for reasons unshared....
Seeking a positive resolution I contacted the Guatemala Ministry of Tourism by telephone and requested their assistance through an armed patrol of two policemen that I'd be willing to pay and transport to and from the mountain. My contacts included Luis Roland Mich de Leon and Melissa Mendez.
Suddenly I am to meet Luis Mich of the Tourist Police at 5 p.m. This ruins my afternoon plans as I wait for him to come, for nearly an hour, to the lobby. Eventually we walk over to the police headquarters where I pay a fee for their services at the mountain tomorrow. I also meet Sr. Ramirez Martinez who will be one of the two men joining me.
A 26 year German girl wants to come along, explaining that her friends are slow and fat - and that she's learned I am some kind of campeon ("champion").
(Who told her this silliness?)
Finding her to be small and slender (and so able to climb!) I invite her to join with me hiking tomorrow's peak. Unfortunately she never appears the next morning when I set out for the mountain with my armed patrol. No explanation - perhaps she was afraid of being alone with three guys - yet such an argument really makes little sense.
This Friday evening there is an outdoor concert just 50 yards south of my room - some professional Spanish guitarist. The amplifiers are enormous, and I cannot sleep well until 1 a.m. The music is, however, nice indeed.
4 Alex sugar-coats the wine glass, in analogy to how a margarita is classically served. There is both cheesecake in a red wine reduction and mango lassie ice cream as desserts. Hershey's chocolate kisses, free for the taking, enhance the cheesecake: wine and chocolate go quite well together.
Saturday, February 19 - Volcán de Agua
o it is that at 5 a.m. I am driving to Santa Maria de Jesus, at Volcán de Agua's base, with two men toting 9 mm pistols in full uniform.
I maintain a "reasonable" pace, and the two uniformed men summit nicely just after myself in under 4 hours. Here recall they are burdened with 4 pounds of heavy metal - although far less than were they to carry the standard-issue automatic weapons used to thwart street violence. Their uphill performance is admirable.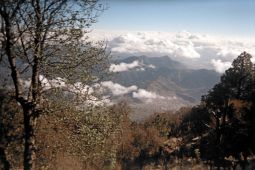 Antigua from about two-thirds
of the way up Volcán de Agua. (AH)
Mouse-click to see the town.
On top is a summit shack with a few bunk beds. The caretaker offers us hot coffee for 2 Quetzales each (about a quarter dollar). It's weak yet still acceptable. I enjoy bread with Dutch cheese, while Sr. Martinez finishes his Tupperware box's contents of cold spaghetti with tomato sauce.
There are two areas of highest ground accessed from a common saddle as one "tops-out" on the crater rim on its southwest section. From there, turning right (north) leads to what I feel is higher ground than turning left (south). One accesses the rim from inside the crater - which explains how turning right leads north rather than turning left.
We descend in about 2 1/4 hours, Sr. Martinez keeping pace while the second man falls back a bit. Then in the "danger zone" near the trailhead we bunch-together so that their role can be effectively performed if called upon.
It turns out that large tourist groups have been hiring these men to safely hike the peak on weekends. I was unaware of this. Sr. Martinez reports they take at least 5 or 6 hours to summit; and often far far longer. His personal record was 4 hours - and so is most pleased in taking just 3 hours 49 minutes today. In fact, I sense near the top that he did not want me to stop for a short break, with 600 vertical feet to go, just so he could be assured of breaking his former record. I accomodate him - and, indeed, speed-up my pace once I see that he is trying to set a personal best time.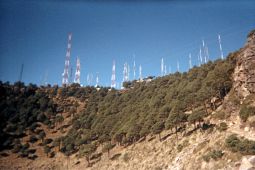 Summit towers from
Volcán de Agua's crater. (AH)
On the descent we meet a group of over 150 boys in-training for the Guatemalan Army, climbing the trail with overnight packs and intending to camp in the summit crater. It's the largest climbing party I have personally witnessed. Although in theory they all should be at least 18 years of age, I swear that some of them looked no older than 14 or 15. Some look very scrawny - smaller than myself - and it is hard to believe they would soon be fully indoctrinated soldiers.
We three descend this somewhat steep shortcut to avoid waiting on the trail's side for all of the boys to pass us. It is fun ....
For the record, including all stops my ascent time is 3 hours 48 minutes with exactly one hour on-top, and 2 hours 12 minutes for the descent - a 7 hour total. At a "Petter-pace", ascent would have centered on 3 hours; and I challenge Rob Woodall (who is equally fast) on a future journey to make good this claim. There is, of course, absolutely no need for such speed unless one wanted to climb a second peak that very day.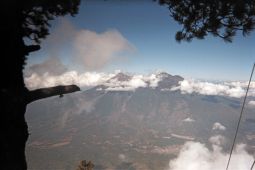 Acatenango (right) and Fuego
from Volcán de Agua's summit. (AH)
Back in town at only 12:30 p.m. fully half the day's light remains. In theory I can take the hired van and go climb another peak, such as nearby Pacaya, with the armed guard, and all well before they have to report back-in to headquarters. However I have enjoyed enough of a good thing.
After a brief hotel room visit I am back yet again for lunch at Sobremesa. At first I have just dessert - sangria served with wine-sauced cheesecake to guard my dwindling money supply. However then I cave-in and enjoy the same entrée Petter had now fully one week earlier - filete de unicornio ("unicorn steak") which in truth is an eight ounce steak with a robust red wine / dijon mustard reduction.
I have a 1 1/2 hour E-mail session at a nearby Internet store and then retire to my room. Again, as in Panajachel, life is tan facil.
There's another outdoor concert tonight, Saturday, and with truly awful "music" - some kind of acid rock in Spanish. It's terrible stuff, ending with the most idiotic tune - "Mas cerveza para la cabeza!" ("More beer for your head!"). The patrons go wild with this crap. Suddenly it ends and I can sleep - at 12:30 a.m.
Do NOT make weekend reservations at Posada Doña Luisa.
To Climb Volcán de Agua
Location (north summit): 14.46661° N, 90.74314° W
Get to Antigua from Guatemala City by either private shuttle or public bus. I do not know the exact street directions for the trailhead in Santa Maria de Jesus as it was dark and I was not the driver. Furthermore, the return route (during normal hours) can vary depending on traffic conditions.
Until the crime issue is resolved I recommend contacting the Guatemala Tourist Police. They will want an exact time and expect you to provide the transportation. Provided you have been assigned the correct officers there should be no problem with navigation or worrying that they are not sufficiently fit for the effort.
From what appears to be an arbitrary point in Santa Maria de Jesus (see waypoint "in-town" below), walk west and then south to the cobblestone road's end at waypoint "trailhead". This is the most dangerous area.
Pass in-between plowed fields, straight uphill, bearing right at waypoint "junction 1". Ascend the broad path for some 2,000 vertical feet, eventually encountering a road coming from your left at waypoint "old road". This road used to be suitable for four-wheel drive traffic yet has eroded considerably. It is visible using Google Earth satellite imagery.
Several minutes later reach a park with open area grass and a bench. This is a great place to rest and have water - waypoint "grass park". It too is visible using Google Earth.
Continue, now on rockier terrain, uphill as the trail zig-zags rather than going straight up the slope. Reach the crater near its north aspect, and then continue into the crater, ascending its western side, to eventually top-out at the rim's highest point on the southwest.
From here, turning left for maybe 50 yards gets you to one of two possible highest points - underneath a large communications tower and labeled "south summit" below. You pass by the summit shack featuring bunk beds, television and hot coffee.
From the same spot, hiking right for a somewhat longer distance gets one to a second possible highest point - atop any of a few boulders easily reached outside the fenced antenna compounds and labeled "north summit" below.
The net elevation gain from in-town is about 5,600 feet. Elevation loss enroute is negligible - ten feet at most while crossing a ravine. Ramirez Martinez cites 26 kilometers round-trip, corresponding to an 8 mile one-way distance.
Return the ascent route.
Key GPS-derived waypoints follow.
| | | |
| --- | --- | --- |
| waypoint identity | elevation (feet) | (latitude, longitude) |
| in-town | &nbsp 6,779 | (14.49337° N, 90.70930° W) |
| trailhead | &nbsp 6,952 | (14.49052° N, 90.71481° W) |
| junction 1 | &nbsp 7,128 | (14.48857° N, 90.71705° W) |
| old road | &nbsp 8,660 | (14.47699° N, 90.72562° W) |
| grass park | &nbsp 8,899 | (14.47633° N, 90.72720° W) |
| along trail | &nbsp 9,941 | (14.47498° N, 90.73435° W) |
| trail bends left | &nbsp 10,502 | (14.47337° N, 90.73577° W) |
| trail bends right | &nbsp 11,774 | (14.46847° N, 90.74020° W) |
| south summit | &nbsp 12,372 | (14.46538° N, 90.74279° W) |
| north summit | &nbsp 12,404 | (14.46661° N, 90.74314° W) |
Sunday, February 20 - Free Day in Antigua
his day was reserved in case needed for a peak re-attempt. Without that need, I am free to buy Mayan-inspired handicrafts for my mother, care taken to not overspend the small amount of Guatemalan currency so that I still have enough for food.
The pair of handbags and sweater are bargains at about $50 total price - about one-fifth of what they'd sell for in California.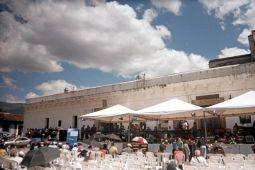 State-sponsored marimba concert
near Antigua's central park. (AH)
A free marimba concert is playing near the central park. This is NOT some panhandler looking for change - it's an event sponsored by the Ministry of Tourism and with professional musicians.
With little money left for lunch I have the choice of either a fancy place taking credit cards and serving boring, familiar food - or a cheap place taking only money yet with interesting food... or a very cheap place where I finally go.5
At supper I don't have enough cash for a full meal, and I am not hungry enough for one anyway. So I enjoy a triple serving of ice cream in an edible bowl before it gets dark.
Tonight there is no noise and so I sleep well.
5 There is a sufficient combination of roast chicken, longaniza sausage, yellow rice, green salad and soft corn tortillas - served with a can of soda pop. It's enjoyed with a pint of very hot pickled vegetables I just bought in another shop. For dessert there's platanos con crema ("bananas with cream"). Expecting a cold banana with sour cream (a Jewish treat), instead I get slices of fried banana served hot with very thick cream and granulated sugar in two small cups.
Monday, February 21 - Return Flights to California
parade of school children enters the very block where I am to be retrieved by the airport-bound shuttle van. I protest loudly, yet the procession continues - at the risk, in my mind at least, that the van driver will give up and simply proceed to his next retrieval point.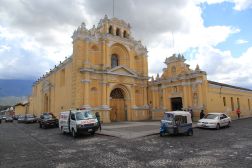 Colonial era structure near
Antigua's central park. (PB)
Once at the airport I check-in, go through security, and relieve myself of all Quetzales except for a crisp Q10 note as keepsake.
The Houston-bound flight has a meal served, and I enjoy the wonderfully cheesy breaded chicken on a bun as my first hot food in a day.
On the Los Angeles flight I befriend a Chinese lady who knows the barest of English. She wants some food that is available for purchase yet lacks the required credit card. So we use my card; and I am repaid seven of eight dollars in cash - the difference since I enjoy the peppercorn/parmesan cheese spread which she won't have.
I arrive at the Flyaway bus terminal, and my pickup truck, around 9 p.m. That's 11 p.m. in Guatemala and past when I am now used to staying awake. So I sleep in the camper until 5 a.m. and drive home, wired on coffee and hot chocolate, the next morning before Los Angeles traffic gets really bad.
Summary
ur journey is completely successful, having realized all the intended goals. Largely this is due to the relatively simple, non-technical nature of hiking these volcanoes. Success is nearly guaranteed - at least in the dry season. The total elevation gained, (and subsequently lost) was 21,600 feet over the four ascents.
My worldwide ultra prominence count increases from 88 ("radium") to 92 ("uranium"), so maxing-out the naturally occurring chemical elements on Earth.
I thank Petter Bjørstad for his role in trip organizing and general compatibility. Finally (unlike two previous journeys) I was there as he stood atop yet another Earth Fifty Finest peak.
Edwin of Adrenalina Tours was extremely attentive to our requirements; and succeeded in making corrections and modifications to the itinerary as per our every request on an almost hourly basis.
The only exception, as noted, was his reluctance to arrange an ascent of Volcán de Agua. To that end, contact Luis Roland Mich de Leon of the Tourist Police by either electronic mail or by cellular phone at (502) 5978-3586.
Finally, consider enjoying a meal at Sobremesa when in Antigua.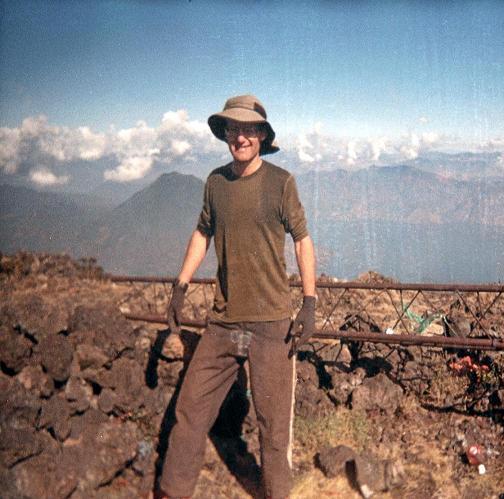 Adam atop Volcán Atitlán with distant Lago Atitlán. (AH)