Expedition Chronology III. Advance Base Camp

---
dvance Base Camp lies at the interface of lower and upper mountain at some 14,300 feet elevation. The lower West Buttress route features, with a few exceptions, relatively shallow terrain and sufficiently benign temperatures that one can often travel during spells of bad weather. The upper route, by contrast, is at-times steep and unforgivingly cold - even in June and early July. Traveling there demands caution and much planning so as not to be caught in the open with high winds and a seriously low wind chill factor. One can then freeze to death without a tent or sleeping bag.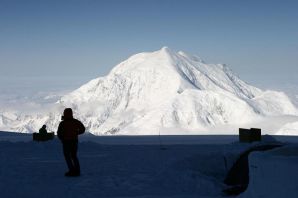 Mount Foraker alight while
Advance Base Camp still shaded.
However Advance Base Camp, known also as "ABC" and "Basin Camp", is a haven of relative safety. Multiday storms can rage all-about, but a well-entrenched tent with snow walls is generally OK there. It is here that expeditions plan several days of acclimatization prior to tackling the upper route.
Advance Base Camp is at-times sufficiently peopled to be termed a "village" - and the highest in North America. There is no governing authority apart from the occasional park ranger. Unlike Aconcagua's Plaza de Mulas base camp (at a remarkably similar elevation) there is no rectilinear "street" grid. It is essentially a disorganized conglomeration of snow walls buttressing brightly colored tents and with perhaps a 100 to 200 yard extent depending on orientation.
As a sewage system is nonexistent one generally "does business" in a pit dug specifically for that purpose. The solid waste, bagged within a green CMC (clean mountain can) provided by the National Park Service (NPS), is eventually thrown into a deep crevasse.
There is also the medical tent where NPS staff provide advice to climbers. However beware: if treated, even for a minor cut, your climb is finished. They send you down, aligned with the philosophy that all groups be maximally self-sufficient. This is just one of several 'unexpected' regulations, and I'll leave it at that for the time being.
There are remarkable analogies with imprisonment in a Siberian gulag. To wit,
The National Park Service forbade its rangers from ascending the fixed lines above ABC
and descending past Windy Corner below ABC owing to a perceived rockfall hazard.
Rockfall was noted to be particularly frequent in the late afternoon.

Further, they recommended to all guide agencies that they not travel through those areas.
However they cannot enforce such a recommendation - one that would strand climbing
teams at ABC for the duration. How long are they supposed to sit there? Until their fuel runs out?


A climber such as myself must wear appropriate clothing that was pre-approved by the guide service.
One cannot simply bring "contraband" attire and call it good. In other words, there is a "dress code".


The sun's daily circuit dominates camp activity. Near and at the June 21 summer solstice
it rises above a certain ridge around 9:25 a.m. - and sets 11 1/2 hours later at 8:55 p.m.
Between those hours the sum of its direct rays and those reflecting off the snow can be
overwhelmingly brilliant. Sometimes I find myself "sunbathing" in the tent without even a shirt on.

Camp activity generally occurs during this period. Otherwise one is compelled to hunker down
in the tent, with a sleeping bag full of stuff, to counter the subfreezing chill.
The only exceptions are groups arising and preparing to ascend the fixed lines - or preparing to
descend past Windy Corner.


Meals are served at specific hours and there is no choice. The simple freedom of eating when hungry,
let alone what to eat, is entirely lost.


You cannot even go to the toilet without first dressing in 3 or 4 layers, donning glacier glasses,
and taking your own toilet paper. Of course at "night" you pee in a bottle ... this is preferable to
tent egress. However heaven help the poor soul who has to do "number 2" late at night.


Trying to "escape" the camp confines brings risk from crevasse danger, much in analogy to the
barbed wire and dug moats of a real prison camp.


It's cold out there!


Mount Foraker midday
from Advance Base Camp.
To think that I actually paid to suffer through
this for eleven days and nights is nearly beyond belief!
However the worst part of all has yet to be mentioned - sheer, unmitigated, unrelenting boredom. A pair of books loaned from Zach, my guide and babysitter, provides relief near the very end. And great reads they are! One book, The Long Walk, is a true tale about six prisoners of war in World War II who escape on foot from a Siberian prison and make their way to British India - a 4,000 mile journey encompassing the Gobi Desert by summer and the Himalaya ... in winter.
The second book is this fictional account of a very bright Indian boy of sixteen who finds himself adrift in the Pacific Ocean with a full-grown Bengal tiger - in a 22 foot rowboat! A movie recently came out, "The Life of Pi".
ur schedule includes a carry to above the fixed lines the day after retrieving food near Windy Corner. To this end we have a class in fixed line techniques the previous afternoon. For most of the clients, including myself, this is completely new material. Sparing the details, I surprise myself in being able to manipulate the ascender device not only with heavy gloves - but also with summit mittens.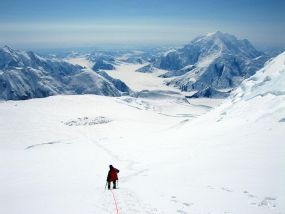 Descent to Advance Base Camp
on a beautiful, sunny day.
Jonathan devises a means of speeding the process of moving carabiner from below to above each fixed anchor by tactfully taping it in such a fashion that it clips onto the rope in only one orientation. It's quite clever...
The carry day brings major setbacks to our team. First, my fingers are not warm for the first hour as my hand warmers haven't yet kicked-in ... and their tips get numb wherever a trekking pole or ice axe is touched, cold conducting through the entire glove. It takes an hour of heavy uphill exercise to unzip two outer layers, avoiding overheating which can be disastrous if sweat turns to ice. Later I am pleased when direct sun hits us as we negotiate the fixed line.
I am on my usual rope team with Caitlin as lead, myself second and Dave Colley third. We continue along the ridge until a cache point estimated at 16,400 feet and bury our snack food - divided into two bags of three days supply each. In addition there's a plastic bag with specifically summit day food, in my case, eight candy bars plus chocolate espresso beans and a chunk of manchego cheese. The bag is labeled, "AH 6,194 meters" (the summit elevation).
I do not realize that this would be my highest point reached.
For some reason the other rope team, with clients Mike and Jean François has not arrived even though it's been at least 20 minutes. What's up?
Soon enough I learn that Jean François took a minor fall, punching through the snow a few feet and injuring some leg muscle or tendon. His climb is now finished, a tremendous disappointment to him - yet also for myself as I have counted on his bright, cheerful companionship every night.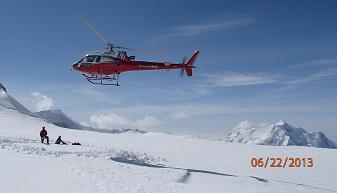 Aerial support at Advance Base Camp
is limited to NPS staff.
Mount Hunter in background. (DC)
A rest day ensues - punctuated by a short trip to the "Edge of the World" - a small rise some 20 minutes out of camp. It features a spectacular dropoff with views straight down 4,000 feet to some remarkably forbidding terrain. We clients take turns getting belayed out to the viewpoint.
The next day is for moving to High Camp. However there are moderately high winds as seen by one and all as spindrift coming off the ridge above us. It's not the time, and we stand-down from an "aggressive standby" mode that Caitlin ordered only to find ourselves back in our bags until "sunrise". We essentially arose, ate breakfast and packed to go all for nothing. Caitlin apologizes - yet there is little need for such.
At breakfast in the kitchen tent (when it is somewhat cold outdoors) I hear Mike complaining of numb toes. He can wiggle them so concern is turned to other matters. However I also learn Mike is suffering from a minor ankle issue. Taken together he decides after much conferral to discontinue his climb.
This has immediate consequences for Jean François: the NPS forbids just two climbers to descend on a rope. However Jean François, Mike and the experienced guide Nickel form a trio. Hence the way is open for a return to Kahiltna Base Camp at their convenience.
nother day passes with winds aloft too strong for considering a move to High Camp. Finally Caitlin announces we will arise at 1 a.m. (!) and head out. I am surprised by the early hour, one that is clearly designed to minimize rockfall hazard by starting at the night's coldest time. She is trying to minimize the objective hazard which is exactly what we have hired Mountain Trip to effect.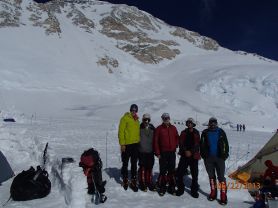 Group photo of the clients
before Jean and Mike descend. (DC)
However I am concerned, very concerned indeed about my fingers. I can sense that it's going to be colder tonight than the cache move night. How much risk is involved? Enough to abort? I hear Caitlin get outside - and shortly return to her bag with a set of obviously audible "zips". She does this again every half hour.
I am not prepared, this night, and unlike all other nights, to arise 30 minutes earlier than the other clients (I perform chores slowly and have more of them) because of this rolling wake-up concept without a definite time specified. So when Caitlin walks over to my tent and says, "Dan, get up." I am not prepared to do similarly. Instead I doze-off into oblivion, somehow disregarding that all is lost in so doing.
Later today I feel horrible for not having at least tried to test my finger's status. I attempt to rationalize my non-action by noting that there was precious little chance of my being able to handle the far colder and windier summit day if I am already having such difficulty with moving to High Camp.
I even scheme how to achieve High Camp by my own devices - or possibly with another team (for the security of a rope); yet soon realize that all is folly and my chance has come and gone.
Guide Zach has been selected to remain with me, an NPS regulation being responsible for this example of overabundant caretaking. I would have none of it given a choice:
I can melt snow for water and cooking, operate a stove and prepare meals by myself.


I can be given a radio and communicate with other team members at High Camp and elsewhere.


Having a guide essentially babysit hobbles a team where guide numbers are limiting.
Surely four guides suffice for 2 clients at High Camp in the current situation.
However on standard guided expeditions delimiting one of just two or three guides to
remain with a fully capable client is extremely wasteful of the guide as a resource.



Zach and Yoshiko (DC)
I am forced to conclude that
It should be the group's decision as to whether or not
a given client be left alone in charge of his well-being;
and based on a demonstrated ability to care for himself.
ach and I get along well enough. He is a double major in Chemistry and Geology at the University of Alaska in Fairbanks. He's really smart! Jean François has been a chemist and entrepreneur his entire career. It is uncommon to have fully three chemists on the same climbing team - albeit at vastly different stages in their respective careers.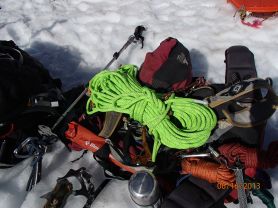 We use fluorescent green ropes! (DC)
Zach describes how he would climb Denali. First, it is feasible to avoid the rigors of High Camp by climbing directly from ABC. However this requires perfect acclimatization and a very high fitness level. His preferred route is the famed Cassin Ridge. I have no doubt that some day he will attempt that technically challenging route.
We have 3 1/2 days alone while the main group battles with the elements far above. Boredom is largely averted by borrowing the aforementioned books, some, I believe, from the NPS "library" in the medical hut.
We are not allowed to eat willy-nilly from the group breakfasts and dinners. We are instructed to eat the same breakfast and the same dinner every day. For myself this is anathema. We have cheesy hash browns with bacon at 10 a.m., macaroni and cheese at 6 p.m. To keep from eating next to nothing (which is what I will do with identical food portions), I spice the offerings a different way each time. Once I go so far as to "order" an apple and spice oatmeal packet cooked in butter as a round "pancake" - thence served with pan-seared summer sausage acquired from a nearby National Geographic team with much excess food. Zach obliges.
One afternoon features this thunderstorm which comes from the south and passes by around 4 p.m. I know the team is trying to summit just about now, and express my concern to Zach by shouting to his tent. Little do I realize the significance of my observations.
My time in the Gulag ends with our team's descent from High Camp, arriving around 7 p.m. After a delicious meal of quesadillas (thank goodness for different food!) we will collectively descend much elevation starting at midnight.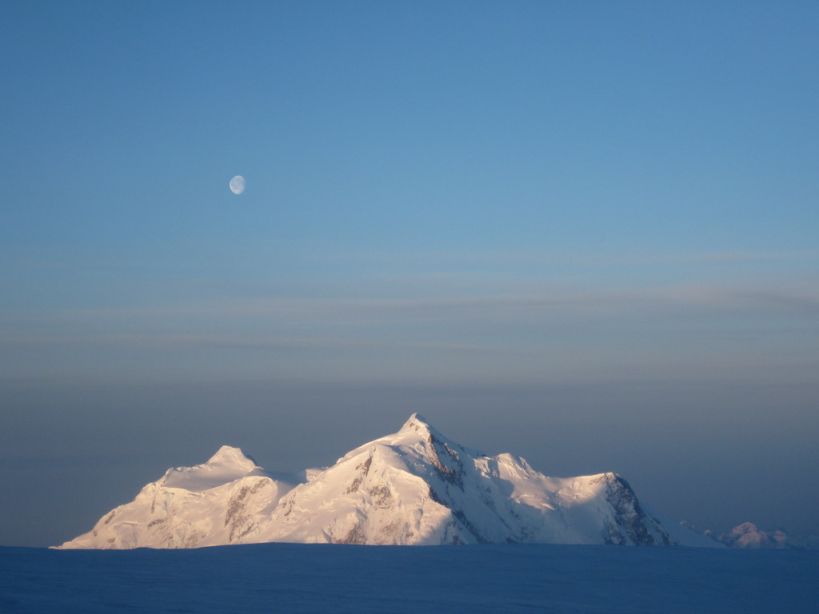 At 14,573 feet Mount Hunter's top is slightly higher than Advance Base Camp.
---