Expedition Chronology V. Epilogue

---
ith summit goals behind everyone the chief desirable is suddenly returning to civilized existence. Fortunately with cooperative weather it's only a few days away! By now I am dreaming of a large, fresh salad with "everything" inside it and actually accomplishing things on a regular basis - the most obvious being elaboration of this trip review. I picture myself banging away at my computer's keyboard, ad nauseum, and the vision seems all too easy compared with life in the gulag.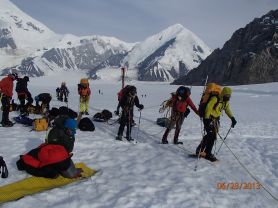 First ever all-African American
McKinley expedition returns to
the upper airstrip. (DC)
I digress. My sled is 3,000 feet below, such that everything I own here must be carried on my back. Although the resulting weight is acceptable the total volume is not! One of the guides has returned seven days of my snack food from the upper cache point - and as I refuse to throw away food am obligated to superfluously carry it down.
We commence at midnight, the temperature a relatively balmy 20° F (I am by now good at making such guesses). The "night's" coldest hours have not yet come since (true) solar-based midnight occurs at 2:04 a.m. during the climbing season.
I am overdressed, wearing 4 layers on both top and bottom - and even dropped a hand warmer into each glove. I've likely become paranoid about the cold since those gloves are good as-is, without an exothermic chemical reaction, down to perhaps 10 or 15° F (sans wind). They really are excellent gloves...yet suspect that others would find them useful down to zero. This is my problem. I don't have Raynaud's phenomenon - yet it's an issue all the same.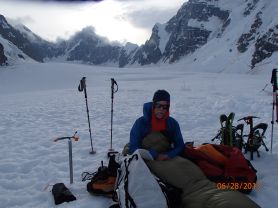 David Colley at upper airstrip. (DC)
As one might predict I am suffering. Being tied-into the rope my pace is fixed to that of Dave Colley in front (lead guide Caitlin is behind us, prepared to self-arrest, as am I, if and when needed). Our first rest break is at 12,000 feet just above the top of Motorcycle Hill - and I am panting heavily. A pint of flavored water is downed. Yet I don't have time to adjust the sit harness which is too loose. I will fix that at the sled and snowshoe cache.
Partway down Motorcycle Hill I trip on the rope passing a bergschrund. A crampon point must have snagged it ... and I faceplant into the snow, my pack weighing me into the ground. Somehow I right myself, shouting that I'm OK to allay any concerns. I pause a few seconds to regain my composure before continuing.
At the cache everything seems all so rushed. A large number of tasks must be performed. There is simply no time to eliminate bottom layers as that requires harness removal and replacement. So I default to dispensing with my outer, so-called "puffy" jacket - and unzip the layer immediately below. I wolf down another granola bar, the dry snack just crying for a glass of milk to go with it. What can you do? I would rather eat normally...at my usual measured pace, enjoying each morsel. The sled is packed willy-nilly, forsaking the usual drill of placing heavier objects near the bottom to lower its center of gravity.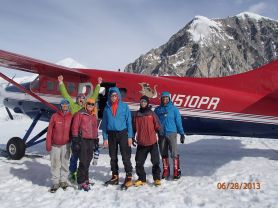 We are excited to get OUT of here!
James sneaks in an unusual pose. (DC)
Caitlin leads, presumably because David Colley is going too slowly, and perhaps as well because the terrain now is gentle enough that a climber who slips won't create a disaster. I am still suffering under too many layers. By the time we reach our goal, the 7,800 foot camp under Ski Hill, my upper right leg"refuses" to perform properly. It moves sluggishly, my brain's commands half disregarded in the interest of self-preservation.
What is happening?
I have become quite dehydrated, an unacceptable (i.e. avoidable) consequence of overdressing. It takes the entire stay here, from about 6 a.m. to after dinner, for making good the water deficit. Indeed, by mid-afternoon I have drunk one gallon.
inner features a Thai-inspired dish of rice with cashews and chicken chunks. I flavor it with spicy, hot Indian Vindaloo paste to taste. At home I'd not have taken a second portion - it's not that tasty. However I know that every calorie and ounce of hydration will help me tonight as we head for Kahiltna Base Camp. The second helping fills me.
We start downhill at 10 p.m. I wear only two layers both above and below the waist, and my performance is quite acceptable. The glacier is now more heavily crevassed than two weeks ago, such that we occasionally have to "jump" over obvious chasms by placing trekking poles on the far side and just "going for it". At first this maneuver is unsettling. However after a couple of crossings I am already used to it.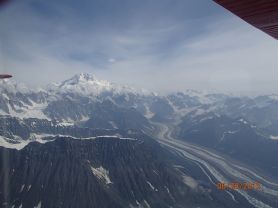 Aerial view of textbook glacial
moraines on the return flight. (DC)
Dave Colley is suffering mightily from foot issues. He even wants to go without snowshoes as they make it worse. However Caitlin insists he continue with them since their absence poses a significant increase in punching-through which puts the entire team at-risk.
Then too Jonathan Sugarman does punch-through, and more than once. His pack is heavier - yet that alone cannot explain why he alone is suffering this fate. It's fortunately just an inconvenience, rather than a serious issue, because he never actually falls in above his head. Still, Jonathan's experience is not recommended!
We make rapid progress, indeed, a bit too rapid since Caitlin orders a lengthy break just as we near Heartbreak Hill's base. Her thermometer registers 36° F, and wishes for the snow to freeze more before negotiating the next section - one that presumably features particularly problematic crevasse issues. I begin to shiver, but only slightly.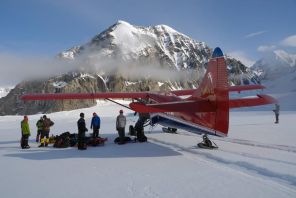 upper airstrip departure
Over an hour later we pass by the standard Base Camp. It's largely empty. We continue to an upper airfield that operates in late season where the snow still permits landings and takeoffs. Arriving there at 2:40 a.m. we have several hours before any potential flight operations.
The wind bites at us - despite having dropped several thousand feet it's still quite cold. Most people, guides and clients alike, sleep on the snow with a ground pad and a sleeping bag. I don't like that idea, getting colder than others, and with Dan's assistance erect a tent into which I hide for the duration. However my two lower body layers are moderately damp from sweat and there is nothing else to change into. I should have crawled into the sleeping bag while setting the clothing to dry inside it.
I put hand warmers inside both socks, right at the toes (the socks are both damp!), and simply lie down on both ground pads eating a bunch of remaining snack food to heat from within. In such fashion I spend 3 1/2 hours, barely able to snooze.
It is extremely gratifying to see airplanes arrive
when the Talkeetna flying concessions open for business around 8 a.m.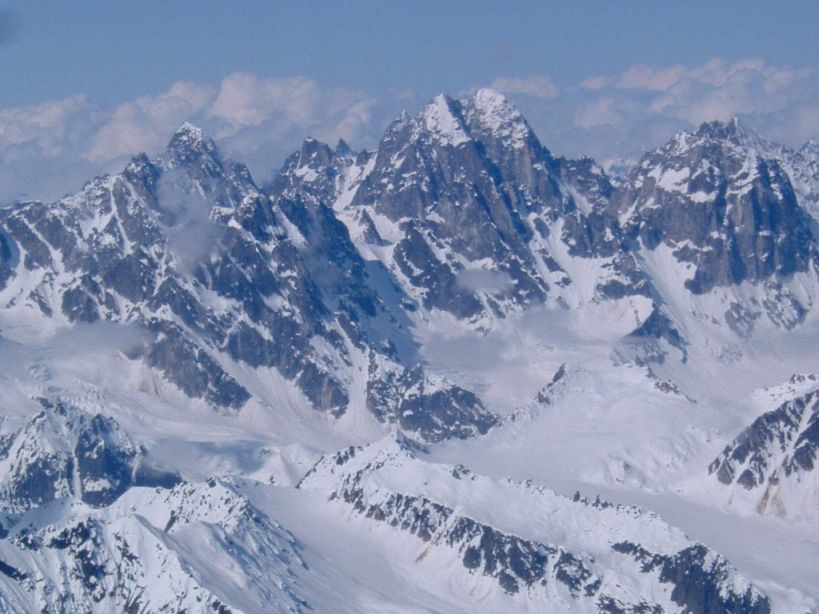 return flight

Soon enough we are winging over One Shot Pass, the views again simply overwhelming. I am agape, my mouth hanging open, as we pass right by nigh unclimbable 70 degree slopes of loose rock on southern exposures and snow-clad, crevasse-ridden death traps on the northern sides.

pon changing clothes we have lunch in Talkeetna, most ordering a huge burger with fries. Dan has a thick salmon sandwich, while Yoshiko enjoys an immense veggie burger. I find this hummus plate with all the accompanying add-ons, including a sizeable portion of blue cheese for an extra three dollars. Many order beer, and when it arrives I toast to a safe return - after all, since nobody summited what's left to celebrate?

"Tan facil" I mutter under my breath - "too easy".

We return to Anchorage. During the drive I learn that my mother was in a traffic accident wherein her Lexus was side-smashed by a man driving 40 m.p.h. Amazingly she was not hurt, and attributes the high-end automobile's steel cage construction. It's obviously stronger than aluminum. However the vehicle requires $5,000 in repairs as she drives a rental.

Dave and Jonathan both wish to return earlier than their original flights - and take separate rooms at the pricey Millennium Hotel. I call the airlines and learn that reworking my itinerary will cost at least $430. That's a no-brainer: I will remain in Alaska and stay at a cheap establishment the next four nights. Caitlin finds and helps me reserve a room at this hostel near downtown Anchorage - one Qupqugiaq Inn - "the polar bear with ten legs".
| | |
| --- | --- |
| | |
| Sacks presentation one | Sacks presentation two |
Dinner at Sacks has nine attendees - Dave, Jonathan and myself plus all six guides (including Nickel who descended much earlier with Mike and Jean François). The restaurant has won several awards, and despite the external appearance of "just another café" features a menu full of superb offerings.
My appetizer is baked brie en croute with toast points and assorted relishes. As is his way Jonathan orders wine - both white and red - and even gives a lesson in wine tasting as I listen most attentively.
Duck breast with orzo is next. I am disappointed in the entrée's size. However, better now than on the mountain!
Initially I decide to not order dessert, yet change my mind when everyone else has something - and soon am enjoying coffee chip ice cream with an embedded cookie. Ice cream wins! Jonathan and Dave most graciously split the bill, and I remain highly appreciative.
My goodbyes are interrupted by a passing taxi cab that proves efficient for reaching my hostel.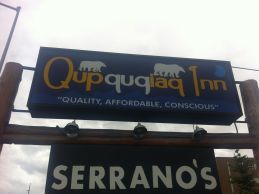 "The polar bear with 10 legs."

receive a good deal at Qupqugiaq Inn - a room with private bath ($85/night) for the price of a shared bathroom ($70). Surely that rate is preferable to $210 - the standard fee with all relevant taxes for staying at the Millennium. I don't understand what people need in a motel beyond a place to put your head and a shower to clean. Can somebody please rationalize this (perceived) need for throwing away money to me? I don't care how much one earns ...

What matters is how much you keep through prudent choices - and I know how to minimize trip expenses with "the best of them", all-the-while not sacrificing summit chances in so doing, e.g. taking slow, theft-prone public busses in Third World nations.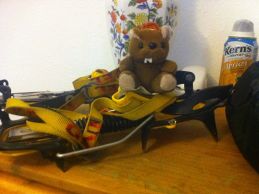 Tiny beaver atop crampons.
There is a "free" cold breakfast every morning. This first full day I go a bit nuts as for three weeks food was rationed: first on the mountain and then in restaurants where your portion is quite delimited since it's generally not an all-you-can-eat buffet. There are two kinds of cereal with milk, cartons of fruit-flavored yogurt, large muffins with available butter and even maple syrup, bread for making toast, assorted juices and of course coffee.
With nothing better to do I graze, slowly eating everything available with exception of the juice since I'd rather bite into food and chew to taste it, instead of summarily gulping it down. Only a fellow foodie might understand.
After untold calories I retire to the room and begin a mammoth E-mail session wherein I discover that dozens of friends were completely befuddled as to my status -
Did Dr. Helman succeed or not?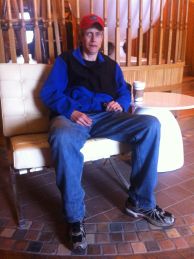 Phillip
Soon enough I set matters straight, describing how I never came close to summiting owing to a cold fingers decision. It takes hours to type a message on my smartphone that would require mere minutes on my home keyboard.
Eventually I meet one Phillip who worked as a hostel employee - and now uses the facility as a temporary home while he ekes-out a modest income by working the night shift at a pancake house three times weekly. He is moderately interested in hiking and climbing, such that I demonstrate to him the sizeable mass of clothing and gear in my room.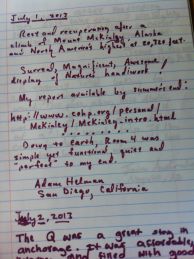 Author's July 1 entry
in hotel guest book.
(Mouse-click to read.)

The next day we walk to REI, the outdoors equipment store, largely to just browse. Then we return and have a sizeable pair of meals across the street at Larry's Cocoon serving Asian fusion cuisine mid-afternoon. I order wine, for Phillip India Pale Ale beer (times two). Our salads, although tasty, eventually both give us bowel problems. My entrée is a stir-fry treat with much vegetables and pork. Deeeeelectable. Phillip gets his all-time favorite: teriyaki chicken.

For dessert I have mango ice cream with sticky rice. The bill after tax and tip comes to seventy dollars. Hopefully Phillip will remember my treat - he likely gets very few indeed these days.

Phillip is Jewish and quite religious. This amazes me as I was unaware of an Alaska Jewish community. As a parting gift he presents a talit from Israel - a prayer shawl worn by all males after their Bar Mitzvah at age thirteen. I would never have guessed that this would serve as tangible reminder of having been to Mount McKinley. How surprising!

y flights home are routine and uneventful. The day's only highlight, apart from safely returning to Los Angeles, is an order of chili and cheddar fries at the Seattle terminal - at $4.11 providing the lowest ratio of price divided by calories of all possible airport food available - which we all know tends to be ridiculously expensive.

Arriving back to "DENALY" past 11 p.m. I decide to sleep inside it rather than drive home. Removing my plastic double boots after wearing them 15 straight hours provides welcome relief. I sleep soon enough.

The next morning, Independence Day, sees light Los Angeles traffic as I drive home - so vindicating my decision to sleep in the long-term parking lot.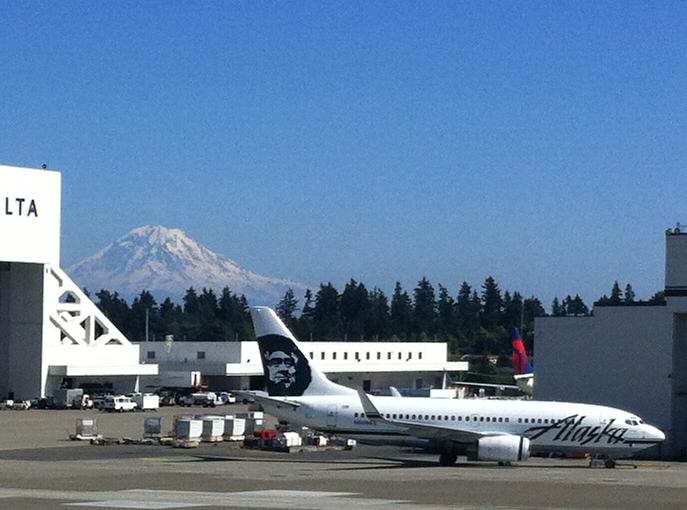 Mount Rainier from the SeaTac terminal
with Alaska Airlines jet in foreground.
---