High Adventure - An Expedition to the Ultra Mountains of Central Mexico
© January 2012 Adam Helman
1-4
1 Mouse-click on any photograph for enlargement.

2 Photographs are courtesy of Rob Woodall except where
indicated by "DG" (Duane Gilliland), "GS" (Greg Slayden),
"BP" (Bob Packard) or the author ("AH").

3 Mouse-click on any peak name or its location in the
&nbsp route map to read the corresponding story.

4 The WGS84 datum is used for all coordinates.


Duane Gilliland's photo album
Greg Slayden's photo album
(Links to additional albums are provided
with their respective peak descriptions.)

Warning: Photo album links may eventually fail
because their sponsoring companies can summarily
change their addresses without notification.
Notify me of any altered addresses.
An Unplanned Night
e never expected the peak to take this long. Without posted information, such is the price of exploring an undocumented route.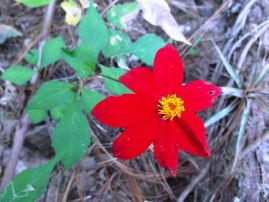 Along the Cerro las Capillas route.
Bob cannot sleep, the hard floor stealing his body heat. Then at 2 a.m. Bob gives up and skillfully prepares a fire.
Meanwhile, I barely squeeze into the same 'bivy sack just loaned to Rob. It's extreeeeeemely uncomfortable, our collective perspiration lining the bag's interior.
We endure the morning's small hours until first light. A meager food supply remains, and we share it by the fire before heading down the final, thankless 4 miles.
Yet we have climbed Cerro las Capillas.
The Untamed Slope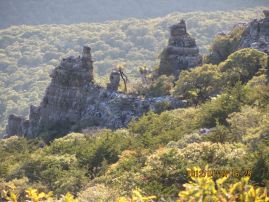 Limestone cliffs at
Cerro la Joya. (DG)

ual es su nombre? ("What's his name?")

I ask the stranger we've hired for hacking a path.

"Pole"

Pole is the uncle, and has climbed Cerro La Joya 25 years ago.
So he too comes - as our impromptu "guide".

The slopes are thick with brush; the skyline ridge riddled with limestone cliffs.

Bob does not feel it can be climbed in a day and there is neither level ground to camp nor water enroute for an overnight effort. The rest of us are ambivalent. Again, there is absolutely no information available apart from what can be learned by talking to these locals.

What are our chances?
Background
e are a small yet highly focused group - set on climbing the so-called ultra peaks of this planet. These are Earth's biggest mountains, the ones which most impress through their significant vertical relief. 4 Twenty-six are in Mexico, our goal to hike and climb fully ten of them in a three week itinerary.5

Bob Packard and I already have many Mexican ultras from several previous journeys. These previously climbed peaks are not, with a pair of exceptions, suitable candidates for our efforts. The remaining ultra peaks fall into two categories - five that are relatively unknown to the climbing community; and five which, as the major high altitude volcanoes of central Mexico, are well-documented and often visited.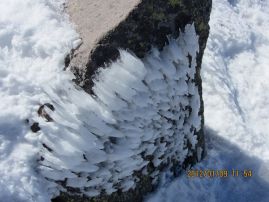 Rime ice at 14,000 feet
on Volcán La Malinche. (DG)
Six ultras comprise our Part I core itinerary. Duane Gilliland and Rob Woodall join Bob and myself for this portion. It is a most uncertain game we play, with nearly no documentation apart from Nevado de Colima which, at some 14,000 feet, is well-known and climbed. A combination of Google Earth satellite imagery, GPS-enabled technology, local knowledge and Spanish are required to realize our goals.
Luck plays a role, as does plain old perseverance - and we are most fortunate indeed as described below.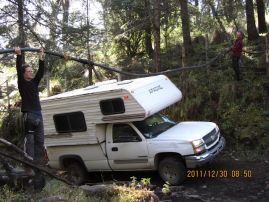 Adam (left) and Rob lift a
water hose under Cerro Tancitaro
so Bob's vehicle can pass. (DG)
Four more ultras define the Part II core itinerary. Bob has already climbed them all, and so returns to the United States. Greg Slayden now joins Duane, Rob and myself. I invite two newcomers to experience the higher-than-Mount Whitney climbing arena, Collin Kamholz and Ryan Courtney.
I institute a rigorous acclimatization schedule as the main goal is Pico de Orizaba - at some 18,491 feet Mexico's highest peak, highest in Mesoamerica and third highest in North America. We MUST sleep and exercise at progressively higher elevations by climbing peaks of appropriate altitudes.
However being prominence-oriented climbers the most attractive attribute lies elsewhere: Orizaba is Earth's seventh most topographically prominent mountain and thus on the Earth Fifty Finest list. It is, therefore, the chief climbing goal of our expedition.6,7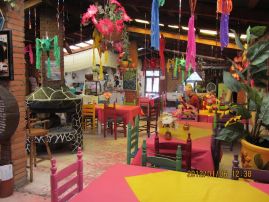 Decorated restaurant interior near
the Cerro Ajusco trailhead. (DG)
I have already climbed both Orizaba and Volcán Ixtaccíhuatl. Hence I remain with the Part II group largely for the convenience of my Spanish and to share in everybody's good time.
Two ultra peaks are removed from the original itinerary owing to drug-related safety concerns. Their time slots are filled with prominent Mexican state highpoints, a list which Bob Packard and I pursue. In-time we learn that Volcán de Tequila IS feasible, leaving only one ultra unvisited.
Finally, on commencement of Part II the Distrito Federal highpoint, Cerro Ajusco, is added as an acclimatization peak prior to visiting the higher elevation volcanoes. At some 12,900 feet it is also Mexico City's highpoint, and as such one of the loftiest city highpoints on Earth.
4 An ultra has at least 1,500 meters (4,921 feet) of topographic prominence,
the elevation difference between summit and highest saddle leading to an even higher mountain.
5 The Mexico ultra prominence list is available.
6 An introduction to topographic prominence is available.
7 The Earth Fifty Finest prominence list is available.
Excitement builds as the expedition draws nigh. Finally we travel, so realizing tediously-planned scenarios to maximize summit chances. It has taken literally hundreds of E-mail messages and no small amount of research. Rodulfo Araujo, a resident of Mexico City, provided much assistance with both contact information for certain peaks and specific recommendations. We are indebted to him.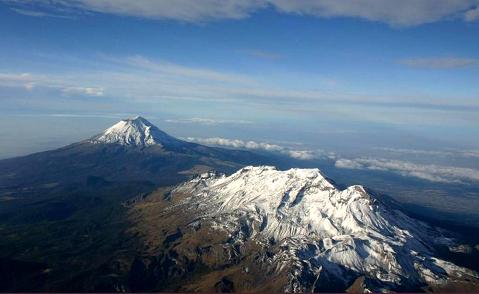 Volcanes Ixtaccíhuatl and Popocatépetl
in their best white dresses. (file footage)
Notes on Presentation
Parts I and II are described on separate web pages to lower their sizes and hence download time.
An expedition review is published in the State Highpointer A-Z ("Apex to Zenith")
quarterly newsletter, and reproduced here as our summary with minor changes.
The Part I climbs plus Cerro Ajusco of Part II have route descriptions because of either a paucity
or total lack of posted information. In contrast the well-known volcanoes of Part II, starting with
Nevado de Toluca do not have corresponding route descriptions. Many Internet and published sources
are available for these peaks.
The overall driving route is available superimposed on a Mexico road map.
Bob Packard and I came south from Arizona, meeting Duane and Rob after they flew into Mexico City.
The Part II-only participants arrived similarly on January 5.
In the image below mouse-click on any peak name or yellow "thumbtack" to read the corresponding story.
"P N" represents Cerro Peña Nevada and "S C" represents Sacromonte Chalchiumomozco.
Some icons are slightly shifted to enhance legibility.
Mouse-click here to download a Google Earth file for dynamically displaying all venues.
To function, Google Earth software must be installed on your computer.