Montana February 2008 Trip Report
- by Adam Helman

Note: Mouse-click on any photograph for enlargement.

Background and Orientation
nticipation. Opportunity. Serendipity. These words resonate with heightened emotion whenever the goal is grand, the task beyond all normal proportions - climbing Mount McKinley.
One starts slowly, working towards the greater goal in little bits with hopeful anticipation. One such chunk is winter camping with a stranger to assess compatibility and fitness issues under appropriately "miserable" conditions.
So it is that I travel to Montana, by winter, for the opportunity of meeting Jim Perkins - state and county highpointer from Ravalli County with Denali on his mind. All-told the journey is not merely successful. It opens an entire vista, a window into the life of a new-found friend and climbing companion in ways that only "serendipity" describes.
Denali (Mount McKinley) needs little introduction. As the premier mountain of North America, the mere sight of it sets a climber's passion into overdrive. I have wanted to climb Denali for some 15 years. With a sufficient quorum of experienced climbers, this goal is now realizable in calendar 2009. Meeting Jim in his home state is one more step towards that icy summit.
Trip Details
Friday February 15 he whole of humanity must economize - or at least United States citizens. Profligate use and abuse of natural resources slowly degrades the natural environment. On a far smaller scale I have learned to budget my finances better than most - and this desirable drives my itinerary.

Having learned that Jim returns from Portland, Oregon on business I arrange to meet in Spokane, Washington along his driving route home. This plan avoids flying into Missoula, Montana and lowers my airfare substantially.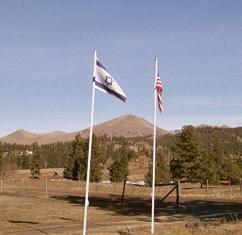 American and Israeli flags
frame Chaffin Butte.
Jim introduces me to his mother who lives in the next ranch over. Although not Jewish by any stretch, Nancy Daniel maintains an interest in Judaica with everything from Hebrew classes to Israeli dancing. The American and Israeli flags adorn her entrance road. One does not question religious allegiance - be it to the "Chosen People" or otherwise.
It is Friday evening, sundown, and so I bid her a happy Sabbath in Hebrew.
That evening I meet Jim's wife Peggy. She prepares a wonderful meal highlighted by standing rib roast - and it is delectable - the pan drippings poured atop mashed potatoes. An appropriate red wine (Syrah, mildly fruity) lubricates a most diverse trialogue ranging from (of course) Denali; to global warming, relativity theory, and this year's national politics.
Remarkably, all three of us have degrees in Chemistry at various levels. Jim sells bulk chemicals, Peggy works in the pharmaceutical industry, and I use my doctorate only indirectly in the analytical skills and research know-how it continues to provide.
We indulge in a post-Valentine's Day heart-shaped box of chocolates with blackberry dessert wine. Having arisen at 3:40 a.m. Pacific Time for my first flight I sleep instantly - oblivious to the late night arrival of the Perkins' daughters on-leave from college studies.
The ice has broken.
The Perkins home. Note the
drying sleeping bag and parka.
Kitchen table with box of chocolates.
Expect this most girlish room during
your stay (just joking, Jim & Peggy!)
Saturday February 16
fter Jim's rapid climb to camp one cannot doubt his fitness level. Our snowshoes, mine never tested, perform admirably in the often mushy softness of mid-afternoon. We consume 50 minutes, full packs, to a site along the main northeast ridge of Ward Mountain at 4,900 feet.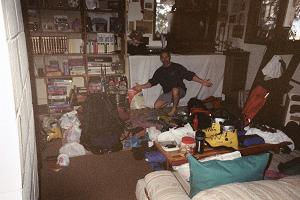 Our equipment arrayed on the den floor
as Jim points out its bulk.
Conditions being mild, we erect the rented, 4-season tent. The tent stakes are utterly useless in the soft, deep snow. A pair of snow pickets, our ice axes, and trekking poles will freeze in-place overnight to secure the structure.
Snow is melted for our evening meals and water bottles. The stove performs well. Just after sundown we turn-in, and, although we are quite warm the floor space is somewhat tight - even though I am narrow and Jim is average-sized. Our supposedly 2-person tent is not recommended.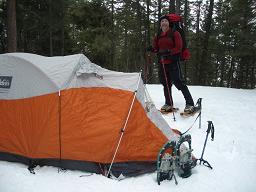 Jim at our snow camp. Note the new,
aquamarine snowshoes upended in snow.
It is a mental trial to lie in bed for over 12 hours. I slowly sink as body heat melts snow underneath. I knew enough to bring a second groundpad under colder conditions. Evidently that desirable is more to protect the snow from my heat than to protect me from the snow's cold.
A cinnamon "Babka" makes an appearance after we've entered our cocoons. This sinfully rich coffee cake has served me well on numerous multi-day climbs; and everybody who samples it attests to its value as both attitude-booster and source of calories. The gooey brown sugar is irresistable to even the most finicky of eaters. My friend Edward Earl really likes it. Peggy was spotted zapping a slice at lunch in the microwave - dotted with melting butter! A chocolate variety is also available - and these desserts will find themselves on Denali's slopes for their carbohydrate content and brick-like, easy-to-transport consistency.
We had spread our entire gear complement across the den floor this morning. Reviewing every item in-turn, Jim creates a list of purchasable items. Soft booties for walking around camp prove valuable as he tries mine for size at snow camp. A urine bottle also makes the list since tent egress is an arduous and cumbersome act by night.
One aim is to remain completely dry for the duration, and I succeed in this regard.
Sunday February 17
e entertain the option of snowshoeing to the Ward Mountain summit - a 4,200 foot slog from our campsite. Jim has thrice been there, and, as it is not the journey's chief goal, I suggest that we simply spend the day at his home - returning late afternoon for a second round of snow camping school. This plan serves Jim well, and I realize this, as it is not often that he gets to see his daughters on-leave from college studies.
After hot oatmeal we descend to Jim's car. I carry nothing so that my backpack can weigh-down the tent during our absence.
I never appreciated the joy of snowshoeing in pristine whiteness until this morning!
Doubtless the pack's disappearance factors into this happy half-hour of downhill grace.
Our route entails steeper sections that my previous, "low-tech" snowshoes would have found difficult to negotiate without slipping sideways.
Some four or five hours elapse as Jim does house chores, performs business from the home office, and bids farewell to his daughters who must return to college.
After returning to camp we repeat the ritual - from melting snow to eating supper to retiring for the night. Our post-meal conversation is again light in character as we discuss the ultimate fate of the Universe.
Monday February 18 - President's Day
his morning's low is roughly 15° F. I feel the chill after the outside air mixes with the tent's interior, my fingers tingling when I fail to wear impermeable gloves over the thin liners that are permanent hand fixtures. It is a minor annoyance.
The apple-cinnamon oatmeal enjoyed, I exit and complete tent deconstruction with Jim. He has weathered the overnight pair without problem, and can perform outdoor camp chores without gloves under conditions mandating my use of them. I am jealous. Fortunately we have arrived at a "system" wherein we function together, efficiently, despite my cold hands. That is wonderful.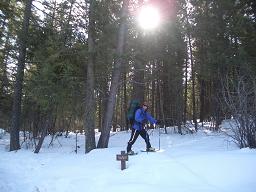 Adam at the Ward Mountain trailhead
upon return from snow camping.
The day's highlight is a hike of Chaffin Butte, a hill just northeast of Jim's home used for his physical training. Having brought no leather hiking boots, I wear plastic climbing boots even though our route is snow-free. We summit in 40 minutes, absorb the views, and enjoy Kaiser rolls with smoked turkey sausage and aged Irish cheddar.
Having won contests, this evening Peggy participates in a spelling bee at the local bookstore. Short on time with but one hour between leaving work and the event, we eat at a nice establishment just one block from the contest. My pan-fried Montana trout in cornmeal crust is tasty - but Jim's filet mignon with a blue cheese / mushroom sauce is truly TDF ("To Die For").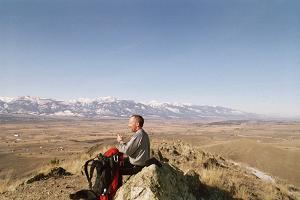 View northwest from atop Chaffin Butte
with Jim as foreground.
Peggy is stumped by this most ridiculous word that nobody had heard of: "oppugn" - "to dispute or call into question". More interesting is that the word eliminating the second-place contestants is "kalanchoe" - any of several chiefly African and Asian succulent plants or shrubs.
The final contestant wins by correctly spelling "epidemiologist". I claim this word is easier to spell than "impugn" as "epidemiologist" is a known entity; and as difficulty and word length are not synonymous.
This evening Peggy, Jim, and I sample a trio of Haagen Dasz pints in the kitchen - the flavors mocha chip, English toffee, and Jim's favorite - Creme Brulee. I concoct a "wine smoothie" of 2 parts vanilla ice cream to 1 part blackberry wine - a smashing hit at our little dessert session.
That the Perkins purchased ice cream in anticipation of my arrival is both recognized and appreciated. However I vastly prefer Ben & Jerry's 8-).
Tuesday February 19
y thankless day begins well before dawn with a drive to Missoula for making a Greyhound bus to Spokane. Seventeen hours later I arrive home, having negotiated a Spokane taxi ride, a prop-jet flight to Seattle, the main flight to San Diego, a shuttle van to Richard Carey's home near the airport, and the drive home in my pickup truck - "DENALY".
The home telephone recording machine has a single message - John Christiana with some thoughts about an essay we are composing about how to rationally define the Seven Summits. I return his call despite my obvious fatigue, mentioning that Jim Perkins is decidedly "Denali material".
Epilogue
I will visit Montana this summer to climb some of the tougher Montana county highpoints with Jim. He only needs six to complete the state; and I will leverage his presence to continue my own humble conquest of these worthy peaks.
I am indebted to the Perkins for a most enjoyable long weekend. In brief,
"A good time was had by all."
Ice cream at 22°F? Yes - just to enjoy
it ONCE without concern of premature melting.
Huckleberry products are a Montana speciality.
A most nutritious lunch at the Spokane
air terminal with a Starbucks chilly treat
and nearly finished cappuccino fudge bar.