Nevada April 2008 Trip Report
Dates: April 13-18, 2008
Author: Adam Helman
Participants: Bob Packard, John Stolk, Edward Earl, Adam Helman

All photographs are courtesy of John Stolk. Mouse-click any photograph for enlargement (recommended).

The main venue is Mormon Peak, prominent point of Lincoln County, Nevada. Edward Earl and I attempted the driving approach last Thanksgiving only to be thwarted by a stream crossing that I refused to cross.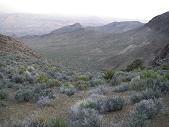 down-canyon at dawn
on Mormon Peak
Things would be different this time around as three vehicles, all with four-wheel drive are available.
Hualapai Peak (elevation 8,417 feet, prominence 4,447 feet)
On April 13 I drive early to Las Vegas, retrieving Edward who arrives from Washington by air. We cross Hoover Dam and camp at the base of Hualapai Peak, highpoint of Mohave County, Arizona for the next morning.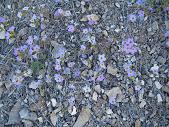 blue wildflowers
at Mormon Peak
We re-climb Hualapai because on separate trips only the western summit boulder was visited. The eastern summit boulder is perhaps one foot higher - and must be surmounted to ensure "kosher status" for our respective Arizona county highpoint state completions.
Mormon Peak (elevation 7,414 feet, prominence 4,034 feet)
The Hualapai effort lasting 4 hours, we return to Nevada for meeting both Bob Packard and John Stolk at a dirt pullout immediately northwest of Exit 90 on Interstate 15.
Mormon Peak is quite remote for the lower 48 states. An injury climbing alone there would be a most serious issue.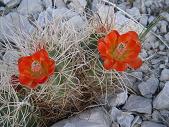 red wildflowers
at Mormon Peak
The following driving approach instructions reproduces our efforts.
From Exit 90 drive Highway 168 west-northwest 2.8 miles to a junction. Zero odometer. Bear right (roughly north) and continue some 8 miles on pavement, and then another 11 1/2 miles on decent gravel/dirt apart from a pair of stream crossings noted below. You will twice cross under a railroad at a pair of bridges - first from east to west (11 miles) and then west to east (14.1 miles).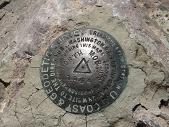 Mormon benchmark
The approach route's "crux" is a stream at 14.5 miles. We gunned our engines and made the crossing while in 4WD mode - the water was perhaps 18 inches deep with the stream roughly 20 feet wide. A minor stream crossing exists at 14.1 miles as the road heads west to east under the railroad at the second of the two bridges.
A key road junction is at UTM (708900 E, 4090432 N) in the NAD83 datum (elevation 2061 feet); and is located exactly 19.5 road miles north of the cited turnoff from Highway 168.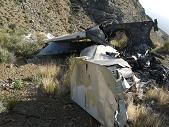 wreckage from an
Air Force crash -
Mormon Peak
The junction is located in a wash. Leave the main road and drive "up" the wash along the dirt track, first east and then northeast, gaining significant elevation starting after about 2 miles. Drive the 4WD track (actually, 4WD needed for short, gravel sections only) to however far you desire at the mountain's very base. We drove 6.7 miles and stopped about 1/2 mile shy of the road's terminus. The dirt track is quite rocky starting at about 4 miles. Allow plenty of time.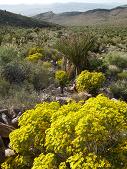 flora on the valley
floor - Mormon Peak
The approach drive consumes 2 1/4 hours (starting at Exit 90), and we camp at the base of Mormon Peak with a 3,900 foot elevation.
The climbing route is involved navigationally speaking, but just Class 2 hiking-wise. It is the route with 4,200 feet of total elevation gain described in Zdon's book. The net gain is 3,500 feet since we parked at 3,900 feet and the summit is 7,400 feet.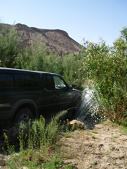 stream crossing -
Mormon approach road
Allow ten hours round-trip. We consumed twelve hours as Bob was feeling sick from some airborne pathogen he likely contracted in Las Vegas.
The hour late, at the request of John we all decided to "take it easy" and simply enjoy each other's company rather than dash out to the paved road system before sundown. This gathering of prominence-minded peakbaggers was certainly a trip highlight.
John shared pasta with tomato-basil sauce, and the dish was considerably enhanced with shaved parmesan cheese and, for some, my kosher salami.
We take the next day off since it would now be impossible to climb Potosi Mountain, our next venue, before the afternoon's heat. I enjoy a pint of rocky road ice cream as Edward drives my pickup truck to Potosi's base. The afternoon, a most lazy one, is spent lounging around, with a few naps and light conversation as the chief activities.
Potosi Mountain (elevation 8,514 feet, prominence 3,012 feet)
Before 6 a.m. I drive with Edward for his return flight out of Las Vegas. Returning about 7:30 a.m., Bob, John, and I begin the Potosi climb. The ridge route features good views for nearly the entire effort, and we summit after about 4 hours amid blue skies.
On the descent Bob and I divert to the "direct route" while John descends our route of ascent.
We caravan through Las Vegas and then go south on U.S. Highway 95, through Searchlight, Nevada, and then to Christmas Tree Pass near the base of Spirit Mountain.
My evening meal consists of John's Canadian Club whiskey (a gift) and his chocolate chip cookie. A chocolate doughnut donated by Bob is then adorned with cashew butter. A cold chicken piece from last night's meal (Edward had cooked it using Bob's camper stove) is dusted with garlic salt and eaten. By mid-morning I was hungry - yet fell back asleep in anticipation of a normal breakfast. To those who "know" me and my food extravagances this behavior will not surprise.
Bob Packard on Potosi
summit view east
to Las Vegas
Spirit Mountain (elevation 5,639 feet, prominence 2,899 feet)
This peak has impressive lines. The climbing route also appeals. Net gain is 1,700 feet and the total gain perhaps 400 feet more. A key navigational point is the saddle immediately east of point 4280+ feet. Cairns mark the route much of the way - and they are quite essential to avoid timewasting searches for doable paths to the summit ridge as one climbs to 5,400 feet from said saddle.
We return around 12:30 p.m. I drive to San Diego since the very next day I meet my parents for Passover in Newport Beach. On return home my odometer reads 1,255.7 miles.
Bob eats lunch and eventually drives home as well. John enjoys the day, remaining at Christmas Tree Pass for another night.
Spirit Mountain
summit view with
Colorado River
wildflowers at
Spirit Mountain