Nevada Prominences May 2014 Trip Report
© May 2014 Adam Helman
Note 1: All coordinates use the WGS84 datum.
Note 2: Photographs are by the author except where indicated
by JH (John Hamann) or RC (Richard Carey).
Note 3: Mouse-click nearly all images for detail.
Dynamic Trip Map
Background
Bob Packard has surpassed a milestone - while in the Azores and Madeira his 1,000th summit with at least 2,000 feet of interpolated prominence. That was just before the current Nevada journey. Most prominence-oriented peakbaggers, including he and I, consider interpolated prominence as **THE** superior metric for judging list progress - not the old fashioned concept of "clean" prominence. My statistical arguments favoring interpolation as list generator are available for review as both a brief description and a very elaborate one. There remains a small contingent of clean prominence die-hards. All this written, it is during the current journey when Bob reaches his 1,000th summit by clean prominence. Initially Bob was to retrieve me from Las Vegas' airport. However Richard Carey, also here in San Diego, decides to join us for the entire set of dozen peaks - plus whatever else time allows us. John Hamann joins us for two peaks with good isolation distance - plus the intermediate peak between them. As a result he witnesses Bob get clean prominences numbered 999, 1000 and 1001: a most satisfying symmetry indeed.
Trip Details
Friday, May 9 - to Nevada Bob is napping in his camper when Richard and I arrive at the Shell station in tiny Ash Springs along U.S. Route 93. It's been 440 miles from home, yet not enough for the day's effort. After moving my stuff into Bob's vehicle we caravan to the trailhead for our first peak, Fortification. My role is navigator with all the approach road and route information. I also judge on all matters requiring agreement such as when we start hiking the next morning based on multiple competing factors. Saturday, May 10 - Fortification Range Highpoint Beautiful conditions this morning for our first effort. We drive out heading north, so making a loop route from the paved highway by having approached from the south.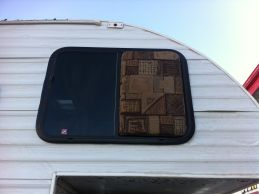 Sofa cushion fits perfectly!

Richard receives NOAA weather of an approaching storm that was NOT in the forecast a mere 48 hours earlier before we left home. It calls for "winter conditions" with high winds. What kinda crap! How the HELL could the forecast be so DIFFERENT all of a sudden?.

My vote, which I never express, is to remain low in the valley rather than drive to and camp at a high 8,480 foot saddle just below Major Benchmark West for tomorrow. Bob and Richard both want to proceed, and I cannot understand their decision given that we KNOW conditions will worsen. The camper window next to Bob's bed has broken. It's likely a branch smashed it. With the wind gathering in strength it's highly desirable to effect temporary repairs. Looking about, I offer that a couch cushion might be the right size to stuff the hole. It fits perfectly - so well, in fact, that we are amazed at this stroke of good fortune amidst the meteorological chaos.

ABSOLUTELY PERFECT

Conditions worsen at our saddle, with snow by 9 p.m. with high winds. Bob parked with his camper's rear entrance facing the wind, and making it almost impossible to control the door's swinging motion. Snow gets into the camper from small holes in the wooden construction - a first for him. We will likely not be climbing our peak by morning. Sunday, May 11 - Stormbound The entire day is spent indoors waiting for improvement - which never comes until the evening. We should have remained low, and especially as our vehicles are parked on the route's windiest portion at a mountain pass. I spend several hours reviewing for errors the first printed copy of "A Tale of Twelve Summers" - my story of completing the western CONUS county highpoint list. Monday, May 12 - Major Benchmark West and Egan Benchmark

There is some initial skepticism with my concept of starting just after sunrise. With Richard's in-camper thermometer reading a chilly 25° F it's not exactly comfortable - yet the wind has vanished. So after our breakfasts we head off for the summit. The early start is to enable my concept of two peaks this day so that we get back on schedule (having lost a day to the storm).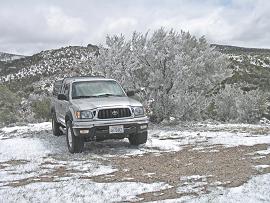 Richard's pickup truck at our
Major Benchmark camp. (RC)

Around 9,500 feet the snow appears - and on the summit ridge it's complete with some postholing in places. Still, by the time we're back at our saddle temperatures are moderate, and, being only around 10 a.m. it's clear we will try for that second peak.

However there's a particularly tilted section of the approach road where Bob's high profile camper has a sizable risk of toppling over. He does not want to go back there! We have an option of heading south from our saddle camp on a minor track that should eventually lead to a major dirt road - and we take it despite lacking adequate maps or imagery to verify this concept. Soon enough we are on the Egan Benchmark approach road - yet Bob's camper profile is a hindrance with low-lying branches threatening to break some part of its superstructure. He parks at a convenient location and we three ride in Richard's vehicle - a Toyota Tacoma just like mine.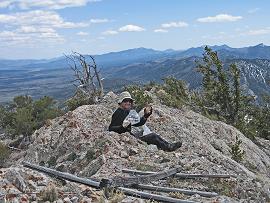 Adam atop Egan Benchmark
with glass Goober jar. (RC)

We get quite high, parking around 9,100 feet just before an obvious pass. It's 1 p.m. and Bob starts out while Richard and I spend a few minutes. Bob can do about 800 vertical feet hourly which is considerably slower than our uphill rates. On descent we are more evenly matched.

The final 50 vertical feet is steeper, and we approach from the south even though our overall route is from the peak's north. Lacking time to prepare a summit sandwich, when piling into Richard's car I just brought the entire remaining loaf of bread and the entire glass (!) jar of Goober - a combination of peanut butter and strawberry jelly ready made for a kid's school lunch. We camp in the valley by 5 p.m., and I enjoy Richard's Happy Hour (he always has cold beer and chips with gourmet dip) by having confiscated Bob's flaky berry pastry (part of his perennial breakfast) and Richard's delicious red wine. Both tolerate this excess because, as I explain, it was MY plan and MY forethought to bag both peaks today by starting in the cold at the earliest reasonable hour. Tuesday, May 13 - Telegraph Hill Richard's in-camper thermometer reads 18° F this morning. I recall that Bob was concerned about afternoon heat before our trip (!). We reach Ely soon enough where Richard eats a restaurant breakfast while Bob and I get gasoline and eat in his camper. Usually I have two packets of hot oatmeal with extra sweetener, dry milk powder and added goodies (use of dry milk does not dilute the oatmeal's flavor and lower its temperature through added volume). However when passing through a community I just have hot chocolate with a seriously delicious, medium-size dark chocolate chip cookie - often with cashews or peanut butter spread atop. I refuse to pay over three dollars for the store's hot sausage and egg muffin! Fat and protein can wait... but please pass me the carbos!! After a supermarket stop we're off, bound for Cherry Creek ghost town off of Route 93. Soon enough we reach Telegraph Hill's base and start our hike/climb. I'm wearing mountaineering boots, rather than my trekking shoes, because we anticipate plodding in snow by the summit ridge. Indeed, the final 500 vertical feet find me postholing in front of Richard and Bob.

NEW TELEGRAPH HILL INFORMATION

The southern area at measured (39.74277° N, 114.87363° W), with a white PVC pipe, is hand level sighted (by both Bob and Richard) to be just as high as the well-known northern area with summit register. The two areas are 0.10 or 0.11 air mile apart - about 500 to 600 feet.

******************************

We drive to Ray Benchmark's trailhead, Bob's camper again having some trouble with branches along the "main" approach road leading west. There's lots of time, arriving around 4 p.m. - allowing me to dry boots in the sun for a few hours. Wednesday, May 14 - Ray Benchmark I take trekking shoes because this one's below the snow line. At the summit is a picturesque gnarled tree. Another gorgeous morning. Returning to the camper we all enjoy some Haagen Dasz ice cream, purchased to celebrate Bob's 1,000th clean prominence in a few days. There's a 14 fluid ounce container of "white chocolate raspberry truffle" and similarly for coffee - his favorite flavor. Several ice cream makers now offer 14 ounces (7/8 pint) rather than a full pint as some cost cutting measure, and have done such for a few years. We drive the Butte Mountains Highpoint approach road, almost missing an important turn described here.

NEW BUTTE MOUNTAINS HIGHPOINT APPROACH INFORMATION

Ken Jones' directions are fine apart from failing to note that one must turn left (west) at a junction with measured coordinates (39.90835° N, 115.21957° W).

******************************

Bob is again concerned about tree branches. We park and camp a mile short of the "trailhead", and make good the difference on-foot the next morning. While manuevering along a reverse course for a more convenient campsite Richard damages a front headlight cover and tears-off a mud flap. He is now "spooked" from driving farther in the morning. Thursday, May 15 - Butte Mountains Highpoint Utah license plate 18181 is found on the approach road and set on its tip for easy location on our return. We are much enamored of this number... The final ridge, all thousand vertical feet, is quite enjoyable. Wild horses keep their distance, even going over the summit to stay well away from us. They are very nervous of any human approach. At the top Richard and I enjoy his Spanish Iberico cheese on bread spread with Miracle Whip Lite. It's tangy yet not overpoweringly so. It also goes well with my blueberry fruit bar. Richard's GPS unit has hundreds of peaks programmed. So we play the game of guessing the identities of remote mountains on the horizon and then verifying with his information. It's even practical: we locate Spruce Mountain slightly east of north and note a small amount of snow - important news in a few short days. We locate Hole-in-the-Mountain 78 air miles due north (actually 359° true) and find it, as well as the impressively long Ruby Mountains, chock-full of snow.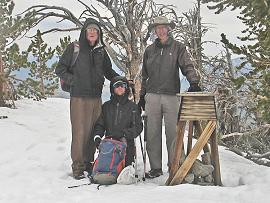 Adam, Bob and Richard atop
Cherry Creek Benchmark. (RC)
After retrieving the license plate we wonder if 18,181 is a prime number. Surely it's not "18-even", my expression for a number evenly divisible by 18. Nor is it 101-even as clearly 101 x 180 = 18,180 - not 18,181. I divide all primes below its square root, some 135, in my head - and the exercise lasts through to our waiting vehicles. My conclusion is confirmed by Bob who sits down with a hand calculator - and nothing "happens" until we are convinced.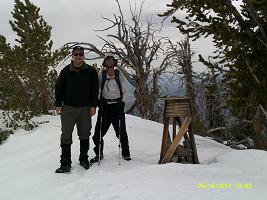 Adam and John atop
Cherry Creek Benchmark. (JH)

By just 1 p.m. we are in Cherry Creek "ghost town". Howevever there are some residents. An elderly lady allows us to fill our water jugs from her front lawn garden hose; and then gives us a dozen freshly produced eggs! This evening I have a three egg cheese omelet...

Richard has some idea of bagging a nearby summit - yet his plan is cut short when John Hamann arrives unexpectedly early. Even though it's only about 2:30 p.m. we drive to within 0.4 road mile of our trailhead and camp. There's an extended conversation / happy hour outdoors, an effort made to remain shaded under Bob's camper. John offers humorous thoughts, the most outrageous being somebody who climbs Mount Elbert, Colorado's highest peak, wearing an oxygen mask! I am so overtaken as to burst out laughing - uncontrollably. John enjoys leafing through the first printed copy of my new book on "Winning the West". He shares a Subway seafood sandwich and offers a large carton of fresh strawberries that we refrigerate in anticipation of Bob's imminent 1,000th clean prominence. I call for a 5:30 a.m. departure time, using John and Richard's cars for the first 0.4 road mile. Friday, May 16 - Cherry Creek Benchmark and Dolly Varden Mountains Highpoint

NEW CHERRY CREEK BENCHMARK INFORMATION

The road's effective end, for driving purposes, is at (39.94476° N, 114.89250° W) with elevation 2,280 meters (7,480 feet). Beyond this point it forks. You want the LEFT fork, one which is walked because there's no way to turn-around a vehicle along it. There are three boulders along this left fork, with the second boulder being so large at (39.94503° N, 114.89469° W) that one wonders if it could be have placed there intentionally. An avalanche slide seems unlikely as there is no debris path.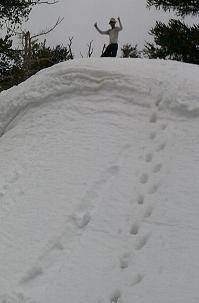 Adam and his track to the
snowdrift's "summit". (JH)
Snow becomes an impediment starting around 9,000 feet as we head up-gully. The final thousand vertical feet takes quite some time, everybody postholing on the summit ridge to varying extents. As the summit is completely covered Richard cannot locate the register for replacing it with his signature pair of red cans.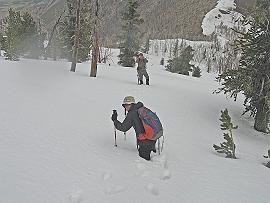 Adam in deep snow. (RC)

We descend with John as lead. I am puzzled why he's not just following our uphill track... and when we reach the saddle he's dumbfounded: this is NOT our saddle!! John has taken us astray, wasting everyone's time and energy. Our desired saddle is 0.21 mile southwest, and we sidehill in snow to reach it. Overall a half hour is spent.

Our "summit" food is enjoyed while people joke with John about his navigational screw-up. A nearby snowdrift proves enticing, and I climb its steep front side (averaging a 60° slope) just for heck of it. My sardines are best with cream cheese (half the sandwich, prepared yesterday, is also with Dijon mustard). We are back around 12:30 p.m. with plenty of time for exploring the next goal since it could be a drive-up. Richard joins us even though he's already done Dolly Varden.

NEW DOLLY VARDEN MOUNTAINS HIGHPOINT INFORMATION

From the east you can easily drive to the junction at (40.33157° N, 114.54429° W). The main road leading west is blocked here by flagging. Turn left (south), ascending steeply at first and then more gradually to a 4-way junction at (40.32785° N, 114.54871° W). This is a good parking place if you lack 4-wheel drive (2,240 meters = 7,349 feet). Turn left (south) and drive or walk the remaining distance, gaining about 1,300 vertical feet.

******************************

Bob drives in John's high clearance all-wheel drive rental while I join Richard. We get to the summit plateau, whence it's a mere 20 vertical feet to the highest ground immediately east. Bob finds it amusing and appropriate to have been chauffeured for his 1,000th clean prominence - and John is thrilled to have effected it.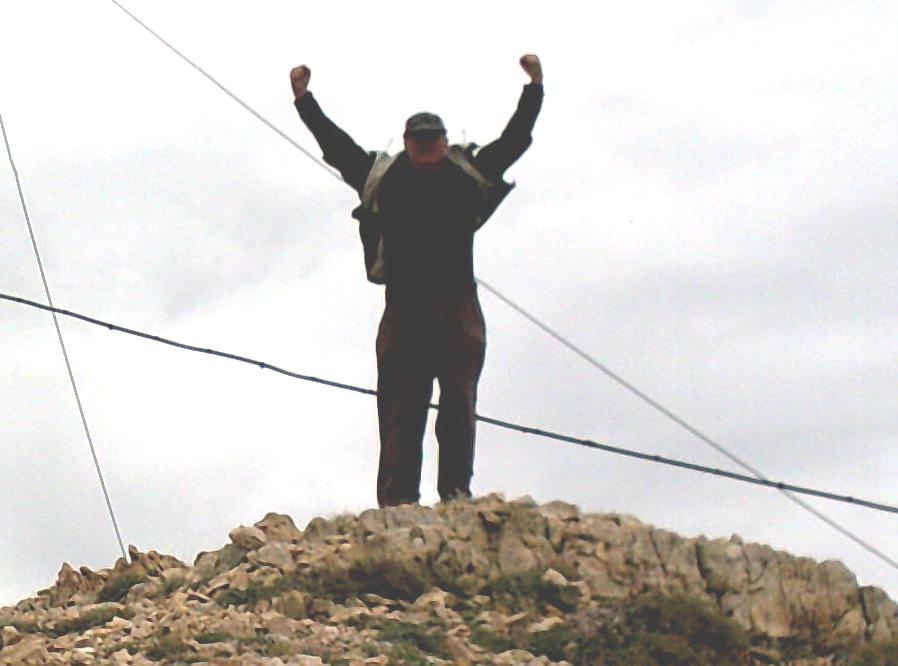 Bob atop Dolly Varden - his 1,000th clean prominence P2K summit. (JH)

Now we are a day ahead of schedule. I offer that we can take the next day off, just going to West Wendover for supplies (mainly gasoline but also food and water) followed by a concerted effort reaching the Goshute Peak trailhead. Bob disagrees - and we head towards Goshute after finishing the ice cream which has completely melted. We will no longer trust the freezer to keep ice cream cold.

We know that the Goshute Peak approach has a washout as recently described by a certain Victor Zhou who none of us have met. He did not provide adequate information: is the washout before or after a critical road junction? If before the junction, which dirt road has it? If after the junction, how much farther is it from there to the desired trailhead? We are forced to figure this out... Saturday, May 17 - Goshute Peak

NEW GOSHUTE PEAK APPROACH INFORMATION

After entering and exiting a wash more than once, along the standard approach, continue to a critical junction at (40.48546° N, 114.22462° W) where a worse track enters from the north. (Reaching this junction may entail driving a parallel road west (south of the main "road") which connects to the "main road" via a bunch of cross country tracks.) The road washout is encountered 0.2 mile beyond (west of) the aforementioned critical junction, and at (40.48524° N, 114.22717° W) give or take 50 horizontal yards. THERE ARE TRACKS TO GET AROUND THIS WASHOUT, you turn right (north) and make a semicircular counterclockwise loop, re-entering the road immediately beyond (west) of the washout. From here it is 2.6 air miles to the desired trailhead.

******************************

We drive 1.7 miles beyond the washout, and stop only because Bob is again concerned about branches. We walk the remaining mile or so. The climb itself is reasonably straightforward. The top 200 vertical feet are steeper.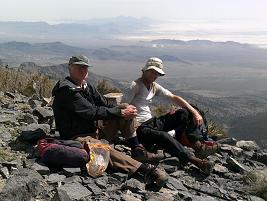 Bob and Adam atop Goshute Peak
with Bonneville Salt Flat at right. (JH)

Bob and I say goodbye to John at the paved highway, and head to West Wendover for gasoline (the tank is nearly empty) and food.

While in the supermarket we meet Richard! It's not THAT much of a coincidence, if you consider that we all need to resupply and Wendover is the nearest community for each of us. I enjoy the better part of a fully cooked whole chicken, hot, as Bob's passenger while heading back southwest on U.S. Alt-93. It's amazing that my array of condiments don't make a mess on the seat or elsewhere. Then we head north on Route 93 itself to Spruce Mountain. We are stopped by an 8,500 foot snowbank, and camp nearby at a nice location by 6 p.m., elevation 8,400 feet. My supper appetite is spoiled, yet that's exactly the plan: I did not want hunger to keep me from wanting to proceed onwards despite the day's overall level of effort. Perhaps I enjoyed some cream of mushroom soup with chicken - and one of John's milk chocolates (he gave us the entire unopened bag). Sunday, May 18 - Spruce Mountain A car with Utah plates is parked at the snowback. Someone else is on this mountain... and we suspect it's this Greg somebody who signs registers with "Grande Isle, VT" rather than his actual residence in Salt Lake City. I will start crossing-off that lie soon enough on future summits... The snow is annoyingly only in the summit road, suggesting it be paralleled while on sagebrush. Eventually the road disappears entirely, and we go cross country to the summit. Great views. We meet Richard Carey (he's been doing P1000 foot summits) at the start of our next peak's approach road. Although we had arranged for a 3-5 p.m. meeting time, we might as well drive now - just after 2 p.m. We camp short of our intended trailhead. Tomorrow Bob will ride in back while Richard drives and I navigate.
Bob points to Spruce Mountain
summit a half mile away.
Vista south from the
Spruce Mountain summit.
Monday, May 19 - High Bald Peaks and Peak 10459 Feet

HIGH BALD PEAKS TRAILHEAD INFORMATION

Just as Ken Jones did, we drive beyond the road's printed end on the chart, parking at (40.26411° N, 115.13849° W) and elevation 7,825 feet. From here it's a short effort indeed, with only about 1,400 feet of gain. The road continues, yet this saddle seems ideal.

******************************

On the summit by all of 8 a.m. I feel silly eating my "lunch" sandwich. The obvious compromise is made of having one half the peanut butter with sardines. Views are superb, and included a snowfield on the ascent looking like the Australian continent - with a white "boomerang" a few hundred yards off. Some wild horses are munching on remnant snow down one drainage.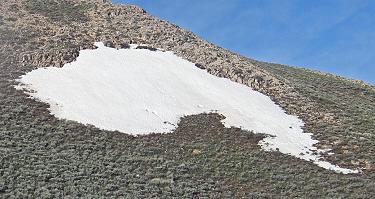 Australia has PLENTY of snow! (RC)

We drive shortly after 9 a.m., and consider adding a marginal P2K summit to our itinerary that's quite conveniently located: Peak 10459 (metric 3188) in the Cherry Creek Range. I have no data for it - Richard Carey having suggested it mere days before our journey.

Information is scant with no detailed approach or climbing information on the Internet. We investigate nonetheless, and find that the drive and ensuing effort do not match anything "out there".

PEAK 10459 APPROACH AND ROUTE INFORMATION

Along north-south Butte Valley Road get to this junction at (40.00630° N, 114.95950° W) west of the mountain. Drive northeast to this junction at (40.01230° N, 114.94813° W) and bear right (east) on a lesser road (shown only on the satellite image). Follow the road into and up a canyon, generally east northeast. A fence is opened and closed soon enough. Reach a key junction at (40.02959° N, 114.89936° W), elevation 7,712 feet. Here the topo chart shows the left fork only going to a spring. Take that fork nonetheless, the road deteriorating markedly, and proceed to just west of a badly eroded section at (40.03572° N, 114.89555° W) where the "road" climbs around the south flank of a hill. A few hundred yards prior to the undriveable section is the junction with a two-track at (40.03528° N, 114.89722° W), bypassing the eroded section to its south. Bear right (south) at that junction and drive the track to a parking spot at (40.03897° N, 114.89162° W), elevation 8,308 feet - your trailhead. (The final track and its junction are only visible on satellite imagery.) It is 12:38 p.m. when we ascend north to the skyline ridge, topping-out roughly here at (40.04492° N, 114.89445° W), elevation about 9,100 feet. We contour clockwise to avoid climbing hills to our north, leading to the base of Peak 3177's west southwest ridge. The latter ridge becomes snowy, predictably at around 9,700 feet - and we are again postholing along a summit contour's entire length just as with Telegraph Hill. We see our goal one-half mile northeast, descending 4 ten meter contours to the intervening saddle under worsening weather. Only about ten minutes are spent on the summit of Peak 3188, our goal, before wind and a light snow suggest an early return. Conditions improve markedly after losing a thousand feet elevation.

******************************

We camp along Butte Valley Road at the first indicated junction, everybody having quite an appetite for supper. I am not satisfied until after a slice of pecan pie from Bob's dessert stash. Tuesday, May 20 - Day Off We all definitely want a day-off today. Soon enough we're in Ely where everyone agrees to my concept of restaurant breakfasts. My chorizo and eggs skillet, although impressively massive, lacks enough cheese - and the sausage is likely not chorizo but rather plain hot dogs. A slice of orange creme pie is nice. There's a Wi-Fi session for Bob and Richard at McDonald's while I review yet another chapter of my book. By late morning we drive, this time for Blue Eagle Mountain as a 13th possible P2K for our trip. We've already met our goal of one dozen - this would be a bonus peak. During the approach drive Bob and Richard decide to climb Red Mountain (P = 848 feet) since we have SO much spare time. I review another chapter. The approach drive is long and worsens considerably. Bob is relieved to stop short, after just 2 or 3 miles of the remaining 12 miles to our desired trailhead. The forecast is for 40% rain, and we do not want to be that far "in", on a road turning to mud, if it starts raining seriously. Another Happy Hour is enjoyed with Richard - and then Bob as well. Wednesday, May 21 - Blue Eagle Abort and Drive Home At 4:45 a.m. I arise as planned, yet feel horribly tired for some reason. I can barely keep my eyes open. All the same we drive in Richard's vehicle - and after just a mile it starts to rain. We turn around and caravan to the "main" dirt road before deciding what to do. I make the call - we've met our goals and the fair weather forecast is not for the day after tomorrow. I don't like waiting two days just to bag one more peak (Portuguese Mountain). So we agree to go home. Tonopah is two hours southwest on pavement - where we meet Dennis Poulin and Dean Molen who are waiting-out the bad weather during their own prominence trip. After I transfer my stuff to Richard's car the new book is proudly shared. Dean orders a copy on-the-spot. Richard drives us all the way home, my sleepiness increasingly problematic the entire day. We arrive before 7 p.m., still in daylight and a petty 600 miles from our morning campsite. Bob continues a few days with some P1,000 foot summits west of Tonopah.
Summary
It was fortuitous that John Hamann witnessed Bob's 999th, 1000th and 1001st clean P2000 foot summits. Each of these numbers has unique and pleasing properties, and the symmetry about "1,000" is notable. We were all bitten by ticks. The homeward drive was the first in a 5 day illness which has me sleeping half the day as my sole desire. Then too Bob and Richard complained of itching in their extremities - and Bob has commenced doxycycline just in case he contracted Rocky Mountain Spotted Fever. On our June Nevada trip some mechanism must be in-place to guard against similar calamities.

Bob and Adam atop High Bald Peaks with the broad Ruby Mountains. (RC)