New Mexico May 2006 Trip Report
© May 2006 Adam Helman
Background
This was a trip to secure more New Mexico Fifty Finest summits with Bob Packard of Flagstaff, Arizona. Two of the peaks require special access permission - Fra Cristobal on a private ranch; and Oscura Peak on the White Sands Missile Range (WSMR).
Trip Details
Wednesday, May 10 Parking my truck at Richard Carey's home in Point Loma, I flew on Southwest Airlines to Tucson where Bob Packard retrieved me. The approach drive for Alamo Hueco is very long and remote, traveling around the east side of the Big Hatchet Range in a generally southeasterly direction followed by a turn west to just north of the Alamo Hueco Range. We reached our campsite as a saddle two air miles from the summit after nearly three hours of driving and 35 miles off-pavement from Highway 81. After 28.3 miles off-pavement, and one mile east of Hat Top Butte the "road" has eroded to undriveable. To make further progress you need four-wheel drive and some determination. Locate the alternate tracks hacked out of the brush and continue west and around the butte's north slope. The track improves west of the butte. Turn south at a junction just west of a fenced area with a windmill. Drive south the final few miles, eventually trending southeast towards the saddle for a good camp location. At the saddle my cell phone got a signal - unfortunately through a Mexican network - so contacting my parents to say, "Hello" was impossible. Thursday, May 11 Alamo Hueco consumed 5 1/2 hours elapsed time from leaving Bob's vehicle at 5:59 a.m. This includes a 40 minute side trip by Bob to get a nearby P300+ foot summit on the return, with an extra 440 feet of elevation gain from the saddle described below. The climb's key is accessing a saddle one kilometer northeast of the summit, in turn by ascending a canyon, heading southbound, from the vehicle park. Find a path above the cliff-like formations on the west (right) side of the canyon rather than remaining in the brush-choked canyon. Once at the saddle the peak is visible as the northern of two bumps on the skyline to the southwest. The return drive out to the highway took 2 hours 5 minutes. We bush camped just east of Route 54 north of Alamogordo and south of Carrizozo.

Approach Drive for Alamo Hueco

Note: UTM coordinates in the links below employ the NAD27 datum. Zero the odometer at this junction on New Mexico Route 81 south of Hachita. Drive southeast on good dirt 6.0 miles to a ranch. Pass through the ranch, still southeast, until a junction at 13.8 miles. Drive southwest (not east-southeast) for two miles to this junction at 16 miles with a windmill. Continue south southeast on the best road yet four miles to this junction at 20.1 miles. You are now only one mile west of Mexico. Drive south five miles to this junction at 25.2 miles. The route now turns west. At roughly 28 miles the road suddenly veers left (south) to surmount a ten or twenty foot band of rocks. Although not visible from below, the road continues west, as previously, above the rocky area. At 28.3 miles the road deteriorates markedly due to erosion. It is not passible even with an ATV. Find the alternate path constructed to avoid this obstacle, and continue for several tenths mile of very bad road (high clearance, 4WD required) until just east of Little Hat Top Butte. The road improves as it climbs out of the drainage and travels north of the butte, heading west. You parallel hills to the south, still going west, and pass through a fenced area with cattle and a windmill. Soon after, turn left (south) at a junction and thereby make progress towards the peak. This junction is one of three shown on the 100,000: 1 series USGS map - all of which indicate roads leading south. I do not know which of the three we took south since it was off the map we used to navigate. I do, however, recall that the route lead southwest for a while, suggesting either the first (easternmost) or the second (middle) junction as the one we used. Regardless, travel south and bear left at this junction, so as to travel southeast to a good campsite at this saddle just two air miles north of the Alamo Hueco highpoint. Without any searching to-and-fro for a driveable route at mile 28.3, the total off-pavement distance is 35.3 miles. Friday, May 12 Plans for getting the Capitan Range highpoint, number twelve on the New Mexico prominence list, were foiled by a Forest Service fire closure at the highest level - one which prohibits even walking in. Bob found a nearby range highpoint to climb, Ancho Peak of the Jicarilla Range north of Carrizozo. The hike began from a cemetery with an entrance not blocked by a Lincoln Forest closure barrier; entailed 700 feet of elevation gain; and lasted 1 hour 30 minutes total time. Near Truth or Consequences we climbed the Mud Springs Range highpoint, as Mud Mountain, immediately west of town. The hike began 5:40 p.m. at a limestone rock quarry and consumed 1 hour 7 minutes elapsed - the route being short and obvious. Views were wonderful on top. The key to Mud Mountain is locating the approach road as an Interstate 25 freeway underpass leading from the business loop westward. The primitive road dives under the freeway and proceeds west perhaps four miles to the rock quarry. Park and climb. We camped east of "T Or C" in anticipation of Fra Cristobal the following day. Saturday, May 13 Fra Cristobal saw a meeting of several prominence-minded peakbaggers, each paying a minimum of $50 for the privilege of driving to nearly the summit over ninety minutes. It would be difficult to stealth this peak, but not impossible, by crossing the Rio Grande River in a raft and hiking east to the mountain's base.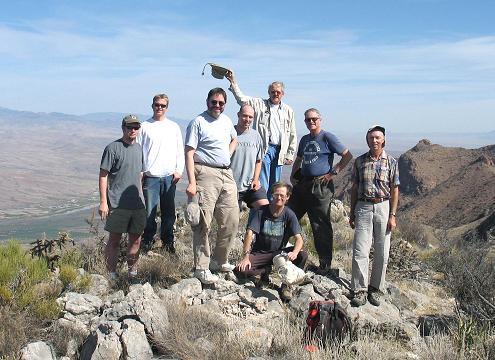 On the summit of Fra Cristobal (Richard Carey).
Mouse-click for an enlarged image.

I drove to the summit of Timber Mountain with Ken Jones, while Bob Packard joined Richard Carey for a range highpoint near San Antonio and just south of Socorro. Mouser Williams joined Ken and myself, and it took just twelve minutes to reach the highest peak after parking at the summit radio towers. Again, wonderful views. On the drive north I enjoyed a pint of Dreyer's Grand ice cream with chocolate chip cookie swirl. Mashing into it chocolate macaroons, I was left at Bob's parked camper in San Antonio to await his return - while Ken took a room in Socorro for the night. Waiting for Bob, I enjoyed a double dip of espresso chip ice cream from the nearby gasoline station / general store; and, by that means, polished off the entire macaroon container. I was full. Bob arrived at four minutes of six p.m., and we drove east to an agreed campsite for the night as a south turnoff from the highway near mile marker 30 and Bingham. Mouser Williams cooked cheeseburgers for us and Richard Carey (who provided three-flavor hummus dip and assorted chips). My bourbon-molasses mustard considerably enchanced the burger's taste by unamimous agreement. I slept on the ground with a tablecloth and my (!) Aconcagua sleeping bag. Sunday, May 14 Our WSMR contact arrived at 10 a.m. as scheduled. All attendees were present, and we drove as a caravan (two vehicles maximum plus the lead car from WSMR) the nineteen miles to the summit of south Oscura Peak. On the return drive and after only a short distance I saw Trinity Site to the west - location of the first atomic bomb detonation in 1945. I transferred all belongings to Andy Martin's infamous Honda Accord and drove as passenger to his Tucson home, arriving about 5:30 p.m. Arizona time. I finally met his family (after multiple missed opportunities on previous trips); and enjoyed his book collection that evening. Monday, May 15 Andy drove me to the airport before work; and I waited there for nearly three hours for my uneventful 11 a.m. flight back to San Diego.
Summary
A grand time was enjoyed by all participants. I hiked six peaks, of which four are on New Mexico's Fifty Finest prominence list; so raising to twenty-seven my total for that list. Of those four peaks, all but one, Fra Cristobal, have at least 2,000 feet of prominence.