Northern California Prominences September 2013 Trip Report
© August 2013 Adam Helman
Background
Dan Baxter of Fresno is very much into California peaks of all stripes. Having completed its county highpoints, Dan's attention now focusses on prominences, national monuments and similar esoterica.
He invites me to join a northern California prominence trip in September's second half, and with the additional incentive of Bob Packard for several peaks. Initially I balk, as I am short of funds after paying for the recent Denali expedition. However Dan offers to drive me after I park at his home.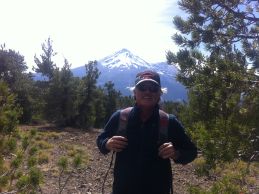 Bob Packard atop The Whaleback
with Mount Shasta he climbed
fully 44 years earlier.
The resulting itinerary is his to choose - and grows to beyond his originally stated goals.
I am not interested in the majority of these peaks since my own agenda would ideally call for others of higher personal priority that he has already climbed.
I then learn that we will be driving in an open-air Jeep, which, although highly capable as an off-pavement vehicle, subjects us to the weather's vagaries at every turn. The Central Valley will feature midday 90+ temperatures. Rain will destroy any enjoyment...
Given the above I calculate how much money is actually saved in not driving my own vehicle - and it comes to a paltry $50 because the Jeep gets only 15 miles per gallon and payment for one-half the gasoline is assumed.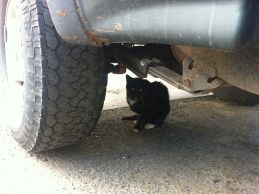 This possibly homeless cat was
fond of my pickup truck at a
central California Motel 6.
I will drive independently of Dan, allowing me to climb the remaining peaks on California's Fifty Finest prominence list which lie near the Interstate-5 corridor. I will also join Bob Packard for a set of five 2,000+ foot prominences because he does not want to do at least two of them alone. Then too I cannot resist a quartet of near drive-ups in southernmost Oregon. All-told I plan on 14 mountains, justifying travel expenses.
Dan is actually pleased to learn of my decision as it frees him to do even more peaks which he knows I have already climbed as Oregon county highpoints.
John Hamann learns of my plan to climb Thompson Peak in the Trinity Alps, preferring to do it in a single day owing to vacation time limitations. He wishes to join me, flying from New Mexico, yet the implied weekend date constrains trip planning because Bob Packard must meet me for those five prominences at a specific time and location. In turn, Bob is constrained by Ken Jones' schedule for a joint attempt on some ultra in British Columbia. Furthermore, Bob is to climb Big Craggies in southwest Oregon with Dennis Poulin before or after meeting me - and Dennis has his own schedule.
What a mess!
Bob's suggested meeting dates are 2 to 4 days after I should ideally meet him after a Thompson Peak climb with John. To fill-in the time those Oregon drive-ups serve admirably...and I will have a complete rest day after the Thompson effort as it entails a whopping 7,200 feet of elevation gain and loss over the entire available daylight hours.
The Adam/Bob rendezvous is on September 19th's afternoon at a roadside overlook in Lava Beds National Monument.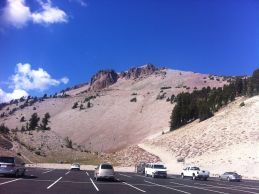 Large Lassen Peak summit
trail parking lot
Meanwhile Dan has not commented even though he too wishes to climb the same 5 prominences with Bob and myself. Eventually I learn of a boat cruise that limits his home departure to no sooner than the 14th, which is odd because he never previously mentioned this constraint. Clearly with all the peaks he plans, including several on the coast followed by Preston and Thurston, he cannot possibly meet Bob and myself for Mount Hoffman on the 20th.
Hence the original trip protagonist will travel and climb alone.
Tuesday, September 10 - Early Start
It is some 700 road miles to my first venue, an excessive amount for one day. Hence I start the previous evening, driving 170 miles to camp at a large gravel lot accessed from Interstate-5 Exit-202 (Gorman Post Road). From the south, turn right (east) and then south along stated road about one-quarter mile to (34.79541° N, 118.84894° W), elevation 3800- feet.
The freeway traffic is quite bothersome, even when I attempt to sleep in the camper. I leverage a stuffed left ear by sleeping on my right side, with an unfolded blanket over my left face to muffle the sounds. I cannot recommend this location owing to this one drawback.
Wednesday, September 11 - Drive North
After several hundred miles, by 3 p.m. I depart Chico, California bound for my first peak - when a road sign at the town's outskirts warns of a Route 32 road closure 47 miles ahead. This is terrible news as the Forest Service road leading to my trailhead for Butt Mountain lies beyond that distance.
I must access that Forest Service road from the opposite direction, going around "two sides of a triangle" via Red Bluff and then Route 36 headed east. Upon reaching the U.S. Route 99 / Route 36 junction outside Red Bluff I pull-over and access the Caltrans website with my smartphone.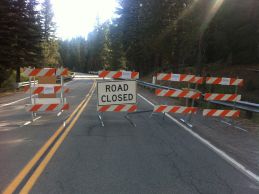 California Route 32
The Route 32 closure is along a 2 mile length exactly 1.4 to 3.4 miles from its junction with Route 36 to the northeast. Yet I cannot determine if the desired Forest Road junction lies within that span because no posted report provides the distance from said 32/36 junction!
I then call the Lassen National Forest's Almanor subdistrict office, eventually learning that Forest Road 28N12 is indeed within the closure zone.
It is 4:30 p.m. and I have driven for ten hours. There is no trailhead tonight, and temperatures are in the low nineties - too hot for camp camping. A Red Bluff Motel 6 is chosen as my sole sane option.
Just before supper I realize that all is not lost: the Caltrans fine print calls for road closure Monday 0600 hours through Friday 0600 hours. It will soon be Thursday. Hence if I switch the order of my peaks I can climb Crater tomorrow and then Butt Mountain on Friday.
However I am skeptical that a road should be closed Monday through Thursday yet not Friday, and think it's a clerical error resulting from some moronic misunderstanding. I consult a Caltrans recorded message (for those without web access?) and confirm the time.
Suddenly I am packing for Crater Peak, and eating supper, when suddenly... all electricity is lost! The air conditioning is no more, let alone the microwave oven, lights and TV set. Exiting my room, A/C units are humming elsewhere - so this event is unique to my room.
I secure a new room for no charge and continue with my evening.
Thursday, September 12 - Crater Peak
Up at the crazy hour of 4:08 a.m. I plan to hit the dirt Forest Service road at sunrise. I am an expert at this kind of time calculation. (An Email message to the prominence discussion group (Subject: remarkably bad luck) noting 4:21 a.m. as the time will confirm that I am at least alert enough to compose a reply and describe my plans.)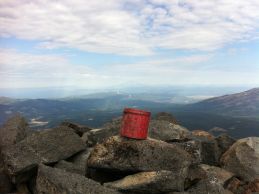 Crater Peak summit register with
southeast view of Mount Shasta.
I love having a 16 ounce hot chocolate spiked with coffee as I drive - provided there's a crunchy granola bar or soft cookie to go with it - in this case Pepperidge Farm "Pumpkin Cheesecake" variety. No, it's not Superman's breakfast .... but it does provide essential caffeine and sugar - plus additional incentive for arising in the first place at some ridiculous hour 8-).
Crater Peak is climbed via a trail as described elsewhere, and by first going over nearby Magee Peak. The following new information is of note -
It is 4.0 miles to Forest Road FR16 from the Route 44 / Route 89 junction.
This value differs from a posted report citing 2.5 miles.
The trail to Magee Peak has trees cut - it is maintained,
with only two deadfall encountered for the entire length.
There is now a trail to Crater Peak's summit, as a rudimentary path
which exists at the obvious saddle (40.69388° N, 121.62209° W) and proceeds north.
I drive through Lassen National Park on Route 89, parking at the Lassen Peak summit trail lot, which is enormous, as the road's highest point - to check Email. The signal soon vanishes.
By late afternoon I am at the road closure where a workman confirms that, indeed, the route is expected to open at 6 a.m. next morning. Satisfied, I camp one mile north, parallel to Route 32, about 0.2 mile south of its junction with Route 36.
Friday, September 13 - Butt Mountain
Note the illustrious juxtaposition of day and date.
Somehow I don't vent my considerable frustration upon learning the road is not going to open until at least 8 a.m. A Forest Service map is provided by the foreman so I might reroute my drive to the desired trailhead - and I copy the relevant squiggles and road numbers on spare paper. There is much active logging here, and I am immediately stymied by a locked gate on the proposed alternative route.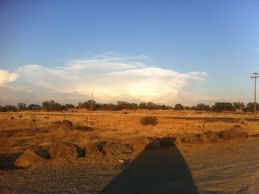 Campsite view southeast to
thunderstorm activity at and around
Butt Mountain. The forecast was for
0% chance of precipitation.
Now I wait until 9:40 a.m. before driving, and finally see the road reconstruction caused by severe water damage. When the pilot car passes my Forest Service road I leave the line of cars, moving an orange cone and sign aside (which reads "Road Closed" to 28N12 drivers) for vehicle passage.
I hurriedly drive the good 10.0 miles to my trailhead, now far later than I would normally begin this effort. I make excellent time, covering some 3 trail miles, uphill, in under one hour.
For Butt Mountain the following new information is of note -
The Pacific Crest Trail / summit trail junction lies beyond (east) of any obvious
location along the peak's south ridge, at (40.21006° N, 121.38287° W).
This is 0.56 air mile from the summit.
Ascent time is 1 hour 56 minutes, the round-trip 4 hours 14 minutes. I hurried because thunder and lightning were imminent - an issue completely avoidable had I been able to climb when desired.
I camp immediately off Route 36 at a large gravel lot for some trailhead about 10 miles northeast of Red Bluff. A thunderstorm rages to the southeast.
Saturday, September 14 - Bully Choop Mountain
A vengeance peak, having turned back along the approach years ago at a fallen tree. The hardest part of this effort is driving the 13.1 ATM ("Adam Truck Miles") from pavement to a locked gate a mere 470 feet below the summit. One ATM is roughly 1% larger than a standard mile. There are many eroded sections where the road has half-foot deep ruts running across its width. High clearance is essential - yet not 4 wheel drive.
For Bully Choop Mountain the following new information is of note -
8.4 miles from Route 299 is a key road junction not on the topographic chart.
Bear right here.
It is 13.2 miles from pavement to a locked gate. Allow 80 minutes one-way.
I parked at the hairpin turn perhaps 150 horizontal feet from it.
Gate coordinates are (40.55429° N, 122.76348 ° W) at a measured 6,479 feet.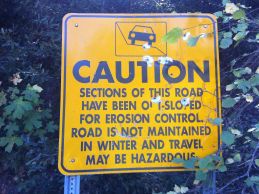 At base of Bully Choop's approach
road one is encouraged to proceed.
After food in Weaverville I drive north on Route 3. It is somewhat twisty for several miles, and then straightens out. However the paved highway southeast to Cecilville is ridiculously tortuous along its entire span of 28 miles to the relevant Forest Road turnoff - where I wait for John Hamann who comes from Sacramento. Even though it's paved I consume 45 minutes for the cited distance.
Cecilville has zero services. It is, apart from Indian hovels on reservations, the most rural, undeveloped "community" I have seen in the USA.
Pleased to see John, we talk and then drive around 4 p.m. to our trailhead.
For Thompson Peak the following new approach road information is of note for accessing the China Gulch Trailhead -
A summitpost.org description has, "About 30 miles later, just as you enter Cecilville turn left or south...". This is misleading as Cecilville is fully two miles beyond the desired road, one that is, as noted, 28 miles from Route 3.
Zero your odometer after 3.5 miles when pavement becomes gravel. To access the trailhead using 37N07 turn left at 0.5 mile, right at 2.5 miles, right at 3.1 miles and right at 4.3 miles. I clocked 6.0 ATM from pavement for a 9.5 mile total from the Cecilville highway.
At my suggestion John has a pound of ground beef from Redding, used to complete the recipe for a Kraft "Ultimate Cheeseburger Mac" dinner which I insist he singlehandedly consume - some 2,200 calories. He enjoys it greatly because I knew that he loves cheeseburgers; and this dish is the closest I can approach that desire at a remote trailhead without a real oven.
I enjoy the "Nacho Supreme" variety for myself, yet with a can of salmon rather than beef. The point is carbo-loading for tomorrow, a long day indeed that will commence before dawn.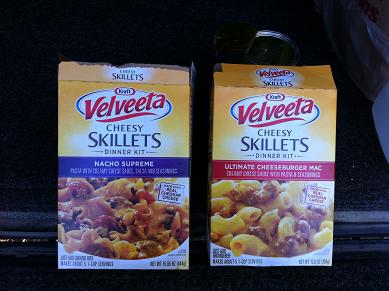 Packaged noodles as enjoyed before Thompson Peak.
Sunday, September 15 - Thompson Peak
We begin at 5:13 a.m. with headlamps, climbing and descending into the next drainage. Three and one half hours later we are on the climber's path above Grizzly Meadow bound for Grizzly Lake. We summit after 7 1/4 hours, John elated.
Darkness approaches on our return. One-third mile before the trailhead it's 7:09 p.m. - and I run the final distance to meet a 7:13 deadline signifying 14 hours for the round-trip.
John is particularly pleased because his Gu-Jel packets have kept him going without exhaustion for fully 7,200 vertical feet - surely a personal record. I explain it's not the Gu-Jel per se that is reponsible, rather, an adequate carbohydrate intake.
John leaves, citing a prepaid Weed motel room. I have no desire for anything but supper and bed, and feel cold even though the temperature is moderate. I have lost plenty of energy - and this alone explains my chill despite having consumed nearly 4,000 Calories today.
For Thompson Peak the following new information is of note for climbing it via the China Gulch Trailhead -
Path from Grizzly Meadow (6300 feet) to the lake is well cairned, ascends the slope east (left) of center viewing up the drainage.
Halfway up said path is a change in gradient to less steep - at the top of a cliff band.
The cairns to get there confuse. You want to top-out at (41.01499° N, 123.04921° W).
Cairns above that point take one above the lake level - a waste. Go to (41.01409° N, 123.04780° W)... then hike level, west, on an obvious rock-free
path to the lake outlet (41.01245° N, 123.04881° W).
Outlet was easily crossed without getting wet (this is date-dependent!).
Do not bring flip flops etc... in such a case.
Climber's path around west side of lake is easy to follow halfway to the base of a gulley
pictured at Summitpost. The path goes above 30 foot rock masses based at lake level.
It's impossible to walk at lake level. This path reaches the gulley almost 100 feet above lake-level. Ascend the gulley.
Reach the summit ridge left (east) of point 8651. Using the switchbacking climber's path,
the ridge is met at (41.00368° N, 123.05821° W) and 8,446 feet - 0.55 air mile from goal.
Locate a path on south side of ridge, easily followed initially. If you lose the path do not ascend to ridge. Instead, follow a path of least resistance,
ascending at a shallow angle. Ascend steeply to left only when 300 or 400 horizontal feet from top. These waypoints will assist - (41.00098° N, 123.05164° W)
(41.00084° N, 123.05107° W)
(41.00079° N, 123.05043° W)
(41.00075° N, 123.04975° W)
(41.00054° N, 123.04935° W)
The final waypoint above is directly under the western of two summit rock masses.
Ascend towards it but do not climb to its top as the eastern rock mass is higher.
Without rope it's impossible, or very hard, traversing directly to the eastern rock mass. Locate a dead tree, completely dry and a dull white perhaps 20 feet down.
It lies at the top of a narrow gulley that is readily downclimbed east. At the gulley's base reascend on easy ground to base of the eastern rock mass.
The eastern rock mass supports two highest boulders, with the western (left) one highest.
Its western face is sheer. Instead, enter the space between the rock mass's
two sections with a hard 3rd Class move that places you just 5 feet below the top. Now locate a narrow foothold maybe 18 inches above your current stance on a flat-topped boulder;
and, using your arms, hold onto the far edge of that same boulder a mere foot below the summit boulder.
Pull up using upper body strength. Enjoy the views, including nearby oddly-shaped Wedding Cake. Descend the two described moves with all due caution. The exposure is only a few feet - not a thousand.
Back at the lake outlet consider looking down a sheer, vertical drop to the talus field and meadows 800 feet below.
Grizzly Lake from its outlet
as Thompson Peak looms above.
Summit ridge view of Mount Shasta
from its southwest.
Monday, September 16 - Rest Day
I sleep-in, not arising until 7 a.m. The thankless Cecilville Highway is re-driven, and I have a major Email sesson along Route 3 prior to driving the dirt road grid high onto Boulder Peak's slopes.
Two-thirds to my trailhead the GPS unit quits. I am relying on it to navigate the logging road grid, one without road signs of any sort. A spare, older GPS unit has dead batteries - they have been sitting inside too long. A shortwave radio also has dead batteries for the same reason.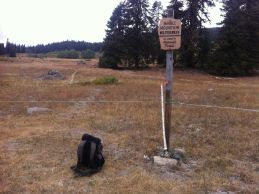 overcautious Wilderness
boundary trail closure
The final 2 1/3 miles are driven using only Richard Carey's mileages. Having reached the trailhead I fully search my red duffel bag - and locate a plentiful supply of AA batteries. A spare pair are placed into the daypack so this issue will never occur during an ascent.
On a log stump at the trailhead are three rocks holding down an order by the Forest Service prohibiting entry into certain sections of the Marble Mountain Wilderness owing to prolonged wildfire. The Forest Service map has no towns or road numbers - only grid sections, campsite locations and trail numbers. Without latitude and longitude tick marks it's impossible to correlate the closure zone with my DeLorme Atlas.
Finally I compare the shapes of trails on the posted map with the shapes of trails in my Atlas. Thereby I satisfy myself as being several miles north of the closure zone.
Somehow one of the two cables supporting my tailgate has snapped - I even heard it during the bumpy approach drive a mile back. I cannot understand this since the cable is under no load at such a time. A few days later I duct-tape the two cable ends together, yet realize that it's ultimately an inferior solution.
I enjoy yet another packaged noodle dinner, this time seated on a huge tree stump.
Tuesday, September 17 - Boulder Peak
At 3.3 miles one-way and 1,900 feet of elevation gain my chosen route minimizes the latter metric compared to alternatives that entail some 4,000 feet of gain. Unfortunately the trail is deteriorating near its start because of cattle grazing which creates numerous confusing paths. The following GPS-derived waypoints and instructions are designed to extend this route's usefulness.
| | | | |
| --- | --- | --- | --- |
| waypoint | (latitude, longitude) | instructions | topo chart (waypoint at cursor) |
| ******* | **************** | ********** | ********* |
| 1 | (41.58939° N, 123.05138° W) | proceed straight | click here |
| FALLEN POST | (41.58706° N, 123.05407° W) | turn right, upslope | click here |
| 3R | (41.58805° N, 123.05521° W) | turn right on-exit | click here |
| 4R | (41.59126° N, 123.06402° W) | fork right on-exit | click here |
| 5 | (41.59055° N, 123.06420° W) | trail fork | click here |
| 6S | (41.58330° N, 123.07579° W) | straight on-exit | click here |
| 7 | (41.57854° N, 123.08337° W) | straight | click here |
| 8 | (41.57806° N, 123.08501° W) | straight | click here |
| 9 | (41.57719° N, 123.09024° W) | straight | click here |
| SUMMIT TRAIL | (41.57817° N, 123.09198° W) | turn right (north) | click here |
It is not necessary to go beyond waypoint "SUMMIT TRAIL" another 200 horizontal feet west for meeting another trail coming from the south. Coordinates for that junction are (41.57794° N, 123.09276° W). There is a minor path leading from "SUMMIT TRAIL" to the very top.
At the Wilderness Boundary marker roughly 1/4 mile into my effort the trail is blocked by a waist-high string extending for several dozen feet in both directions. As I am many miles north of the fire restriction zone I consider this measure overkill and simply proceed. Besides, with today's inclement weather no wildfire is going to make any progress.
Clouds spoil my summit experience, so I rest and eat lower at "SUMMIT TRAIL" lest visibility further deteriorate.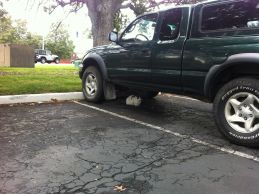 This cat enjoys DENALY's underside
at the Yreka Motel 6.
The 8.2 mile drive to Quartz Valley Road is a tradeoff between going slowly to avoid a tire puncture and rain which has just started. It is a most unwelcome end to my Boulder Peak experience.
Rain continues through the afternoon, and, with only drive-ups for the next two days, there is no need to reach a trailhead now. So I rent a Motel 6 room in Yreka, California and enjoy a full meal by late afternoon. One highlight is a slice of "salted caramel" chocolate cream pie - half eaten while still in the supermarket checkout line as there is no way to keep it chilled in my refrigerator-less room yet it's meant to be enjoyed cold. There follows green beans with garlic and parmesan cheese, fried chicken (heated in the motel vending machine room) and more dessert.
Wednesday, September 18 - Three Oregon near Drive-Ups
In the pre-dawn hours I am nearly hit by a pair of small deer driving north on Interstate-5. How clever of them to have secured California driver licenses! This could have been the end of my trip...still, it was nice to have met Winken and Blinken - trainees for Santa's sleigh ride.
Mount Asland's paved road is driven with gorgeous sunrise views, even of Mount Shasta miles to the south. A minor spur road allows parking just below the highest ground just behind a large radome. It's cold, being sunrise and breezy, and so I make brief some Email correspondence with Rob Woodall... who later acknowledges my location by replying (from England, mind you), "Summit is good!".
Sunrise along the paved
Mount Ashland approach.
Ashland summit rocks with
Mount Shasta from the northwest.
On to Hamaker Mountain on Oregon Route 66. Between mile markers 23 and 24 on the road's south side is a sign indicating cattle may graze - "Open Range". Immediately in front is a white kitchen stove with its front door wide open ... and I burst out laughing.
It is coincidentally 8.2 miles from Route 66 to the summit parking lot - exactly the distance from Quartz Valley Road to my Boulder Peak trailhead. Highest ground is inaccessible behind tall fencing with razor wire for an FAA facility. I satisfy myself by invoking the "Rule of Edward" wherein my outstretched arm is higher than the very highest ground.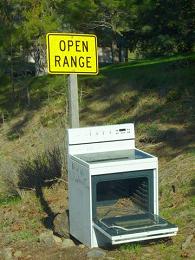 self explanatory
I fill on gasoline Oregon-style (an employee pumps), enjoy two chili burritos near Route 97 and continue to Swan Lake Point. Hiking the final spur road (0.9 mile), I take all of 17 minutes to summit.
For Swan Lake Point the following new information is of note -
Highest rock is 10 feet north of the summit benchmark at (42.40800° N, 121.66880 ° W).
This is important because the summit area is somewhat flat and features numerous boulders in various locations, all of which vie for highest ground honors.
I reach Stukel Mountain's base by 3:30 p.m. and can do it as well by nightfall. However that leaves me with nothing for tomorrow morning prior to meeting Bob Packard mid-afternoon. So I do Email and then have a leisurely meal before dark.
Thursday, September 19 - Stukel Mountain; meeting Bob
From the gravel quarry on the mountain's west side a good road initially climbs quite steeply to the north. I am eventually stopped after 3.3 ATM by a large and intentionally placed pile of tree limbs - and coinciding with "Private Property" and "No Trespassing" signage. This is where I start, 1,400 feet below the top and 1.0 air mile distant.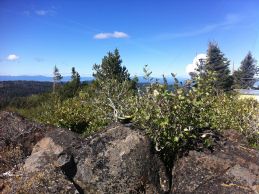 GPS unit on Swan Lake Point's
highest summit boulder.
After breakfast I bushwhack directly towards the summit, my heading 200° true. An undrivable track is taken, eventually reaching the base of a remarkable rock avalanche composed of nothing but black rocks - and extending for hundreds of vertical feet! The path of devastation is taken, far easier than dealing with brush.
My luck runs out, and I laboriously push through vegetation until reaching the summit ridge. Now only one-half mile from the top I hear and see construction workers over there. Working my way along the ridge's west (right) side to avoid the worst brush, I gingerly approach the summit area without letting my presence be known in case they are working right on the highest ground. This I accomplish by remaining low until the very last moment - whence I climb directly to the summit. Fortunately the workers are on lower ground, and my summit stay is uncontested.
I return via the road grid, and note several (up to ten) locations along the road, over roughly one horizontal mile, where some landowner has placed huge mounds of tree branches in an effort to maintain his ground. In every location a small side road bypasses the branches. Clearly some legal battle has taken place...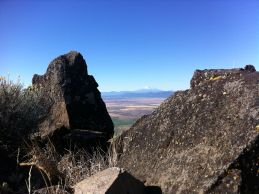 Stukel summit vista with Mount
Shasta from the northeast.
The workers passed by my camper both last night and this morning. Hence they know of some driving route which completely bypasses my own failed attempt to reach the top without physical effort. However, having already succeeded I did not have the desire to explore this issue.
What follows is Stukel Mountain information for getting to my campsite and hence the start of whatever roads do successfully take one to the summit by vehicle.
From Oregon Route 39 at (42.11116° N, 121.69843° W) take Dehlinger Lane east to Hill Road at (42.11163° N, 121.66414 ° W).
Turn left (north) on Hill Road and drive to the gravel quarry by making a sharp right at (42.12073° N, 121.66914° W).
Continue in a counterclockwise sense, gaining elevation, eventually reaching the base of a
steep gravel Forest Service road at (42.12116° N, 121.66800° W). I camped here in the large, flat gravel lot.
In Merrill, Oregon I top-off the tank (prices are cheaper than California), zap a vinegar-soaked sausage with chili-lime tortilla chips in the microwave, and enjoy a banana "Moon Pie" that is soon enough "shmeared" with peanut butter.
I arrive at the designated meeting location around 1:30 p.m. with plenty of spare time. The Lava Beds National Monument Visitor Center is only 0.9 mile south, where an hour is spent prior to waiting for Bob's arrival.
Bob comes sure enough, and we caravan to a good bush camp 0.2 mile before an unlocked gate noted in an earlier report. After eating we spend hours on this-and-that subject, a lot of fun indeed before turning-in around 8 p.m.
Friday, September 20 - Mount Hoffman and The Whaleback
Hoffman is easy enough despite this morning's pre-sunrise chill in the thirties. We follow a route Richard Carey described, with slight variations.
For Mount Hoffman the following new information is of note -
There is a field of boulders some 300 feet below the top, encountered using Richard Carey's southern route
with 1,100 feet of total elevation gain. We skirted their left (west) edge with a route that tops-out above the boulders at (41.60934° N, 121.55305° W).
The summit plateau features many rock outcrops, rendering it impossible to spot the very highest
ground on casual inspection. Therefore coordinates for the highest boulder are useful as (41.61095° N, 121.55369° W).
The summit benchmark is 3 feet below that boulder's topmost tip, so making for a 7,916 foot summit elevation.
A nearby P300 summit, Lyons Peak, supports a tiny 7,880+ foot contour. Therefore there is only a
(7920 - 7916) / 40 feet = 10% chance that it is higher than Hoffman. Furthermore, the contour's smallness
suggests it is only barely higher than 7,880 feet. Given these observations Bob and I credit ourselves with a P2000 foot summit.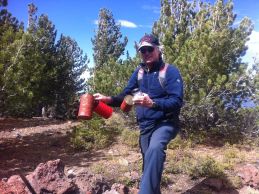 The Whaleback summit register has
a remarkable FOUR nested cans!
We know the weather will deteriorate overnight. Hence a second peak is climbed today, such that we remain "on schedule" even doing nothing tomorrow. To access The Whaleback we can either drive slow Forest Service roads or take a longer route using paved highways. We choose the latter alternative, finding a Pilot gas station off Interstate-5 Exit-745 in South Weed which is typically cheaper than standard brands.
Sensing the need for speed and a measure of alacrity (I will be driving Bob up the mountain) I get a pair of large pizza slices for $5 and a caffeine-laden diet Mountain Dew. They have all manner of veggies plus Italian sausage and pepperoni - most filling indeed! One slice is meant for Bob, unaware that he just ate lunch inside the camper.
Now nearly manic with energy I drive to a good location under our goal where Bob becomes my passenger. Soon enough we park rather high on the logging road grid, with blue skies and plenty of daylight. After some 900 feet of gained elevation we summit around 2:20 p.m. - and with a magnificent view of nearby Mount Shasta!
For The Whaleback this new information is of note -
A Jeep can drive under dry conditions to here at the end of a logging spur road, with coordinates (41.53608° N, 122.13800° W) at roughly 7,960 feet elevation. There follows a moderately steep yet easy effort due south to the 8,450 foot crater rim, followed by clockwise travel 1,000 horizontal feet to the very top.
Bob and I drive to here at (41.53721° N, 122.13306° W) with an additional 200 feet of gain.
We camp at the nearby snowmobile park with asphalt and actual campsites, located along Deer Mountain Road (later FR42N12) 3.8 road miles from its U.S. Route 97 junction. The facilities are intended for winter use by snowmobilers, with a stove-equipped large wood warming hut across the main road.
Saturday, September 21 - Lava Beds National Monument
It is indeed a dreary morning with leaden skies and a rain threat. Bob and I both remember a nice cinder cone, Schonchin Butte, near our meeting spot the other day. As his passenger we return to Lava Beds National Monument and hike this hill mid-morning. The trail gains 500 feet to a manned summit lookout tower where a park ranger greets us. The weather ensures we are alone today, and as it starts to drizzle we head down soon enough.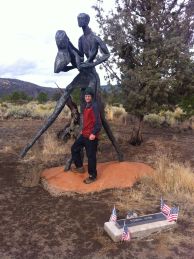 "COMING HOME" memorializes
the famous image of a sailor
in Times Square kissing a nurse
upon WWII's conclusion.
After a brief foray to the Visitors Center we find the perfect outdoor venue for a rainy day - a pair of caves! There are several caves here, and form a major tourist attraction. Two of them are visited, including Mushpot Cave (the only one with artificial lights) and Skull Cave (with an 80 foot tall ceiling and ice at its lowest level. Indeed, pikas, normally an alpine denizen which cannot stand warm weather are found in the Monument owing to this unusual niche.
It's still only 11 a.m. when I agree that Bob can visit Weed for a WiFi connection to record his recent peaks and do Email. I have lunch with mushroom garlic soup, bread and cheese while Bob food shops - returning with a "brownie cheesecake" that proves irresistible. We then head south to South Weed (Exit-745 again) where a McDonalds provides the connectivity. Bob gets a milkshake as justification for using their facility. I enjoy a 5-piece "Chicken Nuggets" which is simply delicious fried chicken - plus an iced coffee with chocolate cookie for all of 39 cents more.
There's plenty of time when we consider where to camp tonight for Ash Creek Butte. The snow level is down to only 6 or 7 thousand feet such that overnight precipitation could strand us if we drive clear to our trailhead. Playing it safe, we retrieve my vehicle at the 5,800 foot snow park and then descend to a most interesting spot some 13 road miles north of Weed along U.S. Route 97 (and 3.4 miles from Deer Mountain Road).
Here at 4,200 feet is a theme park dedicated to all the warriors of all American wars. There are impressionistic bronze statues along a half mile driving route, one which we take around 4 p.m. with Bob as my passenger. The weather is now only marginally depressing, with the sun peeking-out by the time supper is concluded.
I eat breakfast and supper inside Bob's camper, the great convenience of his propane stove much appreciated - plus the opportunity to discuss immediate plans and share past adventures from Indonesia to South Africa with his laptop computer.
Sunday, September 22 - Ash Creek Butte
We could have driven to the spur road's very end. I stop after two-thirds of its length, making for 2,000 feet of gain on-foot and an estimated 5 hours round-trip.
We have snow underfoot as we hike the summit rim's final 400 vertical feet. Below that much our route features cloud and mist, obscuring an otherwise spectacular view of nearby Mount Shasta.
Bob beats the the five hour estimate.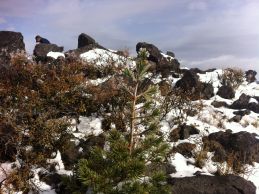 Baby tree at Ash Creek Butte summit.
For Ash Creek Butte I recommend these items.
Through a combination of vehicle and foot travel reach the logging road's end here at (41.45541° N, 122.06393° W).
Climb rather steeply through open conifer forest to the crater rim at 7,600 feet with coordinates (41.45225° N, 122.05866° W).
Ascend this rim counterclockwise to the summit.
The original plan called for Salt Creek Mountain at journey's end because as a short effort I could start driving home that same afternoon. However doing the far more arduous Tombstone Mountain as my final peak also has merit even though it means backtracking 28 miles north (a 56 mile total). We drive south on Interstate-5, taking Exit-698, and consume 45 minutes for the tortuous 16 1/2 miles of Gilman Road to the McCloud bridge crossing. We camp 2 miles at a widening in the approach road.
Monday, September 23 - Salt Creek Mountain
I accept Bob's suggestion of being his passenger: he's already been here and hence confident his vehicle can negotiate the approach; and it allows me to be full-time navigator rather than sharing that effort with driving my own vehicle. Of course this also saves gasoline expenses.
It takes a full hour for driving 11 miles to a spot strategically situated under a proposed bushwhack not previously described. Our route, described below, is far easier than what Bob was anticipating, such that the entire round-trip effort consumes only 2.3 hours. I recommend our route for all future peakbaggers.
For Salt Creek Mountain the following new information is of note -
Andy Martin parked his vehicle here
as waypoint HONDA (later named waypoint "SALT1" by Dan Baxter). I noted to Bob that the ridge trending northeast from this 4,160 foot contour &nbsp [1]
is of only modest slope, and differs as such from all previously described routes. We therefore park some 0.2 mile NNE of waypoint "HONDA" here,
and take said northeast ridge, finding it quite facile both in slope and absence of heavy brush.
The contour of Reference [1] connects to the middle of 3 summit contours via an obvious ridge.
Travel south along it, using a path (!) for perhaps one-half its length.
I obtain the following GPS-measured coordinates for each possible summit
(as measured atop their respective highest boulders) - * eastern summit (40.87702° N, 122.17703° W) at 4,330 feet * central summit (40.87781° N, 122.17801° W) at 4,324 feet * western summit (40.87739° N, 122.17995° W) at 4,297 feet - with register.
Bob and I suspect that the eastern summit (spot elevation 4378) is highest because
we sense it took more uphill than downhill travel to reach from the central contender.
Back to my vehicle before noon we have plenty of time to reach Tombstone Mountain. Using Exit-726 and 6.0 miles from Girard Road's base we arrive around 4:30 p.m. Here we camp within a large flat area alongside the gravel pit located at the start of a dirt track taken south. It can be driven by a capable vehicle.
After supper Bob entertains me by obeying to-the-letter my recommendation for how to simultaneously enjoy his Haagen Dasz coffee ice cream with brownie cheesecake mixed inside it. First the rich cheesecake filling inside the ice cream; then just the brownie component; and finally the triple combination of cheesecake with brownie and ice cream. I take vicarious pleasure in all this, and don't feel left out since I soon enjoy yet another slice of that superb cheesecake.
Tuesday, September 24 - Tombstone Mountain
Bob is angry at Tombstone! He must have just revenge for having turned back for want of daylight. This time it is different as we start no later than 4:50 a.m. over two hours before sunrise.
I carry 5 quarts for hydration, including 4 apples and a 30 ounce can of fruit cocktail in heavy syrup - plus a pint of Bob's water. By sunrise we are halfway to the peak, and I cache our fruit at the base of the 1,050 foot reascent for later that day at waypoint "FRUIT" described below.
Three and one half hours from the cars we reach the helipad marking the end of simpleness. I find a weakness in the heavy brush and we take it, successfully, as the severely dilapidated remains of a former road. This ploy brings us much closer to the summit as "WAYPOINT 5" below.
Bob eats in preparation for the severe bushwhack. I have a blueberry granola bar with milk and leftover mini-sized Nestle's Crunch chocolate bar donated by John Hamann.
The bushwhack is horrible!
Progress is measured with inches as we laboriously make our way to an obvious ridge. Branches are pointing downhill, making the effort more difficult still. Every once-in-a-while I ask Bob if my pack's zippers remain closed as they tend to separate from each other during prolonged jarring activity. My car keys are placed in a more secure location, inside a zippered pocket inside another zippered compartment - this is the one item not to be lost!!
Bob's pants pocket's contents are placed inside his pack. However his single trekking pole is lost even though it was attached to his pack for free use of both hands.
I summon a surge of energy and bash through this mess with remarkable speed, waiting for Bob to catch me before proceeding. I cannot say from where this energy comes - I just employ it when the need arises such as climbing the fixed lines on Denali or when I have temporarily become lost on a solo effort. Some call it "adrenaline" - the Chinese speak of "Chi".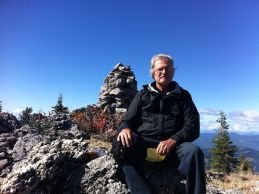 Bob at Tombstone's
large summit cairn.
The brush eases by WAYPOINT 10 atop our ridge. Soon enough we reach the base of a rock rib, dutifully saved as WAYPOINT 11. The final 300-400 vertical feet is a Class 2-3 rock scramble followed by an easy effort to the summit cairn.
We visit the southern summit in case it's higher, and have a sizeable rest as Bob and I sign the register and eat.
Once back at WAYPOINT 10 I find an easier way down that uses a large yet steep black sand and scree slope which descends to the east of our uphill bushwhack. At its base we are only 500 horizontal feet from WAYPOINT 5 to our southwest at 240° true heading. About half that distance requires bushwhacking sideways and a bit downhill, until we reach the old road about 150 feet east of WAYPOINT 5. We are now relieved...and even more so after returning to the helipad just before noon.
The remaining effort is simply a walk.
Back at 3:55 p.m (11 hours round-trip) we change clothes, eat a bit and caravan down the logging road to a pullout serving as our campground along Riverside Drive. We ignore the sign asking for a $15 fee as no services are used.
Bob and I part amicably albeit unceremiously as he explores a nearby trail and I go to bed in my camper. He will return to Oregon for climbing Big Craggies with others and then drive home after a full seven weeks of peakbagging.
For Tombstone Mountain the following new information is of note -
About 1 mile south of the gravel pit (where I recommend one camp) the jeep road is disturbed by a (newly) fallen tree here
at (41.09945° N, 122.26262° W). I was temporarily lost here, in the darkness, seeing only a log yet no road.
The road skirts around the log's right (west) side.
The road forks at point 3885T with coordinates (41.07275° N, 122.25248° W) just south of a huge fallen tree blocking the road. Take the left (east) fork, heading slightly downhill, rather than the right (west) fork.
I cached a pint of Bob's water and a quart of fruit cocktail in heavy syrup at base of the 1,050 foot reascent, elevation 3,700 feet -
to be eaten immediately before that effort on the return route north. This is waypoint FRUIT at (41.07110° N, 122.25336° W).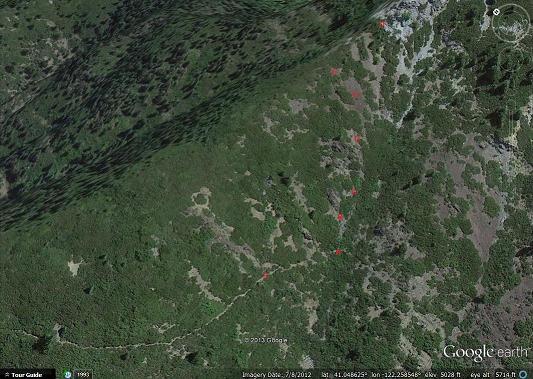 Tombstone bushwhack (mouse-click for essential detail).
The Bushwhack

Begin at the helipad's northeastern perimeter as waypoint 2 OPEN at (41.04986° N, 122.26388° W),
located at the very end of your jeep road-based effort.
Find a break in the foliage to your east (direction of summit) as the remnant of an old road.
Take it, dealing with brush to the left and right instead of directly in your path. Continue east to waypoint 3 at (41.04980° N, 122.26189° W).
The former road (and now your route) turns southeast (right). Continue along it to waypoint 4 at (41.04913° N, 122.26118° W). Here "break out" of the brush, your "road" (a mere path) being brush-free henceforth.
Continue in a more southeasterly and then easterly direction along this path to waypoint 5 at (41.04815° N, 122.25951° W). Bob P and I ate here in anticipation of a horrible bushwhack upslope from this point to the base of an obvious rock band
300-400 feet higher at waypoint 11 (41.04846° N, 122.25680° W). We encountered terrifically bad brush between waypoints 5 and 11.
As such I am reluctant to share the intermediate waypoints 6 through 10. Instead I provide the following instructions, effectively reversing our descent route, from waypoint 11 to waypoint 5,
which consumed only one-third the time and physical effort of our ascent between these waypoints.
With reference to this satellite image continue east along the path,
beyond waypoint 5, for roughly 150 horizontal feet to point A. Follow the path of least resistance from A to F, via intermediate points B, C, D and E as shown in the above image. This entails negotiating a rather steep sand and scree slope that extends some
250 vertical feet ... nearly to waypoint 11 at the rock band's base. The total distance through horrible brush is only about 200 horizontal feet,
and there appears to be no way of further lowering this value.
However compare this figure to the distance from helipad waypoint OPEN 2 to waypoint 11
and you appreciate the order of magnitude (power of 10) diminishment in level of effort. Total distance from A to F is about 450 feet, the majority of which is brush-free as shown in the satellite image. From such satellite-based data I estimate the following coordinates for A through F. waypoint A (41.04781° N, 122.25880° W)
waypoint B (41.04789° N, 122.25858° W)
waypoint C (41.04791° N, 122.25834° W)
waypoint D (41.04808° N, 122.25790° W)
waypoint E (41.04828° N, 122.25757° W)
waypoint F (41.04850° N, 122.25748° W)

Climb the rock band using waypoints 11 through 14 - 11 (see above)
12 (41.04832° N, 122.25662° W) - Traverse left here rather than continuing to go "up".
13 (41.04805° N, 122.25606° W) - Continue to next waypoint.
14 (41.04786° N, 122.25562° W) - Enter the forested summit plateau here. From waypoint 11 to 14 encounter modest, low-height brush in addition to Class 2-3 rock.
You are on the ridge's north side.
There are two summit areas, northwest and southeast. In addition a large summit cairn is perhaps 50 feet west of the northwest summit.
First encounter that summit, thence the southeast one by descending and regaining some 20 or 30 feet. northwest summit (41.04741° N, 122.25468° W), measured 5620 feet
southeast summit (41.04654° N, 122.25420° W), measured 5607 feet (However GPS unit accuracy is inadequate to distinguish which is highest.)
Return the ascent route.
Wednesday, September 25 - Drive Home
It is 693 road miles to home, a bit longer than I considerable reasonable for a single day. So after 8 days without a shower or shave I take yet another Motel 6 room - this time at Exit-334 of Interstate-5 not far from Bakersfield. I have 301 miles for tomorrow morning.
Some workers are talking and drinking beer just outside my room as I watch TV. Why don't they go inside to relax? When my show ends I exit and, rather than express my concerns start a conversation. It lasts over an hour. They are welders for hire, working on water pipelines for the local farming economy. I describe my hobby, and they are impressed to learn I've actually published a book. I email to them a photograph before bed.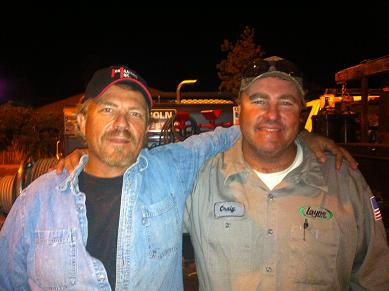 Craig Correia is at viewer's right
with his brother Kevin alongside.
Thursday, September 26 - Home
By 1 p.m. I am home. Rather than addressing an Email backlog I immediately send Dan Baxter and Richard Carey new route information for the 5 peaks Bob Packard and I just climbed. My message is timely because Richard is poised to fly the next day for Big Craggies - yet it's clear that its weather prospects are dismal. So I telephone Richard and recommend that he consider Tombstone Mountain instead - and do it on the 28th before that big storm arrives.
Addendum
Richard did indeed get Tombstone, and as learned in a phone conversation on the 30th using precisely my recommended timeline.
I also learn from Bob Packard that Big Craggies was cancelled on account of rain and wind. Hence Richard lost nothing in being unable to join them (due to his flight arrangements) a day earlier than originally planned. I am certain Richard is pleased with the overall outcome as he is nearly finished with the California 2,000 foot prominence list - and Tombstone success is a big step towards that ultimate goal.
Summary
ALL goals of my trip are realized - a total of 14 P2000 summits - plus Magee Peak and Schonchin Butte, and despite road closure, wildfire threat and inclement weather. Only King Peak near the coast remains for a California Fifty Finest list completion.
My pickup truck's odometer read "164,674" on trip commencement; and "167,136" on conclusion - a total of 2,462 "Adam truck miles" which are roughly one-hundredth larger than normal, statute miles.
The astute reader will note that Mount Shasta was photographed from every "diagonal" compass point (northeast from Stukel Mountain, southeast from Crater Peak, southwest from Thompson Peak and northwest from Mount Ashland).
It was wonderful to climb yet again with Bob Packard. It is also pleasing to know that Richard Carey bagged Tombstone Mountain through efficient and timely communication. I hope that Dan Baxter will enjoy similar success.
So too I am happy that John Hamann got his peak on our long and energy-intensive dayhike.