Southwest Prominences August 2013 Trip Report
© August 2013 Adam Helman
Note 1: All coordinates use the WGS84 datum.
Note 2: Mouse-click any image for detail.
Note 3: "U" refers to a southwestern Colorado peak.
Dynamic Route Map with all Peaks
Background
Having completed the entire western CONUS ("lower 48") county highpoint list I no longer have an überproject to occupy the summer months. There is no "obligation" to climb this-and-that peak for some grand goal.
What does one do under these circumstances?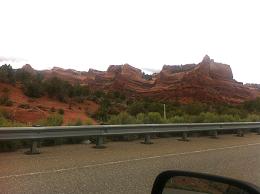 Sandstone enroute to Roof Butte.
Why, make progress on yet another list! The one foremost in my thoughts is the CONUS P4000 list, meaning, those mountains with at least 4,000 feet of topographic prominence in the contiguous 48 states. By interpolation there are 147 such peaks, of which I have climbed 126 - all but 21 (one-sixth). Two of these remaining efforts are in the southwest USA ("U" and Culebra Peak), thereby forming the rationale for a tour of the Four Corners states.
However driving thousands of miles for only two mountain climbs seems like a waste of resources - in particular gasoline. So I plan a journey wherein several other peaks are climbed to lower the cost per peak. The resulting 13 mountain total will be more than adequate, selected in each having at least 2,000 feet of prominence ("P2K").
The additional mountains are in eastern Arizona, Colorado and New Mexico. As I have not done many P2K's in the Centennial State, a second metric is used to pare down the options - those with at least 14,000 feet elevation - the so-called "Fourteeners". I have already climbed roughly 19 of them as county highpoints. Five more remain with at least 2,000 feet of prominence, all targets of the current journey.
Tuesday, August 6 - to Flagstaff
Five hundred road miles is quite adequate, leading me to Bob Packard's place in Flagstaff. We have a swell time discussing prominence phenomena and planning certain efforts in northern California for late September.
I even see his Denali videotape for the first time - climbed with his son Eric over twenty years ago. Having just been there in June I point out topographic features long since unrecognized by Bob.
After supper and the video we enjoy coffee ice cream with added breakfast cereal (my concept), peanuts and chocolate fudge sauce. YUM!
Wednesday, August 7 - Roof Butte
Three hours beyond Flagstaff on Interstate-40 I drive north and secure a permit from the Navajo Nation, in Window Rock, for both camping and hiking in the backcountry. A temporary rain event is quite depressing, commencing just when I have to do business in-town and continuing throughout my brief time there. One nastiness is that the Nation neither accepts personal check nor credit card - I must obtain a cashier's check from the local post office.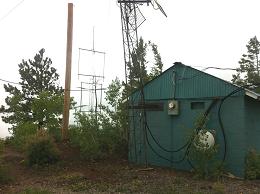 Roof Butte highest ground is
under the wood pole at left.
By midafternoon I am parked at pavement's end and hike the dirt and mud road system providing access to the base of Roof Butte. The round-trip consumes some 3 hours and is in a combination of mist and rain.
The highest ground is under a wood pole (see photograph) at a measured (36.46016° N, 109.09299° W) with elevation 9,790 feet. To get there walk roughly 500 feet east along the summit ridge from the western set of communication towers to an eastern bunch.
It is atop the summit I learn of Dennis Poulin's completion of the 57 peak CONUS ultra list.
Back around 5 p.m., I drive some 30 miles for my next goal, parking at a large gravel lot at the junction of Route 491 and BIA 13 roughly 6 miles south of Ship Rock, New Mexico. Ship Rock itself, the famous monolith, is plainly visible several miles west. "BIA" stands for "Bureau of Indian Affairs".
Thursday, August 8 - Pastora Peak
The toughest part of this effort is driving 13 miles of often rocky road to a "trailhead". I don't quite get to the desired parking spot owing to a muddy patch at a road lowpoint that I refuse to attempt even in four wheel drive. The hike / climb itself is trivial, consuming only about 45 minute each way.
The highest ground is at a measured (36.79016° N, 109.16537° W) with elevation 9,407 feet.
Enroute to the next goal I visit Four Corners - a Navajo park and my second time there. My GPS unit suggests the 37th parallel is north of the official marker, and I walk that line east for a distance just to ascertain its orientation relative to the nearby terrain.
I drive to and explore parking / sleeping options for the next day, finally deciding upon a large gravel pullout immediately next to the county gravel pit. A National Geographic magazine occupies a few hours before the sun sinks low enough to eat hot pasta without sweating even more.
Friday, August 9 - "U"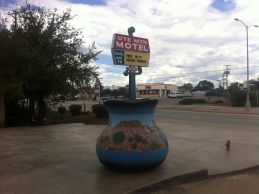 Note the large, painted urn.
Please E-mail me if you wish details of this effort. I sleep through the 3 a.m. alarm and yet somehow awaken at 3:08 anyway - and walk at 3:47 after a cold and creamy caffeinated energy drink with extremely sweet cinnamon babka coffee cake.
I begin my bushwhack at first light, leaving the dirt road at an abandoned animal pen. The northeast ridge's worst brush is avoided by reaching it around 8,300 feet, and no lower - whence it's taken to the summit.
I obtain (37.28405° N, 108.77868° W) at elevation 9,961 feet for the benchmark.
Gathering heat is the issue after returning to the dirt road, one that is no longer driveable for my sake. Instead I see hoof prints. I return to the vehicle around 2 p.m., for a ten hour round-trip with some 4,700 feet of total gained elevation.
The Sleeping "U" Mountain Motel in nearby Cortez is most accomodating. I actually need the shower after such a hot day.
Saturday, August 10 - Durango, aborted drive
My right ankle's outside "ball" was pinched by an overly tight boot. It's strange because these boots fit me adequately ever since their puchase last August. I purchase lighter weight socks in Durango as a partial solution - one that I hope proves adequate.
My next venue is 14,014 foot San Luis Peak, and entails a 40 mile one-way dirt drive from pavement - longest of any Colorado Fourteener. The paved approach highway, Colorado 149, climbs to 11,500 foot Slumgullion Pass - and it starts snowing midafternoon. The road is now dangerously slick, and I slow to some 25 mph because my tires are simply not adequate for these conditions.
On reaching the Forest Service road it's still raining - yet I drive it anyway. However after six miles I find the vehicle swerving in spots even with four wheel drive activated. The road is just too muddy. I abandon the effort, drive well north to my next goal, and eventually camp at a paved parking lot along US Route 50 where the weather is clear yet windy.
Butternut squash soup is heated near my truck's right rear tire, out of the wind, because it's just too windy to light the stove on my tailgate. It's best with added milk powder, some hazelnuts, bread (for texture) and a hint of added sweetener.
Sunday, August 11 - Waiting waiting...
It made little sense attempting to reach the Maroon Bells trailhead mid-evening and yet still arise at 4 a.m. for a pre-dawn start the next day. Instead I arrive just after noon, and park along the paved approach road, at a pullout, because regulations preclude private vehicles until 5 p.m. Another National Geographic occupies the time.
I park in the overnight lot, enjoy another pasta meal, and sleep by sundown to provide at least eight hours of rest.
Monday, August 12 - Maroon Peak
In a very lazy move I repark the car 0.2 mile closer to my goal in the day-use lot. Three college students arrive from Aspen at this unlikely hour, and agree to join forces because they are leery of the difficult navigation for South Maroon Peak. My GPS unit with its route waypoints is doubtless an asset in their view. The students are attending an eight week music festival.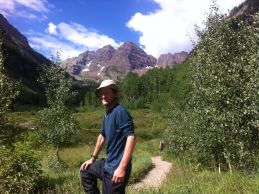 classic Maroon Bells view
They wait for me to eat Fruit Loops with canned pears. Then we collectively start on-trail. It's completely dark for about an hour as we pass Crater Lake. After first light we are passed by three very rapid hikers - two guys and a girl. We learn they are trail crew who climb every day to this location for reworking the South Maroon Peak trail. Hence they are extremely fit (and ridiculously thin). I suggest that with their minimal wages no adult of more sizeable financial means would accept such an energy-demanding assignment - only teenagers on summer break.
Next we locate the new trail junction leading upslope for South Maroon - about a quarter mile north (before) the previous junction and at a measured (39.06792° N, 106.97057° W) with elevation 10,465 feet.
My right boot is now pinching more than ever. The steep slope takes its toll, and after climbing about 1,000 feet above the valley floor I stop to investigate. Adding surgical tape does not help. Loosening my boots does not help enough. I abandon the climb and head down dosed on a pair of Advil, reaching the auto around 11 a.m.
I have no idea how the three students fare.
More importantly, there's plenty of time to reach my next venue.
There is no gasoline station in Aspen proper - likely due to a city ordinance that attempts to maintain some "ambience" in the overly priced community. Hence I secure my chocolate cappuccino beverage at a supermarket, enjoyed with another piece of cinnamon babka, and drive over 12,005 foot Independence Pass enroute to Buena Vista.
Once there I purchase a pair of trekking shoes, to be used for the trip's remainder. I then drive to the trailhead for Mount Antero, arriving about 4:30 p.m. I meet and have a dialogue with this rockhound seeking valuable minerals. Mount Antero is famous for smoky quartz, aquamarine and other gemstones.
By 6 p.m. it rains just when I wish to eat supper, and so have cold chili beans hiding inside my camper shell
because it's absolutely unwelcome preparing and eating my meal in the rain.
Thus far I am "0 for 2" in bagging Colorado Fourteeners.
Tuesday, August 13 - Mount Antero
The majority of Fourteener chasers start at a higher (10,800 foot) trailhead some three miles along the very poor road. Nonetheless I begin at 5 a.m. (75 minutes before sunrise) with another man having exactly the same plans. After a clothing break I suggest that it's more efficient traveling alone since otherwise we are needlessly waiting for each other.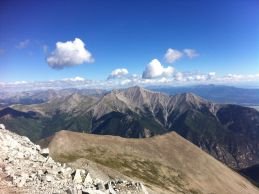 North from Antero's summit to Princeton.
Then too I find myself hiking the road with a second man who parks at the higher trailhead. We continue together until 12,000 feet where the road begins a series of switchbacks. Willingly acknowledging his slowness we separate at that point.
After reaching a major road junction at 13,200 feet (the mountain is full of jeep tracks from mining operations) I encounter the first man. He is confused, having wrongly guessed that a more distant peak is Mount Antero. Then he backtracked and found me. I set him straight with my GPS unit's readings, and we head for the summit in unison.
The road ends at about 13,700 feet roughly one-half mile south of the top. From here onwards is a navigationally challenging ridgeline effort, nearly horizontal, yet aided by the occasional path and cairn. The final 400 vertical feet is more straightforward. My partner notes that the second man (the slower one) arrived to the cross-country portion and just turned back.
My descent is uneventful apart from painful front quadriceps which are not used to descending 5,000 vertical feet. Evidently my home exercise regimen does not exercise these muscles peculiarly used for going downhill. Partial relief is provided by going "straight down" the mountain from 12,800 to 12,000 feet rather than taking the time-consuming road switchbacks. In so doing the slope is steep enough that facing forwards is not reasonable. Instead, one faces partly sideways and side-steps downslope - so removing pressure from the cited muscles.
I spend the night in Buena Vista.
Wednesday, August 14 - "Day Off"
My original plan was to climb Mounts Antero and Princeton on back-to-back days.
However the sore muscles from my descent negates that concept.
I enjoy a sizeable restaurant breakfast. The hot chocolate has whipped cream atop and is enjoyed with a 3-inch chocolate chip cookie from the car. There's a "Meat Lover's" three egg omelet with bacon, ham, sausage - and plenty of cheddar cheese. It comes with four slices of toast, includging two each of wheat and sourdough (I substituted two slices in place of hash browns). I enjoy peanut butter cream pie for dessert, which must surprise the waitress as I see she has already calculated my total bill only to rework it using the new information. Is it unusual to have dessert after breakfast?
I have learned that the higher trailhead for Mount Princeton is serviced by a road in far better condition than at Mount Antero. Such an option will convert a "5,000 foot day" into just 3,300 vertical feet. Better still, I will get off the mountain midday, leaving me time for reaching the San Luis Peak trailhead that same afternoon.
| | |
| --- | --- |
| | |
| Chaos after driving the mountain road. | Order regained - and prepared for supper. |
After 3.3 miles of narrow mountain road driving I reach the trailhead - and find no room to park. So I drive 100 yards east to a communications tower, leaving room for a service vehicle to park behind me in case a worker comes the next morning.
My evening meal is enjoyed without the threat of rain.
Thursday, August 15 - Mount Princeton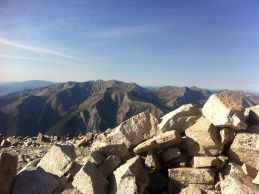 South from Princeton's summit to Antero.
I begin before sunrise, trekking poles employed which I plan to cache above the road portion of my ascent. They will be handy in case my quadriceps again complain. I am gratified to pass the 12,000 foot contour, now on trail rather than road, at only 6 a.m. - and before sunrise.
I reach a key saddle at 13,040 feet around 7 a.m., and then see a pair of climbers taking a slighly different route than mine - and ahead of me. How did they get there? Anyhow, they summit in a jiffy and return via my southeast ridge for a short conversation. They seem in their early 20s and are in some kind of speed quest - so explaining their early start and rapid pace.
I have the summit to myself - which is wonderful - and descend after maybe 30 minutes. Others come later. By 11:20 a.m. I am having my final snack food along the road when I accept a ride for the final 600 or so vertical feet to my vehicle. In so doing I save valuable time for reaching my trailhead this afternoon.
I wire myself on yet more caffeine in tiny Poncha Springs and drive west on US Route 50 followed by Colorado Route 114. From this direction the dirt road driving is "only" 28 miles to my trailhead. I am there, alone, by 5 p.m. and enjoy supper soon enough.
Friday, August 16 - San Luis Peak
It's somewhat colder this morning than elsewhere, estimating the upper 20s F based on how well my hand wear hold up to the chill. The Stewart Creek trailhead lies in a "hollow" between higher ground - and the cold air must sink at night to occupy it. Indeed, the approach road descends hundreds of feet in its final two miles before reaching the trailhead.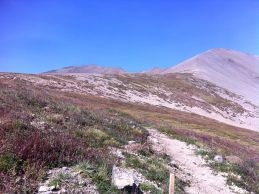 Tundra just below a 13,000 foot saddle.
San Luis Peak is on the left skyline.
It takes a full hour for my hands to warm completely as I hike the nearly level trail west. My aim is encountering no other human the entire distance - yet am foiled upon meeting a lone man coming the other way who claims to be "five weeks out of Wyoming". Then too I see a tiny blue dot on the tundra slope between 12 and 13 thousand feet - which upon closer approach is indeed a tent. Where are the occupants?
I start at 6 a.m. and summit around 9:30. When still 500 feet below the top, a group of three descends from the summit, going down a different ridge than I have climbed. Hence I never meet them, and surely have the top 1,000 feet of the mountain all to myself - a rarity on a Colorado Fourteener in the summertime.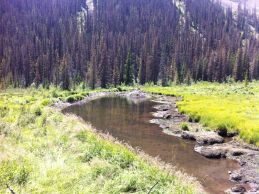 A beaver family's dam and pond
near the Stewart Creek trail.
The remoteness is palpable, there being only high mountains in every direction. I create a summit videotape with my smartphone, yet am reluctant to post it because even at just over one minute duration it exceeds 100 megabytes file size.
I return by 2:20 p.m. or so and drive out to pavement, going south on Colorado 114 even though I arrived yesterday from the north because it's by far the most efficient way to reach my next goal.
After about 10 miles on Route 114 the engine warning light shines orange, and this even though there is no outward sign of trouble with my vehicle. The computer is indicating a problem, yet I have no means of diagnosing it without a code number that is available only with the proper diagnostic tool. The nearest Toyota dealer on my intended route is not for hundreds of miles in Santa Fe, New Mexico.
To hedge against a serious engine problem I camp in Saguache, a small community northwest of Alamosa and just 80 miles or so from the next goal. I am at a parking lot for some educational center. To avoid raising suspicion I eat a pint of Spaghettios cold rather than use my camping stove. A recently purchased tub of blue cheese goes well with "just about anything" - such as tonight's cabbage with "Ranch" salad dressing.
Saturday, August 17 - "Day Off"

Early today the engine starts, and at the local gasoline station eat more than usual for breakfast as I am actually hungry: I could not eat my fill last night because it tends to precipitate a bathroom visit for "number 2" - and there was no place to hide inside town at my parking space! Then too I must limit my prune consumption... at least until I get home.

With only some 70 miles it's a very lazy day. After food purchases I have a major E-mail session parked in Alamosa. I arrive at the Cielo Vista Ranch locked gate no later than 2 p.m. - and spend the afternoon reading magazines.

By 6 p.m. several other peakbaggers arrive. They generally erect tents to sleep, always come as pairs or larger (I am usually the only person who travels alone on these Colorado peaks), and predominantly have only Fourteeners as their excuse for being here.

I enjoy another delicious pasta dish for supper.

Franklin and waiver
Sunday, August 18 - Culebra Peak and Taos
At 6 a.m. we are checked-off a guest list and then drive 2.0 miles to the ranch buildings. There I pay $100 for accessing Culebra Peak. As my vehicle warning light remains an issue, I manage to ride with a man and wife in the cab of their over-the-top camper to the higher of two trailheads - 11,600 feet.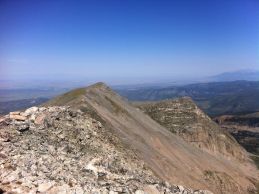 View down Culebra summit ridge.
Blanca Peak massif at extreme right.
I start around 7:15 a.m. and follow this cross-country route, recommended by Gerry Roach in his book, reaching an obvious ridgeline saddle at 13,300 feet with enormous cairn. A disappointing 150 foot descent is followed by rock scrambling with faint trail clear to the 14,047 foot summit.
There are perhaps 8 people on the top. After photographs of one another and a minor bit to eat they all descend - except for myself. I cannot understand why folks drive hundreds of miles and climb for hours ... only to turn around after 5 minutes. I makes no sense to ME....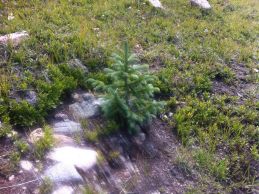 Culebra trailhead baby evergreen
With nobody around I temporarily undress to remove the inner of two pant layers so I am not sweating profusely on the descent. Being completely naked requires a certain degree of caution - on account of both the sharp rocks under my bottom and lest anyone should suddenly appear.
Ten minutes into my descent the man who drove me appears. His wife is not "feeling well" and is waiting at that prominent cairn. I decide to wait with her as a show of concern - and also because my ride downhill is with him.
From the saddle I descend 1,700 feet in just 38 minutes - a remarkably good time that indicates my quadriceps issue has vanished.
In nearby San Luis I enjoy a most thick and juicy slice of pepperoni pizza and, while driving south, a diet Mountain Dew (for its caffeine content).
The engine warning light
is no longer on!!
I have since resigned myself to cancelling an ascent of Venado Peak in northern New Mexico because unlike Culebra I'd be alone at the trailhead with a vehicle that could fail at any moment. So powerful is the desire for replacing that venue with just having dinner with the Oestreichers in Taos that I disregard all logic and simply continue there instead.
Dick Oestreicher is a county highpointer and peakbagger who, as an educator, spends his summers in Taos rather than his Pennsylvania home. I am pleased to have met him and wife - and at a restaurant they recommended for New Mexico cuisine.
I have a wine margarita, followed by a pair of fish tacos with menudo and adorned with sliced cucumber and tomato. There is hot salsa on the side. Finally a slice of avocado cream pie which honestly tastes more like key lime pie.
Dick cites a Taos summer without a single dry day in eight weeks, an experience he's never previously observed. I should have taken more note of this information.
Monday, August 19 - Nuclear Science Museum
Reproduction of "the Gadget" detonated
July 16, 1945 in the New Mexico desert.
U.S. Army 280 millimeter cannon
with nuclear-capable shells.
A detour to Albuquerque allows me to enjoy the National Museum of Atomic and Nuclear Science. I enjoy the exhibits for nearly two hours, sadly aborting the experience to reach my next trailhead in a timely fashion. There are many, many items on display that surprise me - such as radioactivity-based medical treatments, from the early Twentieth Century, that would be dismissed as sheer quackery nowadays; a sixteen-inch US naval bombardment shell with a nuclear warhead (now disarmed!); and historic photographs from both Oak Ridge, Tennessee and Los Alamos, New Mexico during the Manhattan Project.
The "Revigator" was one of
many ill-conceived medical devices
(mouse-click to read).
Sixteen inch nuclear-capable
naval bombardment shell.
I continue south and east to the Capitan Mountains. At one location I pass through this thunderstorm that has me driving all of 35 m.p.h. on the paved road because the rain is coming down so fast the road is just a huge puddle. This nightmare lasts but a few minutes yet was exceedingly dangerous. I should have pulled-off and waited.
Thunderstorm activity threatens my entire reason for being here. At 5 miles from pavement the gravel approach road turns to dirt upon entering the national forest - and I decide to camp at that boundary rather than drive farther because I can easily get stuck in the mud from latecoming rain. My plan is waiting here until before dawn and only then drive the remaining distance.
By sheer luck the rain ends just in time for me to eat supper. Cream of broccoli soup with plenty of bread, blue cheese and sausage satisfy me.
Tuesday, August 20 - Capitan Mountains Highpoint and Decision
A Richard Carey trip report states that the final two miles are quite rocky. Hence I park short of this section at an obvious (yet muddy) turnaround (33.61343° N, 105.40187° W), eat breakfast NOW (why eat just to sit on your duff?), and walk the road most furiously three miles to the communications towers - taking 54 minutes for my efforts.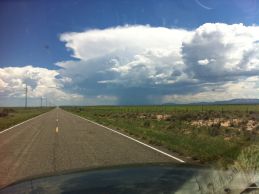 Soon enough I drive right under it.
Why the rush? Because the sky will bring rain by midday -
and I had better be off this damn road by then.
A trail leading to near the highpoint has now returned to Nature. Annoying deadfall contributes to the 50 minutes I require to travel the 0.97 air mile. I find the summit marked by a large cairn, christened "Palko Peak", and even spot Richard's hallmark double red can register. Some 50 to 100 yards farther east is a grassy meadow which might be a few feet higher (33.60123° N, 105.34301° W), measured at 10,203 feet.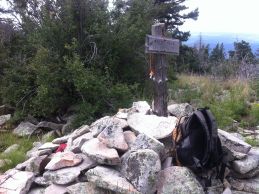 Capitan Mountains highpoint
summit cairn and sign.
I return around 12:10 p.m. and find a dog without his master (he has a collar) with an intense interest in me. He is clearly lost and in need of attention. I cannot give it to him, and drive even as he sits under the car for some reason. He trots after me as I leave the area.
Back at pavement around 1:30 p.m. I consider the sanity of continuing with two more New Mexican peaks followed by one in easternmost Arizona. The thunderstorm cells are everywhere, and it is absolutely no fun trying to dodge their disastrous effects on road condition by timing my driving at some insane hour followed by a mad dash to and from the summit.
So I decide to head home, having failed in my effort of tacking-on venues appropriate for a May or October to a summertime trip just to avoid the expense of a second, independent journey.
There are 840 road miles to home. Some 260 of them are driven this afternoon, as I stop in Lordsburg, New Mexico, in the rain (what else?) at a seriously cheap motel near the railroad tracks ($29.95 plus tax) - the Budget Motel (no joking).
Wednesday, August 21 - Drive Home
I have 580 road miles to travel. Some assistance is provided in "gaining" an hour by reverting to the Pacific Time Zone. The first half of my day is under the cover of heavy clouds. After Gila Bend, Arizona the skies clear - and I visit Dateland, Arizona at Exit-67 along Interstate-8, to enjoy a date milkshake while driving - and an entire date/pecan pie for home.
Dateland Travel Center
Memorial entrance plaque
(mouse-click to read).
It's at least 110° F now, such that I turn off the air conditioning, open the windows and drive at all of 50 m.p.h. on any uphill section to avoid engine overheating. There is a 4,000 foot elevation gain in eastern San Diego County. For that section, in addition to the above precautions, I engage the heater to divert engine heat into my cab - which is most uncomfortable when it's already 110 degrees outside!
I am certain few people take such precautions...yet it seems prudent given the conditions which in theory maximally stress my engine.
The whole roast chicken this evening is most rewarding. I don't consume all of it, yet have plenty anyway, and with several condiments, simply because "it is there".
Summary
The chief goals of my trip are realized - successful climbs of both "U" and Culebra Peak. Some day I may return for an ascent of both South and North Maroon Peaks. I cannot say - Fourteeners are not a priority for this southern Californian. Still, I love Colorado - yet sense that it's becoming too crowded.
My pickup truck's odometer read "161,290" on trip commencement; and "164,371" on conclusion - a total of 3080.5 "Adam truck miles" which appear to be roughly one-hundredth larger than normal, statute miles.
The 8 peaks successfully climbed is a far cry from the 13 originally planned upon. Recall this is the first summer trip wherein I do not have to finish a list. Everything is optional. I can climb for fun rather than out of necessity - and it was no fun whatsover to dodge monsoon season storms in August New Mexico.
It seems sensible to do the New Mexico mountains in a more appropriate season - and with additional peaks to make the journey cost-effective.