Dolores County Highpoint Trip Report
Dates: August 31 to September 2, 2004
Author: Adam Helman
Mount Wilson (14,246 ft) and Wilson Peak (14,017 ft) via Woods Lake Trailhead
Note 1: All NAD27 UTM coordinates are in zone 12S or 13S.
Note 2: Click on any photograph for enlargement. Full descriptions are given in the
&nbsp &nbsp &nbsp &nbsp &nbsp &nbsp &nbsp Dolores County photo page. Background Edward Earl and I were anxious to climb both Mount Wilson and Wilson Peak. The former is considered the most challenging of all Colorado county highpoints with a class 4 summit crux. As of late summer 2004, Wilson Peak is effectively off-limits because public access to both the Silver Pick Trailhead and the southwest ridge climbing route are in despute between some landownver and the Forest Service. The Silver Pick trailhead closure also impacts Mount Wilson since until now it has been the most popular means of approaching both Wilsons. Undaunted by this closure, we both realized there are many, many ways to climb a mountain. Rather than climb these two summits as dayhikes on successive days, we decided to minimize the total elevation gain by establishing a high, backcountry camp within Navajo Basin and within a short distance of both summits. Our 12,000 foot camp would be on permitted ground, and would enable each Wilson to be climbed with just a 2,000 foot elevation gain apiece instead of a punishing 5,000 feet. These climbs were part of a larger trip described in detail on my personal web pages. Approach and Hike After much deliberation we decided on the Woods Lake trailhead, located to the northwest and with a carpark at UTM coordinates zone 12 (759100 E, 4197049 N), elevation 9,400 feet. The trailhead is part of a well-organized campground facility with a $12 overnight use fee. To get there, drive south nine miles on route 57.P from a turnoff along route 145 about a twelve or fifteen road miles west of Telluride. Edward and I avoided the fee by camping at a hairpin turnout perhaps one-half mile north of the organized campground, and driving said distance in the morning prior to our backpack. The Woods Lake Trail, TR406, begins along the east side of the main approach road and perhaps one hundred yards southeast of the trailhead parking lot. It is then 2.5 miles to a junction with the Elk Creek Trail, TR407, at 11,517 feet elevation, UTM coordinates zone 12 (760502 E, 4193935 N) and just above timberline. The now combined trail continues south, then southeast and finally east, as it winds counterclockwise around a prominent 13,123 foot peak just north of the entrance to Navajo Basin. The trail "tops out" at nearly 11,600 feet, and has a series of minor ups-and-downs with perhaps sixty feet of elevation gain and loss, prior to descending 400 feet to a junction with the Navajo Lake Trail approaching from the south, UTM coordinates zone 12 (760823 E, 4192901 N).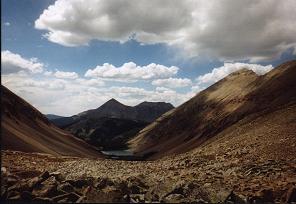 View down Navajo Basin to Navajo Lake
from the base of Mount Wilson.

From the junction it is perhaps one-half mile to Navajo Lake, beautifully placed at timberline at the foot of Navajo Basin (11,154 feet). Navajo Lake makes for excellent camping possibilities. However Edward and I continued east on the obvious trail, FT635, which heads up the the basin's north edge on solid talus. It took 3 hours 50 minutes to backpack from the carpark to our high camp at 11,948 feet, UTM coordinates zone 12 (763460 E, 4193064 N). There were perennial streams running from higher still, such that a camp with water can be established as high as 12,200 feet, farther east and immediately under the climbing route for Mount Wilson. The skies were nearly cloud-free upon arrival just before 1 p.m. Nevertheless we decided to simply enjoy the afternoon rather than attempt Mount Wilson - afternoon showers with wet rock on the summit bid would be exceedingly dangerous.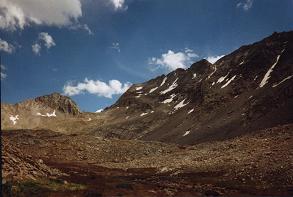 The north face of both Mount Wilson (center)
and El Diente (just beyond photo's right edge)
from our high camp. Gladstone Peak stands alone at photo left.

It was a glorious day. I enjoyed watching the pikas frolic about, and even placed a section of bagel atop a prominent cairn to see if any would grab. There was much conversation, especially about prominence and climbing Mount Wilson. I enjoyed a granola bar every now-and-then, and we agreed to eat dinner around six o'clock to highlight the otherwise lazy day. Several observations aggravated my concern about the safety of climbing Mount Wilson -
The previous afternoon we had stopped at a Forest Service office, where the personnel asked if we had paid some $3 to buy $25,000 of climbing insurance (answer: no).
They informed us that a few weeks previously an experienced climber died on Mount Wilson by glisadding uncontrollably down a snowfield without an ice axe.
The Colorado county highpoints guidebook suggests crossing a snow chute prior to gaining the main, east-west ridge on Mount Wilson. From our camp snow chutes were visible, and, owing to their small size I could not understand why at least one of them had to be negotiated when plenty of dry rock suggested a bypass. The snow chutes appeared forty-five degrees steep and, composed of snow from the previous winter, would in truth be solid ice impossibly challenging to cross without crampons. We had none.
A party of two or three climbers passed our camp, carrying ice axes and crampons, after a successful ascent of Mount Wilson and a four hour Wilson - El Diente traverse. They warned of the objective dangers of climbing the summit block.
The following morning a party of four climbers set on climbing Mount Wilson passed our camp just as we were heading out to climb Mount Wilson ourselves. They had rope, ice axe, crampons. We only had ice axes.
The above list of factors combined in my mind to do battle with my sensible realization that people do climb Mount Wilson without rope and crampons! I did not know what to think - had we arrived underprepared? I had brought a sit harness with me, but left it in Edward's pickup truck upon noting he did not bring a rope from home. Was this to save weight at the expense of our safety and chances of success? How could Edward be so confident in our skills when the above observations speak otherwise? I was quite perturbed and said to myself, in effect, "to hell with this all - I'll deal with it tomorrow on the mountain". We were in the tent soon around sundown, and asleep just after eight - after reading a National Geographic article (Adam) and a picture book on Hawaiian volcanology (Edward). Mount Wilson Climb (September 1) I awoke at 6:30 and we were off by 7:02 a.m. Edward had his standard breakfast of two brown sugar Pop Tarts. I had two of those little cereal boxes with milk. We make a good team in the morning because neither of us insists on a hot meal, or coffee, or whatever else people use as a means of starting up-trail later than otherwise. Truth is, when I hike solo, I do not eat anything at all for breakfast - and only have "something" when in the company of others because they generally eat and I would feel left out. I believe strongly in alpine starts to help avoid afternoon weather phenomena that occur all-too-often in mountainous country. Eating can come later when I am actually hungry, generally after having already hiked a few hours. At about 12,300 feet a climber's path commences, initially heading south on grass and solid slabs. Marked by cairns, it can be taken clear to the main ridge on Mount Wilson. We took our first break as the sun hit us, about 8 a.m., and at 13,000 feet. There is a steeper section, still high class 2 with the occassional class 3 move, from about 13,000 to 13,200 feet. We were by now on the upper slopes of Mount Wilson's north face, and as the guidebook recommends, we stayed below the skyline ridge. Instead, do a climbing traverse to the correct notch in the ridge immediately east of where the ridge forms a "T"-shape with the true summit.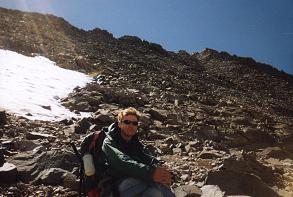 Edward Earl in the sun
during our Mount Wilson climb.

The group of four climbers paralleled our route and, for some reason I could not explain, experimented with crossing a chute of solid ice. They ginergerly stepped on the ice, aborted the attempt, and, as with Edward and myself, aimed for the main ridge on rock and bad scree. Take the rock - it is somewhat safer. Edward and I dropped packs where the main ridge intersects the final summit block immediately south. We transferred just a liter of water, my camera and a pair of snacks into my daypack and proceeded. I had brought a daypack from the car, stuffed into my overnight pack, because John Mitchler said it would be a good idea to climb Mount Wilson "with a streamlined morph". The first twenty vertical feet are easy. Then comes a decision point - either climb directly with considerable exposure to the summit, or drop down the obvious path to your left (east), some ten feet, and then traverse a short distance along a well-worn path south, followed by going up steep, angulated rock to nearly the summit. In both cases the route is certainly class 4, especially the direct route that most would consider more "classic" in some subjective sense. Edward went the direct route while I headed left and down, following the group of four who had already started out that way.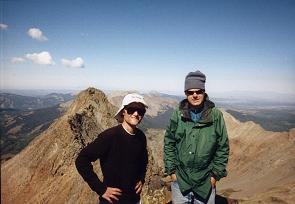 Edward (at photo right) and Adam
atop Mount Wilson. The famous
Wilson-El Diente ridge lies behind them.

On top the six of us were elated with success. Swapping cameras, we snapped photographs of one another. Edward and I each had one of those little fried apple pies - you know, the kind that sell 3 for a dollar at the check-out stand. I shared Spanish Iberico cheese with some members of the other party, and was offered dried apricots in return. The group of four included a man celebrating his fiftieth birthday - what a present he got today - the summit of Mount Wilson! He wanted to do the traverse to El Diente. However he agreed that it was selfish to force the other three climbers to come along when they had little interest. Although I wished to descend the same way, Edward convinced me to go down using his route, directly atop the north-south ridge, since finding foot placement on the very steep descent along "my" route might be problematical. We descended using the direct route, Edward advising me in a pair of spots where to place my feet. Back at our packs we paused for a few minutes prior to descending our original route, religiously following cairns whenever possible. We had a good break halfway down the slope, and I finished my lunch there with bagel, salami, and Kraft Roka Blue Cheese spread. When we reached the grassy basin a long siesta ensued, one that we considered as part of our afternoon back at high camp as an "excuse" to enjoy the views of Navajo Lake, and the entire scene, rather than from camp itself. An elderly man (but clearly quite fit) returned from his ascent of Gladstone Peak, and was followed by his lady partner perhaps ten minutes later. A fifteen minute walk found us at camp, where the afternoon was spent admiring Mount Wilson, El Diente (it was due south), and, indeed, the entire wilderness experience. Supper was again scheduled for six o'clock, and we enjoyed our separate meals - Edward with his chicken-flavored Ramen noodles; myself with some Cajun rotini pasta enhanced with kosher salami and more Spanish cheese. Wilson Peak Climb (September 2) I arose before sunrise, yet after first light, at 6:24 a.m., and we again were gone by around seven o'clock. FT635 continues to the 13,000 foot pass that provides entry in Navajo Basin from the Silver Pick trailhead, passing delapidated, black mining stucture, the Rock of Ages Mine, at about 12,900 feet that may be spotted from the slopes of Mount Wilson. The trail hits the pass at or quite near UTM coordinates zone 12 (236748 E, 4193914 N). We did not tarry at the pass owing to our obvious visibility from points north. Instead, we continued east along a ridgeline path to gain a second saddle at the base of Wilson Peak, UTM coordinates zone 13 (237129 E, 4193739 N), with 13,200 feet elevation and at the northern extent of the connecting ridge with Gladstone Peak to the south. We took a break and continued. Edward chose the class 3 traverse to avoid losing altitude. I dropped all of fifty feet and found a use path leading north, eventually meeting Edward as we rock-hopped to the main southwest ridge on what may or may not have been a use path.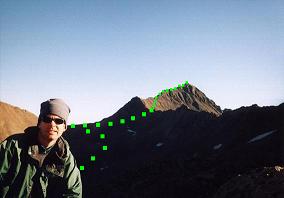 Wilson Peak viewed on ascent of
Mount Wilson, its southwest ridge
defining the daylit skyline. Green squares mark (our) standard route
(click for enlargement).

The southwest ridge has a path leading clear to the 13,900 foot false summit, class 2. A "rogue" cloud was overhead even though it was only nine in the morning. Very light snow fell, causing great concern to both of us. We were so close to the goal, and yet, with the semi-technical portion ahead, it would be suicide to continue should the precipitation freeze on contact and leave a sheen of ice. I put on a layer and we waited about five minutes, warily watching the skies to guess which direction the clouds were headed. Gingerly continuing, we dropped down about forty feet before finding a "doable" route that enables one to proceed by turning right (south), so crossing over to the south side of the southwest ridge we had been following. The northwest face of the Wilson Peak summit block, visible upon surmounting the 13,900 foot false summit, appears unclimbable except perhaps by experts. It may take a few minutes, along with a pair of false starts, to finally locate a means of access to the summit pleateau by instead turning right (south), after dropping down the forty feet, as noted above. Once over the ridge, a worn path traverses east a short distance to just south of the summit, now less than fifty vertical feet higher and more-or-less north. Climb the final section with loose scree but not much exposure, so accessing the summit plateau with several cairns. We stayed about three minutes - no lunch break this time - only enough for us to catch our breath and for Edward to sign the register.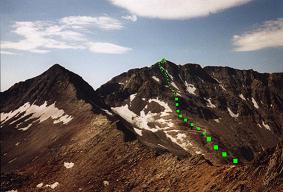 Mount Wilson, center, from the
Wilson Peak southwest ridge. Green squares mark our route
(click for enlargement).

We descended under clearing skies, Edward suggesting one foot placement for me as we returned to the lowpoint of the more difficult portion just north of the main ridge. We then re-climbed the forty or so feet to the false, 13,900 foot summit, and then were free to walk the use path to a good ridgeline break at about 13,600 feet. There we enjoyed our summit food, and took a picture of the Mount Wilson summit block, which appeared like a sharp cleaver above and to the south of the main ridge. Edward was delighted that we had actually climbed it the previous day. At our siesta spot the ridgeline path leaves the southwest ridge and turns south, onto the face of Wilson Peak, enroute to the 13,200 foot saddle noted above. This southwest ridge "exit point" is obvious, with two "bumps" being farther southwest that need not be surmounted. The southwestmost bump, incidentally, is the subpeak prominently visible from the head of Navajo Basin. Given its shape, we had dubbed it "Parabolic Peak" the previous day.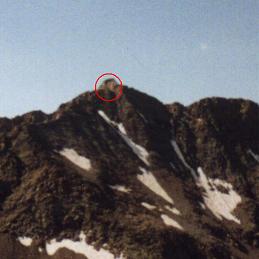 An enlarged, if somewhat blurry view
of the Mount Wilson summit area as seen from
the Wilson Peak southwest ridge. The final, class 4 summit crux
is encircled (click for enlargement).

Edward again did the class 3 traverse, while I dropped all the way down to a point perhaps one hundred feet below the saddle, and then climbed on slabs, with solid handholds, plus some unwelcome loose scree, to regain the lost elevation and rejoin Edward. We had reached the summit in some 2 1/2 hours, I believe 9:36 a.m, and were back at camp just after noon - so making for a five hour round-trip. We rested for twenty-five minutes, packed our gear, and headed downhill to the trailhead. I spiked my milk with coffee crystals to keep up with Edward's long stride, enjoying it with a maple flavor granola bar. It is only on descent that his five inch height advantage is an issue, and I sometimes use coffee as a means to level the playing field. Upon return to the pickup truck we stored our gear apart from a single daypack with one GPS unit, a liter of water and a granola bar. Remarkably, and, indeed somewhat insanely, we continued downhill, paralleling the creek drainage so as to lose additional elevation as rapidly as possible. Why such seeming madness? Upon "bottoming out" some 200 feet below the truck, followed by regain of the elevation, we would form a closed loop with a 5,000 foot net elevation difference between our lowest point and the summit of Mount Wilson - in essence, the first 5,000 foot Earlization in the county highpoint world. In so doing, we were assured credit in the corresponding FRL (Front Runner List) records category regardless of the precise outcome of the current debate regarding what constitutes a 5,000+ foot effort. The pint of Ben & Jerry's Oatmeal Raisin Cookie ice cream was well-deserved on the drive north to a cheap motel room in Montrose that evening. With a microwave oven in the room, Edward elected to have a store-bought pizza for supper ... while I cooked a jalapeño jack cheese pasta package on the stove top. Summary I am pleased that Edward and I decided to prolong our experience by taking a full 2 1/2 days. The nearly perfect weather allowed us to enjoy each afternoon, while at the same time avoiding the prospects of late day thunderstorm buildup. If you decide to climb Mount Wilson, please do so with the understanding that it is requires experience on rock beyond simply trailwalking. A rope would not be unreasonable, although it may be difficult to rig it, apart from some capacity as a hand-line, on the high traverse along the skyline summit ridge taken by Edward. I subjectively rate Wilson Peak as "class 3 1/2" owing to the final effort encountered beyond the 13,900 foot false summit. The net elevation gain for climbing Mount Wilson from the Wood Lake trailhead is calculated as 14,246 - 9,400 = 4,846 feet. There is a 400 foot elevation loss prior to reaching Navajo Lake, as well as the some 60 feet of downhill (and uphill) hiking encountered south of the Elk Creek Trail junction. The resulting additional 2 x (400 + 60) = 920 feet of elevation gain yields a total elevation gain to climb just Mount Wilson of 5,766 feet. It is doubtful somebody would plan a climb of both Wilsons on the same day as a dayhike from the Woods Lake Trailhead. Were he to do so the total elevation gain would include the additional gain required to climb Wilson Peak from the head of Navajo Basin. Using 12,300 feet as the minimum point in the Wilson-to-Wilson walk, the total elevation gain is computed as 5,766 + (14,017 - 12,300) = 7,483 feet. Our total elevation gain includes a "minimum point" as the high camp (11,948 feet), plus the gain performed to make this a 5,000+ foot net elevation gain effort. Adding all relevant elevation differences, I compute a total gain of 7,989 feet.1 1 To place this figure over eight thousand feet (just to make the author "feel good" :-), simply add the elevation (Adam only) lost on climbing down 50 feet from the 13,200 foot saddle; his 100 foot re-ascent to gain the saddle on return from Wilson Peak's summit; and, quite trivially I admit, the 10 foot loss in turning left to pursue the alternative climbing route on the Mount Wilson summit block - so giving 7,989 + 160 = 8,149 feet.