| | |
| --- | --- |
| South Point | |
---
Wednesday, February 26

y primary goal was achieved, although, again, I felt as if somehow I had cheated by not "going the distance" as a three or four day climb. As I drove down the Observatory Road a touch of melancholy set in, since it was figuratively (and literally) downhill from this point forward. After passing through Hilo, by late morning I signed out at the Volcanoes National Park Visitor Center - so obviating the launch of a search party.

The Volcano Winery, "most southerly winery in the country", is just outside the Park boundaries. I originally wanted a bottle of macadamia nut honey wine in celebration, but ended up only sampling two varieties. Instead I left with a package of coarse-grained, orange sea salt that looked quite unique and interesting. I could use it to advantage in many a savory dish when back in San Diego.

The Volcano Observatory and Museum lies a few miles counterclockwise along the Rim Drive from the Visitors Center. Here, scientists measure earth's every quiver to learn more about both Kilauea and volcanology in general. This effort is of great predictive value in helping save both lives and property. Although the laboratories are off-limits, a museum is open to park visitors with explanatory dioramas, films, and a gift store.

I had already been to Volcano Observatory. I returned to trivially surmount a heap of dirt just north of the building - the highest point of land on the Kilauea crater rim. In so doing I had climbed, tongue-in-check, the third of five volcanoes which collectively form Big Island: Mauna Loa, Mauna Kea, and Kilauea.

Intrigued with reaching the southernmost point in the United States, I drove west along route 11 to mile markers 69 and 70. Here a single lane road with soft shoulders descends for twelve miles to the ocean at South Point.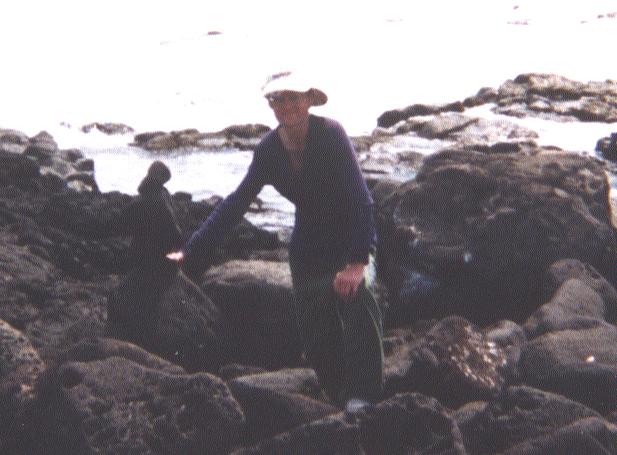 The author at South Point -
southernmost extent of the United States.
After parking I located the southernmost stretch of beach with map and compass. The most southerly point varies with the tide. To walk out onto the literally farthest rock was dangerous owing to the tides and swells. So I contented myself with standing on the farthest point of land that would not see me washed away in some particularly large tide. It hardly mattered which point I selected since I stood on land that would certainly be below sea level at high tide anyways.
Now that I had reached South Point, I was tantalized by the concept of standing at all three tips of the Big Island triangle. It would be a wonderful way of ensuring a full-scale exploration of Big Island since I would necessarily have to discover the points of greatest geographic separation. Would it be a reasonable thing to attempt? I did not care. Would it be achievable? I'd find out soon enough.
Awakened from this daydream of extrema conquest I walked east, paralleling the shore until the Green Sands Beach in two miles. Aptly named, its green sand results from high concentrations of the mineral olivine. Since my favorite color is green, this diversion was essential.
I ate a late lunch parked next to enormous power generating windmills halfway up the road leading to South Point. Then I drove west on route 11, through the Kailua-Kona environs, in search of a campsite. Unfortunately, as with Maui, camping permits are required in advance for staying at the county or state beaches on Big Island. Worse still, to secure a permit one must contact a government office during normal weekday business hours. So if you arrive on a Friday evening you may purchase a camping permit for Monday night. Ridiculous.
Rather than spending over $100 on a hotel room, I located a rural gravel road that dead-ended at the locked gate to a construction site. Parked on the public side of the gate, I cooked supper on the gravel just before sundown. Ironically, I was on the opposite side of the main highway from a fancy resort hotel. All evening I saw automobiles and service trucks turn onto their private road - while nobody disturbed me at the gravel dump.
Later I learned that the resort's rooms started at $335 a night. I did not feel that any room was worth so much - and that I had the far better deal simply sleeping under the stars. Indeed, my entire round trip airfare from Los Angeles was equivalent to one night's stay at the resort.
I set my alarm for dawn so that I could be on the road before any construction crew might arrive for the next day's work. As far as I could see, I was completely within my right to park where I had. Hence my desire for an early exit was largely out of paranoia rather than out of a rational concern that I had actually done something wrong.
---