| | |
| --- | --- |
| East Point | |
---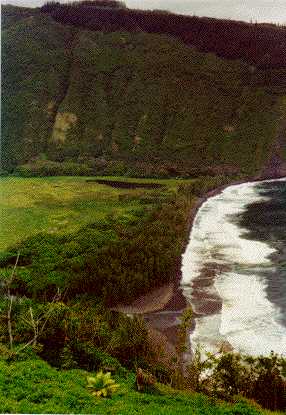 Waipio Valley from an overlook
900 feet above. The area is
intensely green with vegetation.

Thursday, February 27

aipio Valley is an exceedingly lush, green enclave nestled along the north shore of Big Island. It is one mile wide, six miles deep, and was visited by Edward and myself on my first trip to Hawaii. I had remained at the overlook parking lot, enjoying treats from an ice cream stand, while Edward had walked down the road into the valley itself.

Waipio Valley has no reasonable means of entry apart from a seriously steep road that dives 900 feet from the overlook into the valley proper. With a 25% grade, the road is suitable only for four wheel drive vehicles. Many automobiles rest in the jungle after their drivers lost control on the steep and often slippery turns.

After arriving mid-morning via routes 19 and 240, I walked down the steep road and found no sign of a community. Following a puddle-strewn dirt road to the coastline, I located campsites set back a few dozen yards from a pristine black sand beach.

One site was occupied by a teenager who appeared to be in no hurry whatsoever. He was extremely skinny, yet appeared healthy, and I wondered if he had sufficient funds to eat adequately.

I explored further by walking east on rock outcrops to the Kaluahine waterfall. Standing at the base I found the waterfall to be dry. Guide books claim that my little hike to the waterfall is potentially dangerous owing to surf that can suddenly surge upward. However it was merely a brief, class 2 rock scramble.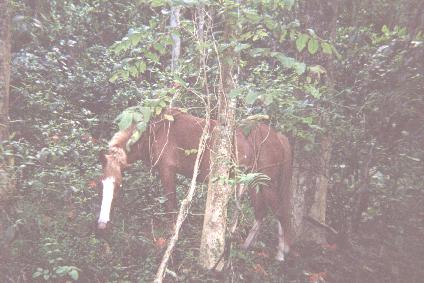 A wild horse poses for the camera
within Waipio Valley.
On returning to the valley's entry point I encountered some wild horses as well as a wrecked automobile. I explored the latter and eventually left because I was getting spooked by the setting of an abandoned car in a dark jungle within which passengers likely had perished. The vehicle was slowly being invaded by plant life.
I walked up the road in just eighteen minutes - pushing myself to see if I could maintain an elevation gain rate of 3,000 vertical feet per hour. If you are neither in very good condition nor a youngster, expect to take a more leisurely forty-five minutes for this effort.
By now it was still only late morning. My plan when I awoke was to visit the northwest area of Big Island, in part to nab the northernmost point. On the following day, Friday, I would then drive east on the Saddle Road, through Hilo, and reach the easternmost point of Big Island.
The sky was mostly clear along the north coast. I decided to take advantage of good weather by reversing the order of extrema I would visit - driving east along the north coast today with the end goal of Cape Kumukahi, the easternmost point, by mid-afternoon.
There are several wonderful vistas and hiking opportunities along or near the forty mile stretch of route 19 from Honokaa to Hilo. These include Rainbow Falls, the Pepeeko four-mile scenic drive, the Hawaii Tropical Botanic Garden, and Akaka Falls State Park. Apart from the Botanic Garden, I had already visited these with Edward. Had I even more time than I did, I surely would have returned to these venues.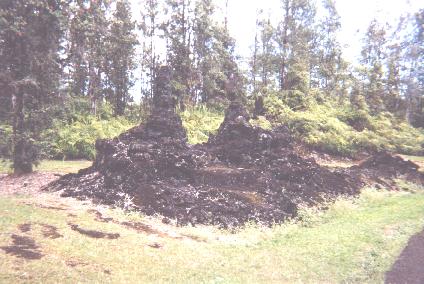 A group of hollow, igneous rock shells
are a stark reminder of ancient, living trees.
After passing through Hilo I stopped at Lava Tree State Park. Here a short hike presents tubes of lava that solidified around living trees. After the trees died, black cylindrical shells of igneous rock remained. The formations were quite unusual and well worth the visit.
I drove to Kapoho, or rather, what remains of it after a lava flow buried the community in 1960. I found no sign of a material existence.
To discover the easternmost point of Big Island, I drove east along a 1 3/4 mile dirt road. Here the Kumukahi lighthouse was miraculously spared by the flowing lava: the lava split into two streams and flowed around the lighthouse and into the sea.
At the lighthouse I parked and hiked on pahoehoe and 'a'a rock one-quarter mile to what I reckoned was the easternmost point. One large cairn atop a nearby rock mound confirmed my guess. Approaching the surf and tide as closely as one dare, I captured the wind and water action on film as the surf crashed into tidal pools between walls of black igneous rock.
I am concerned about driving a rented car along dirt roads. For if I get a flat tire because of sharp rocks and debris, it will be difficult to explain my location to the rental agency should I decide to be honest about my travel agenda. So I returned to the paved road grid prior to having a simple lunch atop my car trunk. By that way I had some peace of mind as I enjoyed my food and planned the remainder of my day.
The Mauna Loa Macadamia Nut Company is just south of Hilo. There is a visitor center with all manner of macadamia nut treats for sale - as well as a simple eatery where sandwiches and macadamia confections are served. Tours of the production facility are available.
I enjoyed macadamia nut pie with three varieties of ice cream - vanilla macadamia, chocolate macadamia, and mango. My 3 p.m. snack was quite filling and held hunger at bay for the remainder of my day's journey.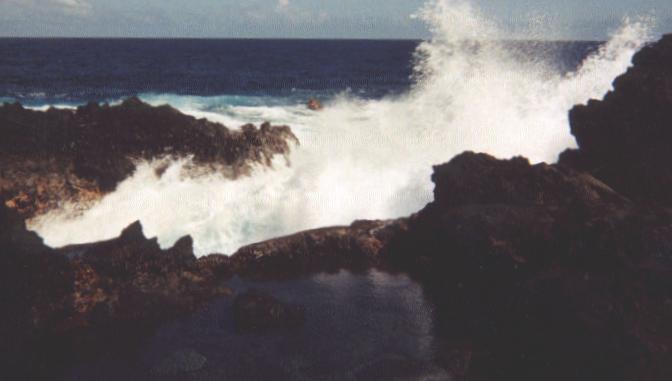 Cape Kumukahi is the easternmost extent of both Big Island and of all Hawaii.
It is difficult to find free yet safe camping spots on Big Island. Since I already knew of one such place, I wanted to sleep there. So I returned to the Kona coast via Hilo and route 19, consuming roughly two hours in the effort. Upon arrival, with about an hour of daylight remaining, I was dismayed to find an airport shuttle bus drive up the gravel road and park, as I had, next to the locked gate for the construction site.
My ongoing hypothesis is that local drivers, as with myself, find it difficult to locate parking space that is not already reserved for some special purpose. Clearly this gravel road is known by at least one shuttle bus operator as a quiet place to wait until the next client requires his services.
I decided to leave rather than confront the driver or stay. For all I knew he might be using his radio to report my location to some authority. I drove south about four miles and took the road to Waikoloa inland in the search for another quiet spot. I parked in a broad turnout but quickly found that approaching car headlights were both annoying and gave away my location to anybody who either wanted to attack or report me - although, again, I had no indication that I was illegally parked.
I returned to the initial gravel road, hoping that the driver had left. No luck.
I drove to Hapuna State Beach, thinking I might be allowed to camp without a pre-arranged permit. A sign read, "No Camping". I left.
I drove along a lonely road parallel to the main highway, pulling off onto a patch of gravel in complete darkness. There were several other groups in the area, as I learned from dune buggies and other vehicles which drove by on an irregular basis. Some played loud rock music while others shouted obscenities to the wind. I was very concerned about the quality of my neighbors and cooked supper, garlic and chicken-flavored noodles topped with parmesan cheese. Is my position being revealed by the cooking stove's flame?
I slept very uneasily, this time in the driver's seat of my car for a quick exit, with the windows rolled up and the doors locked. At 3 a.m. I awoke to the sound of another vehicle making a three-point turn right next to mine. What are the chances that he was "feeling me out"? After all, there were plenty of other places where he could have turned around.
Enough! I drove off and headed back to the gravel road, where, fortunately, the shuttle van was not found.
Rarely have I had a more disquieting night. Perhaps worse still was when I was forced to bivouac on a rock face in the Colorado Rockies one night in a freezing rain, violently shaking my feet to prevent numbness.
Back in my gravel dump I slept very well until dawn.
---