| | |
| --- | --- |
| North Point | |
---
Friday, February 28

fter a week perhaps you too would feel grimy enough to strip to the waist in a locked service station Men's room, and wash your torso with hand soap and water - the only way I could shower for free on Big Island.

You then consider driving route 250, a scenic road of seventeen miles through the Kohala Mountains near the northwest coast. It is an essential item for your travel agenda nearly as much as visiting Volcanoes National Park. On this morning the rain was only a minor annoyance since the road took me above the clouds. Near its crest I photographed a double rainbow.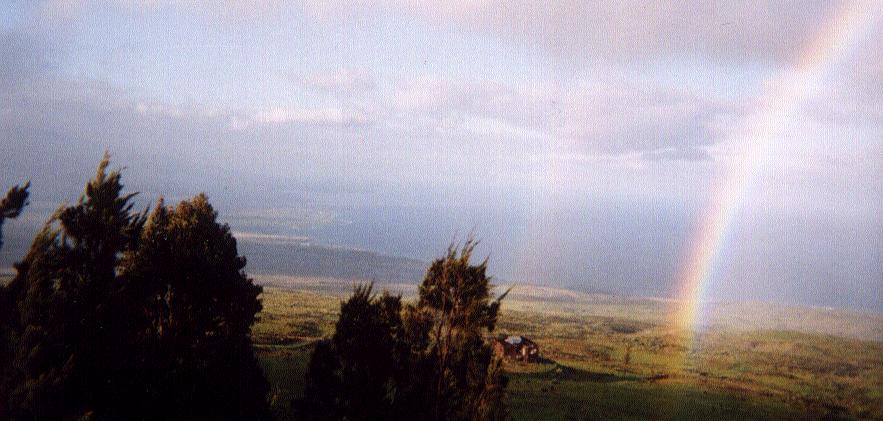 A double rainbow graces the northwest coast of Big Island as seen from route 250.
Pololu Valley, as with Waipio Valley, is a heavily eroded narrow valley on the north shore. Lush beyond expectation, there is, as with Waipio, no community within - and only a footpath, this time very muddy, leading from above. From an overlook I went no farther in the interest of time as well as a perfectly dry pair of leather boots. Looking east, the distant coast blended with low-lying clouds into a dim gray affair, and reminded me of Big Sur in central California on a foggy day.
Upolu Point is the most northerly spot of land. To get there I retreated west along route 270, eventually finding a road that led due north to the Upolu Airport. The airstrip was unpeopled and I found neither aircraft nor parked vehicles. A very brisk and unrelenting wind howled out of the northeast.
I walked for about forty-five minutes along the perimeter of a cliff that overlooked impassible rocks continually pounded by wave action. Eventually I determined the most northerly point to be an accessible rock-strewn beach where, as with the two previous extreme points of Big Island, I simply walked out as far as I would dare without the tide overrunning my position. Satisfied that I had attained my goal, I returned to the lonely airport and my waiting car.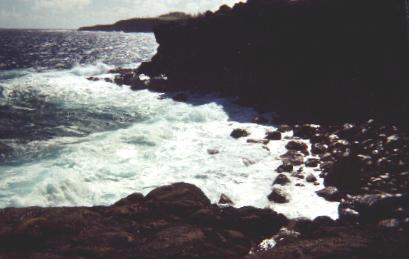 Upolu Point is the northernmost extent of Big Island.
No trails lead to this rocky, wind-scoured beach.
After route 270 curved around the northwest coast of Big Island, I stopped at Kawaihae, a community near the northernmost extent of route 19 about thirty miles north of Kona. I wanted to attend a luau and had learned that, on Fridays, the best luau was at a resort just north of Kona. I did not feel like having an enormous meal in the heat. Furthermore I suspected that a resort luau would be highly fanciful and commercialized with little resemblance to a native Hawaiian feast. So I satisfied myself (well, not really) with a diet soda pop and a melon-flavored frozen ice cream confection.
Although it was only noon I realized that eventually I had to sleep somewhere. Evidently Volcanoes National Park is the only place one could sleep safely on Big Island for free (there is, however, a ten dollar Park entrance fee, valid for seven days). So I drove to Waimea and then headed east on the Saddle Road, bound for Volcanoes.
At the junction with Observatory Road I pulled over and took a nap. A most wonderful nap. Candy bar in hand I continued east, descending into the seemingly ever-present cloud layer, and then passed through Hilo.
At Volcanoes National Park Visitor Center I browsed the exhibits, and found a small book on volcanoes in Hawaii for the remaining evenings of my trip.
Not wishing to be pestered by the German lady, I decided to check out new Kulanaokuaiki Campground, located ten miles southwest of the Visitors Center. It is less developed than Nakamani Paio with no water and in a desert environment. On arrival neither tent nor vehicle were in sight. The road continues beyond the campground to an overlook and trailhead. However it was closed due to "extreme fire danger".
I returned to the Nakamani Paio Campground since it has a far prettier setting inside a forest with grass and little mounds beckoning to be conquered. After supper I found a rock wall, nearly vertical and perhaps twenty-five feet in height, with solid handholds. I climbed it - to the surprise and concern of another camper - just for fun, and then descended via a gentle, grassy slope.
I feel asleep early with nothing new that I really wanted to do. I had visited both the altitudinal and geographical extrema of Big Island; had enjoyed all manner of scenery from tropical jungle through subarctic lava field; and had no desire to be pampered in a beachfront hotel along with innumerable tourists - at considerable financial cost.
---