| | |
| --- | --- |
| Day 6 Climb - Teleférico | |
---
Thursday, January 29

érida boasts the tallest aerial tram in the world. A series of four legs brings one from the city outskirts, elevation 5,500 feet, to the top of Pico Espejo at 15,700 feet. Built by a French company in the 1950's, the system is a technological marvel.

Unfortunately the system, Teleférico de Mérida, is often closed to the public. Therefore it is "hit or miss" when it comes to using it for a rapid descent after climbing nearby Pico Bolivar. In particular, the tram was not operating the day we climbed Pico Bolivar. Had we chosen to break camp immediately after climbing it, hiking downhill would have been mandatory. However today we were lucky. Quite lucky.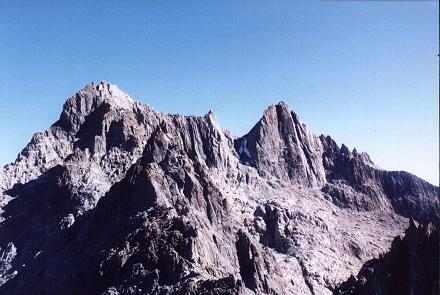 Pico Bolivar (at left) from the southwest as seen enroute
to the teleférico and the summit of Pico Espejo.
As an aside, we do not consider it "cheating" to descend by mechanical transport. In contrast, we insist upon ascending in self-propelled fashion. Furthermore, in the case of Pico Bolivar, to have taken the cable car system for the ascent would have met with near certain altitude sickness owing to insufficient acclimatization time.
After descending from high camp to the "main" Travesia route, we continued uphill, trending southwest, to the summit of Pico Espejo along the steeper of two possible routes. I only needed enough energy to get up there: all the rest was downhill regardless of whether it be on-foot or by mechanical conveyance. The going was very slow with that awful overnight pack. I cussed when I saw yet another downhill section, for as noted earlier, it implies that much extra uphill travel to make good the lost altitude.
Edward topped out first, and promply disappeared. Then Enrique came and, from the motion of wheels and cogs, concluded that the topmost leg of the tram was operating! I dropped my load and waited while Enrique climbed a final two hundred feet to investigate. Bob arrived and I advised him of the situation.
The tram was only operating for workers. You see, they have to get to work in the morning too! However for a double fare we could be accomodated. To further secure our plea for transport, it was recommended that one of us should feign altitude sickness. No problem - we were already breathing heavily from carrying our packs.
Once freed of my burden, I made the easy scramble to the highest natural point of Pico Espejo - a rocky outcrop. I was mere feet from a large, white statue of the Virgin Mary that is visible for miles. Several minutes later we enjoyed a ride down to the next station where we waited perhaps forty-five minutes for workers to join us for the next cable car down. The floor was being cleaned and polished as if the tram company was preparing to accept passengers in the immediate future. The cleaning machine made a pleasant "rum rum rum" sound as reminder that we were back in civilization, with all its amenities, yet riddled with noise, complication, and untold inequity.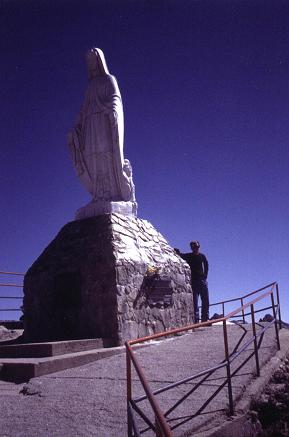 Adam and a "Lady of the Snows" atop
Pico Espejo while awaiting mechanical descent.

It took us three hours for the entire descent, a large amount given that the actual transit time for a given leg of the aerial tram lasts but ten to twelve minutes. Ninety minutes were consumed at the second lowest station, presumably waiting yet again for workers to conclude their chores. I used this time to throw out accumulated empty food packages and eat lunch.
No matter where I go, everybody likes the kosher salami I bring to share and eat. Bob, Edward, Enrique, and today complete strangers appreciate this simple and convenient source of protein and good taste. Perhaps its all-beef composition is responsible - the "design specification" of a "higher authority".
Before the climb I had filled a large empty plastic jar with cashews, prunes, chocolates and assorted hard candies. Kept handy near the top of my backpack, these edibles were enjoyed in numerous combinations by myself, Bob and Enrique. Now the teleférico workers had their chance as well.
All told, our 5 1/2 day climb involved 14,000-14,400 feet of total elevation gain as defined by the sum of all uphill travel. The exact value depends upon estimated elevation losses along the route, each of which must be regained as part of the total figure. Of this amount, a sizable 9,500-10,000 feet involved overnight packs, i.e. every leg except the two summit climbs from Laguna Verde and Laguna Timoncito.
Departing from the lowest station, it was a few hundred yards to Posada Guamanchi where we promptly paid for two nights. A student demonstration blocked a direct walking route to the ice cream parlor of my dreams. I therefore decided to wait until tomorrow for this extra special treat, and, after showering, would join Bob and Edward for dinner at a good restaurant. I care greatly about what I eat and how I enjoy it. Please bear with me as I describe our celebratory meal.
Edward wanted pizza or pasta. However in deference to my wishes he was courteous enough to agree on a place serving traditional fare. As usual, upon sitting down I became the master of ceremonies, acting as translator between the waiter and his customers. By dint of an unusually kind manager, we were in for a feast.
North face of Pico Bolivar while descending
on the aerial tramway. The glacier has diminished
in size due to global climate change.

Mérida from high on the teleférico.
No longer in that "Caution: Do not touch the washed vegetables and water" mood, I ordered an "ensalada rusa" (Russian salad) as appetizer - a large, hemispherical mound of potato salad, with chopped tomato and ground pimiento on the side. Reaching into my daypack, I enhanced the salad with salami, hot Indian vindaloo paste, and gorgonzola cheese - not all in the same bite! Bob and Edward each enjoyed chilled goblets of thick, creamy-tasting and highly refreshing melon juice.
The owner arrived with bowls of vegetable soup for each of us, a section of corncob floating atop. We had not ordered this - it was, as the cliché goes, "on the house".
Bob and Edward left briefy to arrange a driver and vehicle for tomorrow's activities. While explaining this to the manager, he set down an entire platter of fried plaintains with melted cheese. Ha! All I had said was that my main course should have much cheese on the bananas. Perhaps this "misinterpretation" of my wishes was intentional. Regardless, I was filling up.
Bob had trout stuffed with ham and cheese. The fish head and skin tempted me, as is my way, but I was too occupied with my own affairs. I forget what Edward ate, although I believe it was a steak with cooked yuca, a starchy tuber, in place of potatoes. My main course was the comida criollo, or "traditional dish" consisting of shredded beef, rice with fried egg atop, black beans, and, yes, a normal amount of fried plaintains - the "national dish" of Venezuela. A single cocktail frankfurter hid within. I finished eighty percent and called it enough.
I enjoyed a plate of diced canteloupe and pineapple for dessert. The manager had a final free offering - samples of the house moonshine! It was absolutely delectable, with hints of mint, ginger, possibly hibiscus, and a LOT of alcohol. Bob tried some and found it too strong to his taste. Edward abstains completely and had none. Seeing my enthusiasm for the concoction, I received another tiny glass. This stuff is strong, let me tell you. The brew cannot be purchased at some store, it is solely a house specialty.
After Bob and Edward departed I gave the manager a personal five dollar tip, and this on top of the generous tip we had already given. (Shh! I also drank Edward's glass.)
---