---
Friday, January 30

enezuela has recently had more than its fair share of internal strife and turmoil. Engage any Venezuelan in political discussion and you are guaranteed an animated conversation partner. So it was with our driver on this free day after our climb. He would not stop until I asked him so. The mental exercise of interpreting his words and then translating them for Bob and Edward was effectively hampering my ability to take-in and enjoy the passing sights on our trip to Pico El Águila - a high point near the paved road leading east by northeast from Mérida.

Finding it a more enjoyable option than visiting museums and window shopping back in town, we had paid eighty dollars for a driver and his vehicle, to be used at our discretion, for a road tour of the Mérida countryside, with emphasis on the higher terrain.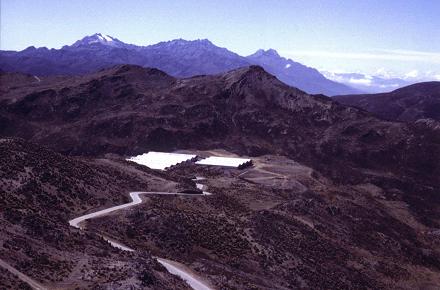 Potato storage facilities from atop a minor summit
near Pico El Águila. Pico Humboldt (snow, left)
and Pico Bolivar (center) lie on the horizon.
The road tops out at a 4,007 meter pass (13,146 feet) with a church and small complement of roadside stalls. The church lies atop a hill and was reached after a fifty foot gain from the pass itself. Nearby we spotted yet another paved road leading higher still past both Pico El Águila, and past some potato storage silos, to a peak with twin summits and radio facilities at 4,260+ meters (13,976+ feet) with a twenty meter contour interval.
Not knowing which bump was the higher, all of us, including the driver, hiked up both with a modest elevation gain of maybe two hundred feet, followed by a drop and reascent of maybe fifty feet to the second bump - one which proved to be slightly higher upon backsighting to the first bump. The views and subsequent photographs of both Picos Humboldt and Bolivar were worth the effort.
Edward noted a somewhat prominent summit a few miles away, and desired climbing it with perhaps one thousand feet of elevation gain. The effort requiring an estimated two hours, I balked at the concept - I had a gastronomic "appointment" in town that I had been planning for quite some time, and I did not want to be "late". Bob was not interested in the summit either, presumably because we had temporarily depleted our desires to do anything physically demanding.
Being nearby, we drove down to the National Astronomical Observatory (at some 12,000 feet), which we found gated to the public except for limited Saturday hours.
A unique combination of circumstances enable the majority of backcountry roads to be paved in Venezuela. Indeed, we traveled on roads that even in the United States would have been dirt owing to their remoteness. Venezuela is a major oil-producing nation. Asphalt is petroleum-derived and so, like gasoline, is quite cheap. In fact, gasoline sold for just 70 Bs a liter - roughly nine or ten cents a gallon! The labor is also cheap to construct the roads. Finally, the Venezuelan tax structure is loosely enforced, so that the average citizen never really ends up paying the construction bill.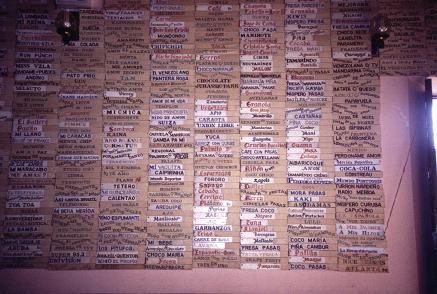 A partial view of the hundreds of flavors
available at Heladeria Coromoto.
(Click image for detail)
Upon return to Mérida I was dropped off at Heladeria Coromoto, possibly the most famous ice cream parlor in all South America. In the Guinness Book of World Records, it boasts the most number of flavors anywhere in the world - 806 at last count. I enjoy ice cream more than any other food, and, being at the proper venue to that end, I was prepared for an eating orgy of major proportions.
I stationed myself on a wooden bench and proceeded to enjoy that day's selections, four scoops to the bowl, for just 3,000 Bs per bowl. I paid by the bowl and imparted "textural contrast" by mixing-in ice cream cones at my pleasure. Customers came and went as I gorged myself. Seeing my enthusiasm for his products, the manager gave me his business card. Later on, Bob and Edward arrived and ordered scoops for themselves. Bob followed my recommendation for the exquisite rose flavor.
Bob photographed the manager and myself in a lively dialogue wherein I proposed three additional flavors for his long-term menu. One of them, mocha hazelnut, was immediately mixed-up, as a test batch, using available ingredients from their back kitchen. I would be most pleased if my suggestions were actually used. Indeed, the manager told me that he would like to add two of three flavors. Why not all three? Perhaps because "808 flavors" is more pleasing to the psyche than "809".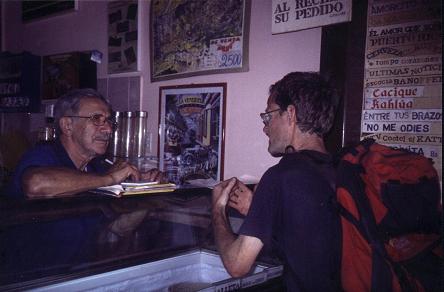 Adam shares ice cream concepts with the manager.
At over 800 flavors his parlor is world-renowned.
For the record, here are the twenty-one flavors I enjoyed -
(bowl 1 - fruit) Rose, fig, banana, and prune (all delectable)
(bowl 2 - bizarre) Trout, asparagus, garlic, plus mushrooms and wine (an intentional "meal" in the form of ice cream)
(bowl 3 - alcoholic) Rum-coconut, rum-raisin, grand marnier (or cointreau), and strawberry liqueur (Scowiss?)
(bowl 4) Chocolate almond, candied pineapple and cherries, cookie, and "Power Ranger" (cornflakes cereal)
(bowl 5) Oreo cookie, dark chocolate cookie, kiwi, spaghetti, plus spaghetti and cheese (disgusting)
In addition to twenty-one scoops, the manager gave me samples of several other flavors currently in an "experimental stage" of development. I never thought I would meet somebody more crazy about ice cream than me! I wanted more flavors, having room for it, yet felt that a return to Posada Guamanchi with Bob and Edward was prudent, particularly as night was approaching. I left the heladeria with a personally signed poster proclaiming Coromoto's status as world leader.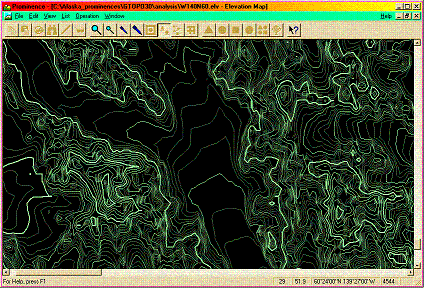 Screen-capture of a Winprom display.
Green lines are elevation contours for a
system of glaciers in the Yukon Territory.
Mérida is home to the University of the Andes, and much of the city has a college town atmosphere. As such there is a preponderance of young people all about. So it was on our walk of several blocks to "home". Again I felt guilty eating so much. I do not feel that way normally, because in California I appear to be the underfed one.
With the approval of the Guamanchi staff, at my suggestion Edward Earl downloaded a version of his Winprom prominence calculation software from the Internet. Bob Packard got a quick lesson on how to use the software ... and then, as the office closed, the entire file structure was efficiently deleted before the next day's business. The entire affair was an amazing display of modern technology seeing as we were distanced thousands of miles from both home and the Yahoo! server.
We enjoyed dinner, Bob having chicken breast with some fanciful mushroom sauce, Edward his spaghetti. I had a light supper consisting of caesar salad, both presaged and followed with a full-bodied glass of wine.
Bob is member of a Flagstaff choir, while Edward plays violin in the La Jolla Symphony. The conversation soon gravitated to a musical theme. As they talked enthusiastically about this note and that piece, I considered the equally lovely artistry in a glass of German dessert wine.
That evening Bob and Edward slept early. I watched much television in the upstairs lounge, remaining awake until well past midnight. Nearly all the programming was in Spanish, but for me that was "OK".
Bob Packard and Edward Earl agree that climbing Pico Bolivar was the best day of their vacation. I beg to differ - to me, this day in and around Mérida seemed quite appetizing indeed.
---