Adams County Highpoint Trip Report
Date: July 26, 2012
Author: Adam Helman

note 1: All coordinates are in the WGS84 datum.
note 2: Mouse-click images for enlargement. This effort was part of a larger journey collecting Pacific Northwest county highpoints in summer 2012. Hornet Creek Road is located within Council, Idaho as the westward extension of that portion of US Route 95 traveling east-west within that community. That is, when coming from the south along US Route 95, turn left (west) rather than right at the point where the highway bends right as it enters "downtown". When coming from the north, along Route 95, keep straight (west) rather than turning left (south) along Route 95 as it leaves "downtown".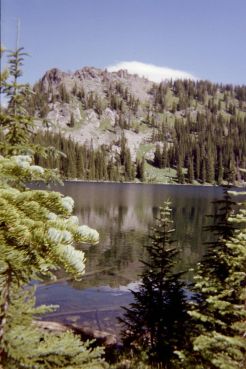 Black Lake at the campground.

It is 28.2 ATM from central Council, Idaho to end of pavement in Bear, Idaho. One ATM, an Adam Truck Mile, is roughly 1% larger than a standard (statute) mile. Then one has 4.8 ATM along FR105 (good gravel); 1.8 ATM to a multiple-way junction; and finally 11.9 ATM to the the trailhead along FR112. Forest Service road FR112 has been 'improved' - 4WD is no longer mandatory. Indeed, to the Smith Mountain turnoff (5.0 miles of 11.9 total) a passenger car suffices. The trailhead is at (45.19031° N, 116.56074° W), elevation 7,265 feet. It's a bit tricky locating the correct trail leading to the desired pass; whence one drops 1,300 feet while heading north to Emerald Lake. Prior to reaching the saddle above Black Lake, remain straight (i.e. no left fork!) at (45.18752° N, 116.56790° W), elevation 7,746 feet. The left trail leads to "Six Lake Basin" as indicated on the upright wooden post.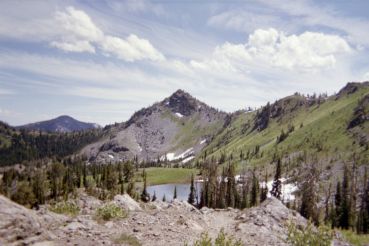 View east from the saddle
to idyllic alpine scenery.

However the main obstacle, at least as I experience this highpoint, is a horrendous bushwhack for some one-quarter mile upon leaving the northbound trail at 6,600 feet elevation - until reaching talus at 7,000 to 7,200 feet. I am immediately north of the creek shown on the topo chart and mentioned in Ken Jones' report. Somehow in the intervening decade or so, two to three foot tall grasses have grown, completely hiding ten inch thick deadfall pointed in every crazy direction imaginable - and they cannot be seen.

The "going" was so slow, at least initially, that if it kept up I realized that failure is imminent. I shouted in agony - this is exceedingly rough and energetically costly foot travel!

I cannot remember worse bushwhacking in my entire life.

SOMEBODY should research the matter, finding an alternative means of accessing the 7,600 foot entrance to the upper basin from which one climbs generally north to the summit. I head to the north ridge of Monument Peak, choosing a gully that appears reversible on-descent. Once on-top I spy the Snake River gorge mere miles west and looking most deep indeed. Then too I note, several miles north, the Seven Devils - and containing the goals of my next climb two days hence.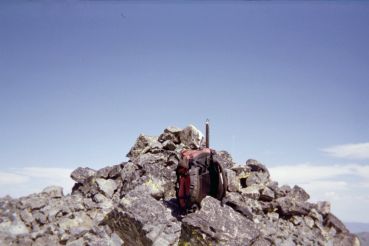 The top of Monument Peak
with pack for scale.

Foresaking my ascent path, I descend west within the very first gully north of the summit massif (it separates the massif from the ridge itself) - and this proves a mistake as I soon find myself clinging to branches with nothing but 'air' underneath me at one point. Damn this is DANGEROUS - a Class 4 "veggie belay"! I caution against using this particular gully. Glad to be back in the upper basin I have my 'summit' lunch food at a saved waypoint. The dreaded bushwhack remains ... and I shout a sigh of great relief once back on the actual trail. I encounter two vehicles on the drive out - and in one case the fit is so tight that my rear view mirror is retracted. Eventually I camp at the end of a short side-road very near the turnoff for Smith Mountain, seven miles down the road and five miles from that multiple-road junction in the forest with a sign about long-since-gone postal service. The views are grand as I settle-in for the night. At midnight the Milky Way is brilliant. This county highpoint has little to offer in terms of overall enjoyment -
A truly dreadful bushwhack from the trail to about 7,000 or 7,200 feet.
A hot afternoon reascent to the pass.
A long dirt road approach with much dust. My pickup truck was filthy.
A popular campground at Black Lake. Therefore one is likely to encounter
vehicles going the other way, with few places to pass one another and
steep dropoffs into oblivion.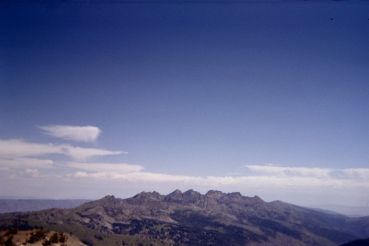 Summit view north to the Seven Devils -
including He and She Devil of Idaho County.