Idaho and Washington summer 2012 Trip Report
© August 2012 Adam Helman
Note 1: All coordinates use the WGS84 datum.
Note 2: Photographs are courtesy of Adam Helman or Bob Bolton (BB) unless otherwise indicated.
Note 3: Mouse-click most images for detail. summit videotape (mp4 file type, 8 megabytes, by Bob Bolton)
summit videotape at YouTube

Dynamic trip map
(Click image to view.)
WONDER of Wonders! MIRACLE of Miracles!
The weather cooperates in a manner that is statistically FAR beyond the norm -
and it remains that way throughout my entire journey.
View the daily Seattle August weather (0.0 inches total precipitation)
I cannot explain it. It's as-if the very hand of G-d is at play guiding my efforts.
Then too a pair of friends, Bob Bolton and Duane Gilliland, make it their mission
to join me when and where I sense that a solo effort is either too risky or ill-advised.
I have NEVER been treated to such personal largesse on a peakbagging trip. Their companionship helps ensure that, indeed, THIS summer would prove the final chapter in my long-term quest to finish climbing the eleven western state's 414 county highpoints - a "megalist" which heretofore only the venerable Bob Packard has completed.
Background
As noted, this journey concludes my long-term goal of finishing the eleven western state's 414 county highpoints. Never planned as-such, the concept "grew" as I successively filled-in more "green" completed states in the American West, beginning, perhaps, in the summers of 2000 and 2001.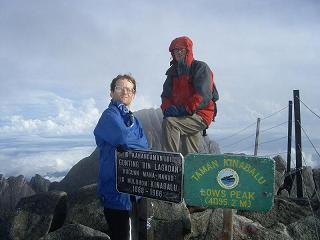 Bob Packard and I have climbed over
100 mountains together. Here we are atop
Borneo's highpoint in Malaysia -
Gunung Kinabalu.
Then too I have labored to complete the list of 57 so-called "ultra" prominence summits of the 48 contiguous United States ('CONUS'). My plan, formulated perhaps three years ago, was to finish both lists simultaneously on Mount Adams - a large glaciated volcano in Washington state that is both an ultra AND the Yakima County highpoint ('cohp'). Given the cohps and ultras already climbed, I could not imagine a grander venue to finish upon - and, of course, the name coincidence made Mount Adams an even more alluring choice.
Only my friend Bob Packard had completed the western CONUS cohp list - back in 2004 at the sizeable and remote Mount Stimson in Glacier National Park. The enormity of this task is evidenced in that it would take eight years for somebody else to reproduce his effort.
Bob Packard also was first to complete the CONUS ultra list. Since then other completers include Bob Bolton, Duane Gilliland, Edward Earl, Charlie Winger and Grant Myers. I have climbed with all of these men. Then, just a few days prior to Mount Adams, Norwegian Petter Bjørstad finished at Wyoming's Cloud Peak, accompanied by ultra bagger Rob Woodall of the United Kingdom. I have enjoyed their company as well - in the South American Andes, Indonesia, and elsewhere.
The current journey begins with 9 counties remaining - 5 in Idaho and 4 in Washington. Then too the She Devil / He Devil pair (no one knows which is higher) and Mount Stuart remain on the CONUS ultra list. All told there are 12 mountains to be climbed - and, given that NONE of them are pushovers, the probability of succeeding at ALL of them, as required for this double list finish, dwindles to a single-digit percentage.
Yet SOMEHOW I succeed with every effort, no calendar 2013 trip then needed to "clean up".
My overall trip review follows. Separate reports for most county highpoints are available.
Trip Details
Wednesday, July 11 - saving four hours
The long journey is rendered a bit less onerous by starting at night and driving some 275 miles to a car-camp on the south side of Mountain Pass along Interstate-15. The north side has a large mining operation, Molycorp, and is the access point for Clark Mountain on California's Fifty Finest prominence list. Molycorp's mine is the sole source of rare earth metals in North America and hence of considerable strategic value.
Thursday, July 12 - Highland Peak and Fifty Second birthday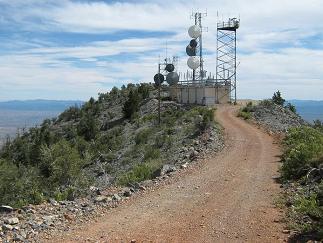 Highland Peak's highest ground
is immediately behind (south)
of this communications equipment.
(Scott Surgent photo)
Optimization of my 52nd birthday determines today's venues. I want to reach a summit and yet still have time to have plenty of delicious food and much ice cream by day's end. I love ice cream.
Given the heat of a Nevada July there are few peaks which can reasonably be climbed - except for those with high elevation starting points. I select Highland Peak, a 3,000+ foot prominence with a summit road just off of US Route 93. I park at the obvious saddle, and hike the road some 1,400 vertical feet and 3 miles to the top. There I enjoy the first piece of a 6-inch peach pie ... with imported cheese.
At the highest ground I obtain (37.89383 ° N, 114.57867 ° W), elevation 9,371 feet (± 13 feet error bar).
Ely, Nevada is some 2 hours north. I arrive by 4 p.m., early, and enjoy a free margarita appetizer before a fish and chips dinner at the nearby motel and casino. However they've run out of ice cream - a true catastrophe in my book. So I return to the room with a double dip of plain old vanilla from an ice cream parlor (this was a major errand to locate) ... thence enjoyed with the balance of my peach pie. A shot of brandy would have gone well with the combination, yet the perceived benefit was not worth my effort to obtain it.
Bob Bolton calls to wish me "Happy Birthday"! He and Duane are in Idaho, indeed, at or very near Idaho's Black Pine Range highoint - a 4,000+ foot prominence that I too might consider depending on the weather forecast and how much extra driving I am willing to put-in.
I sleep soon enough, overly full and with huge anticipation.
Friday, July 13 - Idaho's Sun Valley and Sawtooth Range
Note the auspicious date. As I drive over Galena Summit on Idaho Route 75 I most carefully note the snow conditions for my first venue - Snowyside Peak of Elmore County, trying to identify it by distance and compass bearing. Looks doable.
Later I camp amidst a crowded lot with many weekend warriors set on fishing, hiking and backpacking. A brief, early evening rain event is more annoying than troublesome.
Adam near the saddle just northeast of
Snowyside Peak. Route goes to the left
skyline and then turns right.
Snowyside Peak summit vista
with Twin Lakes 2,000 feet below.
Saturday, July 14 - Snowyside Peak
This is supposedly a 'classic' hike/climb. I find it to be no such thing: there are FIVE stream crossings which must be negotiated, none of which have a wood bridge. Sensing the need for making progress due to the afternoon storm threat I forego changing boots for flip-flops and simply allow them to get soaking wet. There will be ample time for them to dry on my "off" day tomorrow.
The morning fog is soon below me as I climb above that layer, eventually reaching a key saddle from which there is no longer a trail for guidance.
The summit area has some tricky Class 3 navigation. Details are provided in this report.
I return to the car by late afternoon, and as my next goal is only a few miles away simply camp in-place. One down - eleven to go.
Sunday, July 15 - Stanley, Idaho
Being Sunday the local public library is closed. Hence I rely on a call to Andy Martin for a local forecast. Andy, having just purchased an I-Pad device, later extols the virtues of such portable devices in a county highpointers group post. Eventually I might own an I-phone to enjoy some of the features described.
The day's main goal is rest - I want a spacer between each pair of 10+ hour, roughly 20 mile efforts. One highlight is lunch in nearby Stanley, Idaho. It's chicken-fried steak with plenty of sausage gravy, along with a fresh salad and large fountain drink.
By about 2 p.m. I've run out of things to do in town, and I drive the 15 miles south to my parking for Mount Cramer. It's a nasty 4WD approach road that others have driven to its terminus. For some reason I am not happy with this concept, and park some 2.5 miles short of the trailhead - yet after having gained all of the 400 feet elevation since the end of the 'good' dirt road. Tomorrow will entail even more effort than Snowyside Peak - some 21 or 22 miles and 4,000 feet of elevation gain.
Mount Cramer from Imogene Lake
is in the middle background.
Its east (right) ridge is taken.
View back from near Mount Cramer's summit
to the cross-country route from Imogene Lake.
Monday, July 16 - Mount Cramer
I start before dawn, hiking the approach by headlamp. Hours later, around 9:30 a.m., I reach Imogene Lake and commence this cross-country bushwhack to the east ridge of my goal. The navigation is tricky. A trip report is available with some coordinates.
I 'connect' boulders near the summit with short sections of snow. The ice axe becomes handy, and I am pleased to have taken it with good reason. The summit boulder's identity verified by comparison with a posted photograph, I quickly descend to avoid any approaching weather threat. Still, the basin to my northeast is full of snow and beautiful blue-green ponds - surely nobody goes there!
I eat a snack some 700 feet below the top, and soon find myself tracing the path to Imogene Lake via a series of GPS-derived waypoints. At the lake, and alongside a real trail, I try to enjoy my 'summit' lunch - yet find it impossible because of attacking mosquitoes.
The final road-walk, some 12 hours after I left, seems like a death march. Then, on reaching my vehicle I drive to a grassy camping area near a bunch of RVs. It's after 6 p.m., already, and, being too tired for fiddling with the stove, have a cold supper and sleep by sundown.
The combination of Elmore County's Snowyside Peak, climbed two days earlier, and the current effort, raises my home glob radius to 774 statute miles - the largest value possible out of San Diego notwithstanding visits to the plains of Texas.
Tuesday, July 17 - Salmon, Idaho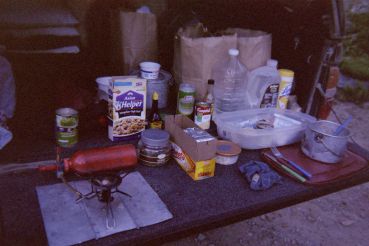 A typical arrangement for supper atop
DENALY's tailgate - somewhere in Idaho.
(Mouse-click for detail.)
I am slated to meet Bob Bolton and Duane Gilliland the evening of July 18 for climbing to "unnamed 9439" of Idaho County, Idaho. HAD I foregone Highland Peak and driven beyond Ely, Nevada I could have climbed Snowyside Peak on July 13 followed by Mount Cramer on July 15. THAT would have allowed another peak on July 17. I realized this option existed early-on, yet decided to forego it in-favor of concentrating JUST on the peaks required for my double list completion. Hence the Black Pine Mountains highpoint, for which I have maps and route information, will wait.
As a result of this decision I have fully TWO free days - and I use today, the first one, for visiting the Challis Public Library by morning. There I discover an excellent long-range forecast, and handle E-mail - the first of several such instances on what was to be a 40 day journey.
The Sacajawea Inn is located on the south side of Salmon, Idaho as one enters on US Route 93. It's a good deal, particularly as a full, hot breakfast is available (as of 2012) for just three dollars. You order pancakes, or an omelette with hash browns and toast; and have an array of cold cereal, milk, coffee and juices to enjoy.
Wednesday, July 18 - meeting Bob and Duane
So it is that I have a three-egg cheese omelette, with much toast and jam, plus Raisin Bran, hot cocoa, and more ... for just three bucks!
It's only a few hours drive north into Montana. I arrive at the trailhead for "unnamed 9439" by mid-afternoon. Having been there twice previously, I know exactly where to park and in what direction to create a level sleeping surface.
Bob and Duane have called my mother, and relay to her an estimate of their very late arrival. This I learn at 7 p.m., so allowing me to not concern myself with their absence ... until they don't come by 11. Eventually they appear after midnight.
Thursday, July 19 - Darby, Montana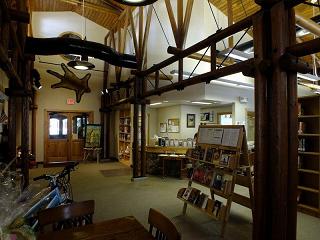 Darby's public library has an award-
winning wooden frame architecture. (BB)
Bob and Duane are "trashed", having climbed Hilgard Peak with a 12+ hour summit day. I learn this after chugging water and getting dressed for our climb before sunrise. They cannot climb today, and propose that unnamed 9439 be postponed 24 hours. This, of course, means that I will have THREE days of no climbing - what a waste of fair weather!
We caravan into Darby, Montana and eat rather large breakfasts - Bob and Duane to replace energy reserves, myself to carbo-load for tomorrow. I have a full plate of home fried potatoes with sausage gravy (presumably this came with eggs but for some reason memory fails me). Bob and Duane have egg-based entrées, replacing the toast with full-size pancakes that seem like meals by themselves.
The afternoon is largely spent with Bob and Duane checking E-mail using the Wi-Fi signal in and around the restaurant. I investigate the public library, one with wooden logs in the construction and most impressive indeed. The salad bar closes at 2 p.m., a disappointment to Bob and Duane as they seek the day's second meal. Soon enough they take my hint and also enjoy ice cream across the street.
I drive up the dirt approach road for, hopefully, the fourth and final time.
Friday, July 20 - Unnamed 9439
This one's reputation is well-deserved. Largely a cross-country bushwhack sidehilling on talus, it is not exactly anyone's idea of an enjoyable dayhike. Not at all, in fact.
Near the top we are temporarily stymied, trying to find a climbable path for the final one-eighth mile, now actually NORTH, to the desired pinnacle. With the most at-stake among us three I take a stab at it - and find a route which "works", allowing me to reach the final ridge. After 10 more minutes of boulder-hopping I reach the fabled plastic rod, and then descend some 20 feet to wait for Bob and Duane.
Details of our effort are described in this report.
Because our climb comes a day later in the itinerary we have agreed to cancel Castle Peak, a 4,000+ foot prominence, even though it is conveniently located near our drive to the next main goal. Bob and Duane continue driving into the night, getting a room in the Sacajawea Inn as per my driving instructions. I camp at the 7,000 foot pass of US Route 93 right at the Idaho / Montana border, there being a sizeable rest area with public toilets - and a trucker who continues to run his engine while parked. How annoying!
Duane atop the remote highpoint -
"unnamed 9439". (BB)
General view from spot elevation 9439
on the Idaho/Montana state boundary. (BB)
Saturday, July 21 - drive to Valley County
I arise early enough, some 6 a.m., to meet Bob and Duane for breakfast at the Sacajawea Inn. Noting that this feature ends at just 9 o'clock, we eat first and then, in the day's gathering heat, repack for the overnight affair of reaching Valley County's highpoint.
Arriving in Stanley, Idaho before Bob and Duane, I find the town jammed with tourists for an art festival. It's difficult to park, and so I phone them leaving a message that I'll wait for them instead some 20 miles farther along the drive at the start of this 44 mile dirt road leading to remote Landmark. We then caravan to our trailhead for Valley County's Big Baldy, arriving around 5:30 p.m.
I've purchased two 22 ounce bottles of beer from a microbrewery near Darby - including one "Huckleberry honey Pale Ale" with a stunning logo. However I was unaware that Bob and Duane don't generally drink - and, feeling a bit adventuresome, become somewhat tipsy enjoying the brew nearly to their complete exclusion. Then too we share a tailgate combination of chili-infused hummus with an assortment of crackers and mix-ins. I love hummus.
Sunday, July 22 - Valley County day 1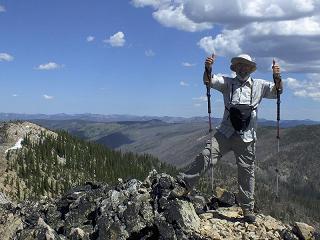 Bob atop Pistol Rock on
the inbound hike to camp. (BB)
Yesterday at the trailhead, and before the beer, I mathematically demonstrate to Bob and Duane that it's energetically sensible to make a dry camp short of Buck Lake even though it entails carrying 6+ quarts of water from the trailhead apiece. We select a saddle 9 miles out (Buck Lake is at 12 miles), and use that as the endpoint of our day's efforts.
A nice break arises in late morning as Bob and Duane cache their packs and climb a P1000 prominence, Pistol Rock, while I wait for them a short distance beyond at a saddle with good views both south and north. Lying down on this flat and level boulder was excellently refreshing...
Eventually we decide to camp at a hilltop some one-third mile short of the planned-upon saddle, and roughly 8 1/4 hiking miles from the trailhead. I have sufficient water for cooking supper, drinking at night, for breakfast the next morning - and the roughly 4 miles to Buck Lake. Bob feels constrained by the dearth of water, desiring more to clean pots and other items.
Monday, July 23 - Valley County day 2 (Big Baldy)
We depart after hot breakfasts, oatmeal for myself, I believe, the "Peaches and Cream" variety to which is added dry milk powder and assorted nuts.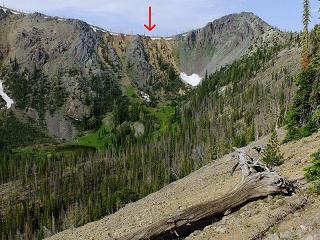 Red arrow points to the trail after it
zigzags 600 feet up from Buck Lake.
Mouse-click for detail. (BB)
The trail leading down some 600 feet immediately before Buck Lake is loose with scree and steep. It would have been horrible climbing up that section with full-size packs had we camped at the lake! The ups-and-downs along our route are many, and I attempt to estimate the resulting additional elevation gain.
Details are described in this report.
Big Baldy looms large in our sights across a gap. We decide, after traversing around to its other side, to forego the trail which winds around its southern aspect - opting instead to simply head cross-country, in a right ascending traverse, to its summit with lookout tower.
At the tower we enjoy limitless views in every direction, taking perhaps a full hour to relax, eat, secure pictures, satellite-call my mother, and congratulate one another at this rather remote section of Idaho inside the Frank Church River of No Return Wilderness.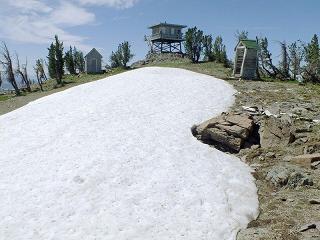 Big Baldy summit area with large
snow patch, lookout, outhouse. (BB)
The return hike to camp includes filling all our water containers at Buck Lake and ascending the aforementioned scree path in the afternoon heat. Ugh! I arrive quite tired, yet feel moderately re-energized after several minutes rest followed by supper. More delectable cinnamon babka is enjoyed for dessert with milk. Both Duane and Bob also enjoy this treat, one that has never failed to please on numerous overnight climbs.
Tuesday, July 24 - Valley County day 3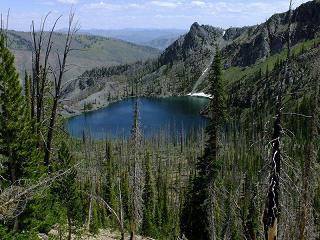 Buck Lake is the usual camping
location 12 miles from the trailhead. (BB)
Our hike out to the cars takes less than five hours as I continue to count the elevation gain. Dean Molen's "Stick a fork in it!" is joyously pronounced, and, after a shared snack session (with yet more hummus) Bob and Duane drive off with the aim of reaching home by bedtime.
I take my time to head out, eventually renting a room along Idaho Route 55 in Cascade. There is road construction in both directions through town, making it difficult to perform errands without careful planning. So after buying a fried chicken breast at the gas station I remain in my room until morning.
Wednesday, July 25 - drive to Adams County
Contrasting with Bob and Duane, I have the liberty to take plenty of time between venues. I eat two 6-inch subs at the Subway in Meadows, Idaho. One is pulled pork, the other turkey with avocado. Here my insistence on variety truly becomes a point of contention: for a single, 12-inch submarine sandwich would have cost considerably less!
After a final ice cream treat in Council, Idaho I drive the 30-odd miles of pavement to the start of the roughly 12 miles of dirt approach road for Monument Peak of Adams County, Idaho. This road appears to have been improved since previous, posted trip reports. However there remains a serious issue: the road is quite narrow for a few miles with severe exposure. Combined with an unexplained popularity of Black Lake camping at the trailhead the probability of meeting a vehicle in the oppposite direction is very significant and problematic.
I locate the trail's start and enjoy a pasta meal as others arrive with canoes and other gear to enjoy their own pursuits.
Thursday, July 26 - Monument Peak
It's a bit confusing locating the correct trail leading to the desired pass, whence one drops 1,300 feet while heading north to Emerald Lake. Details are available in this report.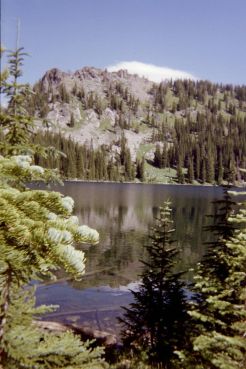 Black Lake at the campground and
trailhead for Monument Peak.
However the main obstacle, at least as I experience this highpoint, is a horrendous bushwhack for some one-quarter mile upon leaving the northbound trail at 6,600 feet elevation - until reaching talus at 7,000 to 7,200 feet. I am immediately north of the creek shown on the topo chart and mentioned in Ken Jones' report. Somehow in the intervening decade or so, two to three foot tall grasses have grown up, completely hiding ten-inch thick deadfall pointed in every crazy direction imaginable - and they cannot be seen.
The "going" was so slow, at least initially, that if it kept up I realized that failure is imminent. I shouted in agony - this is exceedingly rough and energetically costly foot travel!
I cannot remember worse bushwhacking in my entire life.
SOMEBODY should research the matter, finding an alternative means of accessing the 7,600 foot entrance to the upper basin from which one climbs generally north to the summit.
I head to the north ridge of Monument Peak, choosing a gully that appears reversible on-descent. Once on-top I spy the Snake River gorge mere miles west and looking most deep indeed. Then too I note, several miles north, the Seven Devils - and containing the goals of my next climb two days hence.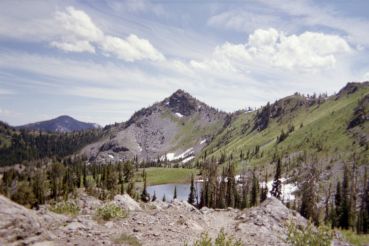 Alpine scenery looking southeast from
the saddle 700 feet above camp.
Foresaking my ascent path, I descend west the very first gully north of the summit massif (it separates the massif from the ridge itself) - and this proves a mistake as I soon find myself clinging to branches with nothing but 'air' underneath me at one point. Damn this is DANGEROUS - a Class 4 "veggie belay"!
Glad to be back in the upper basin I have my 'summit' lunch food at a saved waypoint. The dreaded bushwhack remains ... and I shout a sigh of great relief once back on the actual trail.
I encounter two vehicles on the drive out - and in one case the fit is so tight that my rear-view mirror is retracted. Eventually I camp at the end of a short side-road very near the turnoff for Smith Mountain, seven miles down the road and five miles from that multiple-road junction in the forest with a sign about long-since-gone postal service. The views are grand as I settle-in for the night. At midnight the Milky Way is brilliant.
Friday, July 27 - drive to She and He Devil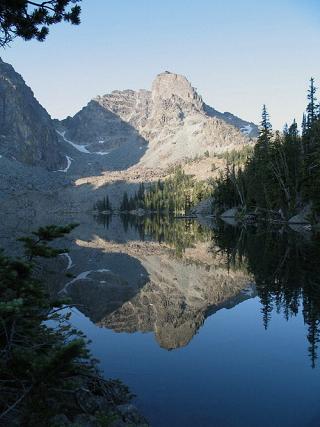 Sheep Lake and He Devil with the
gully leading to the She/He col
to its left. (Dean Molen photo.)
The cold coffee energy drink in Council, Idaho comes after a delicious morning slice of pizza. Bring on civilization! Soon enough I am in Riggins, Idaho immediately north of the approach road for She and He Devil. Three slices of fried chicken are followed by pumpkin-chocolate chip cheesecake. Clearly calories are on my mind.
The Riggins library forms an hour-long diversion as I describe my efforts, and theoretical Idaho state completion, to Bob, Duane and the county highpoints E-group. Here, it is highly probable that unnamed 9439 is higher than both She and He Devil ... hence likely that I have just completed Idaho's county highpoint list.
Reluctantly I leave this outpost of comfort, with its ice cream and cold soda, driving the 17 mile Forest Service road for my next goals. The first 5 miles are paved, and the balance is very good gravel.
I have a trip report from Petter Bjørstad with exact GPS-derived coordinates for the desired trailhead. However on going there, within the campground, I find that it is equidistant to a pair of trailheads heading in different directions. This is utterly confusing and MOST disconcerting since neither trail is signed, e.g. "Sheep Lake 2.0 Miles". I hike both trails, finding that one of them remains well-tracked with boot prints while the other one peters-out.
Then just before supper a trio of teenagers park and become similarly confused. They want to reach nearby Mirror Lake before sundown. I explain the situation and recommend the well-tracked path. Then, I figure, if they return shortly I'll know the other trail was to be taken. In essence, I have been provided Guinea pigs to test my hypothesis....
I eat a good amount, forcing it in (yet enjoying every bite) even though I am not hungry after lunch.
Saturday, July 28 - She and He Devil ultra prominence
The trail works well, getting me to the desired saddle after 900 feet of gain. Here I lose the trail, and, fumbling on the north-south ridge, search longingly for a sign of its continuation, downhill, to Sheep Lake. I find it, and head immediately for this track amidst a mess of cliffs and whatnot.
Indeed, I have decided to forego sidehilling around Tower of Babel, opting instead to follow the route recommended by Petter B. which entails climbing directly to the She-He saddle followed by an ascent of She Devil from its west. A most provocatively-shaped cairn beckons me onwards until I reach it at the saddle.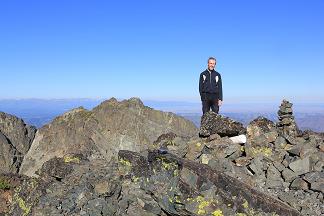 She Devil summit with Rob Woodall.
He Devil's twin tops are visible -
the three virtually indistinguishable
in elevation. (Petter Bjørstad photo)
Here I cache a quart and head for She's summit, taking waypoints so I can find my way back down. When just 100 feet below the top I accidentally veer too far right (south) of Petter's recommended route, one that entails crossing over two 'gaps' just prior to the summit. Instead, all I see, from my present position, is a steep rock chute (70 degrees?) leading to the desired ridge. Too lazy for backtracking, I climb this Class 4 chute with solid albeit tiny (1 and 2-inch) footholds.
Now I realize the chute has brought me to the second, final gap! I climb around this awkward rock fin and summit immediately afterwards. I take a picture of He Devil, some 0.4 mile west, with the highest rock of She Devil in the image's foreground at exactly the camera's level. Hopefully this image, despite a hazy Wallowa Range as background, may be used to determine which is the higher - and with recognition that the southern (main) summit of He Devil has an artificial 4 or 5 foot tall cairn atop it.
I return via the twin gaps, intersect my uphill route, and return to the saddle. Viewing He Devil's east aspect, I decide it's no place for me, alone, to be climbing. Instead, I tuck my tail underside and descend some 600 feet north; thence start sidehilling west towards the northwest ridge of He Devil. A 600 foot elevation loss (to about 8,300 feet) seems a small price to pay for avoiding an exposed, high-angle rock climb where a fall would be fatal - and nobody would even see it happen.
Campers at Sheep Lake have decided to day-hike He Devil. So I am not alone at its summit on arrival - yet immediately head north to the north summit, some 100 yards away, as it appears to be just as high. This ridge traverse is executed by heading along the left (west) side of the nearly unclimbable intervening rock formations along a Class 3 route. At the top of "north bump" I announce my triumph by leaving a message at my parent's home, as by now, surely,
Idaho has been completed!
The descent is uneventful, and I secure more water at this stream in an 8,400 foot hanging valley before returning to the Sheep Lake area. Unfortunately an 800 foot elevation gain remains... and I can rest my mind only on topping-out at the original saddle only some 30 minutes out of camp.
Useful details of this combined She Devil / He Devil effort (largely trail coordinates) are in this report.
I sleep most soundly tonight - perhaps for ten hours.
Sunday, July 29 - Transfer to Washington
There's well over 600 road miles to the Grays Harbor County highpoint trailhead. Then too I have to wash clothes (they are disgustingly grungy and feel awful just putting them on), buy more trail food (such as granola bars), and perform other chores. Now if I drive that entire distance, today, I can climb this "Wynoochee Point" on the 30th, then Mount Stone of Mason County on August 1, followed by the walk-into Mount Stuart camp August 3. Perfect.
However I call it quits, along Interstate-90, at Cle Elum in the shadow of Mount Stuart. This means either climbing the two Olympic Peninsula venues on back-to-back days, or returning for Mount Stone, with much extra driving implied, after my weekend appointment with John Klein to climb Stuart.
Monday, July 30 - Aberdeen, Washington and Grays Harbor trailhead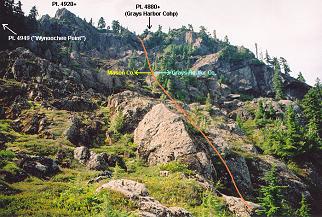 This picture was essential in locating
the Grays Harbor County highpoint.
(Paul Klenke photo, click for detail.)
Today's highlight is lunch in Aberdeen at a Salvadoran restaurant that I attended the last time I was in the area. The cheese-filled corn tortillas are delectable - tastier, perhaps than the entrée of chicken-and-vegetable stuffed fried pasties. Served with an extremely hot chili/oil sauce, it hardly matters what is contained inside the dough!
This comes after being denied entry into the Aberdeen Public Library on account of a two-week renovation project that could not have been foreseen. I am despondent, now unable to either check E-mail nor find forecasts nor check on snow conditions for my remaining peaks. I find a clever solution, however, by going to the local Office Depot and requesting a full-scale demonstration of a laptop computer that I am interested in purchasing. Of course, I download Google Earth, connect to the Internet, and thereby examine the desired snow data from NOAA's website. Cool: Mount Stone snowpack is now restricted to being above Lake of the Angels. It is now doable.
I drive the (now 33 miles) of pavement along Wynoochee Valley Road, followed by 10 miles of good dirt to the desired trailhead, one that I've thrice visited. Hopefully "Three times is the charm." Despite a decent forecast for Aberdeen (10% chance of showers), there is a cloud deck which at-times obscures the higher ridges. I will go for the top even in cloudy weather: every peak MUST be climbed lest I be forced to return in 2013.
Tuesday, July 31 - "Wynoochee Point"
The skies could be clearer. Still, I hike the logging roads to that south-trending spur, stupidly cache my ice axe and consider the imminent bushwhack. I should have gone to the spur road's very end, as the resulting route is most exceedingly steep. At-times I hang onto vines, and kick steps in the dirt with my boots. This first 300 feet (take your pick - horizontal or vertical distance) is most disconcerting - and could have been avoided had I left the road a mere 150 feet farther south.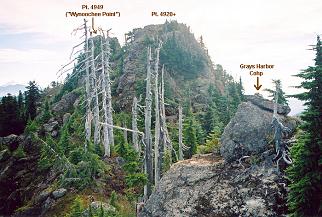 The ridge with Gray Harbor's highpoint
and identifying features.
(Paul Klenke photo, click for detail.)
I am relieved to reach the 4,600 foot contour just north of my goal, and use Paul Klenke's printed photograph above to identify the exact highpoint. My bushwhacking is finished for now - yet the remaining route is half snow and half Class 3 rock. Locating a 'doable' path is problematic, particularly as the snow has moats along the rock that must either be jumped or climbed-into. I search longingly, taking a most circuitous path that wastes an awful amount of time and energy.
Eventually I am rewarded, reaching the bouldertop shown in photographs, and verified by my GPS's coordinates, to be the Grays Harbor County highpoint. Plus, I see point 4,920+ some 200 feet to the east along this rocky ridge (see photograph). I descend almost immediately, anxious for a return to a 'rock island' amidst snow where I have cached a liter of water.
There are no points for style here - many times I butt-slide down the bushwhack route, and especially along the dreaded lowest portion. BOY that ice axe looks fine on reaching it! While on the logging road grid I meet a young man walking a bicycle up the grade. I am most surprised to find anybody here. Evidently tomorrow (August 1) is the first day of bear hunting season, and he's come to stalk the beast for what evidently must be pleasure. I utterly disapprove of such activity, killing magnificent creatures without the need for surviving on its flesh. Still, I conceal my disgust and we leave amicably.
Details of my bushwhack-ascent are provided in this report.
The effort lasting 10 hours I am in no position to attempt Mount Stone tomorrow - would not reach its trailhead until well after dark. Instead I rent at the Thunderbird Motel in Aberdeen. I won't ever go there again: it has become a halfway house for lunatics and drunkards.
Wednesday, August 1 - new boots, Greg Slayden, more errands
Now condemned to return to the Olympic Peninsula after Mount Stuart (I am not going to climb Mount Stone tomorrow and the very next day backpack into base camp for Stuart 200 miles away), I enter greater Seattle and spend the day performing errands.
My pair of expensive Italian mountaineering boots have been old and tattered after two or three years. Their soles are nearly worn-out, and true holes have developed in the front. Time for a new pair - and, with some navigational help from Greg Slayen, visit the REI in Bellevue to this end. They are silver with blue accenting - and cost over $300 with tax. Given the importance of good boots and their cost, they become a birthday present from my parents. I start "breaking them in" right away.
Lunch with Greg Slayden in the Microsoft cafeteria is most enjoyable. I have a Thai-inspired soup with mussels and clams in a spicy broth with coconut milk and appropriate spices. A plate of rice is purchased, thence serving as a 'bed' for the liquid component. We talk about mountains, of course, and especially as Greg is set to go on his own mountain vacation. Later we retire to his office where a key file is copied onto a copy of my home computer's hard drive so that I can fully test enhancements to the online FRL (Front Runners List), at cohp.org, without having to first post changes and test them at the remote, so-called 'live' website.
My pickup truck is serviced at Toyota of Bellevue, taking some three hours. I use the time to emplace dozens of coordinate pairs into my unit for Mount Stuart - and enjoy free cookies with coffee near the customer waiting area. I rent a room at Motel 6 in Seatac near the eponymous airport, reserving it for two nights so John Klein has a place to 'crash' when his flight arrives late tomorrow evening.
| | |
| --- | --- |
| | |
| The new boots as-is... | ...and fitted with crampons. |
Thursday, August 2 - free day
I replenish my food supplies at this nearby supermarket, purchasing food as well for this very day - including a butternut squash soufflé, fresh vegetables and a Mexican-style TV dinner. Then too I pack for the Mount Stuart overnight climb and attend the local public library. I could easily climb Mount Pilchuck, yet feel that reserving my mental energies for just the required peaks for that double completion seems prudent.
At nearly midnight John calls on the cell phone, and I let him in the back entrance.
Friday, August 3 - Mount Stuart day 1
On my suggestion John and I have a large breakfast at Denny's, the usual cheese omelette satisfying my appetite. We caravan to the Mount Stuart trailhead, finding it most crowded - and start walking by around 11:30 a.m.
The trail to Longs Pass is snow-free, and we take a nice break around 2:15 p.m. with stunning views of goal before us. A photograph of John displays our route as taken the next day. We have a bit of trouble crossing Ingalls Creek (a huge log is eventually found), yet soon after establish our presence at the obvious camping area.
Dinner is shared - a pot of cheddar cheese macaroni accented with a spicy "buffalo-wing" Cajun blend. I err with dessert, this slice of marionberry pie that threatens to make a considerable mess if it should spill inside the tent.
A group of fully nine Washington climbers camps nearby, and we agree to synchronize our efforts so they leave camp fifteen minutes earlier than us. However, unbeknownst to them, I have different plans: they all have helmets and we do NOT. Therefore it is prudent for us to depart camp before them, so that they are in the line-of-fire and not us. I reset my watch's alarm feature accordingly...
| | |
| --- | --- |
| | |
| A log-crossing of Ingalls Creek. | A typical camp under the climbing route. |
Saturday, August 4 - Mount Stuart day 2 (summit day)
A distasteful experience: the group is rapidly catching up with John and myself, in turn because I refuse to go fast and potentially re-injure a tendon (or whatever it is?) in my upper right thigh. This Cascadian Couloir is aptly named "Crapcadian" as noted in one online report. However by the time we reach 8,000 feet they are nowhere to be seen. They've slowed down (or we have speeded?), and now it's just the upper mountain and us two.
A traverse left (west) under the base of this (seemingly permanent) snowfield brings us to a moderately steep snow climb leading to what might be a climbable rock outcrop. Farther left the ridge is cliffy, and the only remaining option is returning east and climbing the rock on the snowfield's eastern flank.
I self-belay, jamming my axe into the snow, kicking steps, and reach the rock - which is then climbed with more than a bit of 'iffy' moves. Soon I am at the ridge leading down from the false summit east of the true top. Meanwhile John has joined the large group, and they climb that rock east of the snowfield. This places me nearly one hour ahead of everybody else...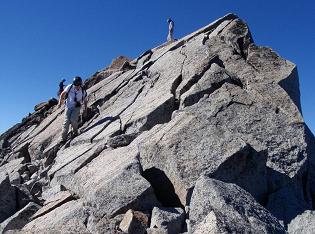 Angled slabs at the top of Mount Stuart.
I cross the ridge, noting precisely where with a GPS waypoint, and head most tediously towards the east-west summit ridge. However I see a snow patch right on the ridge and virtually at the summit. I attempt to avoid it by remaining below the ridge, traversing towards it nonetheless, by the route of my choosing. Soon I reach this seventy-degree snow patch, and see that, by climbing to its immediately left (west), I can reach the desired ridge with some high-angle Class 4 rock scrambling. Then, when two-thirds of the way up I bail, unable to find adequate 'holds'. Downclimbing this section is awfully risky, suddenly, and at one point I have to jam my boot into this crevice while using my arm strength only to maneuver.
I am stuck!
I labor to extricate the boot - and, nearly at the point of panicking, finally succeed with a huge feeling of relief. What a mess this could have been. I try to climb east of this snow patch, and meet the summit ridge proper. Soon after is a move with considerable exposure down the north face - but it's really no big deal.
The summit is only 150 horizontal feet or so beyond a false summit - and offers a diagonal set of cracks to the topmost pair of boulders. The western one appears a bit higher, and I lie down on its nearly level surface, enjoying the brilliant sunshine, waiting for everybody else. The peanut butter and prune sandwich is eaten most slowly and deliberately...
Descent is uneventful apart from accidentally letting loose a 200-300 pound boulder that stops short of another climber. He turns to me, pauses, and then tells me to kill myself and leave him alone. We unexpectedly descend the gully east of our ascent route, the so-called "variation" described in an online report by Greg Slayden at his website.
I arrive to camp around 6 p.m., too late for hiking out this evening. Dinner, again shared, has noodles in a rich, four-cheese sauce (including gouda). John really likes it...and yet I want more. Having been on the move since dawn, either of us could have eaten the entire amount all alone. For dessert we share a round mini-pie with Boston cream filling and a fried blackberry pie.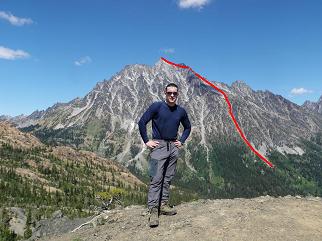 The Cascadian Couloir route on Mount Stuart
with John Klein at Longs Pass. Dots indicate
the route is hidden from view.
Here is some useful information for future Mount Stuart efforts via the Cascadian Couloir route.
At Longs Pass the trail's continuation, leaving the ridge heading generally northeast begins
150 feet north-northwest of where the trail arrives at Longs Pass from the trailhead.
Ingalls Creek may be crossed on a large-diameter log at (47.45594° N, 120.91048° W), elevation 4,913 feet.
This is roughly 100 yards downstream of the trail leading from Longs Pass.
There is a trail junction after the Ingalls Creek crossing at (47.45714° N, 120.91011° W), roughly 400 feet north of the cited log crossing.
From here head southeast to camp on the obvious path.
Our camp was at (47.45465° N, 120.90508° W), elevation 4,823 feet.
Water is available from Ingalls Creek just 50 yards south.
To assist in early morning navigation before entering the couloir proper we have these trail coordinates -
(47.45719° N, 120.90504° W) at 4,987 feet and (47.45902° N, 120.90507° W) at 5,240 feet.
These points are due north of our camp.
There is a prominent black rock massif near the couloir's top end. On the descent turn right at its base,
(47.47071° N, 120.89687° W) and 8,264 feet elevation, to return via the ascent route.
The snowfield in several posted climb reports may be a permanent feature. On this climb it was
perhaps 400 feet in vertical extent, with its bottom at (47.47242° N, 120.89741° W), elevation 8,644 feet.
I crossed over the ridge, heading west, at (47.45594° N, 120.91048° W), elevation 8,991 feet.
The "best" place may in-truth be ±50 feet above or below this point.
Sunday, August 5 - Mount Stuart day 3
Hiking out consumes only 3 1/2 hours. That log crossing of Ingalls Creek is deemed too risky by John (there's a drop of several feet into the raging water) - and he finds a more secure means upstream. We part ways by 11 am. John heads for guided climbs of Glacier Peak and then Mount Baker. The next week I learn he succeeded with both of them - sizeable stepping stones in his snow and ice training.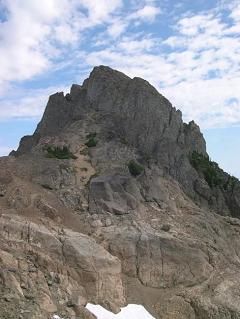 Mount Stone summit
from the west.
(Adam Walker photo)
I rent a Motel 6 room in Olympia. Today is this season's warmest day for Olympia, with temperature reaching into the mid-nineties. I repack for Mount Stone. This constant shuffling of gear between daypack and overnight pack is getting on my nerves.
Monday, August 6 - Mason County trailhead
A public library Intenet E-mail session is followed by lunch at Kentucky Fried Chicken. It's a treat for me to eat there, as I only do such a few times annually at the most. Clearly I have the 5,500 feet of gain at Mount Stone in-mind when deciding to have a 1,500+ Calorie meal there.
I reach the Mount Stone trailhead around 3 p.m. and park alongside other vehicles on the road's south side in a grassy pullout. The sun is beating down mercilessly, and shade is at a premium. It's impossible to read inside the camper shell from its greenhouse-like temperatures. Supper, with its hot food (chili con carne) cannot be enjoyed until tree shadows pass over the tailgate around 6:10 p.m. Sadly, my stove refuses to light ... and so I am forced to eat a taco salad, with leftover lettuce and onion, rather than as planned. Something is wrong with the fuel line - likely it's in need of cleaning.
Tuesday, August 7 - Mount Stone
I reach Lake of the Angels soon enough. Now the real adventure begins. After some several minutes I locate a climber's path, taking it northeast to the 5,400 foot contour. Then I head northwest, climbing this tree-studded slope to a 5,600 foot bench. From here I see plenty of snow - with moats several feet tall at the base of several gullys.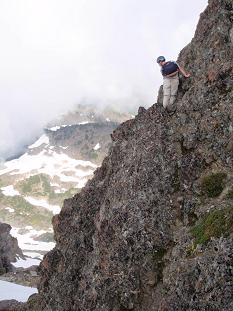 Exposure on Mount Stone's
uppermost section.
(Adam Walker photo)
What to do? I cannot reasonably downclimb 7 or 8 feet of vertical snow...nor are the moats broad enough to admit passage for their entirety. I locate one gully with a far more modest moat-snow interface, and head upslope on talus to meet it at some 5,900 feet. Then I jump down the three feet of snow, and commence climbing this nasty, steep and scree-choked gully. I have no choice. There appears to be no other option.
I reach the gully's top-end and find no views of the goal. Instead my GPS unit claims that the desired 6,200 foot basin is northwest 279 feet. Huh? There are only stunted trees in that direction. Still, I enter them only to break-out after just 20 feet. Where's the basin? I downclimb several feet, and there it is - full of snow yet nearly level throughout. I am relieved beyond belief - this route is doable - I do NOT have to return another day or season.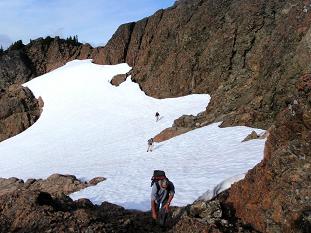 The 6,200 foot snow-filled basin.
The snowfield is crossed, and I climb loose scree to the obvious saddle immediately southwest of Mount Stone's highest peak. Once there I am at first confused as to which pinnacle is highest. However a few minutes of research identifies the target - and it's the one directly in front of me.
Leaving my pack behind with only a white chocolate granola bar in a pants pocket I climb to the pinnacles's base and then do an ascending right traverse, soon rounding a corner to turn left and finish the effort. After only a minute I descend, most cautiously, reaching my pack soon enough.
Lunch food is enjoyed back at the lake, filling water bottles for the descent. While there I meet a boy and girl pair, having come here, apparently, just for the impressive scenery at Lake of the Angels. The tent I spotted on arriving here several hours ago, before my climb, is now absent. This semi-popular hideout seems to attract far more dayhikers and backpackers than people willing to go off-trail and visit the nearby peaks.
The descent is rapid, of course, given the trail's steepness. I camp at the trailhead, there being no need for driving progress since the next mountain is not for several days. Details of Mount Stone (principally coordinates along the climber's path) are provided in this report.
I no longer have to worry about weather on the wet Olympic Peninsula. Furthermore, I have climbed there during the summer Olympics 8-).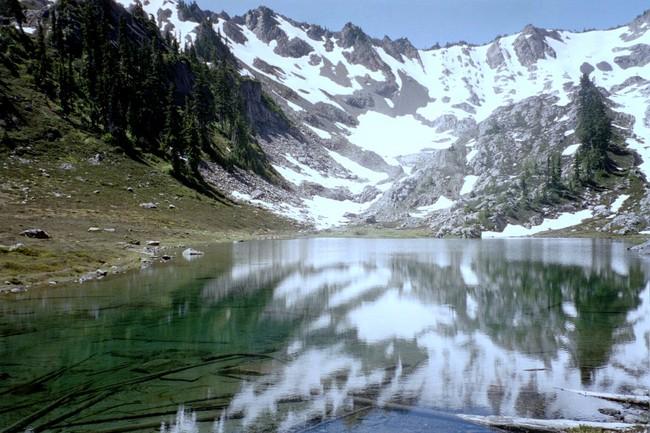 Lake of the Angels enroute to Mount Stone.
Wednesday, August 8 - ferry crossing and Duane's home
It begins to drizzle after getting hot mocha along Route 101. The Puget Sound crossing is made at Port Townsend, and, 44 miles later, I pass by Duane Gilliland's home where I'll stay for the night. Meanwhile I enjoy sushi from a gourmet supermarket in central Burlington - ten dollars but yummy indeed and nutritious. I add canned salmon for protein not just for its own sake but because I don't feel quite right - "goofy" and fearing that I am coming down with a cold. All I want to really do is sleep - and this even though I've already slept 10 hours last night. What's wrong with me?
Thursday, August 9 - permit and free day
Despite my desire to simply sleep I am the natural candidate for the chore of driving to Marblemount, Washington for securing a backcountry camping permit at Sahale Glacier Camp - arguably with the most spectacular view of any campsite in Washington state. The Ranger Station office opens at 7 a.m., and I will be first in line - by driving at 5:30 a.m.
Permit in-hand, I triumphantly return to Burlington and commence eating as the day before yet another significant mountain climb. The pint of Haagen Dazs "Rum Raisin" ice cream is wonderful, of course, and is even better with added Nutella chocolate hazelnut spread. Much of the afternoon is spent sleeping as I try hard to improve myself.
Friday, August 10 - Buckner Mountain day 1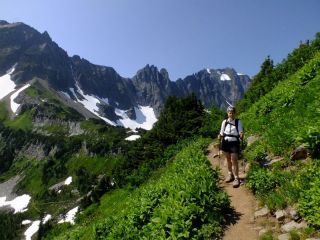 Rhonda, Bob's wife, above Cascade Pass.
She and Duane's wife Pattie join us
for most of the hike to camp. (BB)
After a hash browns and eggs breakfast at Duane's home we drive at 7 a.m., myself in one of two vehicles with "DENALY" parked in front of Duane's home. Bob Bolton, Duane Gilliland and I will be joined by Craig Willis tomorrow morning after he climbs the 4,000 vertical feet from the trailhead before dawn.
Bob's wife Rhonda and Duane's wife Pattie accompany us to Cascade Pass, and then beyond, to a reasonable turn-around point for both of them. Views are magnificent, and only continue to improve the higher we get.
Camp is made in one of the several available windbreaks. It's only about 3:30 p.m., and there's still over five hours of light to enjoy the superlative scenery. Bob identifies many mountains to our south. Immediately north is Sahale Peak, and some climbers are actively engaged on its slopes.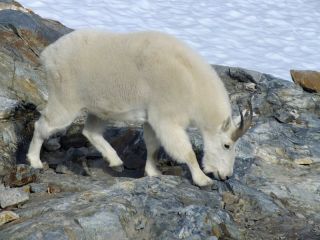 At Sahale Glacier camp goats
were close enough to touch. (BB)
I look over to Buckner Mountain and see a hideously steep snow slope - it looks like about sixty-five degrees for several hundred vertical feet. Although there are rock-based routes to either side of it, for some reason Bob says we "must" climb the snow. I am despondent - this looks impossible, and my attitude and demeanor go downhill for the day's remainder.
Saturday, August 11 - Buckner Mountain day 2 (summit day)
Craig arrives around 7 a.m. on a balmy morning. The sun ensures no gloves are needed, and we start sometime after 8. We have a picket, rope, axes and crampons.
After a 400 foot crampon-assisted descent we head down the rock rib. Then Craig demonstrates a route he took, avoiding the infamous "snow finger" that heretofore served as crux of a Buckner climb from Sahale camp. It merely involves some Class 3+ moves around a small tree, followed by exiting the rock rib to its right (west), thence heading downhill amidst (when we did it) a set of icy streams coming off the snow hill.
That maneuver places us perhaps 75 feet below the snow finger's base - a small price to pay, indeed, for obviating the time to rope-up and descend it.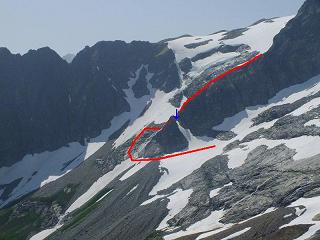 View from the east showing our
route down the rock rib, bypassing
the snow finger (blue arrow).
Dots indicate where the route is
hidden from view. Click for detail. (BB)
We traverse Horseshoe Basin, slowly gaining elevation to about 7,000 feet. At around 7,500 feet Bob Bolton, plagued with toenail problems and a lack of energy, calls it quits. He will wait for us at the snow finger's base for several hours.
The going steepens, and we decide to bypass a moderately steep snow "tongue" by taking the Class 3 yet solid rock to its right. Eventually, though, our general path suggests climbing straight up a roughly 40 degree snow slope. Duane leads, kicking steps in most admirable fashion, while Craig and I follow. It's exhausting work, these 200 vertical feet, and we agree to remain on rock to avoid spending more time than absolutely needed. That snowfield seen at camp is now bypassed on its right (southeast) side, climbing on a combination of loose rock and scree. Finally we reach an obvious saddle immediately near the main (southwest) summit. I leave Duane and Bob there, agreeing to rendezvous at the saddle. Shortly after I reach the summit, and am greeted by an Alaska-like view over the north side to Boston Glacier.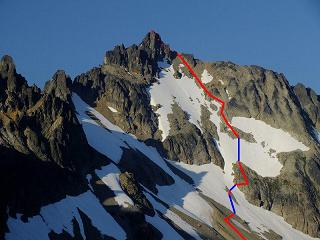 Buckner summit with our route shown
in red (rock) and blue (snow).
Dots indicate where the route is
hidden from view. Click for detail. (BB)
The northeast summit looks no higher than I am ... which is noteworthy given the well-known phenomenon that the other summit of equal elevation to one's own position appears to be higher. I conclude based on years of experience that the northeast top is perhaps two feet lower.
I summit around 2:50 p.m., corresponding to nearly seven hours from camp. Then too after eating lunch in the shade of a large boulder, at the saddle, Duane and Craig return three-quarters hour later around 4 p.m. - reporting that their summit is undoubtedly lower.
It is now late. We must expedite our travels. In particular it would be awful to negotiate the rock rib ascent during darkness: how could it be done? I take a ridiculously long time descending the soft, unconsolidated snow, beginning some 600 feet below the saddle. I truly dislike this stuff. Wearing crampons there is little problem: the sense of losing control is then largely absent. I learn, later, from both Duane and Bob, that they have a similar 'problem' with steep rock - one that I have never been able to empathize with.
California vs Washington
Craig goes ahead while Duane waits for me to get off the steeper snow. Hours later Duane and I reach the rock rib's base around 8 p.m. with only about 1 hour of useful light remaining. After an aborted try to find a climbable way onto it we eventually locate our downhill route, and hurriedly ascend the rock until the snow hill's base.
We are most grateful to reach here before it becomes totally dark. Donning crampons (the snow is now hardening) we climb the hill with headlamp. On topping-out the route levels and we see assorted headlamps pointed in our direction. When we arrive at camp around a quarter of ten Craig and Bob are pleased that we are safe.
I eat a cold supper in my sleeping bag at 11 p.m., being too tired to cook my rice dish. The sticks of pepperoni and Dolly Madison raspberry Zingers will suffice for now.
Details of this ascent relevant to climbers are provided in this report.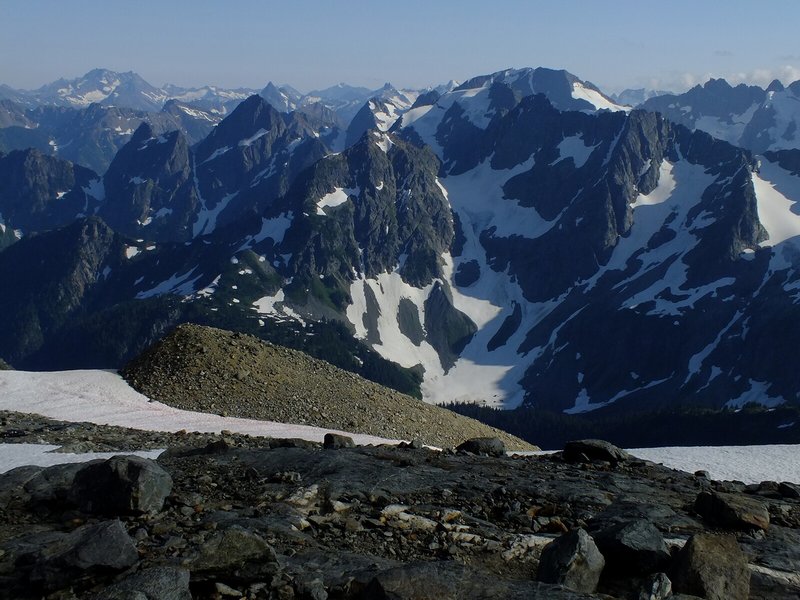 View southeast from our camp. Other directions are equally magnificant. (BB)
Sunday, August 12 - Buckner Mountain day 3
We enjoy final jaw-dropping views while eating hot breakfast food and deconstructing camp. The descent is uneventful, and, of course is rapid compared with our ascent the other day.
At the automobiles by 2 p.m. we change into street clothes and head-off, yet stopping for refreshing treats at Marblemount. I enjoy a pint of Ben & Jerry's strawberry shortcake flavor Greek-style frozen yogurt to which are added multiple granola bars. Later, at Duane's home, both wives have prepared a vegetarian feast - replete with special rice, hot beans, and a large array of vegetables to make a huge salad for each of us. The variety seems geared to please me especially, as everybody knows that I crave it - especially with the displayed sauces and condiments.
Monday, August 13 through Wednesday, August 15 - waiting for Mount Adams
I have always envisioned climbing my final peak, Mount Adams, with a large cadre of friends eager to repeat it on my behalf. However people work, have other more pressing considerations, and generally have little to personally gain by so attending.
So it is that only Bob Bolton is able and willing to sacrifice two days of vacation time, from work, to join me on a Thursday and Friday. The weekend forecast calls for possible stormy weather Saturday night - and that's highly unsavory on the side of a huge volcano over 9,000 feet above sea level. We'd be in the storm's teeth, suffering a terrible time, unable to decide whether to chance summiting the next day.
I inch and crawl my way from Duane's home, in northern Washington, to Bob's Vancouver, Washington home (some 225 miles south along Interstate-5). The anticipation and excitement grows daily. The first night, on Monday, I sleep again in Seatac. The second night, Tuesday, I sleep again in Olympia. Then on Wednesday, as always when feasible, I intentionally overconsume food the day before an overnight climb: in this case this includes a delicious lunch at Red Lobster in Vancouver Mall (jambalaya) and a large peanut butter milkshake at Baskin-Robbins soon afterwards. The 4,000-odd Calories (without exercise) today provides extra stamina.
A public library embedded in the Vancouver Mall enables following my E-mail without having to travel elsewhere.
In the greater Portland area and in my truck I try to sleep in just underwear because it's so hot - here at essentially sea level inside a glass-sided camper that is absolutely unbearable in the daytime. By midnight, however, the open side-vents have permitted some relief, and I dress more fully for the night's balance. Perhaps a motel room would have been preferable...
Thursday, August 16 - Mount Adams day 1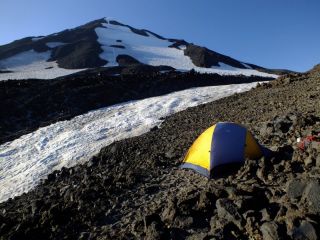 Our tent at the 'Lunch Counter' with
the first 2,000 remaining vertical
feet of the route visible. (BB)
Bob selects Carol's Corner, a restaurant known to provide large portions. Indeed, my cheese omelette (a continuing theme) is absolutely enormous - it stretches from one side of the dinner plate to the other, nearly falling off the edges. Plus it's thick, some 2 or 3 inches (!), stuffed with must be nearly a half-pound of cooked bacon. YIKES!
Bob's meal is larger still, as he gets hash browns without the substitution I make of extra toast in-place of the potatoes. How can it be finished? Bob is making much progress.... Amazing!
We scurry home to print a poster (see photograph) confirming my completion of the 414 county list while atop Mount Adams - and only then head off for the three hours distant trailhead in Bob's vehicle.
The ascent to high camp consumes some 5 1/2 hours. We initially have difficulty locating a windbreak-enhanced "circle" for our tent near what appears to be the only water source - coming directly off a melting snowfield. Eventually we make our own area out of a broadening in some pseudo-trail through the volcano rock.
It is HOT, so much that I raise my trousers above the knees to create "shorts". Tomorrow is forecast to be the season's hottest day, with 102° F for nearby Portland.
The route's steepest section is plainly obvious, leading from the Lunch Counter uphill for some 2,000 vertical feet to just short of Pikers Peak - a subsummit of Mount Adams which is presently hiding to its north.
Friday, August 17 - Mount Adams day 2 (summit day and descent)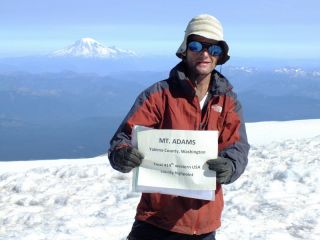 Adam holds the summit poster
confirming his twin list completion.
Mouse-click to read the sign. (BB)
This is my special day. It's no big deal getting to the top from here - only about 3,000 vertical feet with some moderately-angled cramponing to just before Pikers Peak. We arise at 5:30 a.m. with some light, and leisurely get going by 6:50 a.m. The hot oatmeal, cinnamon and spice variety, will get me up this initial slope.
There are many other climbers, both below and above Bob and I. We ascend the snow's right side and then traverse left. Reaching the snowfield's left (west) edge, I rest at rocks after some 1,500 feet of gain. Storing crampons with plans for a rock-only ascent from here, I wait for Bob and then watch as he continues on snow to our skyline where the gradient changes to essentially zero. This point is at 11,500 feet and only a few hundred yards prior to the gently-sloped Pikers Peak.
We rendezvous at this slope-change point, an obvious place to stop, huddling to the east of a sizeable rock outcrop to avoid the chilling wind. Our route from here is obvious, and, from the looks of it, does not appear to require crampons. We pass quite near the top of Pikers Peak, descend maybe 100 feet, and climb a moderately steep scree slope on an obvious climber's path to within 300 vertical feet of the top.
There are already people there (allowing me to judge the remaining effort by their apparent size). Bob tells me to wait just short of the top so he can videotape my final few steps. So about 30 feet below the rounded summit, and now on snow again (yet getting soft), I wait for Bob to pass me and achieve a good filming location. I then continue amidst his shouts of encouragement and the disbelieving gazes of several others.
Camera rolling, and with a considerable rush of adrenalin, I summit at roughly 10:20 a.m. Bob soons joins me, and a photography session commences in full-swing.
Washington has been completed!
The CONUS ultra list has been completed!
The western USA cohp list has been completed!
A bagel with Italian salami and aged gouda cheese is enjoyed, followed by descent to the change-in-slope point where we took our only break on the ascent. I go down my own way, shunning the climber's path and simply choosing a direct line to the desired location.
After a nice break Bob glissades down the snow slope. To my misfortune I descend the volcanic rock, and it is extremely tiring and difficult going! This is under gathering heat, and after some 1,500 vertical feet I give up and, axe now out, descend the snow to our campsite.
I arrive bereft of energy, dragging my axe on the rocks and with no desire to break camp and head down. Yet it's only 2 p.m and we have no food for a second night here. I eat two granola bars, one being with coffee crystal-infused milk (see the photograph) - my "secret weapon" when I simply have no desire to expend more effort. After an hour my legs have regained some energy, and I reluctantly head down with Bob.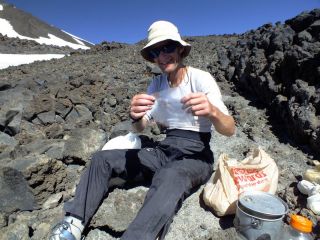 Adam is pleased to find a small bag
of coffee crystals to help power his
descent from camp. (BB)
I have sunburned my legs from above the socks to where I had lifted the trousers - roughly halfway up both thighs. Particularly red are the areas in back under the knees yet above the calves. They are truly bright red - a nasty consequence, likely, of direct exposure for one hour as we climbed a snowfield in the afternoon from 8,000 to 9,000 feet before camp. The ultraviolet radiation really "did a number" on them!
The descent is rapid, and we arrive at Bob's car in a remarkably short 2 1/2 hours from camp. Details of this ascent relevant to climbers are provided in this report.
Somewhat hungry, we don't want to wait until getting to Bob's home for supper. So in Stevenson, along Washington Route 14 just north of the Columbia River, we stop at Bob's favorite Mexican restaurant in the region.
There is a New Mexico chili theme here, yet nobody seems to fit the part by knowing Spanish. I cannot resist ordering a peach margarita appetizer for $10 - and only then Bob says he'll treat me to dinner. Why? How often does such a list finish happen? Once a lifetime. Bob has the "burrito gigante" which is appropriately named. I enjoy the chicken enchiladas suiza, served with Spanish-style rice and cooked vegetables.
And for dessert? Bob has a favorite place for that as well... and, again, treats me to a double dip ice cream in a large waffle cone with both huckleberry and licorice flavors. Bob is apparently partial to huckleberry as well... and we head home with some most excellent conversation.
So ends my time in Washington state - all I must do now is get home.
Saturday, August 18 through Monday, August 20 - homeward bound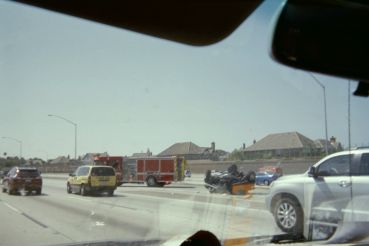 A freeway accident on Interstate-5
in greater Los Angeles.
Mother's 77th birthday is remembered soon after I start south. Eventually I find myself taking too many rest breaks, stopping for the night in Redding, California after some 430 road miles. Had I proceeded to Sacramento, another 160 miles, I could have gotten home the next day. Such was not to be: I am simply too mentally tired - and the likeliest culprit is that fitful sleep in my truck last night without any means of cooling down.
The sunburn now includes a blister below the hollow of my right knee. The fluid is clear so it's not infected. I am finding it painful to stand for any length of time - the effected skin gets stretched and it feels awful.
Bakersfield, California is the next day's endpoint, this time after 450 road miles. I could have continued home, my alertness level being just fine today. Call it laziness? Thereby I complete the drive on Monday, arriving home around 1 p.m. some 220 miles later.
It takes about one week for the burn to heal - at least such that I can stand and walk normally. However the redness largely remains - now 11 days later, as the skin for some reason is not getting quicky replaced.
Summary
The journey's goals are all realized without reservation. My summers are hence transformed,
freed from the 'burden' of yet another obligatory, self-imposed journey to my home glob's perimeter.
A book shall be written and published - one that will surely contain, among other topics, my quest to complete the western USA county highpoint list. I will never finish climbing a peaklist quite so large in scope requiring such a vast, mind-bending degree of time and effort. I am proud of this accomplishment!

Read the Congratulatory Messages

My initial reply to this outpouring of acknowledgement follows.

County Highpoints daily newsletter #4252 entry 3 -

Subject: double list finish at Mount Adams
Mon Aug 20, 2012 7:02 pm (PDT). Posted by: Adam Helman

Hello from Adam,

I personally verify this 13 summer project has finally concluded -

http://www.cohp.org/indiv/adam/Adam_Helman_annual_history.html

... and, by design, at my namesake summit which doubles as CONUS' last "ultra" prominence peak.

That fine, ultimate climb was capstone to a 40 night, 40 day journey that featured UNCOMMONLY fine weather.

Such weather was essential. Yet so were a multitude of OTHER items that collectively permitted success:

* I viewed each climb as a JOB that MUST be accomplished - else, the entire thesis of my journey would not be realized.

This self-inflicted "need" was at-times stressful, KNOWING that I simply HAD TO climb each mountain REGARLDLESS of the obstacles - including that dreaded four letter word [steep, unconsolidated] S-N-O-W 8-).

There were MANY MORE obstacles - often significant as will eventually be detailed in a full trip review (as always).

* Bob Bolton and Duane Gilliland made it their task to accompany me on those efforts where going alone was, at least for myself, not the preferred option.

These include Valley County, Idaho's Big Baldy and Buckner Mountain of Skagit County, Washington. "Unnamed 9439" of Idaho County and Mount Adams are venues where their presence, although not strictly essential, was appreciated all-the-same.

Bob and Duane were EXTREMELY helpful in every manner ...

So too John Klein of Tucson joined me at Mount Stuart ... WHAT a peak for his very first Washington climb!

**************************************************************************

However this final journey is but the iceberg's tip. When one considers the TOTALITY of WHAT IS REQUIRED to reach the highest point of EVERY western USA county .... there are times when the phrase "boggles the mind" truly IS appropriate.

No exaggeration: it is only after arriving home, 3 days after Mount Adams, that it finally dawns upon me the ENORMITY of what has been accomplished!

Furthermore, I will BUT ONCE step beyond the confines of humble behavior and proclaim: this list finish IS MOST NOTEWORTHY ..... I am PROUD of IT .... so much that I will indeed put pen to paper and WRITE A BOOK - one which will contain my montane thoughts long after I am gone, on a subject that, currently, only two people on the planet are fully qualified to address.

[Bob Packard will write the Foreward. If that's news to Bob,
he should consider this note as FAIR WARNING months in advance of the publication date 8-).]

***************************************************************************

Greg Slayden, in his congratulatory note, hinted at my general dislike of snow. IT'S TRUE, and results from residing in a city hundreds of miles from any permanent snowfield or glacier. Hence practice is not possible UNTIL the relevant skills are needed on the climb itself. It's like expecting a Kansas resident to be a superlatively expert ocean surfer....

HOWEVER KNOW THIS: I refuse to let my predilection for rock scrambling (which is considerable) prevent me from climbing a snowy mountain. I have faced-up to any and all required challenges, REGARDLESS of how mentally or physically demanding the task may be - and the sheer sizes of these completed peak lists guarantees that a broad statistical sampling of all obstacles HAVE been addressed with success.

Such obstacles include troublesome access, annoying terrain (bushwhacking comes to mind), LONG approach drives on seriously bad roads, and even the four letter word (when both steep and crampons are useless). The hobby "out west" is both quantitatively AND qualitatively NOT the same hobby one encounters "back east".

If anyone doubt this claim I exhort him to climb the APEX peak of his choosing....
in so doing he will get a taste of what TRULY is entailed in completing the western cohp list!

****************************************************************************

I THANK EVERY PERSON who joined me on any one or several of the 414 county highpoints - some FIFTY individuals. ALL shall be mentioned in my book, starting with Edward Earl and ending in Bob and Duane.

Among county highpointers a partial list includes the following people (in addition to those mentioned above).

Andy Martin, Scott Surgent, John Hamann, Richard Carey, Gail Hanna, Scott Casterlin, Mike Coltrin, Dean Molen, Dave Covill, Jim Perkins, Trapper Robbins and Roxanne Everett, Greg Slayden, Dean Molen, Adam Walker, Craig Willis (most recently at Buckner Mtn), Don Nelsen, Ken Russell, Jobe Wymore, Barney Metz, Sjaak van Schie (Netherlands), and Chuck Bickes.

*************************************************************************

I am NOT a natural athlete. Being small and scrawny I am better suited to playing chess and solving math problems. So for ME to have reached this point speaks volumes for what is possible with just a bit of resolve, a dash of chutzpah - and a wealth of free time.

DO your dream and watch it unfold.

Sincerely,
&nbsp &nbsp &nbsp &nbsp &nbsp &nbsp &nbsp Adam Helman

The pickup truck's odometer suggests 4,626 road miles. These "Adam truck miles" (ATM) appear to be roughly one-hundredth larger than normal, statute miles. Hence the true distance driven in my vehicle is perhaps 4,670 miles. Then too some 350 miles were driven as passenger to and from the Buckner Mountain and Mount Adams trailheads. The total, just over 5,000 (true) miles, is a personal record for a single peakbagging journey, eclipsing the 4,785 ATM of my July 2011 foray.

Bob Bolton and Duane Gilliland went beyond simple partnering in devoting much of their summer
to helping ensure my eventual success. Their "sacrifice" in this matter is hereby noted.

There are still SO MANY mountains "out there" which have not seen my shadow.
Hopefully the current double list finish is not a "beginning of the end"; rather, an "end of the beginning".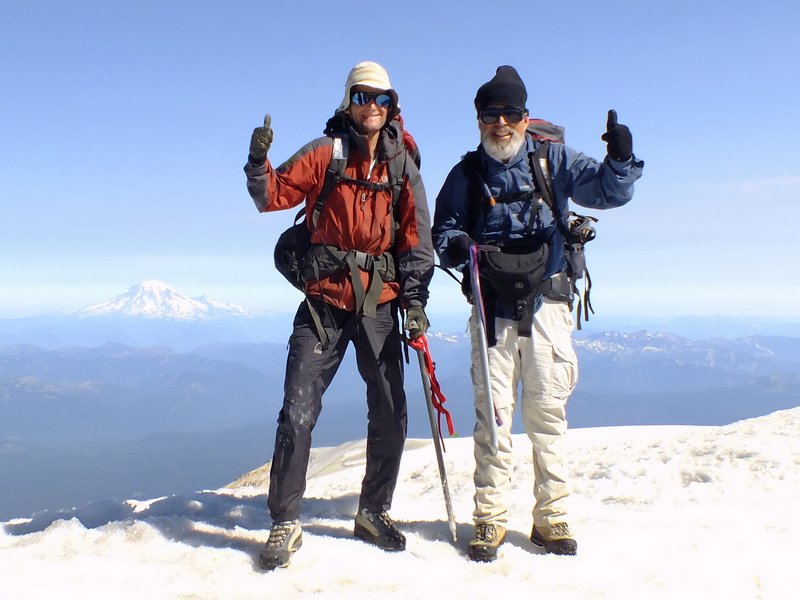 Adam Helman (viewer left) and Bob Bolton atop Mount Adams,
the final, 414th western USA county highpoint.
Magnificent Mount Rainier, the Pierce County highpoint, is in the left background. (BB)