Yakima County Highpoint Trip Report
Mount Adams (12,276 feet)
Dates: August 16 and 17, 2012
Author: Adam Helman
Washington State Completion
note 1: All coordinates are in the WGS84 datum.
note 2: Photographs courtesy of Bob Bolton.
note 3: Mouse-click most images for enlargement. summit videotape (mp4 file type, 8 megabytes, by Bob Bolton)
summit videotape at YouTube This effort was part of a larger journey collecting Pacific Northwest county highpoints in summer 2012. Bob Bolton joins me on this, the final and 414th western USA county highpoint - a long journey indeed, one that began over a decade earlier.

Thursday, August 16 - Mount Adams day 1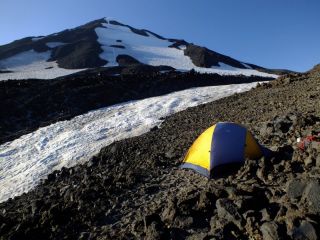 Our tent at the 'Lunch Counter' with the first
2,000 remaining vertical feet of the route visible.
Bob selects Carol's Corner, a restaurant known to provide large portions. Indeed, my cheese omelette (a continuing theme) is absolutely enormous - it stretches from one side of the dinner plate to the other, nearly falling off the edges. Plus it's thick, some 2 or 3 inches (!), stuffed with must be nearly a half-pound of cooked bacon. YIKES!
Bob's meal is larger still, as he gets hash browns without the substitution I make of extra toast in-place of the potatoes. How can it be finished? Bob is making much progress.... Amazing!
We scurry home to print a poster (see photograph) confirming my completion of the 414 county list while atop Mount Adams - and only then head off for the three hours distant trailhead in Bob's vehicle.
For reference our vehicle (100 feet northeast of the trailhead) is parked at (46.13588° N, 121.49752° W), elevation 5,637 feet.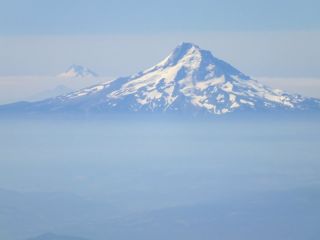 Mount Hood and distant Mount Jefferson -
'twofer' county highpoints
and ultra prominence peaks.
The ascent to high camp consumes some 5 1/2 hours. We initially have difficulty locating a windbreak-enhanced "circle" for our tent near what appears to be the only water source - coming directly off a melting snowfield. Eventually we make our own area out of a broadening in some pseudo-trail through the volcano rock.
Our camp is at (46.17740° N, 121.48329° W), elevation 9,237 feet.
It is HOT, so much that I raise my trousers above the knees to create "shorts". Tomorrow is forecast to be the season's hottest day, with 102° F for nearby Portland.
The route's steepest section is plainly obvious, leading from the Lunch Counter uphill for some 2,000 vertical feet to just short of Pikers Peak - a subsummit of Mount Adams which is presently hiding to its north.
Friday, August 17 - Mount Adams day 2 (summit day and descent)
This is my day to shine. It's no big deal getting to the top from here - only about 3,000 vertical feet with some moderately-angled cramponing to just before Pikers Peak. We arise at 5:30 a.m. with some light, and liesurely get going by 6:50 a.m. The hot oatmeal, cinnamon and spice variety, will get me up this initial slope.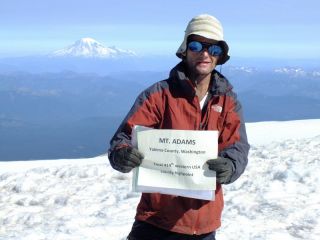 Summit poster confirms Adam's completion
(click for detail).
There are many other climbers, both below and above Bob and I. We ascend the snow's right side and then traverse left. Reaching the snowfield's left (west) edge I rest at rocks after some 1,500 feet of gain. Storing crampons with plans for a rock-only ascent from here, I wait for Bob and then watch as he continues on snow to our skyline where the gradient changes to essentially zero. This point is at 11,500 feet and only a few hundred yards prior to the gently-sloped Pikers Peak.
We rendezvous at this slope-change point, an obvious place to stop, huddling to the east of a sizeable rock outcrop to avoid the chilling wind. Our route from here is obvious, and, from the looks of it, does not appear to require crampons. We pass quite near the top of Pikers Peak, descend maybe 100 feet, and climb a moderately steep scree slope on an obvious climber's path to within 300 vertical feet of the top.
There are already people there (allowing me to judge the remaining effort by their apparent size). Bob tells me to wait just short of the top so he can videotape my final few steps. So about 30 feet below the rounded summit, and now on snow again (yet getting soft), I wait for Bob to pass me and achieve a good filming location. I then continue amidst his shouts of encouragement and the disbelieving gazes of several others.
Camera rolling, and with a considerable rush of adrenalin, I summit at roughly 10:20 a.m. Bob soons joins me, and a photography session commences in full-swing.
Washington has been completed!
The CONUS ultra list has been completed!
The western USA cohp list has been completed!
A bagel with Italian salami and aged gouda cheese is enjoyed, followed by descent to the change-in-slope point where we took our only break on the ascent. I go down my own way, shunning the climber's path and simply choosing a direct line to the desired location.
After a nice break Bob glissades down the snow slope. To my misfortune I go down the rock, and it is extremely tiring and difficult going! This I do under gathering heat, and after some 1,500 vertical feet I give up and, axe now out, descend the snow to our campsite.
I arrive bereft of energy, dragging my axe on the rocks and with no desire to break camp and head down. Yet it's only 2 p.m and we have no food for a second night here. I eat two granola bars, one being with coffee crystal-infused milk - my "secret weapon" when I simply have no desire to expend more effort. After an hour my legs have regained some energy, and I reluctantly head down with Bob.
The descent is rapid, and we arrive at Bob's car in a remarkably short 2 1/2 hours from camp.
The net elevation gain is 6,650 feet. The total gain is a bit higher owing to the estimated 75 foot drop just beyond Pikers Peak - some 6,800 vertical feet.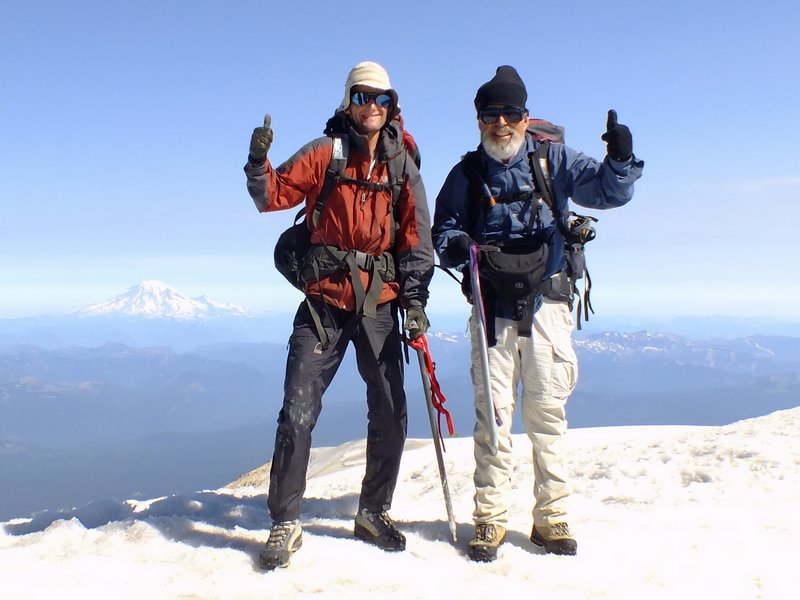 Adam Helman (viewer left) and Bob Bolton atop Mount Adams,
the final, 414th western USA county highpoint.
Magnificent Mount Rainier, the Pierce County highpoint, is in the left background.