Skagit County Highpoint Trip Report
Dates: August 10-12, 2012
Author: Adam Helman

Participants include Bob Bolton, Duane Gilliland and Craig Willis. note 1: All coordinates are in the WGS84 datum.
note 2: Photographs courtesy of Bob Bolton.
note 3: Mouse-click most images for enlargement. This effort was part of a larger journey collecting Pacific Northwest county highpoints in summer 2012.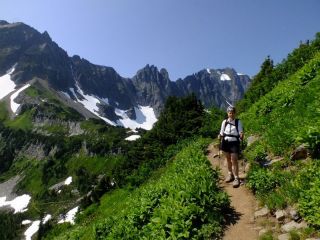 Rhonda, Bob's wife, above Cascade Pass.
After a hash browns and eggs breakfast at Duane's Burlington, Washington home we drive at 7 a.m., myself in one of two vehicles with "DENALY" parked in front of Duane's home. Bob, Duane and I will be joined by Craig Willis tomorrow morning after he climbs the 4,000 vertical feet from the trailhead before dawn.
Bob's wife Rhonda and Duane's wife Pattie accompany us to Cascade Pass, and then beyond, to a reasonable turn-around point for both of them. Views are magnificent, and only continue to improve the higher we get.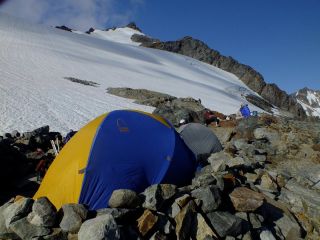 Our tents at Sahale Glacier camp.
Camp is made in one of the several available windbreaks. It's only about 3:30 p.m., and there's still over five hours of light to enjoy the superlative scenery. Bob identifies many mountains to our south. Immediately north is Sahale Peak, and some climbers are actively engaged on its slopes.
Sahale Glacier Camp is a large area with several windbreak-enhanced circular campsites. It is popular - hence a "throne" exists for bathroom activities at (48.48544° N, 121.04636° W), a bit west of where the trail reaches camp from below.
I look over to Buckner Mountain and see a hideously steep snow slope - it looks like about 65° for several hundred vertical feet. Although there are rock-based routes to either side of it, for some reason Bob says we "must" climb the snow. I am despondent - this looks nearly impossible, my attitude and demeanor going downhill for the day's remainder.
Saturday, August 11 - Buckner Mountain day 2 (summit day)
Craig arrives around 7 a.m. on a balmy morning. The sun ensures no gloves are needed, and we start sometime after 8. We have a picket, rope, axes and crampons.
After a 400 foot crampon-assisted descent we head down the rock rib. Then Craig demonstrates a route he took, avoiding the infamous "snow finger" that heretofore served as crux of a Buckner climb from Sahale camp. It merely involves some Class 3+ moves around a small tree, at (48.4845° N, 121.0332° W) and 6,700 foot elevation on the rib. One then exits the rock rib to its right (west) onto a grassy slope, thence heading downhill amidst (when we did it) a set of icy streams coming off the snow hill.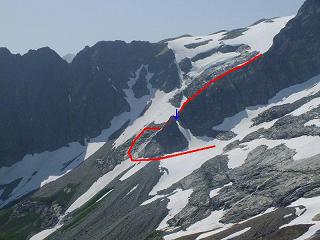 Our route down the rock rib and bypassing
the snow finger (blue arrow) is in red.
Dots indicate where the route is hidden
from view (click for detail).
That maneuver places us perhaps 75 feet below the snow finger's base and immediately under the rock rib - a small price to pay, indeed, for obviating the time to rope-up and descend it.
We traverse Horseshoe Basin, slowly gaining elevation to about 7,000 feet. At around 7,500 feet Bob Bolton, plagued with toenail problems and a lack of energy, calls it quits. He will wait for us at the snow finger's base for several hours.
The going steepens, and we decide to bypass a moderately steep snow "tongue" by taking the Class 3 yet solid rock to its right. Eventually, though, our general path suggests climbing straight up a roughly 40 degree snow slope. Duane leads, kicking steps in most admirable fashion, while Craig and I follow. It's exhausting work, these 200 vertical feet, and we agree to remain on rock to avoid spending more time than absolutely needed.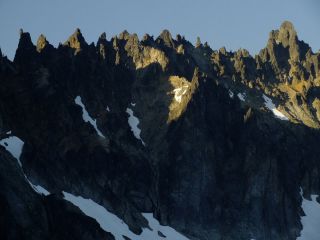 Ripsaw Ridge and Horseshoe Peak
immediately west of Buckner summit.
That snowfield seen at camp is now bypassed on its right (southeast) side, climbing on a combination of loose rock and scree. Finally we reach an obvious saddle immediately near the main (southwest) summit. I leave Craig and Duane there, agreeing to rendezvous at the saddle. Shortly after I reach the summit, and am greeted by an Alaska-like view over the north side to Boston Glacier.
The northeast summit looks no higher than I am ... which is noteworthy given the well-known phenomenon that the other summit of equal elevation to one's own position appears to be higher. I conclude based on years of experience that the northeast top is perhaps two feet lower.
I summit around 2:50 p.m., corresponding to nearly seven hours from camp. Then too after eating lunch in the shade of a large boulder, at the saddle, Duane and Craig return three-quarters hour later around 4 p.m. - reporting that their summit is undoubtedly lower.
It is now late. We must expedite our travels. In particular it would be awful to negotiate the rock rib ascent during darkness: how could it be done? I take a ridiculously long time descending the soft, unconsolidated snow, beginning some 600 feet below the saddle. I truly dislike this stuff. Wearing crampons there is little problem: the sense of loosing control is then largely absent. I learn, later, from both Duane and Bob, that they have a similar 'problem' with steep rock - one that I have never been able to empathize with.
California vs Washington
Craig goes ahead while Duane waits for me to get off the steeper snow. Hours later Duane and I reach the rock rib's base around 8 p.m. with only about 1 hour of useful light remaining. After an aborted try to find a climbable way onto it we eventually locate our downhill route, and hurriedly ascend the rock until the snow hill's base.
We are most grateful to reach here before it becomes totally dark. Now with crampons (the snow has hardened) we climb the hill with headlamps. On topping-out the route levels and we see assorted lights pointed in our direction. Arriving at camp around a quarter of ten Craig and Bob are pleased that we got back.
I eat a cold supper in my sleeping bag at 11 p.m., being too tired to cook a hot rice dish. The sticks of pepperoni and Dolly Madison raspberry Zingers will suffice for now.
View southeast from our camp.
Other directions are equally magnificant.
Group picture the morning we hike out with
two nearby campers. From viewer's left
are Duane, Craig and Bob. Adam is seated.
Sunday, August 12 - Buckner Mountain day 3

We enjoy final jaw-dropping views while eating hot breakfast food and deconstructing camp. The descent is uneventful, and, of course is rapid compared with our ascent the other day. At the automobiles by 2 p.m. we change into street clothes and head-off, yet stopping for refreshing treats at Marblemount. I enjoy a pint of Ben & Jerry's strawberry shortcake flavor Greek-style frozen yogurt to which are added multiple granola bars. Later, at Duane's home, both wives have prepared a vegetarian feast - replete with special rice, hot beans, and a large array of vegetables to make a huge salad for each of us. The variety seems geared to please me especially, as everybody knows that I crave it - especially with the displayed sauces and condiments.

Buckner Mountain marginally deserves the title of "APEX summit" even without the snow finger descent and re-climb. The net elevation gain is 5,500 feet as the summit elevation less the 3,600 foot trailhead elevation. To this one adds some 2,200 feet as twice the drop from camp to the rock rib's base at roughly 6,500 feet for a 7,700 foot total elevation gain. The round-trip distance is estimated to be 18 miles as 4 miles from trailhead to Cascade Pass, 2 miles more to Sahale camp; and 3 miles to the summit.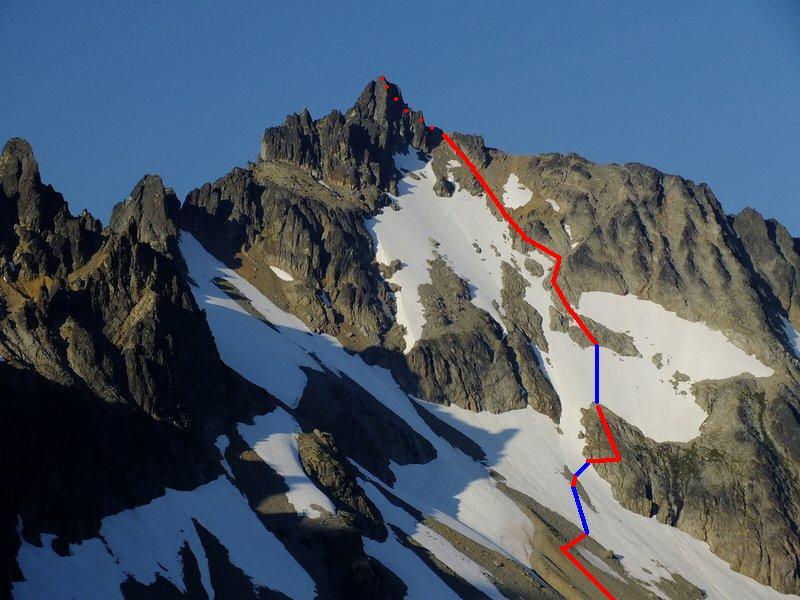 Buckner summit with our route shown in red (rock) and blue (snow).
Dots indicate where the route is hidden from view.