Valley County Highpoint Trip Report
Dates: July 22-24, 2012
Author: Adam Helman

Participants include Bob Bolton and Duane Gilliland. note 1: All coordinates are in the WGS84 datum.
note 2: Mouse-click images for enlargement. This effort was part of a larger journey collecting Pacific Northwest county highpoints in summer 2012.

Sunday, July 22 - Valley County day 1

Yesterday at the trailhead, and before some inebriating beer, I mathematically demonstrate to Bob and Duane that it's energetically sensible to make a dry camp short of Buck Lake even though it entails carrying 6+ quarts of water from the trailhead apiece. We select a saddle 9 miles out (Buck Lake is at 12 miles), and use that as the endpoint of our day's efforts.

A nice break arises in late morning as Bob and Duane cache their packs and climb a P1000 prominence, Pistol Rock, while I wait for them a short distance beyond at a saddle with good views both south and north. Lying down on this flat and level boulder was excellently refreshing...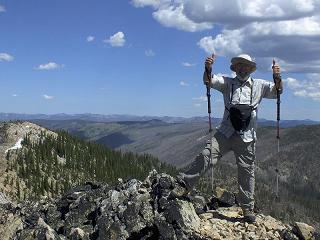 Bob Bolton at Pistol Rock on the first day.
(Bob Bolton photo)

Our camp at (44.80227° N, 115.32648° W) is some 8 1/4 miles from the trailhead, atop a minor hill (GPS-measured elevation 8,089 feet) and featuring, of course, no water whatsoever. The camp is some one-third mile short of the planned-upon saddle where we considered staying - until we found it had no place for erecting tents owing to brush and foliage all-about. I have sufficient water for cooking supper, drinking at night, for breakfast the next morning - and the roughly 4 miles to Buck Lake. Bob feels constrained by the dearth of water, desiring more to clean pots and other items. Monday, July 23 - Valley County day 2 (Big Baldy) We depart after hot breakfasts, oatmeal for myself, I believe, the "Peaches and Cream" variety to which is added dry milk powder and assorted nuts.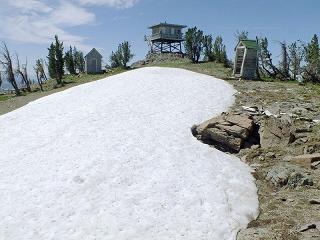 Big Baldy summit area with large
snow patch, lookout, outhouse.
(Bob Bolton photo)

The trail leading down some 600 feet immediately before Buck Lake is loose with scree and steep. It would have been horrible climbing up that section with full-size packs had we camped at the lake! The ups-and-downs along our route are many, and I attempt to estimate the resulting additional elevation gain. On our 12 hour summit day (15 miles yet with daypacks) we leave the trail as it sidehills under the west slope of Big Baldy at (44.78918° N, 115.22981° W), elevation 8,735 feet. We then head directly for the top in an ascending right traverse. At the summit tower we enjoy limitless views in every direction, taking perhaps a full hour to relax, eat, secure pictures, satellite-call my mother, and congratulate one another at this rather remote section of Idaho inside the Frank Church River of No Return Wilderness.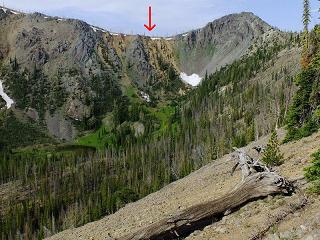 Red arrow points to the trail after it
zigzags 600 feet up from Buck Lake.
(Bob Bolton photo)

The return hike to camp includes filling all our water containers at Buck Lake and ascending the aforementioned scree path in the afternoon heat. Ugh! I arrive quite tired, yet feel moderately re-energized after several minutes rest followed by supper. More delectable cinnamon babka is enjoyed for dessert with milk. Both Duane and Bob also enjoy this treat, one that has never failed to please on numerous overnight climbs.

Tuesday, July 24 - Valley County day 3

Our hike out to the cars takes less than five hours as I continue to count the elevation gain. Dean Molen's "Stick a fork in it!" is joyously pronounced, and, after a shared snack session (with hummus) Bob and Duane drive off with the aim of reaching home by bedtime.

Comments One advantage of camping short of Buck Lake is that it avoids ascending the steep scree slope for 600 vertical feet immediately west of the lake on the hike out - with full packs (see photograph). A disadvantage, of course, is the need for conserving every drop of water while at camp - no dishwashing or bathing allowed! Our summit day (the middle of three days) featured an estimated (9,700 - 8,100) + 2 x 1,400 feet = 4,400 feet of total elevation gain. Day 1 is estimated at 2,075 feet of total gain and Day 3 (the hike out) at 1,875 feet. Hence the total elevation gain for Big Baldy was some 8,350+ feet, a value in-between the estimates of Ken Jones and Bob Packard.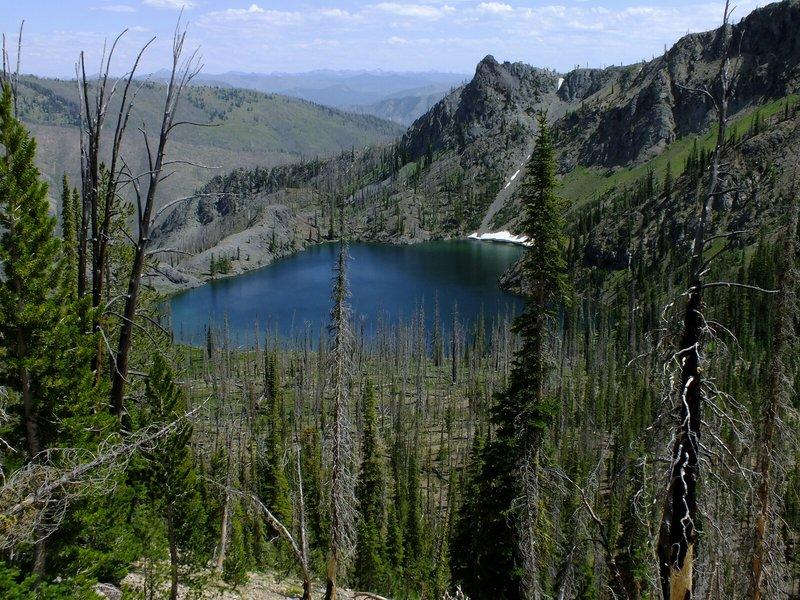 Buck Lake is 12 miles from the trailhead.
(Bob Bolton photo)