Lemhi County Highpoint Trip Report
Date: July 16, 2011
Author: Adam Helman

note: Mouse-click on any image for detail. This effort was part of a larger journey collecting Idaho and Washington county highpoints in July 2011. It is 33 road miles from Howe, Idaho along highway 22/23 to the turnoff for Bell Mountain. This point is also 5.8 road miles beyond Clyde, a couple of small houses and government office to the road's right (east). This point is also 0.6 mile beyond (north) of pavement's end, at least as of July 2011.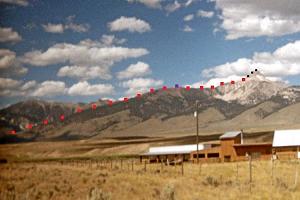 The violet square is for point 10,201.
The black squares are for the final 700 feet.
(Enlarge for viewing these items.)

It is 4.1 miles from this turnoff to the head of Basinger Canyon where one may park at 6,650 feet elevation. From here it's a 4,962 foot net elevation gain (I parked at 6,612 feet). Driving up-canyon requires high clearance and likely four wheel drive. A reasonable route that avoids the problematic rock pinnacles at 10,300-10,400 feet and goes over point 10,201 feet adds about 300 feet to the total elevation gain. I had about 5,250 feet of total gain by 1) dropping down only 20 feet at the pinnacles on the ascent; and 2) sidehilling around point 10,201 to its north side on the descent. The only means of avoiding additional gain is to both 1) remain on the ridge at the pinnacles (this is highly dangerous); and 2) sidehill around point 10,201 feet in BOTH directions. This permutation is exceedingly unlikely: hence Lemhi County's Bell Mountain is a 5,000+ foot county highpoint. As I encountered it, the final 300 or 400 vertical feet is extremely loose talus and scree. Ken Jones did report this; nor did Edward Earl (private communication). However my route seems like the most "direct" and "obvious" gully. If so, be advised that great caution on the descent is mandatory for this section.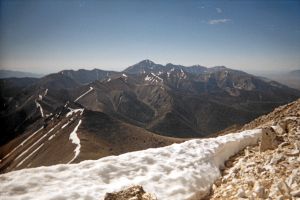 Diamond Peak is less than 10 miles from
this summit view at Bell Mountain.