Deer Lodge County Highpoint Trip Report
Date: August 10, 2010
Author: Adam Helman

note 1: All coordinates are in the WGS84 datum.
note 2: Mouse-click on any image for detail. This effort was part of a larger journey collecting Idaho and Montana county highpoints in August 2010.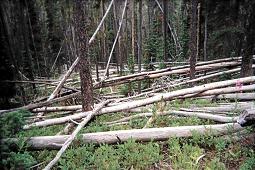 REMAIN ON-TRAIL:
this deadfall is typical.

I do not recommend this route. It is shorter and likely easier to use TR129 for an eastern approach. It is 29.7 ATM from I-15 (Exit 102 near Wisdom, MT) along Montana Route 43 to gravel FR1223, signed "Mudd Creek Road". One ATM (Adam Truck Mile) is about 1.01 normal miles since my odometer reads about 1% too low. It is 4.7 ATM along FR1223 to the National Forest boundary; and 5.1 ATM to a road junction at (45.88311° N, 113.33749° W) with FR1279. Bear right here onto FR1279. Drive 2.5 miles along FR1279 to the TR130 trailhead on your left (north). Parking is easy on the road's opposite side on grass. Here's the trailhead at (45.90218° N, 113.33682° W) and elevation 6,344 feet. There are several reasons why not to take TR130 (and then TR9)...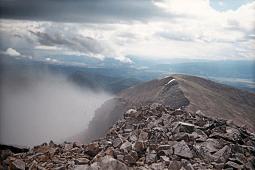 East Goat Peak from
West Goat Peak's summit.

I estimate a full 9 miles to reach this 8,580 foot saddle at (45.97412° N, 113.41594° W). Allow four hours on the ascent. TR130 is returning to Nature, unmaintained with ample deadfall. There is one location where it takes all my awareness to find it on the opposite side of one such nightmare. Furthermore, TR9 is muddy near any of several stream crossings. There are rock outcrops along the ridge for several hundred feet leading east to the summit - indeed, clear to treeline. This impediment considerably slows progress. Leave West Goat Peak's northwest ridge 100 feet below the summit to avoid a nasty subpeak directly in your path by descending perhaps 25 feet; traversing under said subpeak (to its west!); and then going east (not south) to gain the true summit along an ever-steepening route.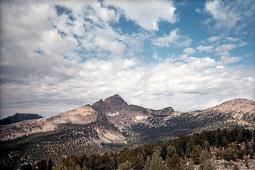 The Granite County highpoint,
Warren Peak, seen from roughly
9,000 feet on the northwest ridge.

The weather worsens as I climb the northwest ridge, turning to hail for the final several hundred vertical feet. I continue since there is no thunder. Once on-top the weather clears enough for views of East Goat Peak (see photograph) and, later, of Warren Peak in nearby Granite County to the west. I estimate 21 miles for the round trip, consuming 11 hours 50 minutes. This includes a 15 minute breakfast break, at dawn, already 3 miles into the approach hike. The net elevation gain is 4,400 feet. I estimate 175 feet of downhill travel before the saddle, adding 350 feet for a total elevation gain of 4,750 feet. My ridgeline rock scrambling, with its occasional need for descending below the true ridge only to regain it, adds 50 feet to my effort for a 4,800 foot total as I experienced this route.