Dirt approach roads become mud and cannot be driven.
Worse, they cannot be driven out.

Rocks get slippery and too dangerous when the route is steep.

Clothing gets wet, no matter how "waterproof" they are claimed to be.
This is uncomfortable and eventually serious if hypothermia is possible.

My glasses get too wet for seeing the route. With enough heavy rain
going without glasses is the only way to see anything at all.

Nothing is enjoyable any more when outdoors - from hiking to
eating on the tailgate.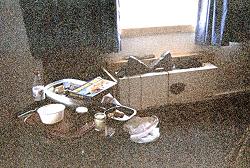 Inside the Warbonnet Motel room with
boots and socks drying on the heater
and a "Mexican Fiesta" TV dinner
halfway through its consumption.