Glacier County Highpoint Trip Report
Dates: August 16-18, 2010
Author: Adam Helman

Participants include Andy Martin, Dennis Poulin, and Adam Helman. note 1: All coordinates are in the WGS84 datum.
note 2: Mouse-click on any image for detail.
note 3: Photographs are courtesy of Dennis ("D") and Adam ("A"). This effort was part of a larger journey collecting Idaho and Montana county highpoints in August 2010. Preamble Mount Cleveland is on many peak lists. Better known as the highest point in Glacier National Park, the coveted summit is just one of ten county highpoints in the contiguous states on the Triple Crown list and map.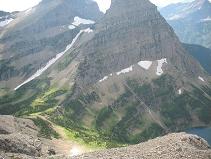 Stoney Indian Pass is at left
as seen from the "gray band"
of our west-facing traverse.
Stoney Indian Lake
is at lower right. (D)

List membership requires that a county highpoint involve at least 5,000 feet of elevation gain by any route; be an ultra summit (at least 5,000 feet of topographic prominence); and be an APEX summit ("toughest 20" county highpoint outside of Alaska).

Mount Cleveland does not disappoint in these matters.

Andy had wanted to climb Mount Cleveland for a few years, as did I - and yet we both missed-out on a pair of adventures with other county highpointers because of Park Service limitations on group size and a lottery held each Spring to reserve backcountry camping spots.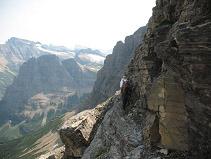 At-times the east traverse
is narrow with sharp drops.
Mouse-click to see Andy and Adam. (D)

Dennis joined our plans soon enough - as did John Hamann of Alamogordo, New Mexico. Indeed, it is John's application which "won" the lottery, providing us with a mid-August slot at Stoney Indian Lake the night before our summit bid. Unfortunately John is unable to attend owing to work-related constraints on his vacation time. The permit is placed in my name, and I learn this mere days beforehand, by a phone call from Dennis, while washing my face at a gas station restroom in Anaconda, Montana. Entering the Parks I arise from my Browning, Montana room on Sunday, August 15 and perform errands before starting-in on a Kahlua chocolate cream pie ($12.99) intended to provide plenty of energy for the upcoming effort. At 4,000 calories it will certainly fit the bill! (Sorry, no actual Kahlua is included - it only tastes like the "real deal").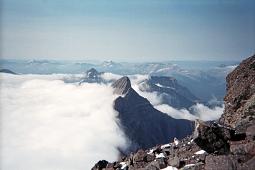 Morning clouds are blocked
by Stoney Indian Peak as
seen from roughly 9,500 feet
on Mount Cleveland's south ridge. (A)

An hour later, Dennis and I meet at 11 a.m. near the Visitor Center in Saint Mary, Montana. It is located one-half mile west of US Route 89 and the main mass of Saint Mary proper. There we secure the actual camping permit after I am briefly quizzed about a 15 minute videotape about precautions to take while in the Glacier Park backcountry. The film deals almost exclusively with bears, and I find this absurd since the main threat nearly always comes from nasty weather. Summarizing, the Park Service is abnormally single-minded about their insistence on keeping food, hikers, and bears separated. Although I agree that potential problems can arise in this matter, to insist that backpackers, on arriving at their designated site immediately store their food in a remote locker is being needlessly precautious. For my sake (and that of any reasonable person) food only gets stored when you are about to sleep and hence unable to be watchful and attentive.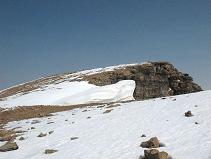 A cornice from last winter
contrasts with a recent storm's snow.
Summit is just beyond the horizon. (D) Mouse-clicking the image shows
Adam near or at the summit.

We enjoy lunch together, Dennis with a ten dollar swiss cheese / mushroom hamburger, and a plate of nachos for myself. The prices are high during tourist season. Then we caravan into Canada via the Port of Chief Mountain entry point by taking Montana Route 17 northwest from US-89. We spend the afternoon and evening at Waterton Springs Campground located as described below. Andy arrives within the hour, and we share a single space, number 218, large enough for at least our three vehicles and Andy's one-man tent.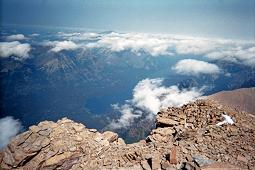 Upper Waterton Lake,
our departure point,
fully 6,250 feet below us
while atop Mount Cleveland. (A)

There is much to talk about, and pack for next morning, as we swelter in the afternoon heat. Andy and Dennis shower. I don't, having just been in a motel room. I save a quarter of the pie for breakfast the next morning before we drive to the boat launch. The majority of county highpointers (and perhaps climbers more generally) prefer a Canada-based approach wherein an international boat ride is taken from Waterton township south into the United States prior to hiking from the Goat Haunt ranger station.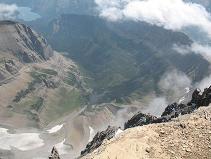 A jaw-dropping view
down into one valley. (D)

This driving route description is for the benefit of future efforts using this approach. I cannot fathom why this information has never been shared. For my sake, trip reports should provide enough content such that the reader can reproduce one's efforts. Forsaking a description of how to arrive at the required boat launch is a breach of that unspoken contract between author and reader. At the Port of Chief entry point Montana Route 17 becomes Alberta Route 6. Drive northwest on Route 6 for 13.1 miles to a junction with Alberta Route 5. Turn left (west) and drive for 0.5 mile to a second junction. Here, Route 6 continues north (right), leading to the Waterton Springs Campground, in 1.5 miles on the highway's right (east) side.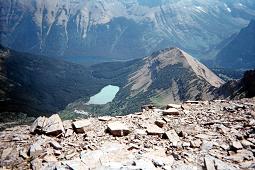 This lake is a stunning aquamarine
from dissolved, glacier-borne sediment. (A)

By turning southwest (left) at this junction one enters Waterton Park, with a kiosk in less than one mile. Americans climbing Mount Cleveland pay an entrance fee here rather than on entering Glacier Park during the boat ride. We are each charged $7.80 in American dollars, an amount that surely varies with the instantaneous exchange rate and year. It is 6.0 miles from the junction noted to Waterton township. Thus one drives 19.5 miles after entering Canada until parking at the desired boat launch. To get there, turn left immediately after entering town onto Mountain View Road.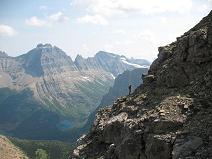 Adam set against the magnificent
scale of our surroundings. (D)

Waterton Cruises operates the boat(s) for crossing Upper Waterton Lake to the Goat Haunt ranger station at its south end. I recommend the 10 a.m. boat rather than the 2 p.m. ride. The journey takes 55 minutes, and includes narration in both directions. We pay $36 each, nonrefundable, for the round-trip. You may reserve in-advance and thus be guaranteed seats for the all-important outbound ride. Credit cards are accepted over the telephone (403-859-2362).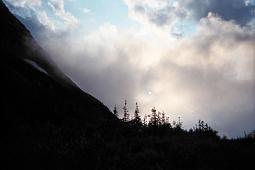 The sun hides in late
afternoon at camp. (A)

Provide a tentative date and time for the return, so reserving seats for the second crossing. If you take another boat after the climb then you will be accomodated only if there is sufficient room. The boat ride is enjoyable on this, only the second sunny day they've had in weeks. We can only imagine how depressing it would be to hike into our camp for eight miles... completely in the rain. Providing fair skies on numerous important climbs I've done with him,

Dennis does not disappoint in these matters.

One is deposited on the east side of the lake's southern shore. From here, one walks on a broad, paved trail for about 1,000 feet west to the Goat Haunt ranger station. The permit, affixed to somebody's backpack, is inspected - and your United States of America passport is required.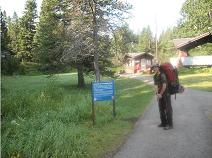 "Welcome to the United States"
along the paved path between
boat landing and Goat Haunt. (D)

This is an official United States entry point - and a sign makes that quite clear as shown in the photograph. Remoteness does not detract from this fact. Hike to Stoney Indian Camp The entire hiking approach is on well-maintained trail, and includes a junction at (48.92616° N, 113.89672° W) and 4,420 feet after 2.9 miles leading west to the Kootenai Campground. We break at this junction, with a nearby stream, in just under one hour.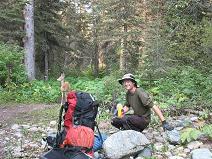 Adam and a local at the
Kootenai Campground
trail junction. (D)

It is then another three miles to an important trail junction at (48.89773° N, 113.90488° W) and elevation 4,700 feet. Here, one turns left (east) and gains elevation steadily for the first time. The approach to camp is fully eight miles in length and entails a 2,150 foot net elevation gain. Nearly all of that rise is in the final two miles after turning east at the indicated junction. I estimate 175 feet of downhill travel for the initial six miles, so adding 350 feet to the total elevation gain for the entire climb. At Camp The Park Service separates tent spaces from food preparation from outhouse. A map is conveniently provided alongside the trail. Tents are to the south of the lake's outlet stream and food preparation (with nearby bear-proof food storage box) are to the north. It is a 200 yard round trip hike between these two locations with roughly 40 feet of uphill. In a word, "inconvenience" comes to mind. Deer enjoy visiting the area, largely to lick salt from backpacks and other items. Small rodents are also seen - and I deem these nuisances as more prevalent and serious a threat than the odd grizzly bear owing to their vastly higher frequency.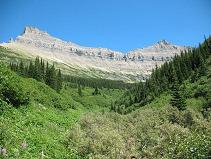 After turning east on the
approach hike one enjoys this
view up the drainage leading
to Stoney Indian Lake. (D)

For supper I enjoy four-cheese pasta with added salami. I cook it in two batches so that the experience is drawn-out. Later I sleep in the tent with Dennis. It is remarkably uncomfortable because it's simply too warm and there's just not enough floor space. Andy wants to start an hour before dawn. I want to start so as to not require a headlamp - about 30 minutes before theoretical sunrise at 6:29 a.m. We reach a compromise, and I set my watch's alarm feature accordingly at 5:15 a.m. Summit Day This is it! The BIG DAY! Weather is beautiful as we start out, in darkness, bound for Stoney Indian Pass. Andy begins 15 minutes before Dennis and myself; and we join at the pass, taking a break before continuing. The sun has yet to rise. The climb's "navigational crux" is at-hand shortly enough: picking a route to the southern end of the so-called "gray band" traverse on the ridge's west face. Rock cairns are strategically placed here-and-there for our descent; and we ponder if their absence is an intentional effort by the Park Service to weed-out backpackers trying to do something beyond their safety envelope.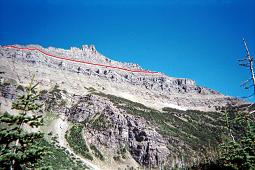 The "gray band" is followed
to traverse from above
Stoney Indian Pass to a notch. (A)

The gray band takes all of 20 minutes. It is simply a goat path traversing on a ledge which leads to a notch in the ridge where one crosses over to the east side. Dennis and I downclimb maybe 30 feet just before the notch to avoid some Class 4 terrain. Andy remains high, takes his time, and we meet on the notch's east side. Clouds dampen our view of the ensuing traverse, one that is fully 1 1/4 air miles in length not counting the twists and turns. At-times visibility is limited to 100 feet. We are not perturbed, however, as the general route is well known and we have GPS capability.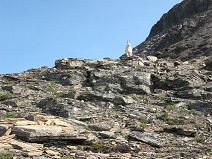 A mountain goat above 9,000 feet
suggests bears will not
perturb our summit bid. (D)

At the traverse's north end we have a break before crossing the windy saddle which leads to the upper mountain. Finally at around 9,300 feet we climb above the cloud layer into a sunny day! A mountain goat hints that bears will not pose a threat as we get ever-closer to our goal. Indeed, reports exist of climbers being turned back by bears feeding on cutworms and moths on the highest reaches of our peak. The goat's mere presence suggests that bears are not in the general area.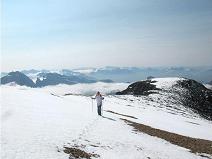 Andy pushes ahead on
the final, snowy slope. (D)

The recent storm from a few days ago has left snow above 9,500 feet as we near a subpeak. Coverage is limited, and I try to avoid it since wet boots and rock-hopping are a poor combination. We take a nice break just prior to topping-out on the subpeak. Beyond the snow gets thicker yet never poses a true obstacle. Andy punches through every now-and-then; and yet I find it wholly appropriate that snow be here, mere miles from Canada, in a park named after glaciers.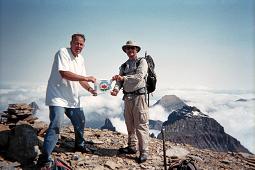 Success! Andy (viewer's left)
and Dennis display the
State Highpointers logo. (A)

There are snow cornices from last winter. Somehow I get ahead of the others, and enjoy complete solitude for the last few hundred vertical feet and quarter mile. I take a magnificent photograph soon after arriving at the summit lest the clouds suddenly evaporate and thereby lessen the moment's elusive ambience. Dennis and then Andy join me shortly enough, and we engage in a series of photographs both of these surroundings and ourselves. I enjoy a pastrami and swiss cheese sandwich on pumpernickel bread purchased in Browning two days earlier, saved for the occasion, and with ranch dressing.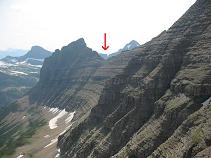 The east-facing traverse
on descent requires return to
the indicated ridgeline notch. (D)

The descent is uneventful - except that now we get a full view of the eastern traverse for the first time. We meet a pair of climbers at the saddle just before the traverse and exchange information. The climb is basically finished on reaching Stoney Indian Pass around 5 p.m. We then separately head down the trail, and I return to camp after 11 hours 26 minutes. We are delighted to have climbed Mount Cleveland! Return to the Boat Launch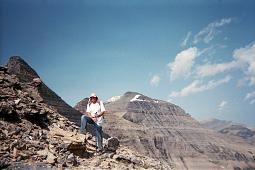 Andy completes our east
traverse after returning
from the summit. (A)

The desired boat departs at 11:25 a.m, and we arise early enough to give ourselves a one hour leeway. So after cold "bananas and cream" oatmeal I hike with Andy at 7. Ten minutes before the Kootenai Lakes Campground junction three guys, maybe age 20, come the other way and ask, "Is this the way to Waterton?". I ask if they refer to the Waterton Lake boat launch. On confirming this, I reply, "Well, you've only wasted 20 minutes." They follow me north and then to the boat launch. This park gets a lot of "bozos". No wonder there are so many draconian rules - to protect them from auto-destructing. We arrive at the ranger station around 10:20, and find nobody there to check our permit. We drop our packs at the boat launch, munch on food, awaiting the throng of tourists on the outbound ride before finding seats for our return. I use the rented satellite telephone to wish my mother "Happy Birthday" on this, her 75th birthday. Once the boat is in-motion the narrator mentions and points to Mount Cleveland. I spontaneously shout "Yyyyyyyesss!", and point to Dennis and Andy with three fingers raised to indicate we all were just there.

OH if only those other passengers could experience what we have!

By that means this boat ride would seem most trivial and uninteresting. Mountains have a way of doing that to other activities... The net elevation gain is 10,466 - 4,200 = 6,266 feet. At the notch one might descend 25 feet - and regain it on the return. Adding the cited 175 feet for the approach hike, the extra gain is twice 200 feet. Hence the total elevation gain is a devilish 6,666 feet. The round trip distance equals a marathon - just a bit over 26 miles. This includes a minimum of 9 miles for summit day; yet more likely 10 miles is a better estimate.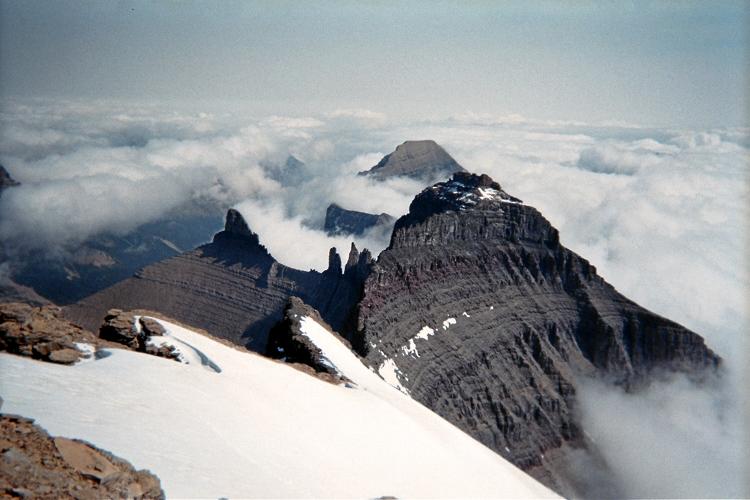 View northeast from Mount Cleveland's summit.
Awesome, glacially-scoured topography, such as shown,
spurred the formation of Glacier National Park. (A)