Granite County Highpoint Trip Report
Date: August 8, 2010
Author: Adam Helman

note 1: All coordinates are in the WGS84 datum.
note 2: Mouse-click on any image for detail. This effort was part of a larger journey collecting Idaho and Montana county highpoints in August 2010. It is 9.1 ATM from Montana Route 1, along Montana Route 38, to FR5106. One ATM (Adam Truck Mile) is about 1.01 normal miles since my odometer reads about 1% too low.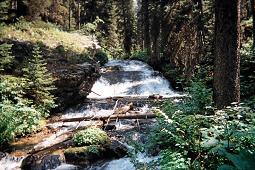 A waterfall just 30 minutes
into the approach hike.

Then it is 12.7 ATM south along FR5106 to this road junction at (46.03201° N, 113.52362° W) - where one remains straight and continues generally south. Finally it is 2.4 more ATM to the trailhead parking area. The trailhead is located roughly 100 yards north of general parking at the north side of an area reserved for horse trailers.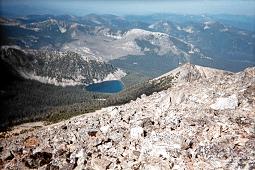 Edith Lake from Warren Peak's summit.
Peak 9452 is right of center.

The trail annoyingly starts north - the "wrong" direction; reaches an old trailhead in 1/4 mile; and then enters forest heading east before (finally!) trending southeast in the desired direction. There is a beautiful, broad waterfall 100 feet south of a bridge crossing at (45.98571° N, 113.50117° W) and 6,881 feet. Obviously TR29 is incorrectly drawn on the USGS 1:24,000 map, being shown too far north of this creek crossing. Continue for another 1/2 mile to a trail junction at (45.98211° N, 113.49358° W) and 7,360 feet. I take my break here.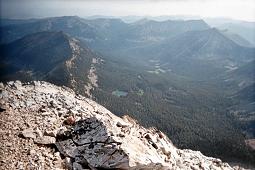 Lost Lake is aptly named,
lying hidden in a remote valley
just beneath the Continental Divide.

Turn left and proceed generally north and uphill, passing across a field of rocks during the traverse. The USGS 1:24,000 chart shows a trail junction here at (45.98366° N, 113.49143° W). That junction is incorrectly placed on the map. The true junction with the north-south HI LINE Trail is at (45.99057° N, 113.49346° W) and 7,823 feet elevation. This is well north of the indicated (and incorrect) location. Once at the HI LINE Trail follow it south to Edith Lake, gaining essentially no net elevation but meandering up-and-down a bit. The rock field is again crossed - this time perhaps 400 feet higher.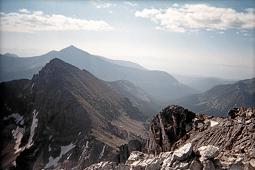 The Deer Lodge County highpoint,
West Goat Peak, is roughly
3 1/2 air miles east of
Warren Peak's summit.

Edith Lake is at 5 miles. I get water here and bushwhack in the general direction of point 9452. It is moderately steep. Immediately under this peak, at 9,270 feet, I decide that going straight over its top is going to involve serious rock scrambling. I traverse around its south slope - a mistake as I negotiate talus for what seems like an eternity in order to reach the southwest slope of Warren Peak itself. Choose your poison. If you simply MUST traverse peak 9452 (see photograph of Edith Lake), traverse below treeline to avoid the talus by leaving its western ridge well below where I did. The summit features great views, including West Goat Peak of the adjacent (and my next) county highpoint. I decide to descend a completely different way, heading south to treeline and then almost due west for Edith Lake. This route has its advantages if one can negotiate the occasional steep bushwhack. The net elevation gain is 4,150 feet. Add 2 x 125 feet = 250 feet for downhill travel along the five miles before Edith Lake for a 4,400 foot total elevation gain. Assuming 2 miles from lake to summit, and vice versa, one has a 14 mile round trip distance.