Lewis and Clark County Highpoint Trip Report
Dates: August 14 and 21, 2010
Author: Adam Helman

note 1: All coordinates are in the WGS84 datum.
note 2: Mouse-click on any image for detail. These efforts were part of a larger journey collecting Idaho and Montana county highpoints in August 2010. August 14 - Failure It is 5.9 ATM east from Lincoln, Montana along Route 200 to the desired forest road turnoff. One ATM (Adam Truck Mile) is about 1.01 normal miles since my odometer reads about 1% too low. This road junction at (46.97891° N, 112.55137° W) is also 18.9 ATM west of Rogers Pass along MT-200 and 30.7 ATM west of the MT-200 / MT-287 junction as measured prior to my second attempt. Take this forest road north. The first 2.6 ATM are paved as of 2010. From MT-200 it is 8.2 ATM to the turnoff for an organized campground a few tenths mile away. Some of this broad, gravel road is highly washboarded - and I find the "sweet spot" by driving at 35 m.p.h. to lessen the jarring ride.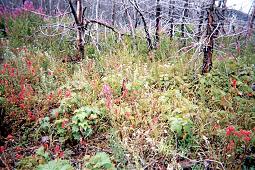 Assorted wildflowers
near the approach road.

Continue west on the road, beyond the campground junction for another 5.7 ATM to a significant road bend at (47.07302° N, 112.72398° W). Now continue for 1.2 additional miles as the road, now quite narrow, heads east-northeast along the south slope of a ridge to a second road bend at (47.08414° N, 112.70792° W) with 6,149 feet elevation. I camp here on this first attempt, using it as my trailhead for the next morning, because driving farther up the left fork ("771 A1") became seriously rocky and without a level spot to camp for the first 0.9 mile. Skies are clearing after a series of rain events. I am hopeful for the next morning.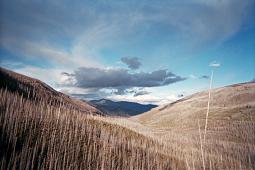 A clearing storm down the valley.

Unfortunately dawn comes with a light drizzle. I sleep for an hour more, and, by 7 a.m. the rain has ceased. Nevertheless there is a heavy cloudcover, and I cannot see the desired route. I start out anyway, hiking west up the road and taking the obvious, left fork after 0.1 mile. Nearly two miles later I am still heading west, clearly off-route. To set things straight I bushwhack steeply up a slope in the general direction of spot elevation 8245. I top-out at 8,100 feet and see that hill 8245 lies on the opposite side of a saddle several hundred feet below me to the northeast. I descend quickly, getting ever-wetter from the plants which have taken a soaking. By the time I reach the 7,200 foot saddle I too am completely wet ... and then ... and then ... two grizzly bears squarely in my path just 100 feet away! I stop and make myself "look large" by raising my arms. The bears are unimpressed, and simply lope away in a perpendicular direction. I slip as the rocks are also wet. I am off-route, cold, cannot see the route shrouded in cloud, and have wasted considerable effort. I give up and save this one for a better day. August 21 - Success My error was in going left at this road junction at (47.08368° N, 112.71032° W) with 6,235 feet elevation, and a mere 0.1 mile beyond my former carpark at the second road bend. There, bear right onto signed "771 A2" and drive 0.5 mile along a most narrow track to park in a level, cleared area at (47.08588° N, 112.71948° W) just short of a stream crossing. This is your 6,393 foot trailhead.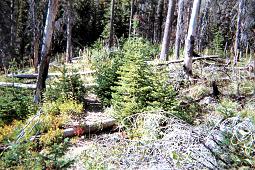 The former mining road has
largely returned to Nature.

The road continues beyond the stream yet must be walked since heavy foliage completely obscures it on the opposite bank. It can no longer be driven - not even by an ATV. Cross the creek on-foot and locate the track as it veers right (east), losing the brush after about 200 horizontal feet. The track zigzags up a south-facing slope, switching directions a total of three times before finally heading west along a ridge. This section gains about 400 feet elevation. The final, west-trending (and longest) portion is barely recognizable as a former road (see the photograph). If you cannot follow this track, just remain on the ridge and proceed to this waypoint at (47.08931° N, 112.72226° W) and elevation 6,817 feet. From that point the dirt track gets seriously steep (for a road, that is). It continues to an old adit at (47.09006° N, 112.72278° W) and elevation 6,888 feet.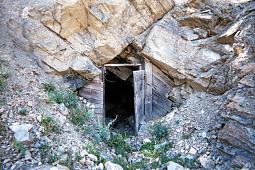 End of the deteriorated mining
track reveals this old adit.

From here head steeply northwest to spot elevation 8245. Its bare summit area at (47.09728° N, 112.73181° W) has some abandoned wood in a rectangular pattern - perhaps evidence of a former structure. I measure 8,282 feet here. Continue along the obvious ridge west, losing about 25 feet before continuing higher - now above the most tenacious of trees. The ridge trends north, and I am fighting a high wind by staying just to the east of the true ridgeline. I sidehill around the east side of peak 9250, a mistake owing to both the extra distance and effort of avoiding a twisted ankle which is all-too-easy to get when talus-hopping sideways. On the descent I go right over the top of peak 9250. Red Mountain's summit has two possible areas. Likely the southwest area is higher, with a destroyed / dismantled rock structure and benchmark. For the northeast summit I measure (47.11722° N, 112.73774° W). The southwest summit measures (47.11671° N, 112.73879° W).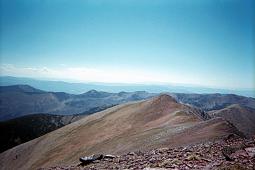 Summit view southwest with
point 9250 in mid-background.

Fifty or sixty miles west, on a rough 280° bearing I see a mountain range with plenty of snow. I am alarmed since that's the distance and direction of my next and final goal - Peak X of Missoula County. Were it not for this observation I may not have completed the Montana county list two days later, as it suggests taking an ice-axe which ultimately proved essential on that later effort. The net elevation gain is 3,000 feet. Add 2 x 25 feet (for the downhill portion just beyond spot elevation 8245) for a necessary total elevation gain of 3,050 feet. I recommend going over peak 9250 in both direction, adding 2 x 150 = 300 for a more realistic total elevation gain of 3,350 feet. My total elevation gain is 3,200 feet since I sidehilled around peak 9250 on the ascent. My ascent consumes 2.4 hours; the descent 2 hours. The round trip takes 5 hours with a half hour summit siesta.