Pondera County Highpoint Trip Report
approach and climbing route distances and waypoints

Date: August 20, 2010
Author: Adam Helman note 1: All coordinates are in the WGS84 datum.
note 2: Mouse-click on any image for detail. This effort was part of a larger journey collecting Idaho and Montana county highpoints in August 2010. I was concerned about this one owing to recent rains. Fortunately it is now attempted after a multi-day spell of hot, dry weather. Drive 0.5 mile north of Dupuyer town center to broad, gravel Swift Dam Road. Zero the odometer here as you exit US Route 89. Note: One ATM (Adam Truck Mile) is about 1.01 normal miles since my odometer reads about 1% too low. At 17.9 ATM is the junction at (48.16566° N, 112.86590° W) and 4,757 feet elevation with a road leading left (southeast) to one public campground. Disregard it and continue 50 yards southwest; thence turning right (northwest) onto another road, thereby entering Blackfeet Indian land 0.1 or 0.2 mile later as this poor, dirt road turns left (west). At 18.5 ATM is the junction at (48.16659° N, 112.87632° W) and 4,930 feet with a road to the left, soon after climbing to above the dam on its north side. Disregard the road and continue straight. At 20.1 ATM I park in a level meadow at (48.16106° N, 112.90174° W) and 4,979 feet; along the road's left (south) edge, just before the road descends all of 30 feet to cross Haywood Creek. It makes little sense to cross Haywood Creek by vehicle since the road is blocked a few hundred feet later by a fallen tree. Only an ATV might get around it, gaining 100 vertical feet and achieving this junction at (48.16089° N, 112.90326° W) and 5,058 feet with TR121. Hike from the cited parking area. Cross the creek on-foot, and, once on TR121 turn right (west). Less than one mile into the hike you lose maybe 50 feet and enter the broad, flat washout plain for Birch Creek's north fork on its extreme northern edge. The trail is hard to follow as it barely edges its way around the wetness along a sandy, south-facing slope. In a few hundred yards this crap ends and the trail continues on its merry way west. After an estimated 3 miles from the start encounter this trail junction at (48.15786° N, 112.95766° W) and 5,256 feet with TR171 - the Blind Creek Trail leading southwest. The USGS 1:24,000 chart incorrectly places this junction.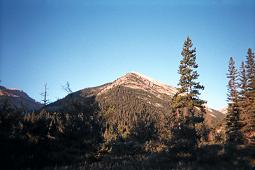 This mountain hides the county highpoint
as viewed from the approach trails.

Take the Blind Creek Trail southwest. In perhaps one-half mile is this crossing of the Birch Creek north fork at (48.15642° N, 112.96235° W) and 4,930 feet - which could be problematic during early season or after a major rain event. I am able to cross with only a nearby stick as there is just 4 to 5 inches of running water. Continue south on TR171 until it turns obviously southeast rather than south. This is where you want to leave it and bushwhack, rather unfortunately, southwest up a drainage. The USGS 1:24,000 chart incorrectly places this departure point. According to my GPS-based readings, the trail starts heading southeast roughly here, about 500 feet northeast of the map's location. The bushwhack is nasty and slow. When you reach this point be sure to take the right (west) fork uphill. There is some avalanche debris, and you will be compelled to leave the streambed and traverse on an adjacent slope to bypass this mess. At about 6,300 feet the bushwhack's character improves, and you change from a general heading of 240° to 210° true. From here on there is no horrible mix of brush and wet rock to tangle with. Continue to the flat lower basin, at about 6,700 feet. It takes me about 1 1/2 hours to get here after leaving the trail.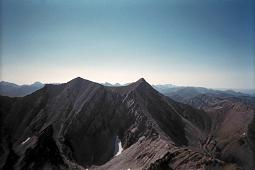 Mount Fields is south-southeast
of the county highpoint.

Now go to the flat upper basin, at about 7,300 feet. From here the final 1,100 vertical feet is plainly in-view; and you head roughly north-northwest on easy slopes to this saddle, immediately southwest of the highpoint. I battle high winds which nearly knock me over as I climb to the saddle. Once on top I find Bob Packard's summit register but don't care to examine the contents - it is simply too windy. I sit maybe five minutes downwind some ten feet below the summit, and only have a small granola bar instead of my "summit" sandwich - one which eventually gets enjoyed on returning to the lower basin. My GPS unit reads (48.13351° N, 112.99668° W) at 8,437 feet elevation for the highest summit rock, and with an 18 foot error range. The net elevation gain from my recommended carpark is 3,450 feet. I estimate 125 feet of downhill travel on TR121, adding 250 feet. To this one adds twice the downhill elevation loss to cross Haywood Creek immediately after starting out - another 75 feet. Thus the total elevation gain is some 3,775 feet. The round trip costs me some 10 hours, returning around 4 p.m. after a dawn start.