GPS-Derived Coordinates and Elevations

---
record the following GPS-derived latitudes, longitudes, and elevations for key waypoints prior to and along the Normal Route. The WGS-84 datum is employed, so corresponding to both the recorded coordinates of earlier reports, and those available from Aconcagua Provincial Park datasheets.
SRTM is the Shuttle Radar Topography Mission, a project that provides worldwide digital elevation data available at the USGS (United States Geological Survey) website.
river gully - 8,856 feet at (32° 49' 37.1" S, 69° 54' 14.6" W) Beginning of ascent. The nearest SRTM datapoint is 8,875 feet. Did we just barely "miss" a 14,000 foot net elevation gain?
Base Camp - 14,357 feet at (32° 38' 54.9" S, 70° 03' 28.9" W) Base Camp coordinates at my tent half-way up the slope on which this "tent city" is situated.
Camp Canada - 16,601 feet at (32° 38' 41.3" S, 70° 02' 35.2" W) This value is 200 feet higher than certain published yet outdated elevations. However it agrees with the modern, SRTM data.
Lower Condores - 17,630 feet at (32° 38' 22.5" S, 70° 02' 08.4" W) In the SRTM data, the change in route slope occurs at 17,500 feet. In agreement, our camp is located immediately above this slope change ("cambio de pendiente").
upper food cache - 18,559 feet at (32° 38' 06.2" S, 70° 01' 27.9" W) Halfway from Nido de Condores to Camp Berlin. I feel this point is really at about 18,400 feet based on a subjective sense of elevation gained while climbing from Lower Condores. However the SRTM data indeed suggests a value near 18,550 feet.
Camp Berlin - 19,453 feet at (32° 38' 17.4" S, 70° 01' 17.5" W) The nearest SRTM datapoint is 19,449 feet. I thus have confidence in our measurement.
Summit - 22,847 feet at (32° 39' 11.2" S, 70° 00' 43.4" W) The east summit of Aconcagua. The generally held value of 22,841 feet is within the "error sphere" of our GPS unit's accuracy. The Aconcagua Provincial Park datasheet lists (32° 39' 11" S, 70° 00' 43" W) with arcsecond precision. The 0.4 arcsecond discrepancy with our position is about 40 horizontal feet - an amount accounted for by the summit plateaus's areal extent; and the absence of tenth-arcsecond precision in the datasheet value.
---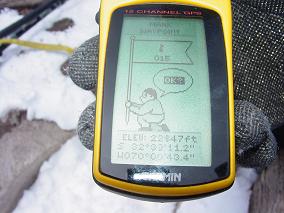 Proof! Adam holds the GPS unit at Aconcagua's summit.
Note the elevation and horizontal coordinates.
(Mouse-click the image for enlargement.)
---