---
ase Camp is a village that appears every summer; flourishes; and then closes shop for the season. The international clientele provide a fascinating cast of characters, each speaking his or her private language with a smattering of English for good measure.
This venue is unique. Only at Plaza de Mulas may one see mules, alpinists, and a helicopter in the same picturesque image. At Kilimanjaro there are no mules. At Everest Base Camp one might see yaks as the beast of burden. At Mount McKinley you'll find fixed-wing aircraft performing the analogous role. So, as stated, Plaza de Mulas is one-of-a-kind - and I set out to explore Base Camp under the pretense that, as we are there anyway to acclimatize, I might as well make the most of it!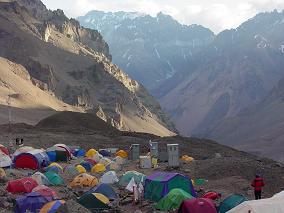 A view of Plaza de Mulas base camp
looking south to the Horcones Valley approach.
Note the windsock in the left midground
for helicopter operations.
I enjoy being introduced to several climbers, more-or-less randomly, as the days pass. The main topics are quite naturally plans for how and where to acclimatize, and the weather. Some climbers approach me at our camp; while in most cases I meet people on any of the "main avenues" that are the principal walkways within Base Camp. Humorously, some paths even have street signs.
A hotel lies one-half mile west of Base Camp, and offers full services such as room and board and hot showers. The availability of rooms can be made a tactical advantage: one could move camp (with tent); then descend and sleep at the hotel - the "Climb high, sleep low" paradigm. The next day one reascends to the new camp.
Sometimes I am at a loss as to when a domicile with rooms for rent should be called a motel or a hotel. In this case no ambiguity exists - the word motel is a contraction for "motor hotel". As one cannot drive to this lodge, "motel" has no meaning in the present context.
Edward, John, and I hike to the hotel on Day 4. There is a 100 foot elevation loss followed by perhaps a 200 foot gain. After nineteen minutes hiking we enter the lobby and sit. The front porch is a glorious place to review the climbing route up to the change in slope at Camp Alaska. I enjoy one-half a roquefort pizza for $6, sharing the final two slices with John and Edward. The cheese is so thick it nearly obliterates the crust. I dare say it is one of the tastiest pizzas I have ever enjoyed - regardless of elevation.
Meals can be purchased at several quonset style tents - breakfast; pizza; hamburger; steak; even beer and wine. The beverages are very expensive since they are heavy and must, as with everything else, be carried from lower elevation. On Day 6 I treat myself to a mid-day cheese omelet for five dollars. Of course it is delicious - stuffed with a savory cheese, and served with sourdough bread and sliced tomatoes.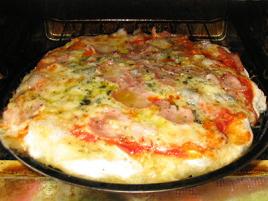 roquefort pizza

A helicopter services Plaza de Mulas during good weather. The entire camp stares while the chopper arrives, hovering in-place as a large metal cylinder is off-loaded in exchange for either another cylinder or people or both. The helicopter is also used for airlifting climbers in distress - generally when suffering from a severe, altitude induced malady such as HAPE (high altitude pulmonary edema). This service is free with the park entrance fee.

At Lower Condores we once see a helicopter fly above Nido Condores camp (18,000 feet). That is very high for a helicopter, and I surmise that somebody is in serious trouble, suffering either an altitude or a cold-induced injury.

A guardaparque ("park employee") is available to provide a medical check on your acclimatization. Free of charge, this service is rendered in the quonset hut with a

red "+" insignia to the northeast of the camp entrance facilities. The hours are limited to late morning and late afternoon. Your arterial oxygen saturation, pulse, and blood pressure can be tested. Recommendations are then made - but are not enforced.

Water is available at Base Camp without having to melt snow or purify questionable sources. This luxury is unavailable at the higher camps.

An Internet connection is available for use at $10 for fifteen minutes of computer time. At this blue tent which doubles as an art gallery, one also makes telephone calls for $3 the minute. The owner and operator also provides a webcam which generally points towards Aconcagua's northwest face. Claimed to be the world's highest webcam at 14,400 feet, its image can be seen at www.aconcaguanow.com . At night a strobe light flashes to guide stray climbers home.

Noisy mid-night celebrations are often heard from tents with recent Aconcagua summiteers. It is very annoying to the majority of climbers who need a good night's sleep prior to resuming their upward toils. This is one aspect of Base Camp I find quite unacceptable.

Other camps along the Ruta Normal are considerably smaller and offer little or no commercial services. Edward Earl claims that Base Camp was far messier six years ago - evidently the park fees are going to something useful after all.

If you know more than English I recommend you "get out there" and make acquaintance with other climbers at Base Camp. You might learn handily from their experiences high on the mountain.

Ariel, a solo Argentine climber, constructs his tent next to our pair. We share acclimatization plans and also the occasional piece of food. The conversation invariably and predictably trends to "mountain talk".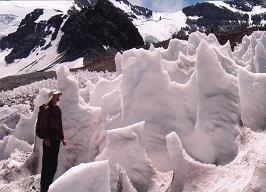 Adam sets the scale for nieve penitentes
located between Base Camp and the nearby hotel.
Upon return from the summit I encounter a Norwegian soloist who appears to be quite prepared. He plans to meet his girlfriend for climbing via the Guanaco - Relinchos Valley route, and is at Plaza de Mulas Base Camp merely to acclimatize. He knows good English, and I am confident in his abilities even though he is very skinny. That's OK - after all, I never see one overweight climber among dozens (or even hundreds) biding their time at Base Camp. Thereby one concludes that only being overweight forms an impediment to "upward mobility".
I meet a Macedonian. This man, "Azdrafco", also plans a solo ascent. Azdrafco claims that I am the very first foreigner to pronounce his name correctly. How does one answer that? All I can muster is, "I try very hard".
Referring to me simply as "American", we have a "summit meeting" near my tent to discuss his immediate climbing plans because, in his words, "Nobody does anything without the approval of America". The Norwegian attends our mock negotations; and it transpires that he will assist Azdrafco in carrying a food cache the following day to Camp Canada.
I am concerned about Azdrafco, not the least because he shows me his food supply - and it is largely fresh fruit and vegetables that weigh far too much for the calories provided. It is as if he has never gone backpacking previously. The next morning, as we prepare to head down, Azdrafco demonstrates a large honey jar. I give him my remaining half-pound of macadamia nuts; two quarts of dry milk; and, seeing the honey, am finally satisfied that he does have enough food to eat for his planned ten days above Base Camp. Hot milk with biscuits spread thickly with honey and nuts sounds like a wonderfully nutritional and high energy breakfast.
I give to Azdrafco my copy of R.J. Secor's book on Aconcagua. Clearly he needs it now more than I do.
Part of the Aconcagua "experience" is lost if the effort is not made to meet other climbers and share in their thoughts and wisdom. I guarantee that you will find this a rewarding activity regardless of your proficiency level in foreign languages.
---