---
enjoy talking about, preparing, and eating all manner of delicious food and drink. Although every healthy person enjoys eating, I take the subject to a higher plane. This is beneficial on a lengthy expedition because my predilection for a variety of different foods stimulates the appetite where it readily wanes owing to high altitude.
At home I eat a large lunch, a habit aligned with much of the world, and in contrast with the unhealthy American habit of sitting down to a large evening meal. Unfortunately a formal meal in the middle of a climbing day is inconvenient. Thus on an expedition the trend is to eat a hot breakfast and a hot dinner, relegating "lunch" to a day-long snacking affair that begins in the morning and continues until supper.
Dinners
ased on his expeditionary experience at Mount McKinley, Edward suggests that we select three or four standard dinners, and repeat them, over-and-over again such that the same meal is encountered on every third or fourth night.
While that concept obviates eating the same food on consecutive days, I have plans to augment the variety level. With up to seventeen dinners on the mountain, we decide that roughly two-thirds of them, as twelve meals, should be group dinners. The remaining meals are individual dinners with an obvious definition.
Then, given twelve communal evening meals, I solicit several menu suggestions from every member. Having menu suggestions in-hand, I cull them to thirteen completely different meals with the criterion for inclusion being to maximize their diversity:
Instant mashed potatoes with gravy; shredded cheddar cheese; canned turkey and chicken. After the expedition, John says this is his favorite group dinner.
Hamburger Helper Cheese Lasagna with diced summer sausage. So cheesy, the extra cheddar cheese on-hand proves superfluous.
Ham and cheddar cheese pita sandwiches. This dish is tricky because it requires careful sauteeing with oil in a non-Teflon frying pan. I suggest that we enjoy this meal at Base Camp where on a rest day the long preparation time is not an issue. For the reader I suggest using a combination of cheddar and blue-veined cheeses in a 2:1 weight ratio. Unfortunately we lack blue cheese. The result of John's cooking appeals nonetheless.
Chili with added cheddar cheese and diced summer sausage. Post-expedition I vote this to be my favorite group dinner. Each person gets perhaps a quart of chili, a large amount, in part because Robert has left and so we have three people to share a meal originally designed with four in mind ... lucky us!! We are so eager to enjoy this dish that we dig-in before the broth is completely reduced in volume. The beans sit at bottom, and, the first ladle enjoyed, containing just rich, red, chili-infused broth without beans, proves tastiest. Esau's bowl of red pottage was good enough to sell his birthright. Indeed, the first bite is invariably best!
Asian-style noodles in a sweet and sour sauce; tinned chicken (or turkey Spam). I enjoy adding cashews - a perfect combination.
Chicken broccoli pasta.
Butter herb italiano pasta.
Noodles Stroganoff with sausage. These three meals are never eaten because the expedition concludes three days earlier than the maximum possible duration. I really want to enjoy the Stroganoff dish - especially as I prepare and bring dehydrated mushrooms from California as an addition.
Spaghetti with tomato sauce. This uninspired concept proves tasty with sufficient sharp romano cheese and, in my case, chopped garlic.
Chicken noodle soup (hearty variety). This dish is reserved for after a successful summit bid when we are tired and only want "something hot". Furthermore, as we would thence be traveling downhill, there is no need for a more calorically satisfying entrée.
Cajun-blackened pasta with Argentine roast beef in gravy. My signature dish that I enjoy preparing time and again. It is enjoyed on our first night, at Confluencia Camp, because the butter, an essential component, may have spoiled at Base Camp as the days passed. In contrast, it is cold enough above Base Camp for butter and other perishables to remain safely consumable into perpetuity. We joke about the quantity of butter consumed, noting that such abuse of our bodies is tolerated only because of our climbing plans and the calories it burns.
Chinese beef Lo-Mein noodles. Tinned turkey Spam, dried jalapeño peppers, and cashews are welcome additions.
Spinach fettuccine in an Alfredo sauce. Served with canned tuna fish. Garlic and pine nuts are available. This meal is also never eaten collectively, being replaced on the final night (Day 14) at Base Camp by individual meals on account of an overpoweringly painful lip that prevents me from eating normally. I eat some bagels with assorted cheese and sausage. I visit my parents one week after returning to California. They treat me to a king-sized lunch at California Pizza Kitchen. My entrée is fettuccine in a garlic Alfredo sauce, to which I add the spinach soup mix intended for use at Aconcagua. I consider this multiple course meal to be my celebratory, post-Aconcagua feast - one that commences with a blue cheese, apple, and candied pecan lettuce salad; and concludes with a giant caramel and hot fudge sundae that we share three ways.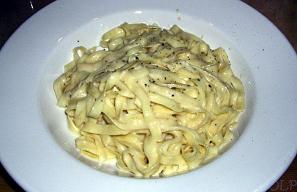 fettuccine Alfredo
One individual meal night is shared by John and myself - pesto pasta with romano cheese, pine nuts, and olive oil. John's vial of oil had sprung a leak. I acquire a few ounces from the Mallku Expediciones mess tent to make good the difference with our requirements.
I am gratified to learn that John is also fond of exotic food and new taste experiences. He constantly accepts my suggestions for how to "spice" this-or-that dish. Indeed, his spice kit mirrors my own quite closely - curry powder, garlic, tabasco, etc ... .
The predominence of pasta-based meals is intentional: carbohydrate is better tolerated at high altitude than fats and protein. Steak and similar fare could wait.
Eating on the mountain is sometimes the only thing to "look forward to" on an otherwise lazy day. It is with pleasure I state that our choice of dinner items stimulates our appetites, and, with that, improves group morale in a way not possible with freeze-dried food.
Edward corroborates this concept, stating that freeze-dried meals lower group morale and are thus not worth the weight savings.
Breakfasts
ttention to variety is not so keen with breakfast. In part this arises because, let's face it, standard breakfast fare is inherently not as varied as lunch or dinner. As with dinner, we decide to have individual and group breakfasts.
The individual meals consist of hot oatmeal (Adam, John) or brown sugar Pop-Tarts (Edward). With eleven varieties ranging from blueberries and cream to cinnamon roll, I can anticipate with relish and then enjoy a different flavor nearly every time.
VARY THE MENU TO STIMULATE THE APPETITE
The group meals are reserved for non-moving days since they ALL involve baking pancakes, one-at-a-time in a small frying pan - a time consuming process. In time I grow quite unhappy with the pancakes for several reasons:
They are thinly-shaped disks that cool extremely fast in the mountain air. By the time you finish one it is only luke warm. Hot oatmeal, as a thick and voluminous liquid, suffers no such problem.
They provide little hydration. Hot oatmeal, being mostly water by mass, affords a good amount of fluid hydration to start the day.
They are IDENTICAL every morning. Eventually I find myself adding chopped ingredients to the batter as it cooks - ginger and macadamia nuts; kosher "bacon" (from beef) with brown sugar syrup; raspberry jam and butter. With this newly-won variety I find the pancakes to be marginally acceptable.

We would have enjoyed scrambled eggs at breakfast. A cheesy omelet would be better still. However I have found that powdered eggs taste bad upon rehydration. Furthermore, they provide no carbohydrate as required for performance enhancement. To bring real eggs up the mountain courts disaster should they break. They also have a lower than ideal calorie / weight ratio.

Snacks

ll food between breakfast and dinner is included here. We each bring snack food for personal consumption, the resulting items necessarily different between individuals.

My chief sources of energy are granola bars (fifty total), the six varieties enhanced by assorted dried fruit; cashews and macadamia nuts.

On summit day I enjoy a bagel with salmon paté and some romano cheese - constructed the previous evening at Camp Berlin. I unwrap granola bars the previous evening so I do not have to remove hand layers to prepare and eat them.

Other snacks create the illusion of a balanced diet - chocolate covered espresso beans; home-dried salami and jerky; and (!) dried gefilte fish.8

If you are halfway normal then food is a welcome companion in an otherwise tedious day - be it from boredom in a storm-bound tent, or as the sole creature comfort on an exhausting, twelve-hour march. Do yourself a favor and plan to bring enough food, and in sufficient variety to make every meal something to anticipate with relish.

8From east European Jewish cuisine, gefilte fish is generally whitefish or pike cooked with onions and spices, and is generally served with horseradish. To have dehydrated the fish for mountain travel is unique to my knowledge.
---