---
allku Expediciones is operated by Victor Herrera, an Argentine mountaineer with nearly two dozen Aconcagua ascents, and a successful ascent of Dhaulagiri - one of the Himalaya's 8,000 meter peaks.
Victor arranges for the mule-based transportation of our equipment from Puente del Inca to Base Camp. This is by far the most common method of climbing the Normal Route - mule support to Base Camp, followed by human-only transport thereafter. As the total weight of our goods - food, clothing, gear - weighs about 350 pounds, having mules haul the load to Base Camp is somewhat essential.
We are pleased with the service provided by Mallku Expediciones and recommend Victor's company to future, self-organized Aconcagua teams.
Mallku Expediciones also offers complete guided ascents. That said, we enjoy having climbed Aconcagua without such explicit support. In so doing the overall sense of accomplishment is greater. As the Ruta Normal is completely nontechnical it is very reasonable to forego a guided climb. Such a plan, of course, "saves" thousands of dollars per team member.
Mallku Expediciones has a website. One can contact Victor Herrera directly.
---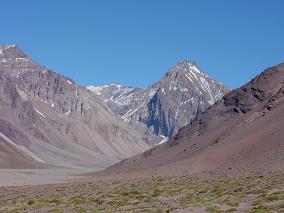 Los Dedos ("The Fingers") is passed
while enroute to Base Camp on Day 2.
---