---
Park Politics

t is unfortunate that one must travel through Mendoza, Argentina to purchase a park climbing permit. Even more displeasing is the price - $330 (1,000 Argentine pesos) for entry during the high season month of January. This does however allow for a free helicopter ride down from Base Camp for medical emergencies.

The "system" for obtaining one's permit seems to change with every climbing season. I am thus reluctant to describe our efforts in this matter since my instructions may be shortly outdated.

Nonetheless we follow this regimen while in Mendoza:
Obtain and fill out a permit application from the Office of Tourism. The office opens at 8 a.m. on weekdays.
Exchange dollars for Argentine pesos at a nearby bank. Banks open at 8 a.m. on weekdays. We later learned that dollars ARE accepted in the next step - such that this bank visit was unneeded.
Take the application and the pesos to an office, Pago Facil ("Easy Payment"); and exit with a receipt indicating payment. Pago Facil is one block from the Office of Tourism and opens at 8:30 a.m. on weekdays.
Return the permit application and the latter receipt to the Office of Tourism for your park entrance/climbing permit.
The entire process can take as little as one hour. Arrive early to avoid waiting in line at the tourism office behind multiple expeditions with all their members.

Garbage and Human Waste - "Making the Most of a Shitty Situation"

t the Horcones Valley park entrance every climber is issued a numbered garbage bag. If you are attached to a recognized expedition vendor, the bag may be turned into them in exchange for a signed receipt which is presented to the guardaparque(s) at Base Camp prior to your final descent.

One is also issued a numbered bag for human waste. The bag is used above Base Camp, and, once returned there, is deposited in a large, metallic cylinder for eventual transport off the mountain.

It is convenient at each successively higher camp to designate one bag for the entire expedition. Its exact location is then noted, and left behind without carrying it uphill. We thus maintain a "Lower Condores bag" and a "Camp Berlin bag".

Note how this plan differs from that intended by the Park officials, wherein there is one bag assigned per person instead of per camp. To follow their plan would call for each eater ("climber") to carry a personal "shit bag" (the common parlance) up to the highest camp. I cannot conjure a more disgusting concept than hefting your own foul excrement up and down the mountain. Hence the revised plan of one bag per camp - a plan that we subsequently learn is within our rights to uphold.

One should also take an empty bag on summit day in case the call of nature occurs above the highest camp.

On descent we retrieve the Lower Condores bag; and I am the lucky guy who carries the putrid mess in-hand as we descend to Base Camp. After the first hourly break I double-bag the original bag (lest it tear), and carefully place it inside my backpack.

A $100 fine is levied on any person who does not abide by these regulations. The draconian rules are strict but necessary to prevent the Ruta Normal from degenerating into a pigpen.
---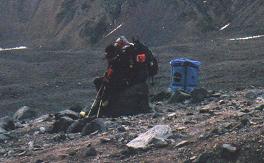 A high altitude porter at day's end.
---