SCS Habitat ("Scott's Place")

---
n Santiago we enjoy several days of general inactivity at SCS Habitat ("Scott's Place") - an excellent hostel with very reasonable room rates. The atmosphere is congenial; you meet backpackers from around the globe; and the kitchen is open for use 24 hours. Scott is the American owner and manager.
The SCS Habitat street address is 1798 San Vicente, about four miles southwest of downtown Santiago. A subway line takes you within one mile (Rondizzoni Station) - the bus system closer still.
The telephone number is (56) (2) 683-3732; the E-mail address is scshabitat@yahoo.com .
I meet many travelers at Scott's. Most interesting is an Israeli man, Tomel, who just completed his mandatory stint in the armed forces. He now travels for six months through South America, eventually visiting Mexico City and a friend in New York.
Tomel and I cook a communal lasagna dish, and I dare say it is tasty indeed. Finding the correct ingredients, such as ricotta cheese, entails a bus ride to Lider - a very large supermarket located miles away.
For dessert I prepare a fruit salad with peaches, pears, and plums - then infused with a sumptuous Mistral Creme liqueur that tastes like Bailey's Irish Cream liqueur.
The next day Tomel prepares for us shakshuka, an Israeli egg dish with tomatoes, onion, and plenty of toasted garlic - an essential ingredient.
---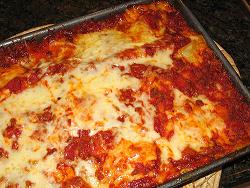 A pan of lasagna. Hungry yet?
---