Overall Impressions and Conclusion

---
Objective Considerations

hy did we succeed when the majority of climbers fail? Apart from the obviously good weather, the following factors are noted -
The cautious, no-nonsense approach taken to proper acclimatization.
Each expedition member brings a unique area of expertise for the group benefit. Edward has the previous long-duration expedition experience from two Mount McKinley climbs and one on Aconcagua. Edward failed previously on Aconcagua through no fault of his own. As that was on a guided climb, we have all the more reason to feel satisfied with our successful, self-guided expedition. John is the team physician, with expertise in high altitude physiology as a side benefit. He brings a panoply of emergency medical paraphernalia none of which, thankfully, is needed. My Spanish knowledge enables us to arrive at and enter the mountain zone with minimal problems. It allows for much information gathering and sharing with other teams at and above Base Camp; and provides for facile communication with Mallku Expediciones; the guardaparques; and other climbers.
The previous, high altitude experience of every team member. As noted, this is a team membership criterion from the very start.
The explicit planning of each meal to maximize enjoyment through variety. Team morale benefits greatly when the food is consistently tasty.
A positive attitude despite obvious hardships such as cooking and sleeping in close quarters. With such an attitude, the ability to get along with others never falters.
The ability to compromise if and when needed.
The Subjective Realm
cannot fathom why I feel so calm and care-free. Is it the simple aftermath of a three-week vacation? Have I lost the capacity to worry due to high-altitude brain cell death? Or is it simply that a burden is lifted - that of great uncertainty at a time and place where no human is meant to be?
My best guess (and it is only a guess) is that scaling Aconcagua makes one realize how absolutely trivial all of life's "normal" trials are by comparison:
I FEEL EMPOWERED TO ACCOMPLISH WHATEVER I SET OUT TO.
Indeed, climbing Aconcagua is a landmark event in my (or anyone's) climbing resumé. It redefines the envelope of what I am capable of performing -
Highest elevation on dry land (22,841 feet).
Highest camp where the night is spent (19,450 feet).
Highest carry with a full-sized backpack (to 19,450 feet).
Longest distance traveled to scale a single mountain (50+ miles).
Longest duration spent on a single mountain (15 days).
Coldest day spent outdoors (summit day).
Largest net (14,000 feet) and total elevation gain (19,100 feet) to climb a single mountain.
These statistics bode well for a future attempt on Mount McKinley since many of these values approach, if not exceed, what is required for such an effort. In this regard, the high altitude, long duration expedition experience acquired at Aconcagua is certainly a valued asset.
A Sensual Feast
any hold that the Ruta Normal is not pretty. I have even seen the words "ugly" and "nonphotogenic" applied to the route.
I disagree - beauty is found wherever one chooses to recognize it. Compared with a rain forest, the stark, naked terrain, devoid of all but microscopic life, is strangely alluring in more subtle yet equally meaningful ways.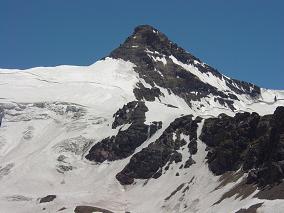 Cerro Cuerno lies just north of Base Camp.
The sensation of being above most of the world becomes particularly evident upon attaining the Nido de Condores Camp. There, at 18,000 feet, the surrounding mountains and valleys become plainly visible. The giant Mercedario, thirty miles north, is wonderfully clear - and the views only improve at and above Camp Berlin.
Snow accentuates the montane views, providing excellent contrast with the multicolored, often striated rocks that comprise both Aconcagua and nearby peaks.
Cerro Cuerno is the great, horn-shaped peak immediately north of Base Camp. How wonderful to see its slopes aglow in gentle shades of pink at sunset!
Aconcagua itself provides a grand sundown spectacle. From Base Camp the rocks glow red, and even orange, as the final rays of sunlight strike its slopes.
We witness Earth's true form as the (definitely) curved base of an extremely long cirrus cloud immediately above Camp Berlin. This observation is also possible aboard commercial jet aircraft in mid-flight.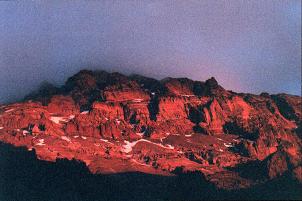 The northwest face of Aconcagua displays
brilliant shades of red and orange at sunset.
Returning home, I again saw icy cirrus clouds floating way above San Diego. I thought, "Yeah, I was that high on summit day".
If you take the time to notice, the Ruta Normal is full of visual surprises - each with a unique mood and temperament that is certain to captivate the senses. The cost of admiring each spectacle is simple - an open mind to appreciate the moment ... and then recount it through priceless memory.
Fog rolls in and soon hides those lofty and icy cirrus clouds.
Yet the clouds remain.
Conclusion
n this expedition we dared dream BIG - and despite all odds, won.
Pursue your passion, to the ends of Earth if desired. And do not fret if your effort meets with failure: the only people to mourn over, indeed the vast majority, are those poor souls who merely sit at home.
They exist yet do not live. In contrast, I feel alive with possibilities.
---