Japan Ultra Prominences Trip Report
© October 2012 Adam Helman
Note 1: Photographs are courtesy of Rob Woodall except
where indicated. Mouse-click for enlargement. Note 2: These mountains are widely documented.
Therefore route descriptions are not provided.
Introduction
he "Far East" has a certain mystique by dint of its remoteness and clear distinctions from western culture. There are many mountains - and some of them have considerable allure owing to their large topographic prominences.1
I consider the totality of first-class venues and conclude that they cannot all be visited, let alone climbed, short of a six week journey. Thereby Duane Gilliland and I decide to split the effort between two consecutive trips in different calendar years.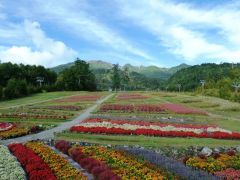 Flower garden at base of the
Ontake-san cable car route.
The first journey is to include Japan, Taiwan and South Korea. However I learn that South Korea's highpoint, on Jeju Island, has a summit military installation making it impossible to reach the very highest ground. We settle for Japan and Taiwan, providing us access to a pair of mountains on the Earth Fifty Finest prominence list: Fuji-san and Yu Shan.
Rob Woodall then notes a group of his fellow UK peakbaggers will visit Japan at the same time for a string of "ultra" prominence peaks.2 Adrian Rayner is the trip planner, and, most importantly, knows Japanese. I consider this a significant benefit, and soon find Duane and I joining their group for two weeks. After they return home, Duane and I will visit Taiwan to climb Yu Shan.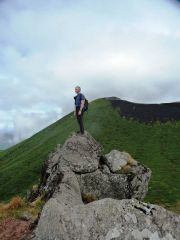 Rob Woodall atop a
1,908 meter subpeak
of Iwate-san.
A fifth participant is Andrew Tibbets from the UK. Much later Alan Bernier from Rhode Island joins the group after replying to an invite I had originally made for additional participants when I thought that only Duane and I would be traveling.
The goals are debated. Fuji-san is singularly important, at least for some of us, and is slated to be first on the itinerary so that a repeat attempt can be accomodated by employing some other mountain's time slot.
We should have time for roughly eight ultra prominence peaks in Japan, and likely not more, as there is significant overhead in traveling between many of them. The northern island, Hokkaido, features two ultras plus a third one, Rishiri-zan, just off its northwestern coast. Getting to and returning from Hokkaido will occupy two full days of train travel. Then, our second week includes ultra peaks in the Japanese Alps of central Honshu and not too far from Tokyo.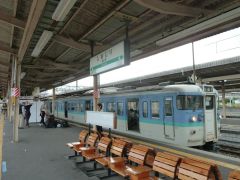 One of many local trains
taken during our travels.
We learn that Rishiri-zan's highest summit, the southern one, is inaccessible by trail - and that a rope-assisted traverse might be required (it could also be illegal). After some debate we replace it with Iwate-san, Honshu's northernmost ultra and guaranteed to have trail access to the highest ground. I am not reluctant to try the harder mountain (which likely is quite doable). Rather, I wish to maximize our final ultra count by using our valuable time to hike that peak with a higher chance of success.
Climbing Yu Shan is complicated by a permit system wherein one wins a lottery roughly one month prior to the effort. However airline tickets are generally purchased several months before international travel - a problematic situation if the lottery is lost. Selecting a weekday for one's hike raises one's chances since weekends are far more crowded with locals. The permit is not transferible to other people or to other dates if the chosen day has poor weather. This inflexible system is most unaccomodating to foreign peakbaggers, and will prove ruinous to our plans.
Routes for all Ultra Mountains Actually Climbed
1 As a simplication, think of prominence as a mountain's vertical relief: a measure of its "presence" on the land.
2 We seek mountains that have at least 1,500 meters (4,921 feet) of prominence - the "ultra" summits - and Japan has 21 of them as tabulated here.
&nbsp &nbsp In the United States a cutoff value is 5,000 feet is used (1,524 meters).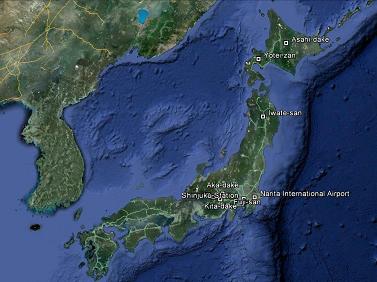 The trip's realized goals and other locations superimposed on satellite imagery.
Mouse-click either one for an interactive Google Earth display.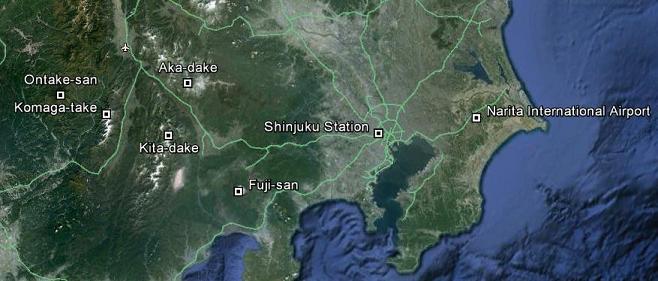 Journey Details
Friday September 14 through Monday September 17 - Flights to Japan and Fuji Climb
3
s standard practice I drive to Los Angeles because the round-trip fare to/from San Diego raises the cost over $200. I park in Van Nuys, taking the Flyaway Bus south to LAX (the international airport) as the parking fee is $4 a day compared with at least $12 daily at the airport itself.
My flight lasts over ten hours, nonstop from Los Angeles to Tokyo's Narita International Airport. Lunch is served, along with a pair of snacks - and I leverage the freebies of this long-haul flight by enjoying an assortment of adult beverages from red wine to single malt scotch. These are noteable items since on domestic USA flights none of these beverages are available except for purchase.
Duane and his wife Pattie have arrived earlier than the rest of us, with independent plans to climb Fuji-san. The remaining group congregates late Sunday afternoon and takes the NEX train to Tokyo followed by a pair of trains to the town of Kawaguchiko near Fuji. Our Japan Rail Passes are already paying for themselves - allowing for two weeks of rail travel for 45,100 Japanese Yen (symbol "¥") - roughly $575.
We've learned that Duane and Pattie have not succeeded at Fuji, and surmise they might be reattempting the very same night we are there.
The taxi fare to our trailhead from Kawaguchiko town is exorbitant at some ¥13,000 (about $160). The majority of our baggage stored at Shinjuku terminal (the main Tokyo rail station), fully five of us squeeze inside one taxi for the 30 minute ride. None of us are particularly large - else this ploy would not have been feasible!
We arrive in a light drizzle around midnight. I hurriedly eat a bento box (portable lunch) of spaghetti with tomato sauce for energy, and find it more tasty than this absurd coffee-flavored soda also purchased at the local "Seven-Eleven" convenience store. My suggestion of delaying our hike so as to hit the summit rim at first light is agreed upon as we begin at 12:40 a.m.
The weather worsens. Soon it's a dismal affair, scrambling (albeit on-trail) over wet rocks by headlamp. My glasses are now useless, full of rain drops, and I stash them in a pocket.
Now the wind grows, creating a horizontal spray of rain that eventually soaks both layers I am wearing. I begin to shiver, and appreciate some assistance putting on a sweater which, although providing temporary relief, soon becomes wet as well.
We are denied entry into the huts located along our route. Some people have paid good money to sleep in them, and, despite the conditions their staff refuse to accomodate people who want to change layers, even briefly, in order to stay warm and dry.
At the 8th station is sold hot noodle soup! The price of ¥600, about $7.50, is a huge amount for one pint of noodles - but we all decide that, given the conditions, it's worth splurging.
THEN, on passing-by yet another hut ....
We find Duane and Pattie!
They've been standing under the roof for some 20 minutes, debating whether to continue. However now that we've arrived, en masse, there is no longer any debate. Somehow the group splits at this point, with Rob Woodall, Alan Bernier and myself ahead of Duane, Pattie and Adrian.
My gloves are now useless, completely wet inside, even though they are advertised as waterproof neoprene. Still, we've planned the ascent perfectly time-wise as first light appears just prior to topping-out on the volcano's summit ridge (and with a pair of ceremonial gateways). Many hikers stop here, reminiscent of my Indonesian experiences wherein the volcanic rim is considered by locals "good enough" rather than the true highest ground. To peakbaggers and mountaineers alike this is nonsense.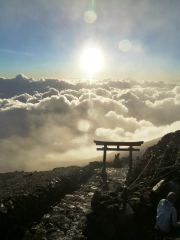 Fuji-san crater rim shrine
Rob waits for the others as Alan and I continue counterclockwise a kilometer or so to highest ground on the crater's opposite, southwestern aspect. It's now daylight and much of the weather lies below us. We reach the highest boulder, festooned with coinage, under clearing conditions. Still, my glasses are too wet, and I must rely on Alan's assessment of where the highest ground is to satisfy myself that the deed is truly done.
We descend some 2,000 feet before taking our first break. I wear the glasses, eat my "summit" peanut butter bagel, and continue under rapidly warming conditions. Presumably the others have also made the top...
At some point Alan finds a smartphone that had been presumably dropped by accident. Amazing! He is able to use it effectively for the entire journey, even sending the occasional message to my mother as my cell phone was not brought (I knew in advance it would not function).
Back at the trailhead by 10 a.m., Adrian, Alan, Andrew and Adam wait, and wait some more, for Duane, Pattie and Rob. They are taking an inordinately long time to return. Later we learn that they took a wrong turn, and went to another trailhead on the mountain's opposite side!
Climbing Fuji is not particularly inspiring for one who has been to hundreds of mountaintops. It's really just an enormous hill of contant slope with some rock and scree to make its ascent a bit tedious - yet not enough to make it "interesting" (if you understand my meaning here). The descent, once below the weather was actually boring as well as increasingly hot and tiresome. Other efforts of our journey have much more interesting routes.
Rob Woodall's Fuji-san trip report with GPS track and photo album
While at the trailhead I purchase a lucite cube with the image of Fuji-san embedded within for ¥400 (five dollars). I wanted to buy a large camembert cheesecake with blueberry sauce, for considerably more, yet desisted upon learning that all of my Japanese currency and $300 USD are wet. Somehow the rain had penetrated through two layers of plastic sandwich bags inside my daypack. With $700 of money now potentially useless I am somewhat distraught...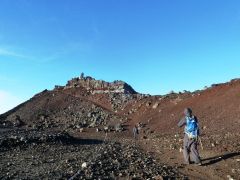 View southwest to
Fuji-san's highest ground.
The weather returns, and we find ourselves in the drizzle, again, seeking a local bus for returning to the Kawaguchiko train station. All-told we spend nearly three hours at the trailhead.
We dry clothing outside the train terminal, and enjoy food from that Seven-Eleven - for myself, a cold noodle salad with teriyaki sauce, a small whole salted fish, a pint of chilled "milk tea" and, of course, an ice cream novelty with sweet red bean filling.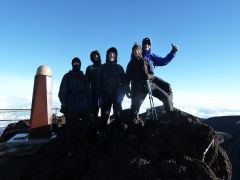 Fuji summit group with Pattie.
The plan is to meet Duane, Pattie and Rob at Shinjuku terminal around 4 p.m. We arrive around 4:20, and learn they are at the Washington Hotel taking showers. Pattie has her own plans for the week, and the remaining six of us finally meet after 6 p.m. and take a Shinkansen ("bullet train") north to Sendai for the night (a city halfway up the coast).
We arrive around 10 p.m., all of us desperate for a normal night's sleep. I lost one night's sleep flying to Tokyo - and then a second night while climbing Fuji. It's nigh intolerable at this point. While Adrian searches for room availability we wait outside like a bunch of homeless people. Now it's 11. A moment's relief comes when Alan returns with 6 red bean ice cream bars! It's a perfect "find".
Soon enough the six of us share two rooms, and with one person taking the floor in each. All but Duane and I go out to eat dinner. I am too tired, have consumed enough, and consider it unhealthy to eat a large meal only to immediately fall asleep. I do, however, have this tin of fish in a sweet broth for ¥200 from the hallway vending machine.
So ends one very very long so-called "day".
3Note how this section includes four calendar days. This is significant and intentional: for I do not get to sleep a full night until we locate a hotel with vacancies late on the 17th.
Tuesday September 18 through Thursday September 20 - Hokkaido
nother Shinkansen whisks us north towards Hokkaido - this time in daylight. Wishing to learn our speed I provide my GPS unit to Duane who presses it against the window to obtain signals. I then save a waypoint, and then specify "Go To" - so displaying a speed of 170 m.p.h! The foreground rushes by so quickly it's simply a blur... and as captured in Duane's photograph.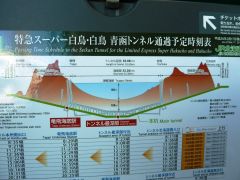 Seikan tunnel map -
click for detail.
Spanning the gap between Honshu and Hokkaido is the world's longest rail tunnel, the Siekan Tunnel at 54 kilometers (33 miles) length. Tsugaru Strait is 140 meters deep, and our second train for the day passes 100 meters underneath the channel's bottom - hence 240 meters (790 feet) below sea level. It's a bit eerie, buried so far underground in complete blackness. Of course nobody's cell phone works...
I order a bento box for ¥900 with a large variety of pickled vegetables and seafood atop a bed of rice. With much time to waste I attempt using chopsticks - and prompty make a fool of myself in front of my fellow passenger. She is both amused and shocked by my ineptitude as I attempt to "eat" cheesecake with a pair of toothpicks ... and then flavor it with salmon roe!! She has quite a story to tell the family.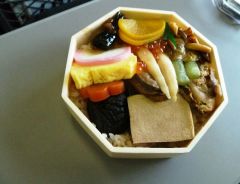 Octagonal bento box with
rice underneath pickled
vegetables and seafood.
A few transfers later we are close enough to our next venue for calling it day's end to our forward progress. We take hotel rooms yet sadly somebody forgets to consider lowering the unit cost by sneaking-in a third person for each room. I am a bit upset in having to spend about $50 rather than $33 but it's no big deal.
My wet currency is dried by stringing them atop the flat screen TV monitor and a chair's back. Then I discover a faster alternative by using the bathroom hair dryer! Just five seconds does the job for each note. I am pleased with this novel solution to a novel problem.
The next morning Duane and I score a "hit" with this buffet breakfast in the hotel lobby. I eat a considerable amount, combining eastern and western flavors - especially the baked macaroni and white cheese mixed with salmon caviar. It's all-you-can-eat caviar! MY goodness. I am "set" for the day calorie-wise.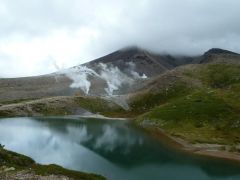 Asahi-dake fumaroles
Asahi-dake is the volcanic highpoint of Hokkaido. A cable car takes one to within 700 vertical meters (2,300 feet) of the summit - and, after arriving around 10:20 a.m. to the tram's upper terminus we find ourselves immediately hiking uphill. The scenery is volcanic, with steaming vents and the unmistakable odor of sulfur at times as we ascend the obvious ridge. We are above the treeline.
A light rain commences about half-way up, and continues for the ascent's balance. We summit after 1 1/2 hours and spend no time apart from picture-taking. Normally I'd want to eat by now - yet that enormous breakfast (four plates) is still with me.
Some wish to descend fast to make the 1:20 p.m. bus back into town. Although I consider this a difficult proposition (it is noon) we nonetheless give a concerned effort - and return to the cable car with literally no time to spare. As the next bus does not depart until after 4 p.m. this dash saves us some 3 hours - and gets us to the day's natural stopping point early enough for Duane and I to finally have dinner with the others.
Rob Woodall's Asahi-dake trip report with GPS track and photo album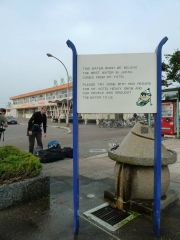 Locals are proud of their
Yotei-zan water -
click for detail.
I order a flask of sake (rice wine) while others enjoy beer. It's a bit too much with an empty stomach as I become quite vociferous and a bit loose with my words. Drinks are paired with appropriate appetizers. Thereby I have the "house special" of local fish, small and of unknown type, alongside the wine. Eventually I dip the tiny fish into my drink, bringing comments it's unlikely that's how it was meant to be enjoyed.
A cheesy potato dish allows Duane, largely a vegetarian, to enjoy himself - while I have some sizzling hot dish with sausage and vegetables - onto which goes grated parmesan cheese brought from home. Others use chopsticks while I have fork, spoon and knife (also from home) because learning that skill now would consume far too much time - and there's a tradeoff (at least in my mind) between getting enough to eat and going to bed for an adequate night's sleep.
Duane, Andrew and I attend a convenience store for several ice cream treats while the others visit a second restaurant for more savory food.
The next morning has us taking a bus to the Yotei-zan trailhead. However it stops on the main highway, leaving us with a 25 minute walk over 1 mile to the trailhead proper. We then make excellent progress, starting in a very dense and lush forest with trees and ferns. The forest thins-out yet remains with us until we reach the crater rim roughly 4 uphill hiking hours from the bus dropoff. A clockwise circuit in mist and cloud with some excellent views ensues, and we summit nearly on the opposite side amidst good conditions and "only" about a half dozen local hikers.
Yotei-zan trail map
showing rest stations -
click to read details.
High on Yotei-zan,
Andrew in foreground.
We decide to complete the rim circuit, yet somehow Duane fails to realize this as our plan. Long story short, we collectively waste nearly an hour returning to where the trail tops-out on the rim - in part from some of us searching for Duane and in part because the descent path is significantly rockier and with more ups-and-downs, than the ascent path.
The day's net gain is some 5,400 feet, the total elevation gain some 200 feet more for those circumnavigating the crater.
Our bus is a few minutes late, yet arrives soon enough for us to be back in-town just after darkness falls.
Rob Woodall's Yotei-zan trip report with GPS track and photo album
Friday September 21 through Sunday September 23 - Return to Honshu and Iwate-san
full travel day ensues as we reverse course and head south to Honshu. Having cancelled Rishiri-zan means we've added Iwate-san as the next goal. It's another volcano (almost a given: Japan is part of the Pacific "Rim of Fire"), and we find a suitable campground 1.8 km (1.1 miles) from the actual trailhead. It's raining as the bus deposits us, yet soon enough sites are located for the night.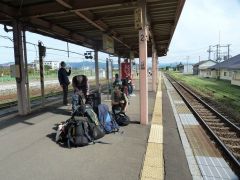 Waiting for our next train.
We depart at 6:47 a.m. and reach the trailhead 25 minutes later. The trail has been re-routed lower down, creating some initial confusion as it contours rather than goes directly uphill. We again make good vertical progress towards the crater rim as we somewhat randomly take turns leading.
It's evident that our ascent rate is faster than required, especially as we've relegated ourselves to sleeping a second night at our campground rather than trying to catch a late afternoon bus. So when I get a pace-setting opportunity it's with surprise that I lead the group faster than ever at some 2,000 vertical feet per hour.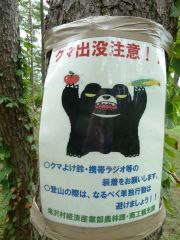 Bear warning. Local hikers
wear bear bells to
be highly audible.
Now at the crater rim's south aspect, we see more than a hundred hikers both in the crater 200 feet below and on the final ascent farther north. They've come from other directions, our route chosen as the most direct and steepest one possible to lessen the total time as estimated on local trail maps.
Excellent views abound as I manage a slope of black volcanic pebbles, the kind where one's steps are guaranteed to slip backwards and make progress difficult. On top are many hikers, congratulating each other and using smartphones to photograph the scenery and themselves. We congregate at some nearby rocks and eat lunch.
All but Duane and I descend a different route, one that entails a thousand additional feet of elevation gain for going over another summit. We two are back at camp around 2:45 p.m.
Rob Woodall's Iwate-san trip report with GPS track and photo album
An onsen (public bath) is located just over 1 kilometer down the road. Duane, Rob and I walk there at 5 p.m.; and, after some instruction by an old man, learn how the showers are used prior to bathing. It's not too hot, arguably relaxing, and certainly worth the time for taking part, just once, in this quintessential Japanese experience. We eat supper later as the full group of six, and walk back to camp for the night.
While Adrian leaves the onsen's building a snake falls on his head! It must have been alarming and most disconcerting....
In the morning we take the 8:45 a.m. bus onwards, connecting with the train network for our route south to the Japanese Alps. Several hours later we arrive at town-center around 5 p.m. There's an intentional attempt to create a "Bavarian" ambience, with Kanji (Japanese) characters adorning buildings obviously in the style of an alpine German or Swiss village. Finding hotel accomodations to be quite expensive, a pair of taxis takes us to a campground after dark falls. We erect tents, eat our meals, and sleep soon enough.
Adam [front] and Alan
ascend Iwate-san.
Large Japanese group
nears the summit.
Monday September 24 and Tuesday September 25 - Komaga-take and Ontake-san
ur 7 a.m. taxi ride is timed to reach the cable car's base just before its first ascent. This taxi ride is expensive, which in concert with last evening's drive and the cable ride, compensates for having camped rather than slept in rooms. Climbing Komaga-take is not cheap! We could have taken a bus, yet its earliest departure would have us start an hour later...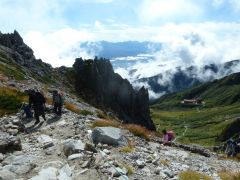 Looking back towards
the upper cable station.
There are, again, many many hikers. Too many for my sake. I am surprised at their numbers, given that we are no longer on a weekend. Later I learn that Monday is the default day to celebrate any holiday falling on the weekend - such as the current autumnal equinox holiday. There's an analogous event for the vernal (spring) equinox.
Rob has injured himself on an earlier peak, and tends to his upper left thigh with cold beverage cans when traveling as makeshift icepacks. It's a painful affair for him to hike downhill as he self-medicates with hefty Ibuprofen doses. I've decided to stick with Rob for the time being, and on all future efforts of our journey, seeing as somebody ought to (in case of trouble); and as I uniquely have zero interest in bagging "bonus" summits - efforts which Rob can scarcely afford to attempt given his condition.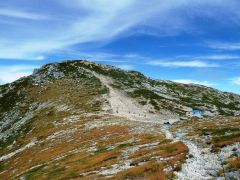 High plateau near the
Komaga-take summit.
Our cable car ride ascends steeply, and brings a collective "Ooooooohh!!" whenever a pylon is passed owing to the sizeable vertical acceleration there.
Our hiking route loses about 50 feet before climbing about 200 meters (six or seven hundred feet) to an obvious ridge. It's full of stairsteps and ropes to the side, converting what would be at least a Class 3 effort into an easy yet lung-filling walk. Thereafter the route is far more gradual as we head past a subpeak (accidentally climbed!), descend the opposite side, and reach the true top under beautiful conditions.
There are numerous religious monuments, with representations of spiritual significance to the devout. Indeed, for all our remaining efforts we find them as a continuing theme.
Today is the "baby" in our efforts, with only some 300 meters (1,000 feet) of net elevation gain and a few hundred feet more total gain as we did it. Lockers have stored our luggage at the cable car's base building. The day's balance is for traveling to our next mountain.
Rob Woodall's Komaga-take trip report with GPS track and photo album
In the morning yet another ropeway shaves-off hiking effort; and our 900 meter (3,000 foot) ascent of Ontake-san commences at a quarter of ten. This mountain is highly decorated with religious icons and monuments - not just at the summit but also along much of our chosen hiking route. There are bells one can ring, presumably for luck, and I try this once, as does Rob, using a handily-located wood mallet.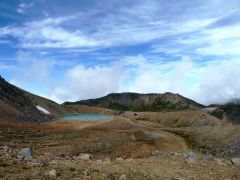 High altitude lake with the
typical green of silt from
ground rock. Note snowpatch
and climber's hut.
Rob and I make good vertical progress, Adrian and Duane shortly behind us. Alan and Andrew begin a bit later, yet catch up soon enough to meet us at the top just before Rob and I are set to descend. The highest natural ground is a boulder immediately east of a multiton religious figure.
More picturesque is the aquamarine lake some 500 feet below the summit, inside the crater (and I thought that these Alps are non-volcanic!). There's a nearby snowfield, shaded and at such a slope angle as to have survived the entire summer months.
The first one thousand vertical feet is over stair steps of wet wooden boards. Descending them requires caution since a fall would not be easy to stop.
Rob Woodall's Ontake-san trip report with GPS track and photo album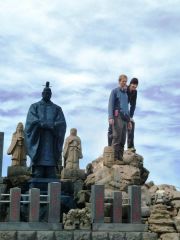 Adrian (in front) and Alan
at the highest ground.
There's an Italian restaurant at the ropeway's top. I want to eat there yet it proves pragmatic to immediately descend the ropeway for changing clothes and eating at the lower cable car station well before our desired bus departs. I have a very interesting bowl of soba (buckwheat) noodles with fried onions swimming in soup - at least I make it interesting with all manner of added condiments. Duane cannot find any vegetarian options. So we contribute the side salads from multiple meals and deliver it to Duane as he waits, guarding our bags at the bus stop.
It is not far to the next goal, and we manage to find rooms and/or camp by early evening. A fine dinner is enjoyed, the menu extremely varied and easy to order from because of color pictures and English small print. We spend a lot here, averaging about ¥2,000 a person - some $25 US dollars. There is simply so much to be had! Alan and Andrew, having decided to camp, must be eating elsewhere.
Three tiny trays of perfectly cooked salmon come with as many alcoholic beverages ordered before the food. Later, examination of the bill reveals we are charged even though they were never ordered. After complaints the ¥945 amount is removed. Still, I have a beautiful copy of the entire menu as Japan memorabilia - and as donated by the management provided I do not display it while still in the country as they fear competition might result should I choose to open my own restaurant (!)
Wednesday September 26 through Friday September 28 - Aka-dake and Kita-dake
e have configured this week's peaks in order of ascending elevation gain so that a 5,000+ foot day is not immediately followed by one of similar effort. Then too, Rob's leg is mending slowly, and it's sensible to have started with the easiest ascent (and hence descent), ramping the required effort with time.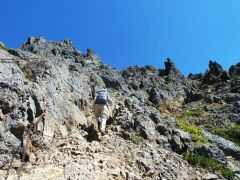 Near Aka-dake's top Duane
makes good vertical progress.
Click to see the chains.
Aka-dake is today's goal. The taxi driver refuses to continue up a gravel road, depositing us at pavement's end and resulting in an extra 40 minutes of hiking in each direction to the trailhead generally used by local hikers.
We agree that Aka-dake is the most varied and enjoyable effort of our trip. After the thankless road walk it starts through lush, almost "tropical" forest - and reaches a major hut after 2,800 feet of gained elevation (and two hours to reach from the true trailhead). After about 300 more vertical feet a series of stairs takes us steeply to a skyline ridge. Some steps are annoying tall - it's difficult to climb 12 or even 15-inch steps with short legs.
The scenery is now alpine, above the forest and with only 600 vertical feet to the top. Shortly after the route again steepens, this time as a rock scramble (Class 2-3) with chains for balance and without any steps (except for near the very top). Rob and I summit 4 hours 1 minute from our start.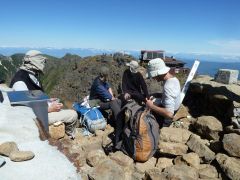 Aka-dake summit
Alan and Andrew opt for descending a different way once back at the ridge junction. My upper right leg starts to hurt halfway down - likely referred pain from a lower back nerve. It's an acute, unbearable (yet very brief) thigh-pain the instant my right foot hits ground. I suspect that a nerve is getting "pinched" between a pair of vertebral discs, and as occurs when they are compressed together on descending. This hypothesis explains all observations. I take a pair of aspirin.
Rob Woodall's Aka-dake trip report with GPS track and photo album
A phone call gets us a taxi within one half hour after the descent. Soon enough we are back in town and settle-in for the evening. It's been a 4,800 foot day - a fair amount. We plan on no new peaks for tomorrow, in part because of the inconvenient bus schedule for our next and final goal.
The first bus departs town at 10 a.m., arriving at our chosen Kita-dake trailhead two hours later around noon. A final, city-bound bus leaves the trailhead at 4:30 p.m. It's essentially impossible to climb and descend 1,700 meters (5,500 feet) in just 4.5 hours. This bus system is configured for local hikers who sleep at any of several mountain huts along the route. For them the bus schedule works well: ascend by afternoon of day one; sleep high; summit early on day 2 and descend in the late morning.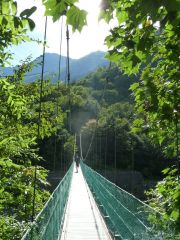 Bridge crossing to both
campground and trail.
We have opted all-along to avoid this peakbagging method: mountain huts are expensive (typically ¥6,000 to ¥8,000 or $75 to $100); and, with sole exception of Kita-dake we've been able to climb and descend in-between early morning and late afternoon busses. For Kita-dake alone, we shall arrive early on day one and camp cheaply at the base (¥500). Then we climb before sunrise and descend in time for the day's last bus.
Our train arrives a few minutes late for the 10 a.m. bus. The next one departs at noon - leaving us time to make hotel reservations for the following night and consume plenty of food in anticipation of tomorrow's effort. At the train station are some high-end bakeries and food shops - and so I actually welcome this slight departure from our plans. The shrimp and cheesy potato mix inside a hot dog bun is most unusual...
The bus ride is along an impressively constructed road that twists and bends all-the-more as it climbs into the mountains. Private vehicles must be parked at a lot partway along its length, and for good reason as there is virtually no room for opposing traffic thereafter.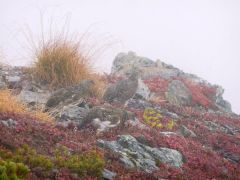 Three ptarmigans high
on Kita-dake!
After we arrive around 1:50 p.m., Duane and I are joined by Rob for camping nearby; while Adrian, Alan and Andrew (the "A" team) ascend by 2:30 to reach a hut 2,400 feet above before nightfall. They will camp rather than pay for lodging.
In contrast, my reasons for camping low are multiple. By starting at 5 a.m. there will be plenty of time to "make" the 4:30 p.m. bus; and I don't have to tediously transfer gear, twice, between daypack and overnight pack in preparation for backcountry camping. The overall level of effort is least when one does not have to carry a larger pack. Finally I do not want to aggravate my back/leg issue by descending with a heavier pack.
A lazy afternoon ensues, punctuated by an early supper for Rob and Duane as I enjoy cookies infused with whisky. Later, and mixed with my own "noodles alfredo", I find Rob's miso soup extremely salty! No wonder he wants others to partake...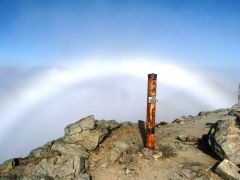 Optical phenomenon atop
Kita-dake - a "glory".
We begin at 5:02 a.m. and, as usual, make very good time uphill. Just above the cited hut we enter misty clouds with drizzle. Many local hikers are passed during their own ascents before we reach a key point on the main summit ridge just 1,200 feet below and 1.2 km (3/4 mile) north of the summit. Here we meet the others who camped higher yesterday.
The weather improves markedly, and all but Alan and Andrew summit at around 9 in the morning with good views in most directions. They come later, having bagged a "bonus peak". We congregate at the ceremonial summit, with large summit-identifying sign and a sitting bench. Higher ground lies just 20 yards south, and we all amble over there to "get the mountain's prominence" as-is standard practice in that endeavor.
All but Alan. He refuses to go there. I urge him to, yet he says the ceremonial top is good enough. This is strange as he's intentionally made the effort to visit the very highest rock on previous efforts. He and Andrew eventually head off to a subpeak requiring travel right past the highest ground. Alan avoids going there. I can only guess his rationale and will not share my thoughts here.
While at the summit area a trio of gifts, carried by Andrew, are presented to Adrian for his assistance in trip planning and execution: a wooden box with multiple chopsticks, a book in Japanese on Japan's 100 Famous Mountains, and four small liquor bottles.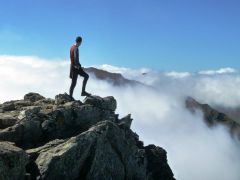 Perfectly-timed image of
Andrew at the true summit.
My upper right leg becomes painful, as described previously, starting one-fourth way down the (somewhat steep) route. First with every thousandth footfall (a crude estimate), then with increasing frequency. Eventually Rob loans me his walking pole for the final hour, one originally lent by Alan, I believe, and mended with duct tape I carry for the arbitrary problem.
Leaning into the slope on my left side I feel like a cripple, making giant steps with the left foot and tiny ones with the right. It's unacceptable... and yet the pain vanishes immediately upon returning to camp.
Rob Woodall's Kita-dake trip report with GPS track and photo album
A two hour bus ride returns us to town during the evening rush hour. Adrian's flight home is very early tomorrow - while Alan's flight is mid-afternoon. They continue to Tokyo for the night while Duane, Rob, Andrew and I use yesterday's hotel arrangement. Staying in Tokyo means much higher room rates; and as our flights are not until evening there is little point in going there now.
Dinner is at an Indian restaurant around the corner. The food is wonderful. My "Nepalese brandy" is largely enjoyed by Andrew in exchange for his "mango beer" which is so sweet I suspect that it's really just mango nectar with a hint of beer added-in. There is delicious, piquant tomato-based soup with each meal, and we have both garlic and cheese nan (a flatbread). My main dish is this spicy salad with a huge assortment of finely-diced vegetables and chicken. Vanilla ice cream with a hint of mango sauce concludes - fitting end to a hot/spicy experience.
Saturday September 29 - Narita Airport, Taiwan cancellation and flight home
here is plenty of time for our travels to Narita Airport, our flights being at 6:10 p.m. and later. Despite Adrian's absence we have no trouble getting to Tokyo's Shinjuku station, thence the NEX line to terminal 1 of Narita Airport. Our Japan Rail Passes have admirably paid for themselves.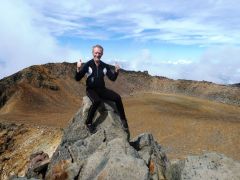 Rob near Ontake-san's top with
an excellent background vista.
I save one example of each Japanese coin denomination for a home collection. Adding 1, 5, 10, 50, 100 and 500 denominations I obtain ¥666. On noting this value, the "Devils number" to Duane, Rob comments "Money is the root of all evil." Indeed.
My first item of business with Duane is to locate a printer for hard copy of climbing permits issued by the Taiwan authorities for our dayhike of Yu Shan on specifically Monday, October 1. After these are secured at the fifth floor Business Center I check E-mail and read a most horrible note from our Taiwan contact Robert Foster -
Adam, Duane The email I dreaded having to send you - there is almost NO chance of you climbing Yushan next Monday due to this latest typhoon. As soon as a typhoon sea warning has been announced all mountain permits (attached anyway) are canceled, trails are only opened after the typhoon has moved on and the trail checked - the earliest for this Tuesday or Wednesday, October 2nd or 3rd.
Yes, I know it will not make actual landfall in Taiwan. Irrelevant.
Yes, I know the typhoon will have moved away and by then, rainfall may not be significant by the weekend. Irrelevant.
Yes, I (and the National Park) know your are very experienced and able, have traveled a long way, and only have this window of opportunity. Irrelevant. If you appear at the trail you will be stopped - no chance of pushing by, bribery, sneaking by.
I have made all the relevant phonecalls and inquiries. Nothing good to suggest. Sorry - have little to suggest except staying in Japan or exploring Taipei/Taroko Gorge for a couple days - I am keenly aware this is in not remotely your desire.
One other thing, now moot - a couple weeks ago there were rumors that the president was going to hike Yushan these days or Oct 10th (the first ever to). I was a bit concerned a bad scenario would have been his security people insisting other hikers should be excluded. I brought this issue to the attention of my local legislator (congressman) just in case. Was assured you guys would be given an exemption.
As we Brits say - B******s! &nbsp &nbsp &nbsp [Asterisks inserted by the author.]
Richard
A flurry of electronic messages ensues, the upshot being that it makes little sense for Duane and I, or even I alone, to continue onwards into Taiwan. We independently make efforts to determine how much it would cost to change our flight itineraries, my prime consideration being whether it would be cheaper or more expensive than staying in Taipei for three nights, sleeping alone in a hotel room, and eating unusual food as the new itinerary.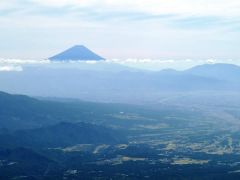 Fuji-san from high on
Aka-dake to its northwest.
My change fee is quoted at $160, an amount which, being cheap enough, soon finds me flying home at 5:10 p.m. a mere two hours later. Using the roughly ¥2,000 I have is achieved by attending a restaurant in the food court. Here I spend ¥1,380 on extremely fresh sashimi (raw fish) of all variety - from salmon to shrimp to Conger eel. The Yen would have been useless once in the USA.
Duane's flight alterations are more involved since he purchased Delta Airlines tickets via frequent flyer miles with Alaska Airlines - an airliner with no presence at Narita Airport. Eventually he takes a near-airport hotel room and flies the next day.
My flight home is quicker than the outbound one owing to the east-traveling jet stream - just 9 1/2 hours. Seeing my enthusiasm at meal time, a waitress presents me with the second entrée choice - and so I get to enjoy two dinners! (One features curried chicken with rice; the other has roast beef in gravy with small potatoes and broccoli. Both require seasoning...)
Immigration and Customs at LAX is very slow for some reason today: although my flight arrives at 11:10 a.m. the very day I depart Japan (!), I do not exit onto the street until 1 p.m. The shuttle bus delivers me to Van Nuys and my waiting pickup truck after an hour more, and I drive home to San Diego with plenty of caffeine. The effort consumes three hours rather than the normal two largely because of a well-advertised weekend closure of Interstate-405 between Route 101 and I-10 ("carmageddon"); and forces a reroute (necessarily followed by most) through downtown Los Angeles.
General Observations
oney is an issue. Even though ATMs are common our credit cards were often useless, being either unrecognized or rejected outright. Hard cash is required for busses plus some restaurants and hotels. We got by owing to the security of large numbers (six total), yet it is conceivable that a lone traveler could easily get locked-out from obtaining needed funds.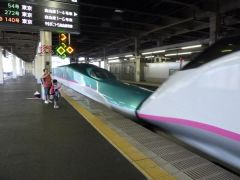 Mating Shinkansen -
"bullet trains".
3G cell phones work while earlier technologies fail. Adrian and Rob had smartphones with decent coverage yet generally avoided voice calls and data roaming as being too expensive. Free Wi-fi is not a given: it is available only at some hotels, and at train stations - although often a prior subscription is required. Keeping devices charged is problematic; some bullet trains have electrical sockets, as do hotels.
It is possible to survive with just English in the large city centers. Younger people tend to have some English as do some rail staff and others dealing with the public. Some signs in the Tokyo area are bilingual, as are signs at some main rail stations and with some in-train PA announcements. Busses do not feature English language messages.
Garbage containers are hard to find in public spaces, often forcing us to carry our trash for hours before finding a suitable waste can. We eventually learned why: in Japan eating in public is considered tacky - and yet often the short time between our connections was one efficient way to get food into ourselves while traveling.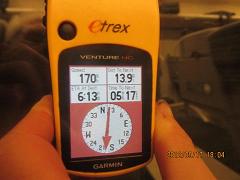 GPS unit indicating our sizeable
speed on the Shinkansen.
(Photograph by Duane Gilliland.)
Ice cream is nearly always available at train stations and in convenience stores. I adore this confection, as do others (to a lesser degree), and it was most pleasing to find ice cream, often with interesting non-western flavors, for our gustatory pleasure.
The Japanese are impeccably well-mannered. As the train conductor exits your car he turns and politely bows to the passengers - an act I consider appropriate given that they are providing his livelihood. Examples of this friendly behavior abound.
However nobody looks at you in the face: conversations are with downturned eyes. In the United States this mannerism could be interpreted as that of a shifty, untrustworthy character - yet in Japan looking right at your conversation partner, even as a cashier or waitress, is looked upon as a sort of "challenge" to one's character.
Virtually nobody is overweight - be it children, adolescents or adults. This is almost certainly related to Japan having the longest average lifespan of any nation's populace. Some adolescents are so thin they have arms like pencils and look like they might fall over at any moment - but this is uncommon. I've learned that in Japan the boys and young men actually want to be skinny just like the girls.
As with the waste management situation, it's all a bit odd for the westerner to fathom.
Many young people, especially girls in the big city, dress in wild outfits that belie a culture that westerners believe is based on conformism. Some look like fairies, with custumes befitting a bedtime tale about "La-La Land".
Rob Woodall's Tokyo photo album
Summary
ur journey is generally successful, having realized all the intended goals in Japan yet nothing beyond that. Largely this is due to the relatively simple, nontechnical nature of hiking these volcanoes and other peaks. Success is nearly guaranteed - at least in the dry season. The total elevation gained (and subsequently lost) was 32,700 feet over the eight ascents - a 4,100 foot average. Slightly larger values arise for those who added bonus peaks not in the original plans.
My worldwide ultra prominence count increases from 104 to 112. Rob's now has 126 ultras while Duane has fully 92.
I thank Adrian Rayner for his roles in trip organizing and linguistic assistance.
I am pleased with the company of everyone who attended - and especially as we all worked together, helping one another to ensure a successful adventure.
The UK members speak of a return journey for yet more of Japan's 21 ultra prominences. I shy away from such an expensive notion, having already climbed Fuji (the preeminent goal), and noting a whole planet of countries with their unique cultures and mountains.
A Taiwan side-trip (for Yu Shan) could be integrated with some future journey - perhaps at the tail-end of an expedition to Tibet for 7,206 meter Norin Kang.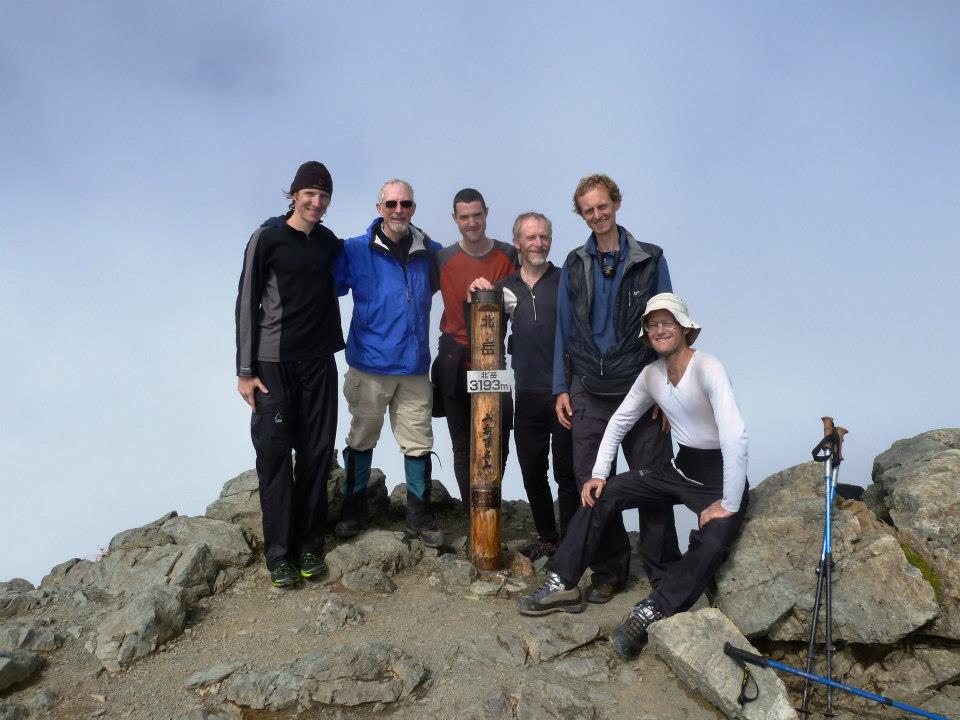 At Kita-dake's ceremonial top. From viewer's left - Alan Bernier, Duane Gilliland,
Andrew Tibbets, Rob Woodall, Adrian Rayner and Adam Helman (seated).