Northwest Mexico 2010 Trip Report
Treasure of the Sierra Madre

© April 2010 Adam Helman

Note: Photographs are courtesy of Andy Martin except where indicated.
Mouse-click on any photograph for enlargement.
Background and Orientation
n 2007 Bob Packard proposed two climbing-oriented trips to northern Mexico. We selected a Monterrey-based itinerary for January 2008, reserving the northwestern plans, as the current journey, for a future season.
Andy Martin is invited; and we schedule the event for late January 2010. However satellite images of the Sierra Madre Occidental reveal snow at some of the goals; and this impedes progress because roads are impassible. We postpone the journey until April, which happens to be that range's dry season anyway.
We pursue mountains on objective peak lists, with two measures of principal interest - summit elevation and topographic prominence. The former measure places Mexican state highpoints on the itinerary. The latter measure, unfamiliar to many, has a rigorous technical definition.
For lay purposes, however, think of prominence as the mountain's vertical relief: a measure of its "presence" on the land. We seek mountains that have at least 1,500 meters (4,921 feet) of prominence - the "ultra" summits - and Mexico has 26 of them. In the United States a cutoff value is 5,000 feet is used (1,524 meters). We also seek the most prominent peak of Mexican states even when that criterion is not met.
This list-oriented emphasis has some proponents in the climbing arena. However such a philosophy, and mindset, runs counter to the desires and goals of most climbers who simply choose mountains for the rigor and technical challenges of specific routes to the summit. In effect, for us the chief goal is overwhelmingly the summit - and, as such, the "simplest" route to it is sought as the means of maximizing success probability.
This includes seizing any opportunity to drive-up the mountain. Although this option would not appeal to most climbers, please note that we are willing to accept the rigors and challenges posed by any mountain on our fully objective peak lists - regardless of what is required to reach the very top. Often this entails major physical effort since prominent peaks generally have a large elevation gain on-foot due to their imposing stature. Our journeys thus include a combination of sizeable efforts, simple hikes, and, on occasion, even a drive-up.
The overall plan superimposed on a satellite image.
For this journey six mountains form the "core" itinerary, listed chronologically.
Summit (state)
Prominence meters (feet)1
Elevation meters (feet)2
Comments
Mohinora (Chihuahua)
857 ± 15 (2,812 ± 49)
3,308 ± 5 (10,850 ± 16)
Chihuahua state highpoint
Cerro Alto Tapanco (Sinaloa)
640 ± 10 (2,100 ± 33)
2,960 ± 5 (9,710 ± 16)
Sinaloa state highpoint
Cerro Barajas (Durango)
769 ± 15 (2,522 ± 49)
3,299 ± 5 (10,823 ± 16)
second highest peak in Durango
Cerro el Centinela (Coahuila)
1,647 ± 10 (5,404 ± 33)
3,122 ± 5 (10,243 ± 16)
ultra prominence summit
Cerro Gordo (Durango)
1,387 ± 15 (4,550 ± 49)
3,357 ± 5 (11,013 ± 16)
Durango state highpoint;
highest peak in the Sierra Madre Occidental
Sierra Alamos highpoint (Sonora)
1,328 ± 15 (4,357 ± 49)
1,778 ± 5 (5,833 ± 16)
most prominent summit in Sonora
1 Values are based on saddle elevations provided by Mexican 50,000:1 topographic charts
with generally a 20 meter contour interval. Exceptions include Centinela (10 meter interval)
and Alto Tapanco for which explicit GPS-based measurements were made.

2 A 5 meter (16 foot) error is assumed for our averaged GPS-based summit elevations.
This is an improvement over the ± 10 meter error imposed by the 20 meter contour interval
of Mexican 50,000:1 topographic charts.

Bob provides the transportation with his 3/4 ton pickup truck and over-the-cab camper. We meet at Andy Martin's Tucson home where I park my own vehicle.

Andy is an excellent map reader, and has gathered many maps for assisting our approach to every mountain on his portion of the trip (he plans to take a bus home after Centinela).

I provide the Spanish language expertise.

Note: All GPS-derived coordinates, be they latitude and longitude or UTM grid, use the WGS84 datum except where indicated.
Journey Details
Friday April 2 - Meeting and Mexico Entry
arise at 2:55 a.m. and take several hours for the 430 mile drive, uneventfully, to Tucson and Andy's home. Remarkably, Bob appears from Flagstaff within the minute of my arrival at roughly noon.
Having but three hours sleep, I am in no mood to sit with Andy and Bob as we start around 1 p.m. We cross at Douglas, Arizona, intentionally avoiding the larger border cities, such as Juarez, as the vast majority of drug-related violence occurs there.
Paperwork in the Mexican office takes a ridiculously long time as we acquire a vehicle permit and individual visas. After roughly two hours of waiting in lines we continue east as I resume my prone position atop Bob's cot in the camper.
Bob's front cab is suited for two people - just the driver and one passenger. So either all three of us squeeze in front, which is somewhat uncomfortable for the right-seat person and definitely uncomfortable for the middle-person; or one of us lies-down in the camper.
It is difficult to do anything but lie down while camper-bound as the vehicle moves. This is especially the case on a bumpy and uneven dirt road since the camper seems to magnify any of the oscillations that are normally dampened by the shock absorbers. I liken standing in the camper to being in a moderately large earthquake.
Perhaps when Bob ultimately purchases a new truck it will have seating for four people such as with my pickup truck. Furthermore, the additional volume behind the driver allows one to store a wealth of items for handy retrieval while in-motion.
As the sun sets we shift to a more southeasterly course; and eventually camp by darkness off a lonely dirt side road. Andy erects his tent while Bob and I sleep inside the camper.
Andy erects the tent every night; and also does not mind eating his supper food cold even though it is meant to be enjoyed hot, e.g. canned beef stew, ravioli, chunky soup.
I too have my idiosyncrasies, and especially when it comes to food. Just before supper I sample the only item in my food stores that's never been previously tried: a beautifully-shaped blue bottle of tequila liqueur! It is slightly sweet, and definitely should be sipped as an aperitif or after dinner drink; rather than a fiery brew for mixing into cocktails - and to drink until playing chess is a losing proposition.
Most importantly, we are already well inside Mexico.
Saturday April 3 - Chihuahua
oday is a pure driving day. We have our choice of the "Libre" ("free") route or the "Cuota" ("toll charge") route. Invariably, and throughout the journey, we select the cuota route because time is more precious than money each day.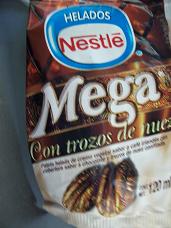 Wrapper for the extra-
delicious ice cream bar.
The majority of Mexicans disagree. We find the libre routes are far the more popular; and surmise that the federal government has mistakenly overcharged for use of the toll roads.
Soon we enter Chihuahua, Chihuahua - a major city; and we navigate through it using a street map Andy printed from Google Maps. We continue south through Jimenez, and then Hidalgo de Parral. Andy does an excellent job of getting us through the cities on our journey; and I will follow his lead for a trip to Bolivia in several months as myself, and others, acclimatize for an ascent of Chile's Ojos del Salado - the world's highest volcano.
We leave Hidalgo de Parral at the eastern terminus of Mexico Route 24. Here an OXXO convenience store sells this most delicious ice cream bar! It is chocolate in chocolate coating, and has an unmistakable hint of coffee flavor. It is the best ice cream novelty I've had - possibly EVER. Bob enjoys two bites and is instantly "hooked".
Route 24 starts out paved, and we drive it to kilometer marker 208 where we turn right for Gualalupe y Calvo, a high elevation pueblo very close to our first goal. We enter town at dusk, and continue a bit farther to locate a quiet campsite about one mile before the tiny El Pinito community.
It is exciting that tomorrow I'll be atop my first new summit in about four months.
Sunday April 4 - Mohinora and Alto Tapanco
e arise just after sunrise, have breakfast, and drive through El Pinito in the general direction of Mohinora. A side road progressively deteriorates, and Bob decides to park about 1,500 feet below the summit. An ATV could easily have driven right to the top.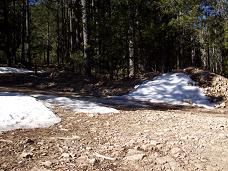 Residual Mohinora snow
With about 800 vertical feet remaining I race ahead and have the summit for myself well before Andy and Bob arrive. Smoked fontina cheese with bread is my immediate reward in addition to a grand summit view in every direction.
Descent is uneventful, and we return with plenty of morning left.
To Climb Mohinora (the Chihuahua State Highpoint)
Location: 25.95601° N, 107.04760° W
250,000:1 chart G13-7 &nbsp &nbsp "Pericos"
50,000:1 chart G13C13 "Mohinora"
Drive west from Hidalgo de Parral on Mexico Route 24. At kilometer marker 208 bear right (north), and enter Guadalupe y Calvo near marker 230. There is PEMEX gasoline for sale. After entering town, drive counter-clockwise around the edge of town to its south side; and then continue 6 kilometers more to tiny El Pinito. The route is paved until here.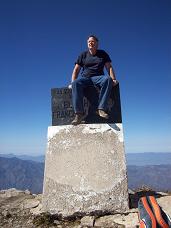 Andy atop Mohinora.
Just before entering the town, bear left onto a dirt road at (26.04789° N, 106.98779° W) at 8,575 feet. Zero the odometer. Drive 0.2 mile along the village's edge; and then bear left at its far corner. At 10.7 miles bear left onto a bad dirt road. From here to the summit is about 4 road miles. Drive as far as dared and hike the remainder. There is a left fork leading downhill after a mile or so. Disregard it and continue straight.
We return to Guadalupe y Calvo and then to Mexico Route 24. This time we take it farther west, onto dirt, and it proves to be a major pain with rutted sections that make a mockery of the title, "Federal Highway".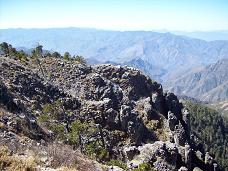 Mohinora summit vista
We stop to measure with GPS units the key saddle for our next goal. This is done because according to our maps Cerro Alto Tapanco may or may not have 2,000 feet of prominence depending on the exact elevation difference between this saddle and the summit.
The community of El Fraile is passed, verifying our location. About 4 road miles later we are as close to our next goal as possible along Route 24. Thereby we hide the vehicle along a side-road (actually, a mere jeep track); and begin our next hike just after 4:30 p.m.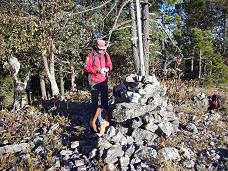 Alto Tapanco summit
with Bob Packard.
Our route is southwest, and travels over a sub-peak before finally ascending the east slope of Alto Tapanco.
The top is a north-south trending ridge, and we walk its length to ensure that, if the Sinaloa state line is not at the actual summit, then we have been to the state's highest ground anyway.
Bob and Andy hand-level the nearby, eastern summit which on the Mexican chart has the same highest elevation contour. It is no contest: we are definitely higher than the other summit. Furthermore, all three of our GPS units agree that, at some 9,710 feet, we are higher than the maximum possible summit elevation on the map. Together with a 7,610 foot saddle elevation, the prominence of Cerro Alto Tapanco is 2,100 feet - unquestionably a 2,000+ foot prominence.
On descent Andy separates from Bob and myself; and we find our own routes back to the vehicle. It is now getting dark, and there is no obvious other place to camp. So we just remain here, having already put ourselves one-half day ahead of schedule by reaching two summits today.
To Climb Cerro Alto Tapanco (the Sinaloa State Highpoint)
Location: 25.62063° N, 106.96672° W
250,000:1 chart G13-7 &nbsp &nbsp "Pericos"
50,000:1 chart G13C24 "Chicorimpa"
This peak is readily combined with a visit to the Chihuahua state highpoint as described above.
Drive west from Hidalgo de Parral on Mexico Route 24. At kilometer marker 208 pavement ends as of April 2010. The dirt road beyond is being slowly improved, such that perhaps by the end of this century the entire "highway" might be paved clear to the coast (a tongue-in-cheek statement of how slowly progress occurs in this region).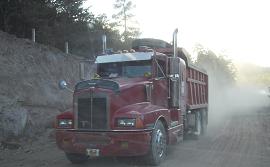 Truck used for the road work.
Regardless, it is a very slow roughly 47 miles to the turnoff for Alto Tapanco. The road is in terrible shape in some places, with the underlying rock exposed from years of traffic without repair. At tiny El Fraile village the road improves, and you are just 4 or 5 miles from the desired turnoff.
When immediately northeast of the summit turn left (south) onto a dirt track at (25.62705° N, 106.95837° W). The junction with dirt track is seen in the satellite image facing southwest to the summit, and is at the lower right.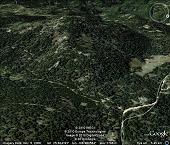 Satellite image for Alto Tapanco
with the final junction at lower right
(click for essential detail).
Drive the track about 200 or 300 feet south of the highway so as to park hidden from passing vehicles. This is important because the area is notorious for drug traffic coming up from Sinaloa - and you don't want to encounter a "bad hombre".
From the vehicle hike southwest over a subpeak to the summit. The subpeak has a rocky outcrop at its top that is readily bypassed to either side. Some elevation is lost on descending the subpeak's far side prior to hiking an east-facing slope to the actual highpoint ridge.
The net elevation gain is only 550 feet, the total gain perhaps 750 feet. Round-trip distance might be one mile. Allow 1 1/2 hours for the hike.
There is no need to visit the eastern, sister summit sharing the same contour as we used hand levels to determine that it is significantly lower.
Monday April 5 - Cerro Barajas
t's a long way back on Route 24 to the turnoff for Cerro Barajas at kilometer marker 49. We get there at lunchtime; and Bob prepares hot dogs. Mine gets melted fontina - yet there is no mustard. Still, it's nice to be served for once! Thanks, Bob...
We are concerned about the long dirt drive; and hope that an average of 10 m.p.h. can be maintained for the estimated 40 miles one-way distance. Remarkably, the road follows an old railroad grade, one that has a gradual yet constant slope. After a key junction our path assumes the character of a normal road with more severe turns and angles.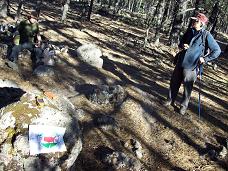 The very flat summit
of Cerro Barajas.
I assume my turn in-back, lying down on the cushions used for sleeping at night. Although I am unaware of it, Bob and Andy have discovered a road not shown on our map, one that takes us up the northern slopes of Barajas. They summon me to join them in front as we drive higher to a point where Bob is no longer comfortable taking the vehicle farther.
We are only 1,200 meters north and 1,600 meters east of the summit area. Despite the hour, about 3:30 p.m., we decide to "go for it" since the effort can fit into the remaining daylight timeframe.
The summit area is quite broad; and we make an effort to investigate all possible highest rocks in a roughly 500 foot diameter circle wherein there are three main locations.
Satisfied that we have visited all possible contenders, we descend the 800 vertical feet to our vehicle, returning with still an hour of daylight.
We drive north, stopping for supper around 6:30 p.m. when the available light is no longer helpful. I have a noodle/vegetable combination with a cream sauce - and greatly enhanced with both parmesan cheese and hot Indian vindaloo curry paste.
Afterwards it is yet another hour on dirt to Route 24, and then perhaps 20 more miles to yet another lonely campsite, this time on ranch property, at about 9 p.m.
We push the driving into darkness because I calculate that to make our next goal by 12:30 p.m. (see below) it is inadequate to camp at the base of Barajas.
To Climb Cerro Barajas
Location: 26.39206° N, 106.08241° W
250,000:1 chart G13-4 &nbsp &nbsp "Guachochi"
50,000:1 chart G13A76 "Cerro Prieto"
Drive west from Hidalgo de Parral on Mexico Route 24. At kilometer marker 49 turn left onto a dirt road and zero the odometer. The road is an old railroad grade for roughly 21 miles until a junction with structures. Thereafter it deteriorates, with 12 more miles to a junction (labeled "J" in the satellite image) with coordinates (26.39910° N, 106.06737° W) at 9,340 feet.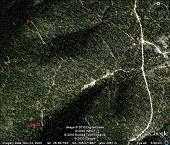 Satellite image for Barajas
final driving approach
(click for essential detail).
From "J" drive south-southwest on a minor road, thence continuing southwest until a hairpin turn (labeled "bend" in the image) takes you north-northeast. The road now climbs steeply, and turns to the north-northwest until reaching another turn at (26.40010° N, 106.07494° W) with 10,056 feet elevation (values taken from satellite image). This is "P" on the image ("Park"), and is only 800 vertical feet below the summit. There is a clearing to park on the outside of this final, severe bend in the road.
The steep section lasts 0.8 mile, and requires a capable vehicle. The total distance from Route 24 is 33.8 miles and requires 3 1/2 or 4 hours one-way. The road continues beyond "P". We did not exercise that driving option.
Locate a foot path leading up the ridge immediately at-hand, and with the road at its base. Take it steeply about 200 vertical feet, crossing a road, and continue to take the path on the road's other side. Another road crossing is encountered shortly afterwards as you continue on the path - one that is now harder to discern.
The path runs into the road for yet a third time - now at a shallow angle. Hike the road south a few hundred feet to bypass structures, shown on the map, along the north slope. When 400 feet below the summit and only one-third mile away, head cross-country directly for its general area.
The summit area is quite broad. Explore all rock outcrops you wish until satisfied. Allow 2 hours round-trip from the cited parking spot.
Tuesday April 6 - Approach to Centinela
e have a high camp location in-mind for Centinela, and it will take four hours to get there with full packs from our vehicle. With sunset around 6 p.m. we must walk at 2 p.m. Working backwards, we must get to the trailhead by 12:30 p.m. (so allowing for 90 minutes to pack); and, based on road distances and travel times, must arise before dawn at 5 a.m.
Every day we have been arising earlier to maximize use of daylight. Today is just a continuation of that theme.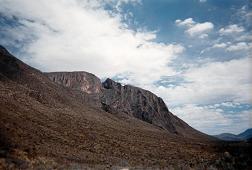 Some "foothills" to Centinela
seen from the trailhead (AH photo).
On entering the north side of Hidalgo de Parral we stop at the same OXXO for several purposes, including more water for the Centinela effort. I get an ice cream novelty which looks like my (and our) newly discovered favorite. Unfortunately, it is not identical.
Shortly after leaving the store we are stopped by local police in vehicle 12021. They see our permit sticker and then no longer bother us.
Andy expertly gets us through Torreon around 10 a.m., and we continue on Route 40, and then Route 80, through Jimulco de Flor in search of a dirt track leading towards our mountain.
At first we try a track that departs Route 80 while east of town. It peters-out, and we return to town for locating another path - one that gets us to our trailhead after 3.4 miles.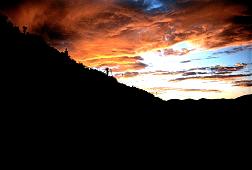 Sunset at the 6,850 foot saddle
(AH photo).
I carry 2 1/2 gallons of fluid, including 8 quarts of water and 2 pints of fruit cocktail. It is hot, my pack weighs about 50 pounds (I am carrying the only tent), and the trail is on a south-facing slope directly exposed to the sun.
Heat is limiting everybody's performance. I stop every 350 to 500 vertical feet and wait for Andy and Bob to catch-up. It is with considerable relief that I top-out at a saddle, having gained 2,050 vertical feet and with the sun now behind a mountain ridge.
We find a flat spot to camp at the saddle rather than descending about 300 feet into the nearby drainage.
We all choose to eat cold food rather than carry a stove with fuel. My kosher turkey pastrami, with black peppers, is delicious on a large onion roll. For dessert I have a pint of fruit cocktail in sugar syrup.
Andy and Bob use their bivouac sacks while I sleep in the tent - a privilege earned from having carried it. In the morning much gear is then stored inside for safekeeping as we ascend the mountain.
Wednesday April 7 - Centinela Summit Day
he watch alarm is set at 4:30 a.m. so we can make tracks by headlamp even before first light. The drainage is reached in short order; and we follow it east, gradually gaining elevation over several miles.
Adjacent slopes are filled with impassible brush. Without the rock-strewn drainage progress would be much slower - in fact, too slow for making the summit and returning to camp in a day.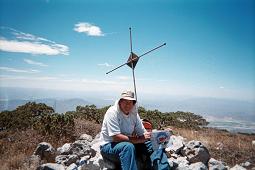 Andy Martin at summit with
the State Highpointer's logo
(AH photo).
After a slightly-angled right fork we continue up-canyon to a former horse camp at about 8,200 feet. For us this is an important location as there is a jug of leftover water; and as the most direct summit routes involve leaving the gully here and ascending slopes to the right (south).
A rudimentary path is taken to 9,350 feet and just underneath a subpeak. Unable to find a better way, we sidehill-bushwhack about 1/4 mile to the obvious 9,500 foot saddle right under our summit.
From here we proceed at our own paces; and I'm on-top in about 35 minutes. Shade is provided by a nearby tree about 100 feet from a large rock cairn, with cross, marking the summit. A manchego cheese sandwich is my reward.
One truly "feels" the mountain's prominence, as just about every direction has views to the desert floor over one vertical mile below us.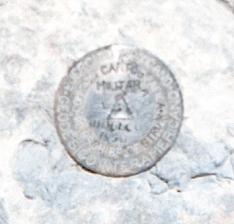 The summit benchmark "JIMULCO" was
placed by the Mexican Army as seen by
the topmost lettering, "EJERCITO MEXICANO"
(AH photo).
We descend to the saddle and then, to avoid our previous bushwhack, go straight downslope in the direction of what is now referred to as "our" water cache. The bushwhacking is not terrible; and yet we eventually "escape" to the previous faint path for the final few hundred vertical feet.
At the former camp we fill bottles with dubious water, and are glad to have it since, despite carrying a lot of water, we would fall short without this unexpected find.
After multiple granola bars and more hours I reach the drainage bottom at about 5:15 p.m. There is not enough time for us to reach our camp, pack, and head down to the vehicle before darkness. Bob has decided to sleep at camp. Andy has decided to sleep at the vehicle to avoid it being subject to vandalism for yet a second night.
I decide to remain with Bob at camp after we regain the elevation. There's now enough water - but Bob never planned on a second night away from his camper and so has no supper food. Fortunately Andy leaves us four slices of bread that he refrained from eating at the summit because it would make him thirstier. I had carried the entire 1.1 pounds of turkey pastrami just in case it was needed for a second night - plus the entire wedge of manchego cheese.
So it is that Bob and I enjoy one pastrami sandwich each; followed by sharing my pint of fruit cocktail. It's not enough food after my burning 2,000 calories - but at least I don't go to bed ravenous. Bob is most grateful for my food.
To Climb Cerro el Centinela
Location: 25.13590° N, 103.23045° W
250,000:1 chart G13-9 &nbsp &nbsp "Torreon"
50,000:1 chart G13D46 "La Flor de Jimulco" (NOT "Jimulco" map immediately west)
From Torreon drive south on Coahuila Route 40 to its junction with Coahuila Route 80 immediately west of community Juan Eugenio. Drive east on Route 80 for 18.5 miles to the center of Flor de Jimulco. (Do not confuse with Jimulco just to its west). Zero your odometer and bear slight left onto dirt at (25.10337° N, 103.33040° W), elevation 4,203 feet.
The road starts by paralleling power lines, northeast, and makes a series of zigzags before heading roughly north for the final section. It is 3.4 miles to the trailhead at road's end, elevation 4,756 feet.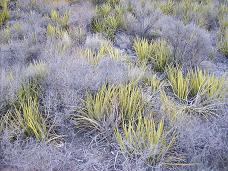 "Shindiggers" are an
extremely potent means
of ruining the day.
Locate the trail on the other side of a ravine to your west. It climbs to a 5,092 foot saddle; and then in a series of switchbacks reaches a 6,850 foot saddle before dropping down to the bottom of a drainage on the opposite side.
Fifty feet below the saddle, and just beyond it, is a flat and grassy area suitable for camping.
Hike the drainage generally to the east-northeast as it slowly gains elevation. There is a split at 7,850 feet, whence one enters the right fork and continues to an abandoned horse camp (where we found a water jug).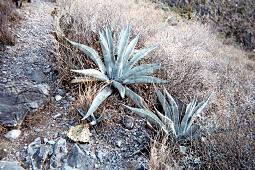 Twin succulents near Centinela
trail at about 6,250 feet elevation
(AH photo).
The camp, strewn with junk, is where one leaves the drainage. Locate a path up the ridge to your right (south), and take it nearly to the summit of the subpeak to the northeast of Centinela proper. Here the trail either disappears entirely or becomes too scanty for being an advantage over just bushwhacking.
Sidehill to the right towards the 9,500 foot saddle underneath Centinela, climbing slightly in the process. This bushwhack is surely the most unforgiving part of the effort.
Once at the indicated saddle there is a discernible path leading to the summit plateau. Atop the plateau, head for the highest ground with summit antenna masts and building.
Return the route of ascent or bushwhack directly downslope from the 9,500 foot saddle to the abandoned horse camp.
There is about 350 feet of elevation gained from the drainage bottom to the 6,850 foot saddle. Hence the net elevation gain is 5,500 feet and the total gain is 700 feet more at 6,200 feet.
Key GPS-derived waypoints follow (WGS84 datum).
waypoint identity
elevation (feet)
(latitude, longitude)
junction in-town
&nbsp 4,203
(25.10337° N, 103.33040° W)
trailhead
&nbsp 4,756
(25.12343° N, 103.29437° W)
first saddle
&nbsp 5,092
(25.12415° N, 103.29034° W)
20 feet below
main saddle
&nbsp 6,821
(25.13013° N, 103.27557° W)
bottom of drainage
&nbsp 6,502
(25.12698° N, 103.27099° W)
canyon split -
bear right
&nbsp 7,850
(25.14835° N, 103.23793° W)
abandoned camp -
leave drainage
&nbsp 8,234
(25.15052° N, 103.22936° W)
along path
&nbsp 8,336
(25.14952° N, 103.22699° W)
along path
&nbsp 8,517
(25.14814° N, 103.22639° W)
along path
&nbsp 8,741
(25.14650° N, 103.22597° W)
along path
&nbsp 8,946
(25.14567° N, 103.22481° W)
along path
&nbsp 9,060
(25.14535° N, 103.22384° W)
along path -
begin traverse
&nbsp 9,334
(25.14430° N, 103.22188° W)
very near saddle
&nbsp 9,470
(25.14135° N, 103.22411° W)
summit (atop cairn)
&nbsp 10,246
(25.13590° N, 103.23045° W)
Thursday April 8 - Centinela Descent and Durango
ob wants a 4:30 a.m. wakeup - again. I am surprised since it is hardly needed given that it will take only two hours to descend. Nevertheless he is "off" shortly after 5; and I start down 20 minutes later after a pair of granola bars with lots of "dry" milk. Bob has no breakfast food and so is anxious to go.
The pack is over 15 pounds lighter; it is downhill; and it is cool enough to suggest thin liner gloves. Nonetheless the rock-strewn path still demands attention: a twisted ankle here would be a most serious affair since assistance is very far away in these parts.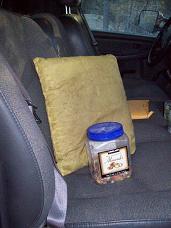 Adam's companions
while in the front cab -
pillow and candy jar.
By sheer coincidence I catch up with Bob just as we reach the camper. It is still before 8 a.m., and, after repacking, enjoy some remaining pastrami with a pair of cooked eggs and two slices of wheat bread.
We start driving around 9 a.m., bound for our next goal. After passing through Jimulco de Flor and returning to Route 40 some confusion ensues about the correct way to access the paved route to Durango. Eventually it's all resolved, and we are in Durango, Durango around 1 p.m. just as we planned.
We are painfully aware that after 20 miles of pavement leading south there will be roughly 60 or 70 miles of rough dirt road to Cerro Gordo. It is not possible to get there today.
After 25 miles of dirt we stop briefly at a logging community, Aserradero de Flor (for which the road is named), and inquire about road conditions. Then, a few miles later, we are stopped by a road construction crew set to water the dirt to lower dust levels. The camper gets through this soggy mess - but not until after Andy shovels away several rocks that would otherwise have "high-centered" our vehicle.
All we achieve by sundown is a pullout 32 road miles from pavement and within a nice pine forest.
The tequila liqueur continues to serve me well, a little bit had each evening with dessert. It seems especially good mixed with an equal amount of honey - and then drizzled over Passover honey cake!
We are fully two days ahead of schedule - so much that Andy has decided to remain with us after he is invited to stay. He will now get more than planned out of this trip, while still getting back to work on-time.
Friday April 9 - Cerro Gordo
e aim for 10 a.m. at the mountain's base. True enough, after some 4 hours of thankless driving we pass around the western edge of Maiz Gordo, another logging operation, and try to drive as near as reasonable to Cerro Gordo's northern flanks.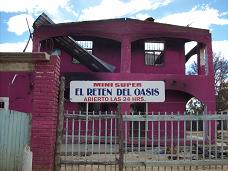 Shocking purple colors a
fire-ravaged former store.
Eventually we park at a junction exactly where I suggested using Google Earth satellite images. After a hasty snack (pint of green beans with parmesan cheese), I am ready to go by 11 a.m.
It is fully 80 miles of dirt road to this location, and has taken us 7 1/2 or 8 hours. There is no equivalent to this distance in the contiguous 48 United States for reaching any state highpoint or, for that matter, any county highpoint. Worse still, one has to return the same 80 miles. The distance is exact - not a rounding to the nearest ten miles.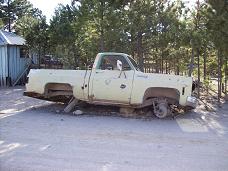 Going nowhere anytime soon.
There is about 2,000 feet of elevation gain to the summit. One-half of it is done on logging roads with a short cross-country section. This takes us to the base of a forested, north-facing slope in-between Cerro Gordo and its slightly lower sister peak immediately east.
From there we bushwhack to a 10,750 foot saddle, using a faint path that we are quite surprised to find.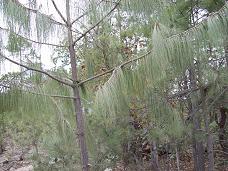 We dubbed this a
"drooping pine".
The summit is now to our northwest; and it appears to be surrounded by vertical cliff bands much as was seen miles away during our approach drive. I carry an 80 foot rope in case it's needed. However a weakness is located on the south side, right in front of us. After leaving my pack, I clamber up the remaining 100 feet on Class 3 rock with good footing.
Bob and Andy shortly arrive - as does a very light rain. I am concerned that the rock will turn slippery, and descend with Bob after only a few minutes.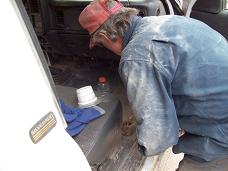 A homeless person recovers
spilled jelly beans
after a very short stop.
The summit has several structures, including a wood weather shelter. Cerro Gordo is the highest mountain in the Sierra Madre Occidental running for much the length of western Mexico.
Back at my pack I descend slightly to enjoy my "summit" sandwich (this time with Argentine Reggianito cheese); and then join the others for our descent.
There's still plenty of daylight - and we use it to maximum advantage by driving all the way back to last night's campsite.
Late at night a logging truck arrives and parks nearby. I hear one of the front cab's door handles being played-with. A quick set of hard knocks on the window lets him know that somebody is HERE - so that thievery is not an option.
What we once thought of as a decent place to camp suddenly seems like a mistake waiting to happen. We should have camped on a lonely side-road as with previous nights.
To Climb Cerro Gordo (the Durango State Highpoint)
Location: 23.20599° N, 104.94416 ° W
250,000:1 chart F13-2 &nbsp &nbsp "El Salto"
50,000:1 chart F13B41 "Taxicaringa" (B11, B21, B31 are also needed for the approach drive from Durango.)
From the south end of Durango take the paved road leading south to Aserradero de Flor ("aserradero" means "sawmill"; and derives from the same root yielding "serrated" and "Sierra Nevada"). There are 20 miles of pavement. Thereafter expect dirt at an average 10 miles per hour.
Zeroing your odometer at the pavement's end, Asseradero de Flor is at mile 25. Our camping pullout was at mile 32 at (23.52039° N, 104.81775 ° W), elevation 9,324 feet amidst pine forest. As noted above I do not recommend it. Drive on any of many side roads and camp.
Pass through several small villages, including Cebolla ("onion").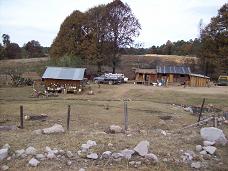 typical backcountry dwellings
A few miles before the mountain you encounter a logging operation as Maiz Gordo ("fat corn"). Drive around the west edge of this affair; and continue on the main road as it takes you south beyond the operation's southern edge. You are now only about one mile by road from the suggested trailhead.
Continue gaining elevation, disregarding any side roads encountered, and park at (23.22110° N, 104.93312° W) with about 8,900 feet elevation. This is your trailhead (waypoint "TH" below); and the odometer reads 80 miles from pavement.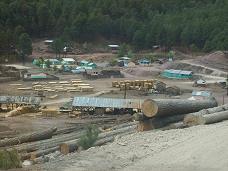 Maiz Gordo logging operation
Hike southeast on the obvious side road, leading uphill to waypoint 2. Now bushwhack to the right (generally west), uphill, to a second road at waypoint 3. Turn left (southeast) onto the road, and follow it south and east, then west, to a junction at waypoint 5 with one road heading downhill with a slight angle to the left; the main road continuing straight west and uphill.
Stay straight (uphill), eventually passing an orange lookout tower and an abandoned concrete structure after an east-trending section to the road. Here the road resumes its generally western course as it passes right under the peak and a summit nearly as high to its east.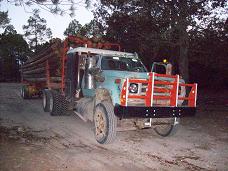 The logging truck parked
alongside our car-camp.
Reach the base of a forested, north-facing slope just prior to coming underneath the obvious, vertical cliff bands hundreds of feet above you to the southwest. This is waypoint 6, and there is 1,100 vertical feet of gain from here to the summit.
Bushwhack south up the forested slope, hopefully using a path that heads in the direction of the saddle connecting the two peaks to your east and west. There is some deadfall to be negotiated but it is not bad at all.
Gain the saddle as waypoint 8; viewing the summit rock massif to your northwest through the trees. Head in that direction on easy ground and, at the rock's base, find an obvious weakness in the cliff bands as ever-steepening dirt followed by about 40 vertical feet of solid Class 3 rock.
Return the ascent route.
Allow for a two-day journey from Durango, the first day for driving to the trailhead; and the second day for climbing the peak (allow four hours) plus the return drive.
Key GPS-derived waypoints follow (WGS84 datum).
| | | |
| --- | --- | --- |
| waypoint identity | elevation (feet) | (latitude, longitude) |
| TH (trailhead) | &nbsp 8,900 | (23.22110° N, 104.93312° W) |
| 2 (leave road) | &nbsp 9,104 | (23.21719° N, 104.93228° W) |
| 3 (hike road) | &nbsp 9,222 | (23.21583° N, 104.93370° W) |
| 5 (junction) | &nbsp 9,390 | (23.21346° N, 104.93050° W) |
| 6 (leave road) | &nbsp 9,921 | (23.21016° N, 104.93971° W) |
| 8 (saddle) | 10,757 | (23.20444° N, 104.94252° W) |
| summit | 11,013 | (23.20599° N, 104.94416° W) |
Saturday April 10 - Down to Mazatlan; Andy departs
boring day of just driving and with little to redeem itself. After about 3 1/2 hours of dirt and then 20 miles of pavement we return to Durango; and then head west, largely downhill, to Mazatlan on the western coast.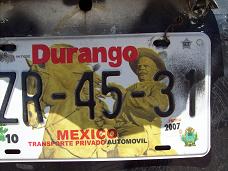 Pancho Villa is featured
on the Durango license plate.
Andy decides on taking a public bus from there to the Arizona border. To locate the bus station I find a taxi driver; and Andy rides as his passenger while Bob and I tail him through downtown Mazatlan.
At the terminal Andy buys a ticket for the next departing bus at 7:45 p.m. We say our goodbyes, and then Bob and I head north to find a camping spot. On leaving the city a bank's outdoor digital clock reads one hour later than our watches, raising the possibility that Andy will be one hour late for boarding. He has no cell phone; and there's insufficient time to drive back and warn him.
We take an exit labeled "Playas" ("beaches"), assuming that means public camping by the waterfront. However after a few miles, and several attempts at finding a quiet location on some side-road, all we see are multi-story hotels in the waning light. We find an abandoned garbage dump about one-tenth mile from the road and camp.
Sunday April 11 - North to Sonora; Alamos community
ur drive north will not take all day. Arriving in Navojoa, Sonora around 12:30 p.m. we have some lunch and then drive east to Alamos, a community of much history and, apparently, a tourist destination.
The trailhead for our mountain, the most prominent peak in all Sonora, is near the southwestern end of Las Uvalamas - several homes lining a dirt road. Andy had climbed the Sierra Alamos highpoint; yet had not bush-camped here the previous night as he was with his wife. Instead they were staying at the nice Rancho Acosta inn in Alamos; and Andy's wife drove him to the mountain's base before sunrise. He walked back to Rancho Acosta after the ascent.
We wish to do better than that, and locate a good place to camp 0.15 mile southwest along the dirt road from the trail's start. It is 50 feet north of a black gate leading to ranch property, on the road's north (right) side from the perspective of a driver traveling southwest.
It is only 2 p.m., and so, after agreeing on this camping spot, we explore Alamos. Alamos has a fascinating history, and Bob gets a book detailing the town's past with both illustrations and some facts that seem too bizarre for credibility.
We talk about Alamos with a pair of Dutch people as they sit down to a mid-afternoon meal. We enter a market and each get that long-sought ice cream bar with coffee-flavored chocolate ice cream. After 4 p.m. the town has become just another place, and we return to the camp area where Bob takes a nap and I pack for the next day's climb.
I enjoy noodles Alfredo for supper with a can of mushrooms. As usual, dessert comes later, and is often tinged with a hint of that tequila liqueur. The evening is warm, and windows are opened to ventilate the camper.
Monday April 12 - Sierra Alamos Prominence
just know this is going to be a hot day owing to being significantly lower in elevation than any of our previous efforts. I wear the lighest clothing available, including light blue pants that seem more like underwear; and an orange silk shirt that is torn at the shoulders. I also carry six quarts of water.
We arise at 4:39 a.m. (nine minutes "late"); and are hiking at 5:16 a.m. Some time after passing the ranch gate about one-half mile in, I turn around and see a man just 100 feet behind us carrying a shotgun. I explain our intent; and he provides some advise while contributing to a lively conversation. He lives at the third house ("shack"?) from the trailhead, on the right side as viewed northeast.
At a well-decorated, house-shaped religious altar he points out a wooden depiction of some virgin saint that he carved. Just 20 meters later is our trail junction. As we turn left I am glad to leave him so that Bob and I can concentrate on our task.
We climb to a flat spot near the 820 meter saddle. From here the route is MOST confusing, and we lose the trail in a south-southeast trending gulley. Fortunately I have waypoints from Andy's trip report; and, using the next one, we bushwhack to an abandoned stone building at roughly 1,100 meters elevation.
The next goal is a 1,300 meter saddle. We continue up-gulley, and, unfortunately, use a steep and undesirable route to get out of it and reach the saddle. Once there I cache another water pint. The trail we should have taken to here is now obvious.
There is now about 1,600 feet of remaining elevation, and Bob can do it in two hours. We vow not to lose the trail again - and this proves simple. I wait for Bob every 400 vertical feet or so. Going at my own pace allows me to rest and take water in a tree's shade while waiting for him. This is vastly preferable to hiking slowly, wasting precious water by the mere act of being exposed to the sun longer than I require.
We loop around to the south and, shortly after turning back north (the top is now only 200 feet above us), I take a steep path to what appears to be the summit. I am mistaken, and bushwhack west to meet Bob who is already on the correct path.
We leave our packs at the base of the 30 foot summit rock mass; and I find a route that circles clockwise around its north side. The final five or six foot tall summit boulder is easy, and, a few minutes later, I am joined by Bob.
The Sierra Alamos highpoint is on Mexico's Fifty Finest list. So with well over 4,000 feet of prominence the views are spectacular. A nearly as-high subpeak rises to our northwest, and has a whole bunch of black birds, possibly buzzards, right on-top. A steep and technical subpeak rises to our west, and reminds me of Baboquivari in Arizona. Had that been the highest ground our rope, and likely more gear still, would have been needed.
We enjoy lunch at our packs, including, for myself, a smoked turkey and smoked fontina sandwich with mayonnaise on wheat bread. I share a large cream cheese brownie with Bob; and drink yet another pint of water before descending.
At the 1,300 meter saddle we take the correct trail, finding that it travels well west of the gulley before doubling-back east and entering it. Again we lose the path while in the gulley; and bushwhack to the stone structures. A trail is not found until leaving the gulley, at its west bank, bound for the 820 meter saddle.
Back at the main trail junction we head north, only to find a split in the trail. Having been in-conversation at this point on the ascent I have no idea which path to take. We guess wrongly, and begin yet another bushwhack which takes us too far west. I get a waypoint fix from Andy's report which suggests that we travel 350 meters east and 450 meters north to regain the main trail (basically, northeast). Eventually we get there with some unwelcome elevation gain and gulley traverses.
Back on the path we promptly lose it again! There are many intersecting cattle paths here; and it is (apparently) quite easy to take the incorrect one. This time I spot the main arroyo to the northwest with its large, smooth, gray rocks and boulders. We head there and remain in the arroyo as it takes us, like a royal road, back to our camper - having never returned to the true trailhead 0.15 mile northeast.
It is about 5:30 p.m. A young man walks by just after we arrive, and I get into yet another conversation even though what I really want is to get out of my boots, wash my face, and eventually enjoy supper with Bob as the sun sets.
What a nice feeling to know that all six peaks were reached!
To Climb the Sierra Alamos highpoint (and prominence)
Location: 26.97309° N, 108.99022° W
50,000:1 chart G12B47 "Alamos" covers first half of route.
50,000:1 chart G12B57 "Cerro Colorado" covers second part of route.
A 250,000:1 series map is not needed.
Drive east from Navojoa, Sonora on Highway 1 for 31.5 miles to the ornate, western Alamos entrance gate. Continue 0.6 mile more and turn hard right (southwest) into the Las Uvalamas village. Drive 1.0 mile to the trailhead with shrine on the road's south (left) side. A good parking spot is 0.15 mile farther along the road and opposite a black gate.
From the trailhead hike south-southeast, eventually passing through a wire ranch gate. Continue to a key junction with the desired path branching left and uphill. Twenty yards prior to the junction is a shrine on the trail's right (west) side.
Climb the trail to near an 820 meter saddle. From here the route is generally south; and begins by paralleling the right (west) side of a gulley. The route becomes difficult to follow. If it cannot be found then just continue up the rocky gulley to a set of stone structures.
From these structures the trail exits the gulley by heading west, executing a counter-clockwise loop that eventually reaches a prominent 1,300 meter saddle.
From this saddle follow the trail southwest as it ascends the ridge. About 400 feet below the summit the trail levels-out and the summit suddenly appears. The trail loses some elevation; and then contours south along the summit's eastern flank.
Now roughly south of the summit, double-back to it along the obvious path and pass by multiple antenna structures prior to the final, 30 foot tall summit rock massif. Climb the rock along its northern flank, clockwise, surmounting the final boulder by stepping first on a shorter boulder immediately at-hand.
Return the ascent route.
Key GPS-derived waypoints follow (WGS84 datum).
waypoint identity
elevation (feet)
(latitude, longitude)
highway at Las Uvalamas
&nbsp 1,352
(27.03432° N, 108.95752° W)
trailhead
&nbsp 1,519
(27.02901° N, 108.97104° W)
ranch gate
&nbsp 1,781
(27.02174° N, 108.97575° W)
trail junction -
bear left
&nbsp 2,054
(27.00736° N, 108.98148° W)
near 820 meter saddle
&nbsp 2,733
(27.00200° N, 108.97639° W)
abandoned structure
&nbsp 3,622
(26.98936° N, 108.97496° W)
1,300 meter saddle
&nbsp 4,218
(26.98343° N, 108.97340° W)
along path
&nbsp 4,559
(26.98226° N, 108.97625° W)
along path
&nbsp 4,988
(26.97933° N, 108.97960° W)
along path
&nbsp 5,117
(26.97906° N, 108.98052° W)
along path
&nbsp 5,376
(26.97891° N, 108.98231° W)
along path
&nbsp 5,425
(26.97786° N, 108.98321° W)
along path
&nbsp 5,511
(26.97379° N, 108.98752° W)
along path
&nbsp 5,603
(26.97322° N, 108.98745° W)
along path
&nbsp 5,599
(26.97312° N, 108.98833° W)
summit
&nbsp 5,833
(26.97309° N, 108.99022° W)
Tuesday April 13 - Return to Arizona
ur trip is now "over" from a peakbagging and exploration perspective. The only thing I look forward to is returning to where we have full rights as American citizens - and, more particularly, where we are not kept behind a fence, with the vehicle impounded, just for being in an automobile accident that may not even be our fault.
A major "discovery" is made around 11 a.m. at a rest break - a coffee-flavored chocolate ice cream cake in the convenience store. I don't want to lose weight (it's hard to eat enough during a 13 hour ascent); and indulge with added Passover honey macaroons and even more honey. Bob loves coffee ice cream and eats a sizeable piece before we drive onwards. I have an extremely high metabolism and will burn muscle if not given enough to eat since I have no fat to burn. The solution, of course, is deeeelicious.
We find the place to return our vehicle permit exactly 12 miles (20 kilometers) south of the international border. After crossing the border only two eggs are confiscated that Bob had not yet gotten around to eating.
We come to Andy's home at 6:15 p.m. as his family is eating supper on the back patio. Owing to its timeliness Bob and I join them rather than showering first. The carne asada is good - but I appreciate most the little salad with blue cheese dressing as it's the first fresh vegetable I've had in two weeks. Strawberries are enjoyed as dessert.
I am treated to a selection of books from Andy's former hobby as a mine souvenir collector. The juxtaposition of my interest in chemistry (including explosives) dovetails well with his interest in mining technology.
Bob sleeps in his camper while I take a children's green bedroom.
Wednesday April 14 - San Diego
arise early to "beat" Tucson morning traffic; and the 430 mile drive home is uneventful. The odometer reads 859.5 Adam truck miles on returning home; and yet is, of course, a mere fraction of the total distance driven.
Summary
ur journey is completely successful, having realized all the original goals. I thank Bob Packard and Andy Martin for both their roles in trip planning and execution; as well as their general companionship.
My only complaints are unavoidable - the inordinately long dirt road drives and the discomfort of accomodating three people in a vehicle designed for just two.
We are already thinking of another northern Mexico journey, one centered on Monterrey as in 2008, and with several prominent peaks on the itinerary.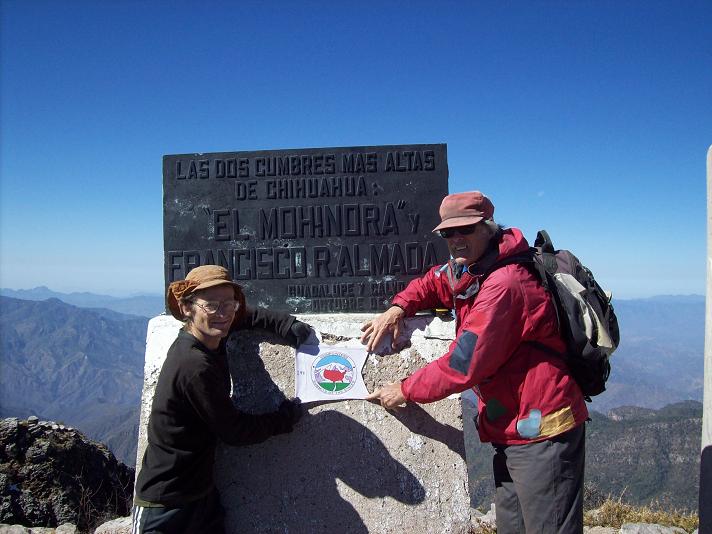 Adam (viewer's left) and Bob at the top of Chihuahua.
Note the State Highpointer's logo.