Nevada Prominences June 2014 Trip Report
© July 2014 Adam Helman
Note 1: All coordinates use the WGS84 datum.
Note 2: Photographs are by the author except where indicated
by JH (John Hamann) or RC (Richard Carey).
Note 3: Mouse-click nearly all images for detail.
Background
This journey is more about a back and book than climbing mountains. My county highpointing book A Tale of Twelve Summers was revised through May after noting several slight errors in the main text. Since I would be paying for an author resubmission to Trafford Publishing, I rewrote and added paragraphs to the Preface, with the URL (web address) of an online errata (not yet available) to handle post-publication errors. Upon returning home from the May Nevada journey I labored feverishly five days to provide Trafford the revised manuscript - submitting the content on May 29. Trafford's sole tasks were to insert page numbers plus copyright information, and submit the resulting PDF document for my approval. Their staff did not examine my file for 4 days, even though I made it clear that I wanted the revised book in my hand prior to the current journey. The page numbers were inserted, a so-called low resolution PDF document sent to my inbox for approval. The low resolution document occupies only about 10 megabytes for efficient Internet sharing. All images and text are grainy, barely legible and the quality of a tattered newspaper at best. In contrast the high resolution document used for printing is roughly 500 megabytes, and has a Trafford watermark running diagonally across each printed page so that I will not take it elsewhere and happily print it without their approval. I received the low resolution file on June 4 - and was shocked to see that two pages from the Arizona chapter were mis-inserted into the California chapter. I rejected the file and notified Trafford of the error - and how to correct it in a detailed email message. Remarkably my simple instructions ("Move the currently numbered page 69 to after the currently numbered page 87...") was too complicated for the staff. They had to call me on the phone for clarification - TWICE. A revised file was submitted for my approval on June 6. I ordered it printed and mailed to my home address prior to the current journey.

It was not shipped for two weeks (June 20) when I was already in Nevada - and the publishers knew this would be a problem. Having anticipated this myself, it was mailed to the Best Western hotel in Eureka, Nevada where we would be passing through mid-journey multiple times.

The remaining set of bumbling, inept work and failed communication related to my book are described in this story's main text - all of which are Trafford's failing.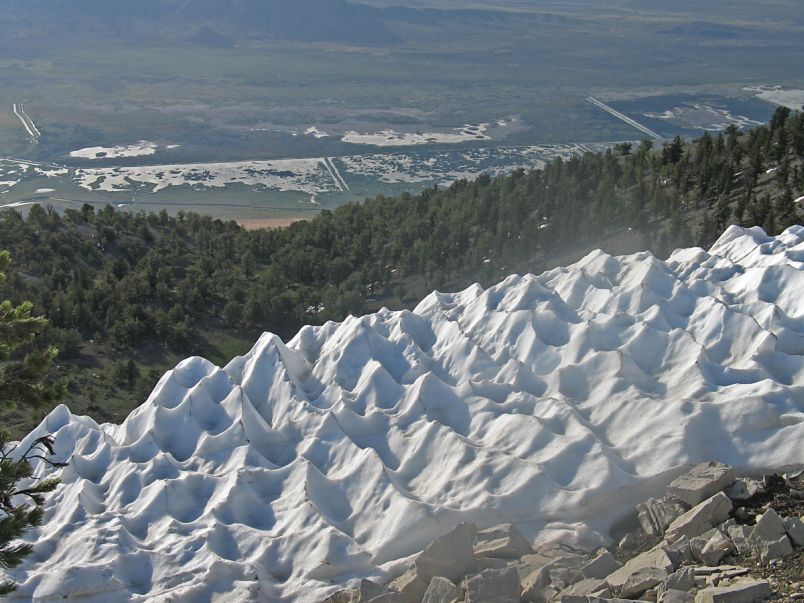 Suncups on the Pearl Peak effort with marshland 4,500 feet below. (RC)

Three or four days prior to this journey I noticed a pain in my left leg on standing for several minutes. I have no idea how it came to be, and yet continued to exercise, albeit with modest pain, at home to remain in condition.

That pain becomes intolerable during this journey, forcing an early and untimely end to it fully two days before its planned conclusion. That written, we do accomplish our goal of at least a dozen 2,000+ foot prominences. Richard Carey earned 14, Bob Packard 15 (he remained in Nevada for Ward Mountain which Richard and I had already climbed); and John Hamann secured 5 so-called P2Ks mid-journey after joining us in his rented high clearance vehicle. The peaks themselves, in my view, pale in importance to this pair of longer-term issues of providing my book to friends and family; and trying to resolve this lower back problem. Monday, June 16 - Drive to Nevada Richard retrieves me at 6:30 a.m. and we drive the 470 miles to Tonopah, bypassing Las Vegas via Baker and Shoshone (California), followed by Amargosa Junction and Beatty (Nevada). My stuff is transferred to Bob's camper and we caravan to a high saddle for the evening. Tuesday, June 17 - Shoshone Mountain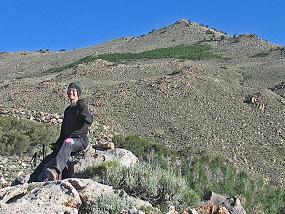 Adam at Shoshone Peak. (RC)

Our route is simple - yet obvious leg pain complicates it for just myself. Dosed on aspirin and Ibuprofen I summit, my pain dulled by both the medicine and the day's excitement.

The true top is east of where it's cited at both peakbagger.com and listsofjohn: WGS84 datum (38.66987° N, 116.96149° W). The two minor rock outcrops some 200 yards west are slightly lower. Bob and Richard head over to a "P300 summit" while I descend directly to the saddle. By noon we drive to the next trailhead. The Wildcat Peak's approach features a sudden right turn across the streambed at (39.00734° N, 116.79480° W) at measured 7,903 feet about one half mile short of the "trailhead" reported by others. Wednesday, June 18 - Wildcat Peak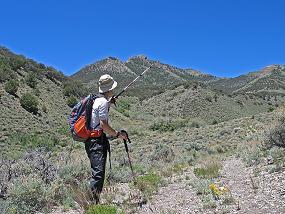 Tip of Adam's trekking pole points
to the steep chute descended. (RC)

We start badly by ascending the wrong gully. My leg is quite painful - I stop for Ibuprofen within minutes of the cars. It's a thankless sidehilling process for the first two hours, improving around 9,000 feet before reaching the obvious saddle. My leg suddenly feeling "normal" I climb past it, heading northeast, at a remarkable 2,400 feet per hour.

The summit area is Class 2/3, the views excellent. A huge mining operation has excavated earth a few miles south, irreversibly altering one mountain's shape. We descend an entirely different way, using a steep rock and scree chute for perhaps 600 vertical feet immediately north of the summit and highlighted in the photograph. After that precarious section the going is much faster - and we return to the cars in a fraction of the time had we simply reversed course. We meet John Hamann in the valley at a designated junction and caravan, now as three vehicles, to a campsite north of Table Mountain. Bob and Richard hike to yet another summit while John and I talk at length while seated on lawn chairs. Richard's red wine goes great with John's fresh strawberries and a Pepperidge Farm strawberry cookie studded with cream cheese-flavored chunks. Thursday, June 19 - Table Mountain With over 3,000 feet of prominence and a Nevada Fifty Finest peak this one is surely a worthy prize for our efforts. It's also the Monitor Range highpoint, and sports a two mile summit ridge walk at 10,800 feet with views in every direction. I have looked forward to it. My leg does not cooperate. It is so painful upon nearing the summit plateau that I stop and rest frequently for the pain to subside. Soon I am behind Richard and John, and they don't hear my shouting as I attempt to make progress. It's pretty bad today. Somehow I reach the benchmark, eat my sandwich, and begin the return immediately because I don't know how slow progress might be. The 5 mile return to our trailhead is very bad. I have to stop and sit every 5 to 10 minutes, whence the pain ceases and I can continue once again. Back in the valley we bypass Summit Mountain owing to apprehension over its long 4WD approach drive, opting instead to drive dozens of miles west to an optional peak which has now become tomorrow's main goal - North Shoshone. Passing through Austin, Nevada I get a signal and see that my author copy will not be mailed until tomorrow. This is very upsetting, as it means that a full two weeks elapsed between approving of the publisher's PDF file and mailing of the resulting book. We camp three miles short of the would-be trailhead. I will not be climbing tomorrow given my distasteful Table Mountain experience. Friday, June 20 - North Shoshone and Prospect Peaks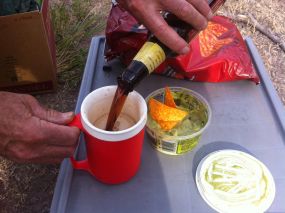 Richard pours beer for his chips
and guacamole dip during Happy Hour -
a ritual performed nearly every afternoon.

I sleep extra hours and spend the morning aimlessly waiting their return. Although the hike/climb itself is simple, the final three miles of road is reported very slow and narrow.

Passing again through Austin I learn from the UPS website that my book has been shipped via ground transportation, not due to arrive until June 26. I am outraged at the utter lack of consideration, and sheer stupidity of this result when the publisher KNOWS how timely is my approval of the author copy - so that the full-size print run can be made, and books distributed, before my big summer climbing trip. I de-escalate my anger by sleeping in the camper as we drive to Eureka. Rather than go all the way to John's next desired goal (Morey Peak) I decide that Prospect Peak, just outside Eureka, Nevada, is a more sensible alternative. After introducing myself to the Best Western hotel staff we find Prospect is a drive-up. Hence I secure a 4th P2000 summit in as many days even though North Shoshone was a bust. Moody Peak is considerably closer than Morey Peak. Thereby we head towards Moody given the late afternoon hour, camping at a junction in the valley several miles from our trailhead. Saturday, June 21 - Moody Peak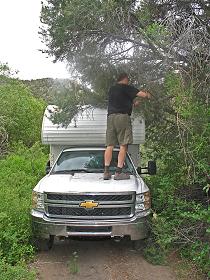 John Hamann saws branches on our
Sixmile Canyon approach drive. (RC)

This one is aided by numerous well-entrenched horse trails leading north to our goal. My leg is feeling normal ... so much so that wired on caffeine I try to lift John Hamann at the trailhead as a demonstration of my improved condition. Unsuccessful (he weighs 190 pounds) I satisfy myself by stomping on my left foot and jumping up-and-down on it.

The hike/climb itself is easy, and we return around 10 a.m. to both vehicles (THIS time Bob's camper was not stopped by low-lying branches). Our northern approach to Morey Peak is tedious. Eventually we come around to its south side where John parks the rental and transfers his gear to our vehicles. The 7 mile drive up Sixmile Canyon is full of aspens at multiple stream crossings. In addition, THREE TIMES Bob's camper cannot pass under tree branches, requiring his hand saw for progress. Sunday, June 22 - Morey Peak bust I start with everybody and decide my leg is just not well enough to continue beyond a certain junction less than a half hour later. Already it's hurting too much. I return to the camper and sleep. The group returns, citing difficult terrain - and that the northeastern summit is doubtless higher than the southwestern one, verified by two observers each using two hand levels. John parts with us in the valley, his shorter trip completely successful. Bob doesn't like returning north on such a slow dirt road. Instead we do an "end-around", driving south to pavement at U.S. Route 6, through Ely and then camp at the historic Belmont Mill 2.6 miles shy of the next day's trailhead. At the Ely, Nevada supermarket I get a chocolate cake to bolster my spirits, and yet will not have a slice until after I descend some mountain without constant pain. Monday, June 23 - Mount Hamilton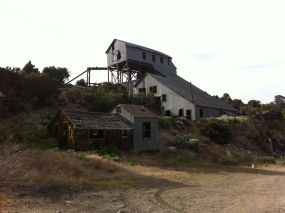 The impressive Belmont mill
where we camp for Mount Hamilton.

I am pain-free until the descent - and even then it's tolerable on a 1-10 scale. I have enjoyed the one-half mile summit ridge in both directions.

We head west to Ninemile Peak, camping at the very last place possible permitting level sleep. We are 1,650 feet under the summit and less than two hiking miles away. Tuesday, June 24 - Ninemile Peak Richard wants to start from our campsite. Normally I'd agree - yet with every other footfall potentially painful Bob agrees driving us to a closer starting point with just 1,000 feet of gain and under one mile. We summit before 7 a.m. Richard, always keen on photographing the benchmark, cannot find it underneath a large amount of rocks. My leg is hurting a bit as we return to the camper. The original plan was to do Fagin and Roberts Creek. However we'd be returning after them to Eureka on the 25th - one day before the book's arrival. Instead we head for the range northeast with a trio of prominences, with a projected return on the 27th. I cannot stand more than a few minutes in Eureka (an ambiguous statement when not taken in context). However there's just one pint of ice cream in the local market's freezer - Ben & Jerry's That's My Jam Core - "Chocolate & Raspberry Ice Creams with Fudge Chips & a Raspberry Core" - enjoying it to-no-end as we drive north on Nevada Route 892 to Pearl Mountain. The addition of Richard's red wine would be excellent, yet it seems too absurd stopping our caravan to meet that desire. Richard's vehicle overheats on a particularly steep section just before reaching a saddle suitable for camping at 8,500 feet. Bob and I return to his car and discuss options, finally deciding to drive a bit farther after the engine cools over 30 minutes. In the morning Richard will drive us all to the desired trailhead since the remaining road is side-tilted enough to concern Bob over his high-centered camper which could readily tip-over. A peculiar series of marshes lie east in the valley below, later identified as a wildlife preserve.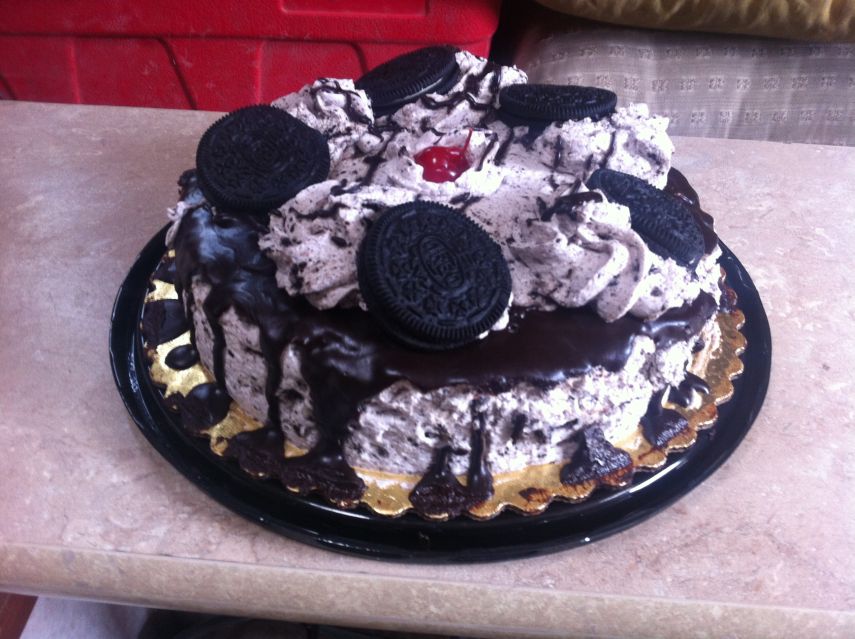 Chocolate cake with cream frosting, Oreo cookies and a central cherry.

Wednesday, June 25 - Pearl Peak

As is by now standard practice we all drive in Richard's vehicle to our desired "trailhead". Bob lies down in the camper while I occupy the passenger seat providing navigational information. After passing over Peak 10563T (a P300 summit) we sidehill past two more subpeaks and summit under glorious conditions around 8 a.m. Sadly my left leg begins to hurt on descent, yet it's not the overwhelmingly painful issue of Table Mountain. Waiting at the vehicle, I enjoy Richard's Cabernet red wine as he and Bob hike Cass House Peak immediately west. I'm in-charge with ensuring timely adherence to the trip's principal goals. So permission must be sought for them to do yet another P300 summit west of the 9,700 saddle between us and our campsite. In my current state (readily achieved at 10,250 feet and on basically an empty stomach) I gladly approve of the concept. In fact, "anything goes" at the moment! Hours later we turn back on attempting to reach the desired Big Bald trailhead - Bob's camper is simply too tall, and we don't want to saw tree branches for the afternoon's balance.
Tiny wildflowers have a short
season at two miles elevation. (RC)
Second view of a similar bunch. (RC)
Thursday, June 26 - Big Bald and Buck Mountains

I realize there's an opportunity to "save a day" here and double-up on peaks. In so doing a seriously long climbing and driving day near the trip's conclusion will be obviated - replaced by a more doable one. Big Bald is easily done with only about 1,100 feet of gained elevation. At the summit (windy!) we see the huge and active mining operations on the mountain's south side - which precluded simply driving a well-graded road to the summit. We reach a good starting point for Buck Mountain before noon and begin its ascent, even though the forecast called for rain this afternoon. It does indeed mar the enjoyment, while my left leg continues to cooperate. I leave my (metal) trekking poles 500 feet from the highest point and return to them immediately after summiting: this is no time to be guessing when the first lightning bolt will come. After returning to Richard's vehicle clothes are dried under the hot sun as I wait for Bob and Richard to do the northern peak which, although a P300 summit in its own right, is definitely lower by hand leveling and all previous reports. As we near Eureka a signal allows me to track the book's whereabouts - and it has arrived early this afternoon for my retrieval and inspection. After thoroughly washing my hands in a gas station bathroom I painfully walk three city blocks and enter the hotel lobby. The staff won't accept a gratuity. Immediately on opening the book I see two problems with it -
It is the previous version of my manuscript.
The pages lack detail, with images fuzzy and text barely legible.
Somehow a low resolution file was printed, one that is only used for
internal use in developing the project.
It's a worthless copy. Trafford has dashed any possibility of distributing my book prior to the
big summer climbing trip as yet another copy must be printed and shipped for my approval. I am outraged and very upset. Here is the text of my message. "I just examined the copy in Eureka, Nevada - IT IS the OLD version prior to the revisions I
approved of while working with Grace Robertson. This is completely UNACCEPTABLE. Were the Previous version's files submitted to
the printer? Have you LOST the current version? Have you lost your minds? Furthermore there is no resolution to the pages -
as if, somehow, the "low resolution" PDF file
was submitted to the printer rather than the
normal, high resolution file. THE BOOK COPY IS WORTHLESS. ****************************** I await your explanation for how this double error
could take place. I will wait 30 minutes before leaving town. Jane Cole / Grace R must call me in that timespan. &nbsp &nbsp &nbsp &nbsp Adam Helman I am beside myself with disgust and at a loss for
how to deal with this issue YOU have created." Another worker wishes learning if she can authorize my large press run which has been paid for in advance. My reply follows. "Loren W. - &nbsp &nbsp I cannot approve of any book
printing given the current problems. &nbsp &nbsp If you folks do not want my
business refund the $3,301 paid for 52 copies
and I will go elsewhere: &nbsp &nbsp There is no other explanation
for this continuing series of errors,
delays and general ineptitude. I have NEVER before witnessed such
gross incompetence from a company. &nbsp &nbsp &nbsp &nbsp Adam Helman"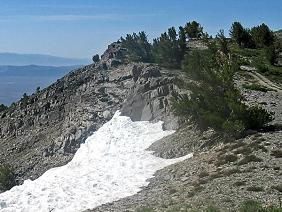 Return vista at Pearl Peak. (RC)

Two hours later I manage to eat a pint of pork and beans supplied by John Hamann
with added onion - and only because it's hard for me to fall asleep while hungry.
I am disgusted beyond all reason.

Friday, June 27 - Fagin Mountain It would have been feasible to climb this AND Roberts Creek today. However I decide it's more important to contact Trafford in town today, Friday, before they go home for the weekend - whence nothing gets done until Monday. After Fagin (easy), Grace Robertson answers my call and yet cannot explain how these errors occurred. There was a long pause after I asked her, "What did you tell the printers to do?". Here I suspect she advised, "Print Mr. Helman a copy." rather than "Print Mr. Helman the revised copy." - or a similar stupidity. Before leaving town I compose and send this message to three Trafford workers who are all intimately aware of the book's progress. (Note how it lacks an opening salutation). "I talked at-length today, Friday the 27th
with Grace Robertson. She is unable to explain how the PREVIOUS version
was printed - AND at low resolution - a construct
reserved only for approving of a PDF file. Faulty communication between far-flung departments
is the likeliest ultimate cause. Grace is under mandate to print a REVISED version -
while ordering the printer to DELETE THE OLD
VERSION'S FILES so this issue cannot again arise. *** No excuses. No delays. No mistakes. *** I have a 400 page document demonstrating
Trafford has FAILED to provide a quality product -
in violation of our contract. The revised book WILL BE BOUND AND SHIPPED
JULY 1 and MAILED OVERNIGHT EXPRESS for
my approval. Do not futher force my hand - or that 400 page
book WILL be mailed to the relevant head supervisor
with names and a full chronological
list of all the errors and delays which
have plagued this project ever since the word
"Trafford" met my gaze. THEREFORE I highly recommend you meet
the cited deadline. &nbsp &nbsp &nbsp &nbsp Adam Helman" As seen this journey's enjoyment was partly ruined, at least for myself, dealing with the publishers. The series of errors (such as misinserted pages), moronic behavior (such as not understanding the difference between a fraction and an absolute value when describing desired printed colors) and delays (waiting several weeks before progress) resulted in my manuscript, submitted in early February, still not in a suitable state for large scale printing even as I write this review in early July.

NEW ROBERTS CREEK MOUNTAIN INFORMATION

For an eastern approach the road crosses from south to north of Vinini Creek at (39.85707° N, 116.19851° W). We do not camp at the 8,126 foot saddle (39.84883° N, 116.28161° W) mentioned in previous reports. Instead we drive north on well graded gravel to camp at (39.86390° N, 116.28781° W) with nearly 8,500 feet of elevation - 350 feet higher and considerably closer to the summit. This area appears on the topo chart as spot elevation 8479T just below "Springs", and has plenty of level area for camping several vehicles. Immediately south is an overgrown two-track, no longer permitted for vehicles (fallen wilderness boundary sign), that is walked south 0.2 mile to an 8,580 foot saddle at (39.86061° N, 116.28792° W). From there the track turns northwest, zigzagging as it gains a few hundred more feet to (39.86158° N, 116.29096° W) and measured at 8,801 feet. Here at the road's top end we head roughly west 0.29 air mile to intersect the jeep road others have walked or driven. That section is quite brushy with sage, and is definitely the sole drawback of our new route. My leg pain has a recurrence this afternoon, again making it painful to stand for more than 5 minutes at a time. What else can go wrong now? Saturday, June 28 - Roberts Creek Mountain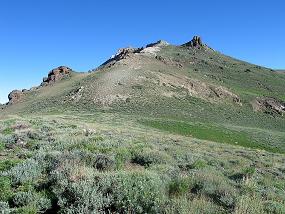 Final 600 vertical feet at
Roberts Creek Mountain. (RC)

This would have been an enjoyable affair were it not for my leg pain. As with other efforts, I summit and return only because of aspirin and Ibuprofen - plus frequent rest stops to sit.

The trip is now overwith - two days earlier than planned, there being little point in its continuation. However Richard is actually pleased with this, having much to do at home; and Bob is also willing to agree. Gear is transferred to Richard's vehicle at pavement before returning to Eureka for yet another depressing communication with the publishers. He pulls over just before leaving town so I may conclude an important conversation... "On June 6 you wrote about "reaching out to the printing deparment" to expedite service. And yet no book was mailed for 14 entire days - not until the 20th" - and then six additional days for delivery because of some miscommunication. Do you consider that 'expedited service'?" (A lengthy pause here.) "No." And so forth. I should never have hired Trafford in the first place. Bob will do Ward Mountain tomorrow near Ely. Meanwhile Richard and I go west on Route 50, south on Nevada 278 and through Tonopah for a Motel 6 in Beatty, Nevada by 4 p.m. After showering we enjoy an extended Happy Hour in the room that continues into suppertime. Richard's pistachios pair well with a bar of Hershey's chocolate from the lobby vending machine - all washed down with his Cabernet red wine. Sunday, June 29 - Drive Home Today's highlight is breakfast at Denny's in Baker, California. I cannot decide between the "Philadelphia cheesesteak" omelet with prime rib chunks; and an order featuring two eggs (with melted cheddar on my request), bacon/sausage, grits and two extremely sweet and sizable pancakes drenched in a chocolate-peanut butter sauce. The latter are so sweet and large that, being suddenly considered "dessert" I order a pair of ice creams to accompany them - one each vanilla and chocolate. REMEMBER this is supposed to be "breakfast"! I am home around 2 p.m.
Summary
In three hours I see a doctor for determining the root cause (pun intended) of my leg pain. Since I am unwilling to scale back my climbing efforts and view surgery as too risky there may be limited options for certain diagnoses. Of particular concern is that my big summer trip, set to start on July 16, is at risk of cancellation. I am apprehensive as nothing really matters, not even the book's final printing and distribution, compared with this inability to stand and walk normally.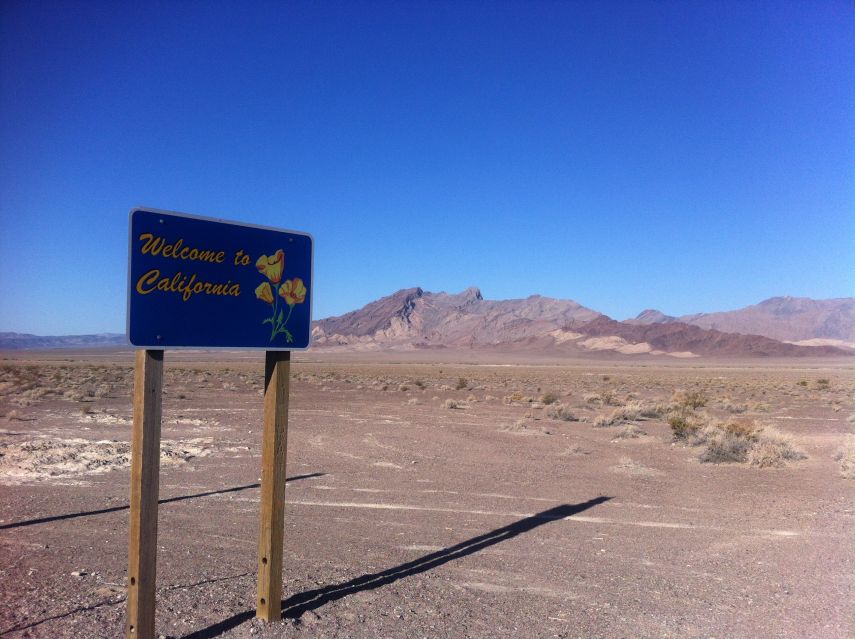 Returning to California along Nevada Route 373
(renamed to Calfornia Route 127 at the border).