Wahkiakum County Highpoint Trip Report
Date: July 7, 2009
Author: Adam Helman

off-season hike from the lower gate Mouse-click either image for a larger version. This effort was part of a larger journey collecting Idaho, Montana, and Washington county highpoints in late June and early July 2009.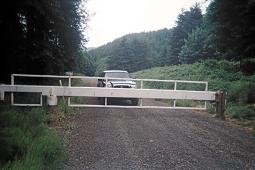 the lower locked gate
and "DENALY".

Unwilling to spend hundreds for a November visit, I resign myself to hiking from the infamous "lower gate" during a pre-existing road journey. The weather holds, yet barely, as I camp at the large, flat area 100 yards short of the gate. My plan is to start well before sunrise so as to enjoy dinner with Bob Bolton at a reasonable hour by late afternoon.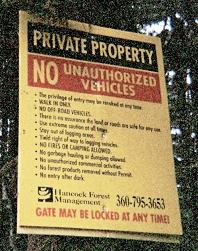 sign at lower gate


A sign just beyond the locked gate indicates that Hancock Forest Management is a point of contact at telephone 360-795-3653. I highly doubt that using this number will improve highpointer access. The lower gate is measured at WGS84 (46.31811° N, 123.26019° W), elevation 444 feet. My most boring road walk begins just past 5 a.m. after a nice bowl of Raisin Bran with extra nuts. I fork left after 0.3 mile, and, after just twenty minutes I encounter the junction where must I fork right steeply uphill to cut-off some five miles of effort. This junction is measured at WGS84 (46.32804° N, 123.27566° W), elevation 600 feet. Then, perhaps one hour later, I reach the confluence of this steep road and the (original?) road. I cache a liter of water and save the coordinates as WGS84 (46.34223° N, 123.27253° W), elevation 1,681 feet. The weather continually deteriorates as I enter the cloud layer. Soon it is a continual drizzle, and my eyeglasses get so bad that I save them in a jacket pocket. I pass mile markers 6, 7, 8 in short order before reaching a junction where I start consulting the topo chart, combined with trip reports, for verifying the correct route. It is sometime around nine when I reach the summit radio shack.

So where's this benchmark claimed to be higher still?

Tom DeRoo writes, "The summit benchmark is about 150' north of the apparently abandoned radio facility on a small hilltop." With my compass I incredulously head north into a tangled mass of brush, and am immediately SOAKED from pants to neck in wetness. I cannot BELIEVE that a path exists; else I would have FOUND it by now!! My gloves are now useless, even though of Gore-Tex, and I stash them in a second pocket while blowing hot breath on fingers for warmth.

What to do now?

I look back down the road, and notice a stand of evergreens apparently higher than myself immediately to its right and about the correct distance. Walking back, I turn right, ascending a gravel slope and, shortly after, spot the orange pole with nearby benchmark. All rock candidates are touched; and I get the heck out of there to warm myself - and especially the hands. I walk most vigorously, pumping my arms up and down, and don't stop at all for roughly forty minutes (near mile marker 8?) where I insist on eating my summit lunch food. However my fingers are too cold to untie the knotted plastic bag with sardine sandwich and chopped onion. I bite open the bag, and eat the contents, standing (it is too muddy to sit anywhere), using my teeth to gnaw at the food directly with my hands only used to position the food near my mouth. By logical marker 5 1/2 I am back at the steep road's upper terminus where I locate the water bottle and, as the weather improves, enjoy gourmet chocolates purchased at a Vancouver, WA indoor mall yesterday with the aim of raising my spirits on what I knew would be a thankless road-walk. The round-trip consumes 7 1/2 hours, and I thankfully change into street clothes with the aim of enjoying a good time with highpointer and friend Bob Bolton this evening. hindsight A maximal-scale view of the 24,000:1 topographic chart shows the benchmark located adjacent to the approach road as it travels southwest to the radio shack. The benchmark is northeast of the shack, NOT NORTH, and this is why heading true north, as per Tom DeRoo's wonderfully accurate directions, led me astray and turned an already wet situation into a potentially serious one.