Hawai'i 2013 - Ultra Prominent Island Tops and County Highpoints
A Tropical Mudfest
© January 2013 Adam Helman
Background and Orientation
random comment from John Klein, peakbagging buddy from Tucson -
"Hey Adam, you've climbed Kawaikini - yes?"
Kawaikini is the highest peak on Kauai, with the reputation of a true jungle bushwhack - and notorious as among the rainiest locations on Earth.1
I had not attempted it, yet figure that others will become interested if I broadcast the concept widely enough. Its appeal is significant -
Highpoint of Kauai and the eponymous county;
Ultra summit (more than 5,000 feet of topographic prominence);
APEX county highpoint ("toughest 20" outside of Alaska)
We need at least four people. Rob Woodall, UK ultra enthusiast, is certainly interested even though Hawai'i is nearly antipodal to his home island. I suggest that he visit Guatemala for its six ultra summits as a side-trip enroute to Hawai'i, so filling in his winter vacation slot.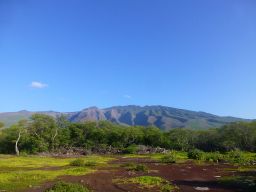 The Moloka'i high ground looks
benign from this viewpoint. (DN)
Duane Gilliland of Washington state signs on, eventually joining Rob in Guatemala as well.
Laura Newman wishes to join us - as does Art Janssen of Page, Arizona.
With six people I close the Kawaikini trek to further attendees, yet with reluctance as I know it's a rare opportunity and there are other county highpointers who should be joining us.
My chief aim is completing the Hawai'i county highpoints. That also includes a dayhike of Ka'ala - highpoint of Oahu and Honolulu County and known for its unique set of makeshift "climbing ropes" using everything from electrical extension cord to metal wire. Laura eventually joins me for that effort.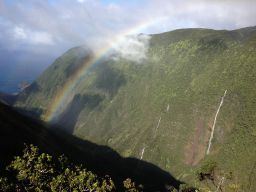 verdant picnic area vista (DN)
Most of Moloka'i belongs to Maui County. However tiny Kalawao County occupies the northernmost fringe, with its highest ground near the county line. It's a modest dayhike with some bushwhacking. No big deal. However when word surfaces of a Hawaiian peakbagging trip a whole bunch of people wish to join just for climbing Kamakou - Molokai's highest peak.
There is no trip report to guide us, let alone a GPS track. It shall be an arduous, essentially unexplored bushwhack from near the far end of a narrow boardwalk used for bird watching. Interested people include John Mitchler, Don Nelsen and Bob Packard - three of the original "Gang of Four" who first climbed Kawaikini in 2006.
Both John M. and Don have failed on previous Kamakou attempts. We concoct a plan to maximize our chances wherein the bushwhack begins at first light, in-turn by hiking at 4:30 a.m. from a remote campsite. Bob Packard agrees to travel independently of the main group.
A timeframe is selected for after the holiday season yet before Duane, a CPA, must return to work for 'tax season'. Thus I fly on January 2 and return home on the 14th.
Kawaikini and Kamakou are the "main events". Beyond them, every person has a different agenda - and coordinating the assorted dates and airborne island-hops is nearly overwhelming. Rob has the most ambitious schedule - one that includes the far more popular (and easier) well-known summits of Mauna Kea, Mauna Loa and Haleakala which the remaining participants, as Americans, had previously visited. All of these are ultra-prominent peaks, with Mauna Kea on the Earth Fifty Finest list and Mauna Loa Earth's most voluminous mountain after account of its subterranean bulk rising 33,000 feet from the ocean floor.
1 The famous Wai'ale'ale rain gauge lies one mile north of Kawaikini on the same island-topping ridge. It records an average 460 inches annual rain.
Review
A review of the Hawai'i journey has been published in Apex To Zenith, the State Highpointer's quarterly newsletter
by Editor and participant John Mitchler. It is necessarily brief, limited by request to at most 300 words.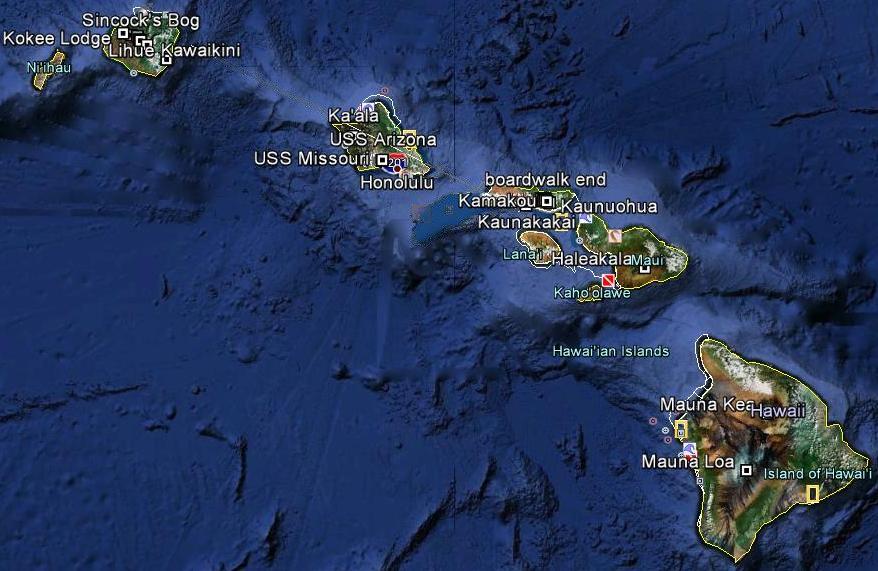 Hawaiian venues superimposed on a satellite image.
Mouse-click to open a file for dynamically displaying all venues.
Google Earth software must be installed on your computer.
Journey Details
Wednesday, January 2 - Flights to Oahu
his long day begins and ends travel in darkness, largely from a six hour layover at Los Angeles International Airport.
My rental is retrieved in the rain, the agent insisting on an address where I will sleep. The "trailhead for Ka'ala" does not satisfy - he expects something normal like a hotel name. Suspecting he wants to retain my business, he considers the trailhead coordinates (21.47529&deg N, 158.15211° W) as satisfactory.2
After disassembling my baggage I doze a few minutes waiting for Laura's flight from Maui where she has been enjoying beautiful weather for a week with her husband. We drive to the Ka'ala trailhead, arriving about 11 p.m. Due to the misty conditions we both sleep inside the car - a "first" in my experience - with Laura reclined on the front passenger seat and myself flat on both back seats. It's a tight fit inside the economy size!
Late at night we are disturbed by a local presumably concerned for our safety. I suspect that he actually wanted to break-into our vehicle, and desisted upon seeing that somebody is inside.
2 The WGS84 datum is employed.
Thursday, January 3 - Ka'ala; meeting on Kauai
e arise just before sunrise, about 7, and commence the hike soon enough. The first mile on pavement is pleasant and largely dry, followed by perhaps half that distance on a dirt road.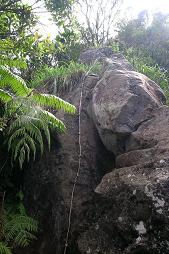 Electrical extension cord
as would-be 'rope'. (DN)
Soon after entering the forest it begins to rain - and does not end until we return to the road some 5 hours later. Rain ruins any enjoyment, dims our views of scenic ridge lines, and makes the steeper sections all-the-more difficult.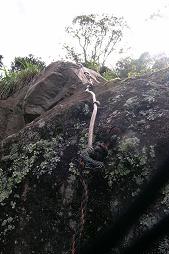 A dubious 'rope' connection
needing replacement. (DN)
The infamous series of makeshift "ropes" are negotated in-turn, with one giving me pause at its base as the rope spans a set of slick three foot boulders with an overall 60 degree gradient. I wait for Laura at the top-end, then continue to the ridgetop, meeting a flat swampy area with boardwalk and a brush for one's boots to eliminate invasive species.
From there it's a mere 15 minutes and one half air mile to the highest ground located near the northern fence of a communications building. We touch the benchmark and head down, disappointed that there is no place to shelter from the misting rain. I stop briefly along the flat boardwalk for a bagel with peanut butter and dried mango while Laura continues.
It's awfully important to leave the ridge at certain telephone poles, turning left (south) and negotiating a pair of rope-assisted sections just below that junction. I catch up to Laura once the terrain has largely leveled-out, and we return under clearing skies to the rental car around 2 p.m.
My clothing is filthy, more than ever before after a dayhike. Our very first errand is laundering clothes, followed by a huge meal around 5 p.m. with Korean barbecued beef, rice, pasta and beverage.
A few hours later and at the airport gate we meet Rob Woodall for the short hop to Kauai.
Our room at the Lihue Kauai Palms Hotel is spacious, each person with his or her own bed.
Don Nelsen's Ka'ala photo album (from 2005)
Friday, January 4 - Preparations
mproperly prepared food in Guatemala led Duane Gilliland to cancel his original flights. Upon rapid improvement at home he rescheduled and arrives this morning, even renting our seven seat van for the convenience of all as per a voicemail to him before I retired.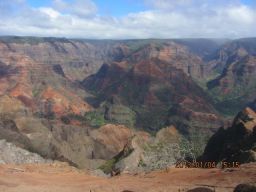 Waimea Canyon (DG)
After restaurant breakfasts (including an order of oxtail soup!) we secure provisions at Wal-Mart and Times Supermarket. Then we drive west and finally north enroute to our reserved cabin at the Ko'kee Lodge. Views of Waimea Canyon are superb ("The Grand Canyon of the Pacific"), with the red/orange rock and green forest in striking contrast.
Lunch is enjoyed at the lodge's restaurant, my most delicious items being coffee spiked with macadamia nut liqueur and topped in whipped cream ($7.50); and a bite of Rob's coconut cream pie. We pack for Kawaikini by late afternoon, in our Cedar Cabin, and enjoy an evening of conversation with much snack food as the evening meal.
Saturday, January 5 - Kawaikini Day 1
e begin shortly after sunrise, hiking the dirt approach road with full-sized packs. The weather is marginal, with rain an ever-present threat. After about 2 miles and an hour we get a ride to the trailhead! This saves our energy and time, arriving just before 9 a.m. Art pays the driver 50 dollars which seems like a fair amount.
After one half mile Art tosses his pack to the far shore at a minor stream crossing, and it falls in the water! After its retrieval the remaining group members cross. During the crossing one of my trekking poles breaks into two pieces, the remaining section useless and abandoned on-site.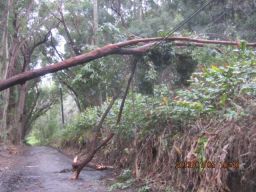 Recent storm damage along
the approach hike. (DG)
From the trailhead it's four miles to the major stream crossing near Koai'e Camp, where the trail officially ends at a filthy, nearly uninhabitable tiny hut near the far bank. By now it's raining, and has for the past few miles. Rob volunteers to cross first, belayed by Duane with rope around the mid-section. He secures the rope to a tree on the far side, returns, and then crosses a third time with his backpack.
I'm next, using a seat harness with locking carabiners affixed to the rope. Don't EVER tie directly into the rope lest it get caught on a boulder and drag you under. The water is perhaps 18 inches high, yet at one point is waist-deep. Somehow everybody makes it across, and we huddle in the sorry shelter - myself shivering from the soaked clothing.
After snack food we continue around 1 p.m., now steeply on a "manway" that is both muddy and somewhat precarious at-times. An etrier (rope ladder) is climbed, albeit with difficulty from pack weight and the general slipperiness.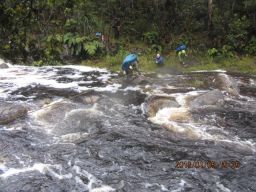 Rope-assisted stream crossing (DG)
Waypoint "Arrow" is at a trail junction. It's not seen until Art deftly removes some wood logs, whence our position is quite apparent. Somebody is playing games with the rare hiker, hiding this critical landmark for some damn reason. It's about 2:30 p.m. and I for one want to call a halt to the day - yet there's no place to camp.
We proceed to Sincock's Bog some 0.91 air mile south, arriving about 4:30 and needing rest. Distances are deceiving - the zigzagging track taken means our actual ground travel is perhaps double cited air distances. A mere 100 feet before the bog (and new fence) is an opening in the forest cover, large enough to accomodate our four tents.
I am invited to share Art Janssen's tent, and eat a cold supper in-the-bag with bagel, pepperoni, sweet mustard and Asiago cheese before sleeping around 7. We had agreed to not bring stoves, the continual rain or light drizzle vindicating that decision.
Sunday, January 6 - Kawaikini Day 2
rt will not continue, complaining of having not slept the night. Laura joins Art.
Such a shame - both are physically capable of completing the effort.
Arising in the dark I hydrate with a pint of "coffee milk", washing down a pair of scrumptious chocolate brownies accented with mixed nuts. I try to actually enjoy the food yet it's difficult in the drizzle - especially after donning boots replete with mud and totally damp. At least my socks are dry, having brought one pair for each day.
I am certain that Duane, Rob and John Klein all have their own unique impressions of this morning.
We four depart right after sunrise, encountering the new fenceline after the cited 100 feet - and making our efforts vastly easier than otherwise. One would not normally travel under these conditions, yet we are constrained by airline flights to trek on rain dates.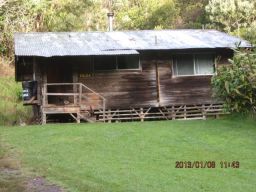 Our cabin at the Kokee Lodge.
Weather precludes photographs today -
hence this off-date offering. (DG)
That fence is most helpful in navigation (which becomes trivial), and avoiding a horrendous bushwhack that would otherwise be suffered. Short, steep sections require grabbing the fences's wire mesh for progress - especially when footing is seriously compromised from mud (the general rule). The fence creates an "aid climb" wherein gained elevation is from upper body strength because boots cannot provide enough traction on the slick surface.
Rain worsens heading east as does the wind. We are now in a heather and bog terrain, having left the forest behind. GPS waypoint "Blue Hole" is where the route reaches its easternmost extent at a severe dropoff for thousands of feet. Here the wind is remarkably strong, at times I have difficulty standing. Rob later estimates it's blowing at 50 miles per hour. I guess it is more like a Category I hurricane (74+ mph).
We head south with only 0.7 air mile to go. John and I have trouble with our glasses - they are so full of droplets that visibility is severely compromised. I switch between wiping them clear with fingers and stashing them in a pocket. The terrain is boggy, we walk in a "mush" of grass and water, making slow yet certain progress. It's raining constantly, I cannot stop without starting to shiver almost immediately. Rob leads this section with GPS unit, navigation no longer trivial after leaving the fence.
The summit is identified only electronically, our position verified with both Rob and Duane's devices. Conditions are miserable - no place to eat my summit snack! We leave after only a few minutes, yet not before I congratulate Duane on his one-hundredth ultra prominence summit.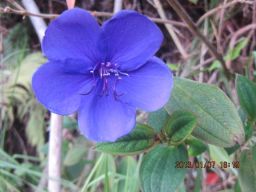 Found along the approach road
during our return hike. (DG)
Most of the way back to Blue Hole, one brief respite from wind and rain allows a short break, long enough to drink water (very little is needed) and enjoy a mini (4 inch) cherry pie. At the Blue Hole waypoint I am literally blown uphill by wind, and wonder if it's always so windy here. Now Rob and John head north for the famous rain gauge only a quarter mile off, while Duane and I go west to camp.
Weather improves the farther west we travel, even hints of blue sky mocking us as we near camp. Somehow we overshoot by about 0.2 mile, thence backtrack, arriving about 2:30 p.m. yet without enough daylight for breaking camp and moving to the sorry Koai'e hut.
After changing into dry clothes I eat a large cold meal by late afternoon, sitting upright in my bag, the desire to consume more calories tempered by the realization that my food should be rationed in case we are forced to wait a day at the stream crossing for the water's volume to subside. So that final, third bagel is reluctantly saved for another time.
It's a long night, yet I am tired enough to sleep through all of it without problem. Tomorrow, if forced to walk all the way to our cabin, will be the longest one yet.
Monday, January 7 - Kawaikini Day 3
ow I run out of dry trousers, forced to wear mud-caked pants from yesterday (and left outside Art's tent to keep it reasonably clean). Several pounds of wet clothing, impossible to dry and triple their normal weight, are left at camp - helping Rob who carries my pack, at least to the dreaded stream crossing, while I carry his lighter and more compact pack. The difference in required effort (my pack weight vs his) is most marked!
As we approach the stream crossing I try to put out of mind the possibility that it's now too high to safely cross even with the rope. On arrival Laura and Art are gone, which is great news as it means they have crossed successfully.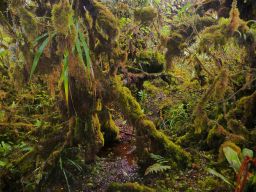 Standard scenery on our jungle treks,
here at Kamakou on Moloka'i. (DN)
The crossing is made, Laura's old rope left in-place on the near (trailhead-side) shore for future peakbaggers and their ilk.
Now with my own backpack again, and with Art's tent as well, I struggle to climb the near side's steep 200 or so vertical feet as others wait for me. I am carrying by far the heaviest load as by far the lightest individual. It's partly my fault for having brought excess clothing, a seven pound empty pack weight, and a climbing seat harness - others just tied a sling around their torso in the old-fashioned way of early European alpinists, thence clipping it into the rope bridge.
The four mile hike to our trailhead is less onerous, with a 20 minute break where the maintained and unmaintained sections meet - and in decent weather! Rob gives me a good amount of sweetened caramel popcorn with macadamia nuts...
We reach the trailhead around 2 p.m. and have lunch, including a can of smoked oysters in oil with bagels for Rob and myself. We had hoped for a ride from any four wheel drive enthusiast, yet being a Monday find no one. My pack is hindering everybody's progress. So about ten pounds is offloaded to others in an equitable fashion. Feels better.
A stream crossing on the approach road comes after one hour (2.3 road miles), and, after what we've just been through is crossed without concern. On the far side we continue, my energy level rapidly waning as if I've "hit the wall", my legs depleted of glycogen just like a marathon runner dreads. After 30 minutes I sit down at a bend in the road, Duane keeping me company even though I know he can go faster.
Lo and behold a most capable vehicle is returning to the trailhead! I indicate our willingness to ride, and the driver gladly accomodates us on his truck bed. Soon enough Rob and John join us as we head directly to our waiting cabin, arriving perhaps at 4 p.m.
"Stick a fork" in Kawaikini!
We are all in good spirits, much of the conversation about how Art and Laura returned to the cabin after a very long day of foot travel.
My feet are completely wrinkled, with blisters under both big toes. It's painful to walk - how on earth am I going to climb Kamakou in a few short days?
After a remarkably welcome hot shower, an ice-cold adult beverage is followed by a large dish of "buffalo chicken"-flavored macaroni and cheese for Rob, John and myself - with a 12 ounce can of chicken breast meat. Duane's contribution of mushroom soup plus tofu suggests that he too share the cheesy pasta. After everybody has their fill I consume the remainder and have difficulty sleeping from being "too full of energy" which prevents emptying my mind of random thoughts and math calculations.
Rob Woodall's Kawaikini trip report and GPX file
Tuesday, January 8 - Free Day
his extra day exists to hedge against weather simply too naughty for foot travel. After John K and Art depart around 8 am, the group methodically separates dry from wet items and leaves well before checkout time. John K is extremely efficient - perhaps this is related to his surgery profession.
Back in town laundry is the first order of business. We then have lunch at a most casual place within an industrial park. Still not hungry from last night, I just have a large dessert while others eat assorted entrées. A piece of Rob's sesame seed-crusted salmon with miso dressing is superb!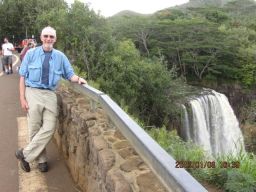 Duane and Wailua Falls (DG)
Some sightseeing consumes time before hotel check-in. We visit two venues - Wailua Falls and Spouting Horn on the south coast. The former is spectacular with (I estimate) a nearly 300 foot drop; the latter fails to inspire.
We check-in after 3 p.m. while Laura suddenly decides to stay elsewhere. There is now nothing to do but relax, repack for the next round of airline flights - and eat.
Duane, Rob and I enjoy a 1.5 quart container of "Cookies and Cream" ice cream in roughly equal amounts, the bottle of wine also just purchased remaining with Laura and thus sadly unavailable. Half gallons are no longer available at USA supermarkets, and have not been for several years.
Art loves bagels with pre-cooked bacon, cream cheese and onion - and one becomes my supper along with numerous leftover foods. Rob wants a celebratory group restaurant dinner, yet voices his opinion well after Duane and I have eaten nearly our fill. Rob then satisfies himself with bagels, assorted cheese and nuts - all with the better part of a beer six-pack. Rob loves beer...
Most importantly, my smartphone reveals a truly fine forecast for our time on Moloka'i!
Wednesday, January 9 - Moloka'i Flights and Preparation
fter early flights we have 2+ hour layovers in Honolulu. The Mokulele Airlines craft is a small single engine propjet, requiring each passenger to be weighed along with their check-in and carry-on luggage. In compensation there is no security screening! The 30 minute plane ride is spectacular, owing to the slower speed and lower elevation than a passenger jet, with my first-time views of Honolulu beachfront skyscraper resort hotels.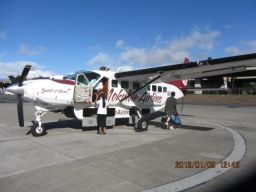 On to Moloka'i... (DG)
On Moloka'i by 11 a.m. we caravan in vehicles rented by John Mitchler and Art Janssen to Kaunakakai - the island's main yet small community. We restock on trail food and purchase water bottles at exorbitant prices. I purchase one gallon of Coleman fuel to cook at our remote camp.
By noon we enjoy lunches at the Paddler's Inn as suggested by John M. My mahi-mahi salad entrée is delicious.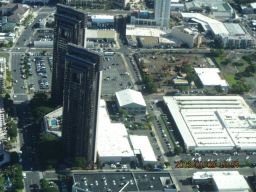 Twin Honolulu skyscrapers (DG)
Around 1 p.m. John Klein arrives, and, with Art's passenger car safely parked, use John M's jeep and Don Nelsen's rented pickup truck for the ten miles of dirt road to our desired camp. The section beyond pavement consumes 55 minutes, an important figure for gauging when in the morning's small hours John M, Don, Bob Packard and Laura should leave their hotel rooms and meet the group's balance at 4:30 a.m.
Camp is within a large, cleared grassy area easily seen in satellite imagery. Views from the northern edge are spectacular as we observe the breathtaking scenery upon arrival. There is an unfrequented valley, completely green, with a thousand foot tall waterfall cascading down the opposite face. The seacoast is visible miles away and 3,600 feet below. None of this is visible from our actual campsite, perhaps 100 yards south, as described below.
We erect tents inside a green painted wooden structure with a concrete base and picnic tables. It is reasonably comfortable here, the wind absent due to two walls - while the structure remains open on the opposite two sides. There is a second building with men and women's bathrooms about 100 feet away.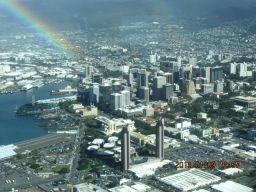 downtown Honolu (DG)
The wind at camp is constant - and seems the only place where it is a nuisance. With near certainty it's because the forest has been cleared, as just walking a few feet into the brush brings a calm stillness not enjoyed at the camp itself. There is a mist in the air - not true rain yet enough to (literally) dampen anyone remaining outside the shelter long enough.
Rob and I share "pasta carbonara" spaghetti for supper, the flavor greatly enhanced with addition of pre-cooked bacon crumbled and mixed inside. Then too he appreciates the package of herbal tea bags I purchased expressly for his sake - and Duane's stove provides the boiling water.
It's not much after supper that we all "hit the sack", literally, anticipating a most early start.
Thursday, January 10 - Kamakou Trek
tarting well before first light maximizes our chances of concluding the bushwhack before nightfall. We walk the road at 4:41 a.m., pacing ourselves to reach the boardwalk's end around 7 o'clock when it should be bright enough to obviate headlamps.
The road walk concludes after roughly an hour as we stop to congregate - there are fully nine of us this morning. Bob Packard leads a slightly surrealistic procession up the boardwalk's length, spouting story after story in the dark to all who would hear his peakbagging tales.
We arrive to a gate in some fence at 6:48 a.m., a bit early, yet start anyway at 6:54, beginning with a fenceline that more or less takes us in the correct direction. An hour later I learn that Art turned around before the bushwhack, having never tested himself or even giving the affair a try. Clearly he has come for some reason other than bagging the summit.
The one-way air distance to Kamakou along the intended bushwhack is 3 kilometers (1.86 miles) or 2.0 miles depending on your reference. With 11 hours of useful daylight the former figure translates to 6 inches per second forward progress to avoid nightfall - a miserly one-third mile per hour! Think that can readily be accomodated? Think again - we are continually being sidetracked by jungle vegetation, forced to follow a most circuitous path punctuated by all manner of nasty, time-eating activities -
climbing over a fallen log;
climbing under a branch because it's too high for surmounting;
WHEN this occurs the worst scenario ensues: crawling in mud,
pack, clothing and hands soon maximally gross and disgusting;
walking on top of a flat bog filled with mud;
When a boot sinks 4+ inches it's physically demanding
to remove it and proceed forward.
Laura makes a fool of us by having brought only a fanny pack with one liter of water - far lighter, and, most significantly, easier to maneuver under those horizontal branches.
After a few hours I calculate that straight-line progress is adequate for making the top and returning before darkness. Indeed, we pass over a named summit, Kaunuohua, some 40% of the required distance along our trek by mid-morning.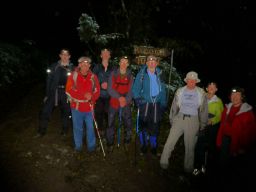 Pre-dawn group set on
reaching Kamakou. (DN)
However we soon commit a navigational error, going down a ridge in the wrong direction. Realizing our error we waste valuable time (perhaps one half hour total) and energy regaining the desired route.
Soon after that episode we note how Bob Packard is getting increasingly far behind the pack. As trip leader I am urged by others to act, as waiting for Bob will most surely force everybody into one of two most unacceptable scenarios - either a night bivouac under a tarp provided by John M, all-the-while cold in damp clothing; or an attempt to navigate the jungle in darkness with compass, GPS units and headlamp.
Months ago Bob agreed to travel independently of the group to not hinder the general effort. So when I shout to Bob that he must stop and wait for our return there is no discussion.
The going worsens. We are confronted by a seemingly endless set of false summits, progress measured in tenths of mile each of which I internally applaud without comment. Every time a summit is achieved we are disheartened to learn the GPS-based distance to Kamakou remains positive-valued.
WHEN WILL IT END?
Every false summit entails steeper sections where progress is most arduous. Here, the roughly 45° slopes are so slick with mud that it's impossible to climb without hanging onto conveniently located vines and tree branches. At nearly 80 years of age I don't believe that Bob would have made it anyway.
One bright moment comes when, alongside each other and temporarily stymied by steep terrain, Don and I laugh with each other - our way to acknowledge the absolute insanity of our current predicament!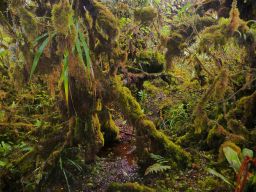 typical jungle scene (DN)
Around 11:30 a.m. I realize we will not meet our 12:30 p.m. turnaround time. I ask around for opinions, and everybody wishes to press onwards. I mutter something about now being obligated to return in the dark. Nobody cares enough to consider failure. When only 0.4 mile and then only 0.3 mile (and finally 1,000 feet!) from the goal I too bow to the general irresponsibility for one's well-being and commit to completing the effort regardless of duration.
Within a football field's length of the top my pack breaks, a tree branch having wrenched-free the main backplate. Duane makes a quick repair, and soon after we join others at the top.
It's just after 2 o'clock and there is little joy.
Coffee grounds, disgustingly bitter, expedite my egress until their tremendous effect wanes after a few hours. Then I too suffer the hard work of our retreat - one that is markedly faster due to six bodies having created a marginal tear in the jungle, and because we have a GPS track as our ascent path.
I know that darkness is coming, it's only a matter of how far to "the gate" at that point. With waning light we continue, Don having long since forged ahead to meet Bob and assist his return.
At around 6:30 p.m, one half hour after sunset, I don my headlamp, having finally given up on my eye's dark adaptation. Rob leads, doing as best one can expect under the circumstances. We are 0.6 air mile from the gate - yet it takes one hour to reach it (at 7:30 p.m.).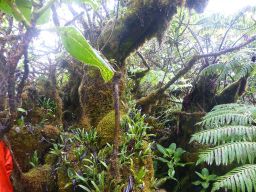 gorgeous summit vista! (DN)
The group breathes a collective sigh of relief, then continues unabated (which surprises me). I stop for a sizeable rest break, as we've been traveling without the normal hourly stops. The 46 ounce bottle of V-8 juice is nearly gone, having noted that in Kaunakakai it was cheaper by the ounce than bottled water! After a blueberry bar and another chocolate brownie I walk after 20 minutes due to cold from the general wet.
Soon enough I encounter John Mitchler who is traveling quite slowly. He willed himself to get out of the jungle, and now travels at a more leisurely pace. We break at the road where he changes layers, is grateful for my pint of water, and shares the ubiquitous caramel-filled Werther's hard candy I've been distributing to folks.
Both exhausted, we have yet another break halfway down the road, finally arriving at camp around 9:40 p.m. and ending one of the toughest dayhikes in my life.
John M. drives to his hotel. At camp Duane, Rob and John Klein are all sleeping, with Rob having eaten plenty of cold food before retiring.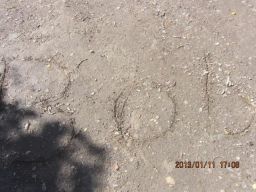 Bob's trailhead handwriting (DG)
Consensus opinion is to hike the Kalawao County highpoint tomorrow despite this 17 hour ordeal. I question this concept since the following day (January 12) is also reserved for our efforts, vastly preferring a rest day in-between the two treks. In fact, I have never gone on such a long, 14+ hour day without having a day-off afterwards.
I am outvoted. In compensation folks have agreed to a later start, 9 a.m., rather than arising yet again in darkness.
Now I must cook supper to replenish carbohydrate reserves, and have eight servings of mashed potatoes to which are added a tin of crab meat for protein and swiss cheese for flavor. I go to bed at 11:33 p.m, having eight hours until a 7:30 a.m. planned awakening.
Later we learn that Art walked 17 miles after leaving us at the boardwalk, reaching pavement so as to sleep comfortably rather than camp another night.
Later we learn that Bob continued 0.1 mile until realizing the futility. He then returned solo to the boardwalk using a single GPS waypoint and compass.
Bob
in foot-tall characters was scrawled into the dirt at the boardwalk's start, so telling others that he had returned safely from the jungle's green claws. Don, traveling at night, never saw it, meeting Bob only at camp around 8:30 p.m. and embracing.
Bob, incidentally was extremely relieved upon returning all alone to that boardwalk.
Rob Woodall's Kamakou trip report and GPX file
Additional Kamakou Resources -
Thursday, January 11 - Kalawao County Highpoint and Celebration
y contrast with Kamakou this effort is easy, with just a mile of off-route bushwhacking in either direction and aided by a fenceline for two-thirds of that distance.
During breakfast a Forest Service worker arrives with capable vehicle to retrieve campsite garbage. A conversation ensues, and it's soon clear he is not upset with the nature of our sojourns. (Many island residents are staunch environmentalists who if given free sway would close much of Moloka'i to invasive species and humans alike.) Indeed, he drives us fully three-quarters of the 2+ mile muddy approach road beyond camp, saving us a good measure of time and energy.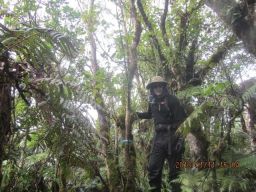 John Klein atop the northern contour. (DG)
We are just the same four people who reached Kawaikini - Duane, Rob, John Klein and myself. Maybe one-third mile beyond "the gate" we reach the boardwalk's end at an opening in the forest which overlooks the valley to our east. Mist hampers an otherwise glorious view.
We find a blue-flagged route that roughly parallels the ridge heading north. It's essentially level, resulting in a high frequency of mud bogs per unit distance - annoyingly so. Fortunately the total distance is not much, and we soon encounter a fence which is then used for both navigation and, with a cleared path alongside, to minimize the effort of bushwhacking: it is now more like a trail than a jungle bash. We travel on the fence's left (west) side.
We pass the Kalawao County boundary, noting that higher ground may lie across the fence to our east right alongside the ridge. We shall return there. Using the fence as aid we downclimb and then ascend to a 1,260 meter contour - middle of three potential county highpoints. Repeating this process and then heading several yards west we take pictures at a "ceremonial highpoint" within the northern 1,260 meter contour.
We return to the county line, pass through the fence using a conveniently located gate, and estimate the highest ground to its north side. Snack and lunch food are enjoyed, for myself a Lihue Wal-Mart-purchased mini (4 inch) blueberry pie. There is "Spicy-hot" variety V-8 juice to drink rather than tasteless water.
Most notably,
Duane, John and I have just completed the Hawai'i county highpoints!
We are back at camp just after 3 p.m., the effort consuming about 5 1/2 hours.
John Mitchler and Don Nelsen appear shortly after, and we caravan to civilization with the keen desire to shower.
Duane and I stay at a guest room in some private home as arranged by John Mitchler.
By 6:30 p.m. everybody except John Klein and Bob Packard have congregated at the Paddler's Inn. We share a large table, Don at one end and myself at the other. I begin with a margarita, enjoyed with coconut cake from a birthday celebration by another set of patrons. There are toasts to our progress, the first being for Kamakou and later for the general trip success.
My main dish features a slab of ribs (beef or pork - I cannot recall), and it's a most sizeable portion - more than reasonable to consume in one sitting. Someone orders a Mai-tai drink, and after noting that I've never had one, Don orders a "double" for my enjoyment! Boy I am happy now ....
This time together is surely the "highpoint" of our journey.
To our collective surprise Don Nelsen treats us - a most gentlemanly act which suggests that he is extremely pleased with having (finally) bagged Kamakou.
However the festivities continue. Several of us walk a few blocks to an ice cream parlor, where I enjoy a pint with four flavors - including some nutty coffee fudge variety and "Ube" with this most gaudy purple color! I am uncomfortably full...
Rob Woodall's Kalawao County highpoint trip report and GPX file
Friday, January 12 - Numerous Activities
his morning John Klein, Rob and John Mitchler leave very early. Rob climbs Ka'ala today, becoming the first non-USA resident to complete the Hawai'i county highpoint list.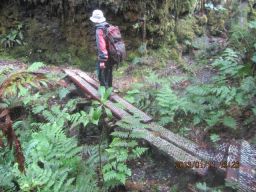 Adam on the boardwalk used
for both Moloka'i efforts. (DG)
Duane, Art Janssen and I stick together, first main activity to launder clothing. My red daypack is hand-washed and is dripping water onto the floor. The owner protests, and has me leave it outside the back door to sun-dry rather than place in a machine dryer with the other clothes.
Then too my boots are extremely wet (although now cleaned free of mud). Both these items have seen years of service. Now they are hindrances to my travel, and are sadly abandoned. The daypack in particular has been to hundreds of summits and is sorely missed.
Lunch is enjoyed as items dry. The seafood alfredo pasta is one of my all-time favorites. It's consumed despite not having an appetite from last night, if only because it's so darned delicious.
Duane visits friends this afternoon while Art and I continue to lounge at his pricey lodging on the beach. By 5:15 p.m. we rendezvous and are airport-bound. Art remains on Moloka'i through January 16 while Duane and I head for Honolulu on the 7:35 p.m. flight.
Duane flies home tonight while I rent a car and sleep in the Honolulu long-term airport lot for lack of a free yet safe place for the night. The weather is clear and warm.
Rob Woodall's Ka'ala trip report and GPX file
Saturday, January 13 - War Memorials; Homebound Flights
have decided to spend all day at the closely-situated World War II memorials that commemorate
Pearl Harbor and that war more generally. The all-day pass costs $55 and includes entrance to four main venues -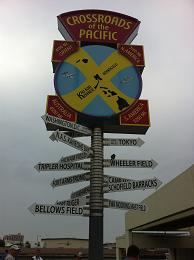 Hawai'i really IS remote. (AH)
U.S.S. Arizona memorial, sunk by the Pearl Harbor attack
with 1,177 sailors killed. Most are still aboard...
U.S.S. Missouri, site of the Japanese surrender in 1945 at Tokyo Harbor
and a fitting tribute to all battleships and their crew from the era.
Pacific Theater Air Museum with two hangars full of restored aircraft.
U.S.S. Bowfin, a submarine at-dock which is toured internally from stem to stern - FASCINATING.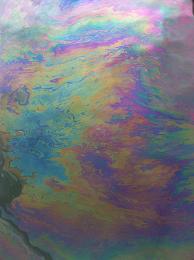 U.S.S. Arizona oozes
oil even now. (AH)
I arrive around 8:30 a.m, my first venue (after some hot cocoa) is the U.S.S. Arizona in its original harbor-bottom location. Visitors are told to keep quiet and not use their mobile devices while at the memorial in deference to the dead.
The U.S.S. Missouri has far more to see as one walks on-board and explores the many facets of a full-size battleship - the very last of its generation before being superseded by aircraft carriers as flagships of naval power.
At the air museum I particularly enjoy a Mig-15 Soviet fighter and lunch - Korean-style barbecued pork, rice and salad - plus plenty of Thai "Srirachi" hot sauce. Although the U.S.A.F. F-86 Sabre and Mig-15 did battle over the skies of North Korea, the juxtaposition of these aircraft and my Korean food is coincidental. Prominencians will note the fighter's call sign, 1524, is the current worldwide ultra count estimate!
The U.S.S. Bowfin self-guided audio tour lends a good idea of the submariner's life in WWII. Torpedo tubes and bill-of-fare for the week beginning May 28, 1945 particularly interest me. To partly compensate for their most hazardous duty, "silent service" staff eat higher quality food than their counterparts above the waves - enlisted men and officers alike.
I leave just before the 5 p.m. close. The distance driven is so minor that I don't ever fill the gas tank - it still reads "F" upon returning my rental car around 6 p.m.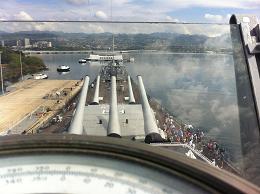 Centerline of the U.S.S. Missouri
with 16 inch guns. (AH)
After checking-in and security I recharge the smartphone while doing E-mail. By 7 p.m. I forego "real" food (lunch provided a full day's protein) and have the largest ice cream treat Coldstone Creamery sells - it's the "gotta have it" size inside a double chocolate edible waffle cone dish. The two flavors are chocolate toffee crunch and macadamia coffee. I take well over 30 minutes to slowly savor every bit: there's nothing left to do and ten bucks is a lot for "mere" ice cream.
The 9:55 p.m. flight departs on-time and I am in Los Angeles at 5:14 a.m. the next morning. My pickup truck "DENALY" waits patiently at Richard Carey's home upon retrieving it. The drive home, all 17.5 miles of it, is quite precarious as all I want to do is stop right on the freeway and take a nap.
At home I doze until late afternoon, compensating for an entire night of low quality sleep in the airline industry's most uncomfortable nearly upright position.
Summary
ur journey is completely successful, having realized all the intended goals.
Some people turned back, as noted, yet these were the exceptions.
With Guatemala included, Rob Woodall's worldwide ultra count soars to 140 -
with Volcán de Tajumulco and Mauna Kea raising to 18 his Earth Fifty Finest count.
Duane Gilliland's ultra count finally surpasses the Century mark and completes the Hawai'i county highpoints.
He only requires Mount Lyell in California and Washakie Needles in Wyoming to finish the APEX list.
John Klein steps way outside his experience with these jungle treks, completing the Hawai'i county list as a side-benefit of visiting two island highpoints.
Laura Newman and I have shared the "two worst hikes" of her life! Presumably she refers to the incessant rain and not myself 8-).
"Third time's the Charm" for John Mitchler, who along with Don Nelsen, need not revisit Moloka'i.
Hawai'i is my 17th state completion. The only remaining state I plan to finish is Maine, with five of 16 counties remaining there.
My worldwide ultra count is now 114, such that I now have exactly as many outside the 48 contiguous states (with 57 peaks) as inside it.
I also join Bob Packard in completing the APEX list of county highpoints.
A hearty "Thank you" to all!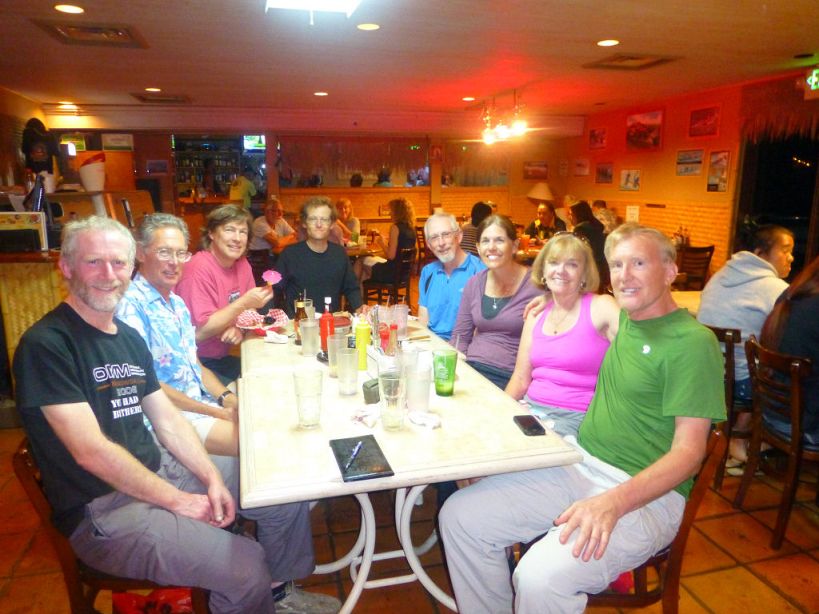 Celebratory dinner on Moloka'i. From viewer's right - Don Nelsen, Ardith Bowman, Laura Newman,
Duane Gilliland, Adam Helman (end of table), John Mitchler, Art Janssen and Rob Woodall. (DN)